These smart home gift ideas are great gifts moms who love technology. These devices will turn a basic house into something that feels current.
A special thanks to Best Buy for sponsoring this post!
After purchasing our first home a little over a year and a half ago, my husband and I are slowly transforming it into the smart home of our dreams.
With smart lights, voice command devices, and even a smart thermostat, our home is becoming a little bit more dreamy every year.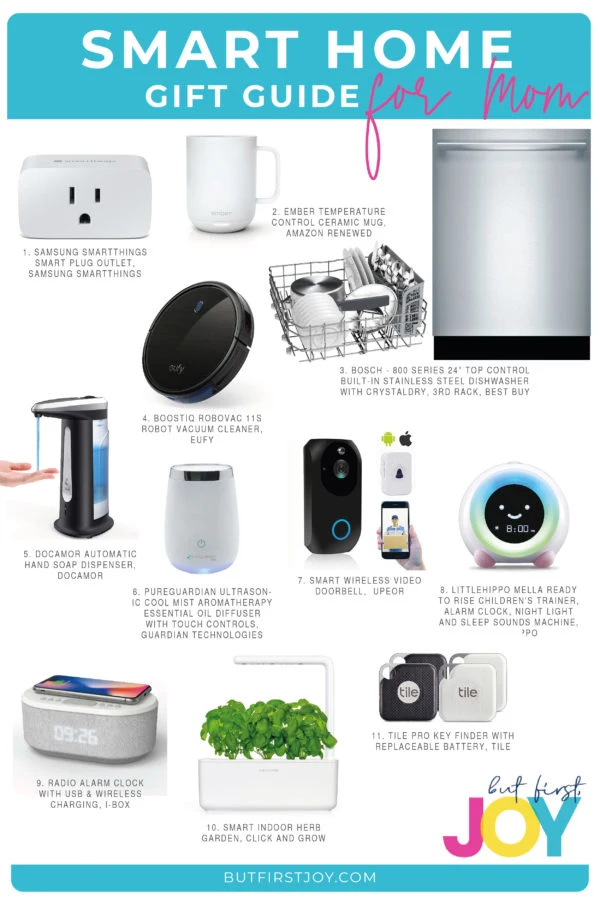 11 Smart Home Gift Ideas for Homeowners
If you're anything like us, or you know mom who would love anything that will give her a beak, then this Smart Home Gift Guide is the perfect place to start.
1. Samsung SmartThings Smart Plug Outlet – GET IT HERE
Smart Plugs have been a staple in my home, especially now that we are homeowners. We use these to put our Christmas tree on a timer. We also use smart plugs to turn our floor fans on and off from our phones.
2. Ember Temperature Control Ceramic Mug – GET IT HERE
A coffee lover's dream come true, is a heat controlled mug. This smart mug will keep your drink at the exact temperature you prefer. How do I not own this already?
3. Bosch – Built-In Stainless Steel Dishwasher with CrystalDry – GET IT HERE
This smart dishwasher is everything a homeowner dreams of! The new Bosch 800 Series dishwasher has CrystalDry™ technology, which is basically the ultimate level of dry and sparkling your dishes can get.
Even more impressive is the PrecisionWash technology which uses smart sensors to scan your dishes in-wash, spraying to target every dish in the wash. How impressive is that?
In conclusion, this dishwasher is as smart as they come, but also incredibly stylish, especially with the hidden top controls.
4. BoostIQ RoboVac 11S Robot Vacuum Cleaner – GET IT HERE
I stand firmly in saying that home home needs a RoboVac. Just push a button and let the vacuum do all the work. I personally let mine run as I clean the rest of the house. It's great when you're in a hurry or you want a quick clean while you're busy.
5. Docamor Automatic Hand Soap Dispenser – GET IT HERE
Understandably so, hand soap pumps are full of yucky germs. That's why we keep at automatic soap dispenser in the kitchen. Just wave your hand under and soap dispenses. This is specifically useful when you're handling raw meats.
6. PureGuardian Ultrasonic Cool Mist Aromatherapy Essential Oil Diffuser with Touch Controls – GET IT HERE
A diffuser, along with essential oils, is a great gift idea for smart home lovers. With touch controls, you can let the diffuser sit and go!
7. Smart Wireless Video Doorbell – GET IT HERE
A video doorbell can be a lifesaver, literally. Not only can you keep track of who is at your front door, you can speak to them right from your cellphone.
8. LittleHippo Mella Ready to Rise Children's Trainer, Alarm Clock, Night Light, and Sleep Sounds Machine – GET IT HERE
The Mella is a device for children that helps control their sleep with many different functions. From an alarm clock to a sleep sounds machine, this adorable device will help sleep train your child.
9. Radio Alarm Clock with USB & Wireless Charging – GET IT HERE
This alarm clock is dreamy. While some of us use our cellphone for an alarm, this clock is the best of both worlds. Plus, you can charge your phone right on top of it!
10. Smart Indoor Herb Garden – GET IT HERE
The Smart Indoor Herb Garden is a lazy gardener's dream come true. This gardener will allow your herbs to thrive with or without your help!
11. Tile Pro Key Finder with Replaceable Battery – GET IT HERE
Finally, we have the Tile Pro Key Finder. While this may not be your traditional smart home device, it's helped me find my keys on multiple occasions! You can attach it to just about anything (maybe your child's favorite toy) and use it to locate the lost product.
Which smart home gifts would you like to own?