In this Sofia Carson Interview, we talked about her role as "Evie" in Descendants 2. Plus, I've gathered 25 pieces to make your very own Evie costume. See what fan questions I asked! This post is sponsored by Disney as a part of the #GotGVol2Event! All opinions and extreme excitement are my own.
I had the pleasure of sitting down with the lovely Sofia Carson, who plays the role of Evie in Descendants and Descendants 2. Being a huge fan of the film, I had a ton of burning questions to ask her and so did my followers. Before we jump into the interview, let me set the scene.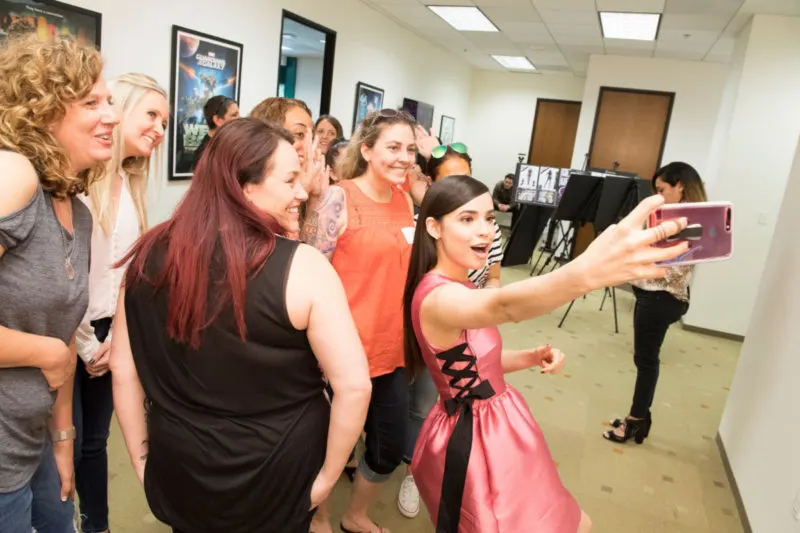 24 lovely bloggers and I took a nice trip to ABC Studios for a few special sneak peeks of Descendants 2. We had the pleasure of watching a couple clips and seeing the "Ways to Be Wicked" music video before it premiered at the Radio Disney Music Awards a couple months back. Sofia was really excited about the RDMA's!
We [the "Descendants" cast] are so excited. We're going to be premiering a clip of the opening number of the film, which we're so excited about. I'll also be hosting the RDMAs, so it's going to be a really big day for me. Last year was my first performance ever of my single "Love Is the Name," so that will always have a very special place in my heart. We're dying for people to see a glimpse of this movie so hopefully people will react well to it.
After the screenings, we sat down with the cast and creators of Descendants 2 to pick their brains about the upcoming film that's sure to take over the world.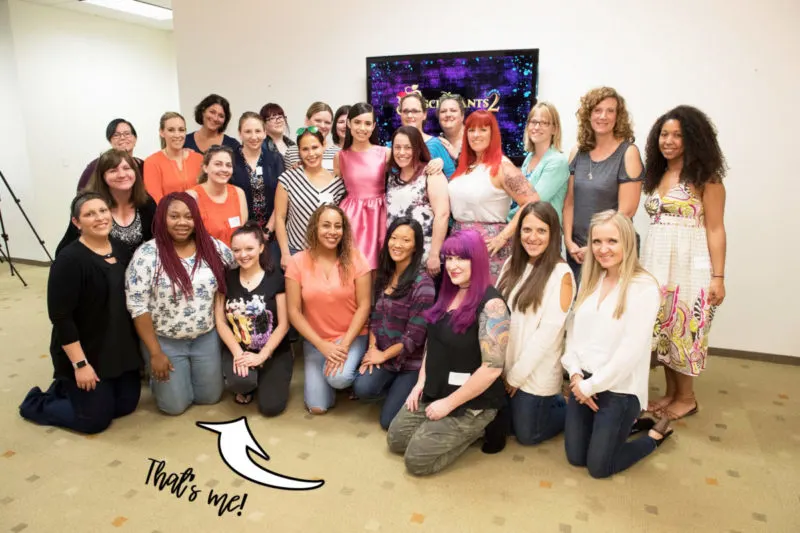 Descendants 2 "Evie" Sofia Carson Interview
One of my favorite interviews of the day was with the beaming, Sofia Carson. She was a sight for sore eyes, as she walked in with her slicked back brunette hair and a very feminine hot pink dress. It was almost difficult to distinguish her look from the edgy, feisty Evie that we see in the films. Don't be mistaken, though. She's just as sweet and passionate about fashion off screen, as she is on.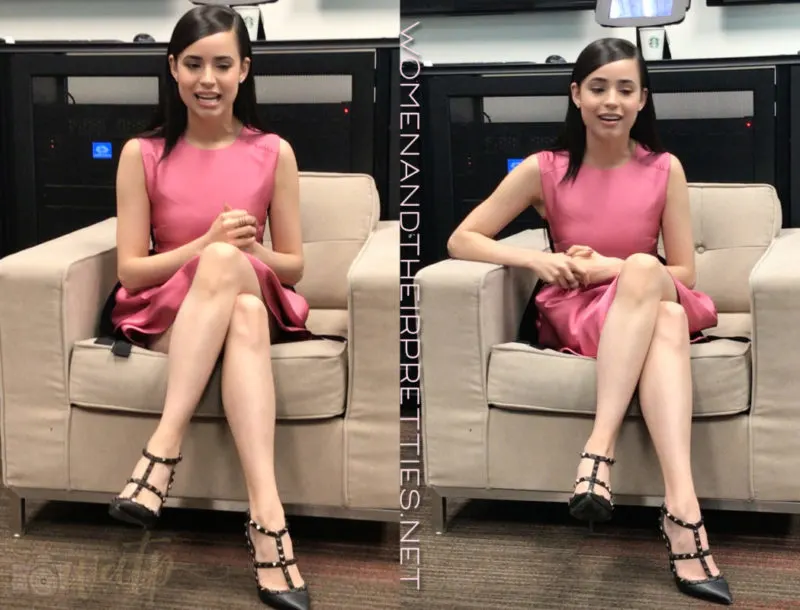 When Descendants 2 fan on Twitter (@SofiaCarson_JLS) asked if Sofia loved fashion as much as Evie does, I knew I had to ask! Sofia seemed to be really excited to chat about fashion and I can see why. She's quite polished and lovely with her fashion choices. In fact, she responded with this:
Yes! Oh my god, I love fashion. Growing up, I was always in my mom's closet wearing her heels. All the girls of "Descendants 2" wear the same size shoes and we like to borrow each other's shoes. I love fashion and I always really want it to be a big part of my career. I love that Evie loves fashion and that she is the film's fashion designer. I have so much fun with Kenny working on how to create Evie's wardrobe. In "Descendants 2," he really wanted to see a lot of me in Evie's wardrobe because I tend to gravitate towards things that are very feminine and classic, but with an edge, but always very classic. He wanted to see that in Evie and I love that so much. I love icons like Audrey Hepburn and Grace Kelly, just that sense of timeless, feminine fashion.
Another Descendants Twitter fan (@srfHOPE2413) wanted to know what Sofia (and the rest of the cast) would like an audience to take away from her role. Can we just take a second to recognize how beautiful her words are?
Growing up, I was a typical daughter. I was obsessed with Beyonce, J-Lo, Lizzie McGuire, all these incredible female role models. I grew up with really incredible, strong women as my mother and grandmother, so strong female women were always an inspiration to me. I thought, "If I'm ever lucky enough to be able to do what I love, I want to be that inspiration for other little girls in everything that I do, everything that I say, every role that I take on, and every song that I release. It's very close to my heart to make sure everything I do has an empowering message for the 16 year-old daughter out there who I know is looking at me and who my actions could impact in some way. I just want them to know Evie's message, which is: as girls, we can do anything and be anything and no one should stop us. I want them to know that the most important thing in the world is to be beautiful, but that beauty comes from our hearts.
Keep wearing those Evie costumes, girls!
In this Descendants 2 Sofia Carson interview, we asked her how it made her feel when she saw fans wearing Evie costumes. It means more to her than you guys would think. Keep wearing those Evie costumes because Sofia Carson sees you and she loves every second of it!
There is no feeling in the world that compares to it. No matter what country I go to, what city I go to, there's a little girl dressed up as Evie. Whether she's speaking Spanish or French or Portuguese, it's so impactful to see how far this movie has traveled and how many lives, how many little girls it can impact. I've had a really beautiful experience.
25 pieces to make an Evie Costume
Always share your story because your story, your voice can impact so many!
Sofia Carson told us about a time when she gave back to a sick child. She talked about how being an actress was much more than a job or the fun you see on the television. She knows she's a role model and she uses it to her benefit.
I like to go to the Children's Hospital as much as I can. My sister and I went to the hospital for Halloween and I was dressed as Evie. I met a young girl was suffering from sickle cell anemia and she spoke to me about Evie in ways that I never even knew and in dimensions that I had never even considered. Hearing what Evie taught her and how she felt connected to Evie was the most incredible experience and I think this is why we're so lucky to do what we do. Yes, I get to dress up every day and sing and dance, but to be able to tell stories and have them impact young girls like that, that's why I feel so lucky to do what I do.
How has Sofia Carson or Evie impacted your life? Tell me in the comments below!
Let's talk a little about Evie and Doug because we all want to know where that's leading in D2. How is their relationship? With such a big storyline in Descendants 2, will they even touch on the relationship? Yes! Sofia Carson explained below:
Yeah, you're going to be really happy [with their relationship] in this movie. They're business partners. Doug, who's really good with numbers, is helping her organize the business side and the financials of it all. At the same time, they're together and Evie's so happy because Doug loves her just the way she is. She loves him for who he is and it's a really beautiful, sweet relationship and he just adores her. He sees her and it's the sweetest thing. He's also the coolest guy.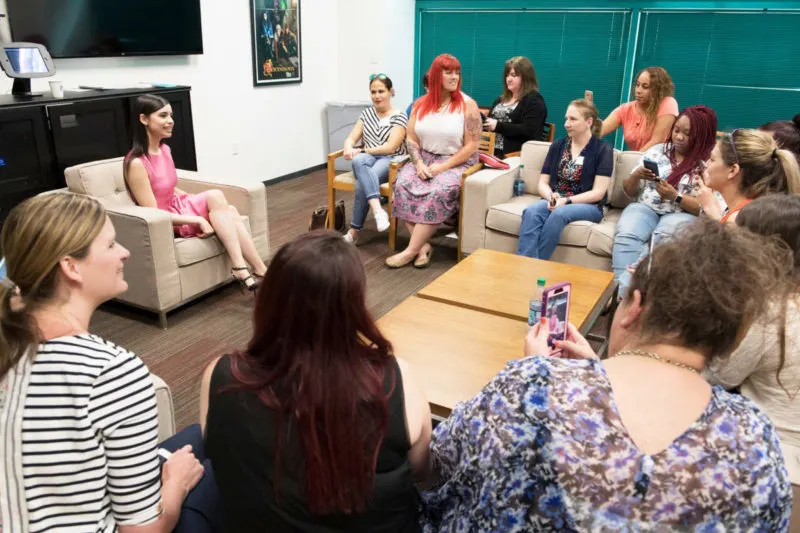 Will we see Evie's Villainous side in Descendants 2?
Oh, Evie. She's the sweetest of the bunch. I always describe her as a VK who wants to be a princess! She's so fashionable and so good inside. But she is the Evil Queen's Daughter. The apple doesn't far from the tree. Yes, we do see more of her wicked side in Descendants 2. Evie herself confirmed it in this interview. This was another fan question from the lovely Twitter fan, @SofiaCarson_JLS.
You'll see a different side of Evie because in the first film, when we met her, Evie was very much her mother's daughter. She was very consumed in what she looked like and she was sadly willing to believe that her reflection in the mirror is what defined her as a person. At the end of the movie, she realized that as girls, [our looks do not] define us. That doesn't make us more important or beautiful or special. It's who we are in our hearts and to be the fairest of them all is to be fair inside. In the second movie, Evie has really grown into herself. She is strong and independent. She's smart. She's a fashion designer. She has made her dream come true without a prince and she's become a leader. At the same time, her best friend Mal, [who is like] her sister, is lost and really confused. Their relationship is really beautiful and important and it's a story of girl power, which I love.
Do you want to see a wicked side of Evie or do you prefer her to be good?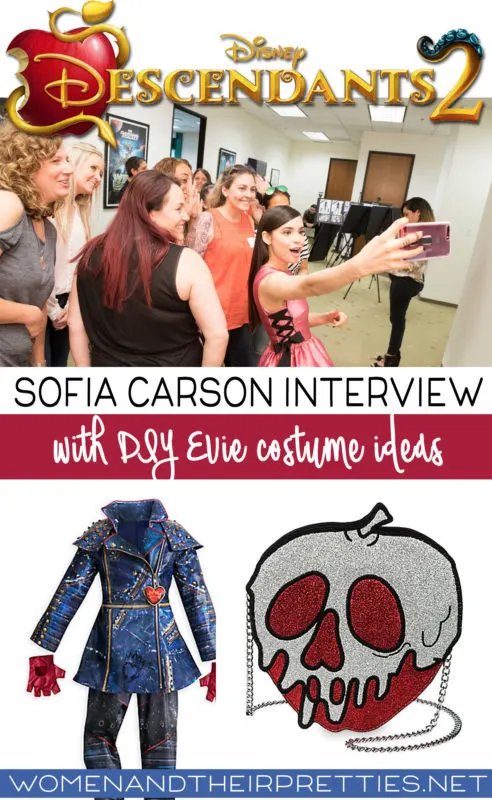 Premieres Friday, July 21st
In Descendants 2 the villain kids are back and the stakes are even higher in the highly anticipated sequel to the Disney Channel Original Movie "Descendants"! The story deepens in the music-driven sequel to the global smash hit "Descendants," as the teenage sons and daughters of Disney's most infamous villains try to find their place in idyllic Auradon. When the pressure to be royally perfect becomes too much for Mal, she returns to her rotten roots on the Isle of the Lost where her archenemy Uma, the daughter of Ursula, has taken her spot as self-proclaimed queen of the run-down town. Uma, still resentful over not being selected by Ben to go to Auradon Prep with the other Villain Kids, stirs her pirate gang including Captain Hook's son Harry and Gaston's son Gil, to break the barrier between the Isle of the Lost and Auradon, and unleash all the villains imprisoned on the Isle, once and for all.
Get your Descendants 2 Gifts NOW!