Travel and accommodations to the Loving press conference provided by Focus Features. All opinions are my own.
A few weeks ago, I was invited to attend the Loving Press Conference in California. I was thrilled. I've always been passionate about equal rights and being that I'm in a (soon-to-be) interracial marriage, I couldn't imagine a better press conference for me. I was thrilled to be interviewing the Loving Director and lead actors Ruth Negga and Joel Edgerton. We walked into the press room only to find a pleasant surprise – we would also be interviewing Terri Abney, who plays the role of Mildred's sister, Garnet Jeter. I am so grateful because she was truly an inspiration.
I had the pleasure of sitting down with Loving actress, Terri Abney, along with the lead actors and Director of the Loving film. We talked to all of them about bringing the Loving story back to life. This is a very touching story because it's true. It's the true story of the Lovings, who were sentenced to prison or to leave the state simply because they were an interracial couple that got married. With the hate and discrimination this still exists, this movie couldn't have released at a better time. There's a lot that we need to talk about and Terri Abney has a very important message for this generation about love, acceptance, and speaking out.
Terri Abney Interview
When asked what age group this movie this movie would be good for and how it would affect the younger generation, Terri had a strong reaction. She began by expressing her surprise when she first learned that this story wasn't taught in schools.
Her words were so powerful that she literally brought tears to my eyes. There's a fire inside of her that's like no other. She's truly one of the most inspirational individuals that I've ever met. It's people like her that will change the world, but as Terri says, we could all do our part in changing the world.
I think that it's interesting that this story isn't taught in schools. I did [completed] my last year of high school in Virginia, and so I learned about it in Virginia history, but before that, I never learned about it in DC and I didn't learn about it in college.

So it shows that we pick and choose what to teach and what we think the idea of historical figures are. And, like you (to Jeff Nichols, Director) said, this is a love story. So at the center and the core of these people, love was the basis! They didn't set out to be civil rights leaders and they couldn't care less about it. They wanted to go home, they wanted to be with their family, and they were extremely brave. They risked everything for love.
Her words were so powerful that she literally brought tears to my eyes. There's a fire inside of her that's like no other. She's truly one of the most inspirational individuals that I've ever met. It's people like her that will change the world, but as Terri says, we could all do our part in changing the world.
And so if we as people just love a little more, every day, like, if I decide to get up in the morning and maybe do an act of generosity, or smile at someone, we can change the world. I consider myself Christian and I learn about darkness in the Bible and darkness can be equated to hate. And if you [turn on] a light, in a room, the darkness evaporates. And it's the same with love. In order eradicate hate in the world, we have to start with loving.
Seriously, are those not the words of a future historical figure? I can't help but to think of Martin Luther King Jr. when she speaks. This woman is going to be a huge public figure. She is going to make a big impact on this world. Just remember, you heard it here first!
And so I don't know if because we are who we are, and [or if] we are not having conversations about why we hate people, or whywedon't like a person who [isn't] the same. [For example] someone who practices same sex relations they are in an interracial relationship, or a person of color, or an individual from Asia because you know, let's face it, we're not looking at these things only in America. [These] are universal issues, and these universal issues can be changed through love.
These were her literal words. Nothing was scripted or written for her. Terri Abney is this inspiration, this impactful, and this passionate about making a positive change in the world. Someone give this woman an award!
Maybe we can't change that, but if we start the conversation, and then pour [it] into children [at any age]. Because some of them, the cycle might not be broken, I think it actually starts in elementary school, when children are like sponges and they're willing to absorb everything because like you said, your (speaking to Joel Edgerton) niece, she's eight, and she's going to ask [about the film], well what was the problem?

And that's when we have the conversation. You know, so that we can start to change their mind sets because we're no longer the future. The children, they're the future, and they're going to be the individuals to really make a difference in the world. And it starts with us deciding to have a conversation.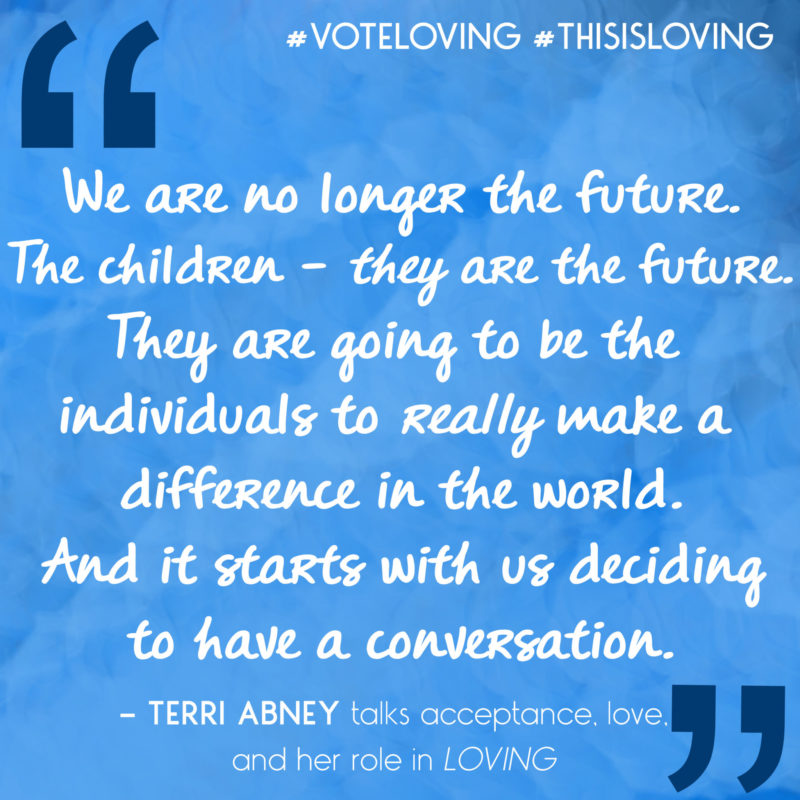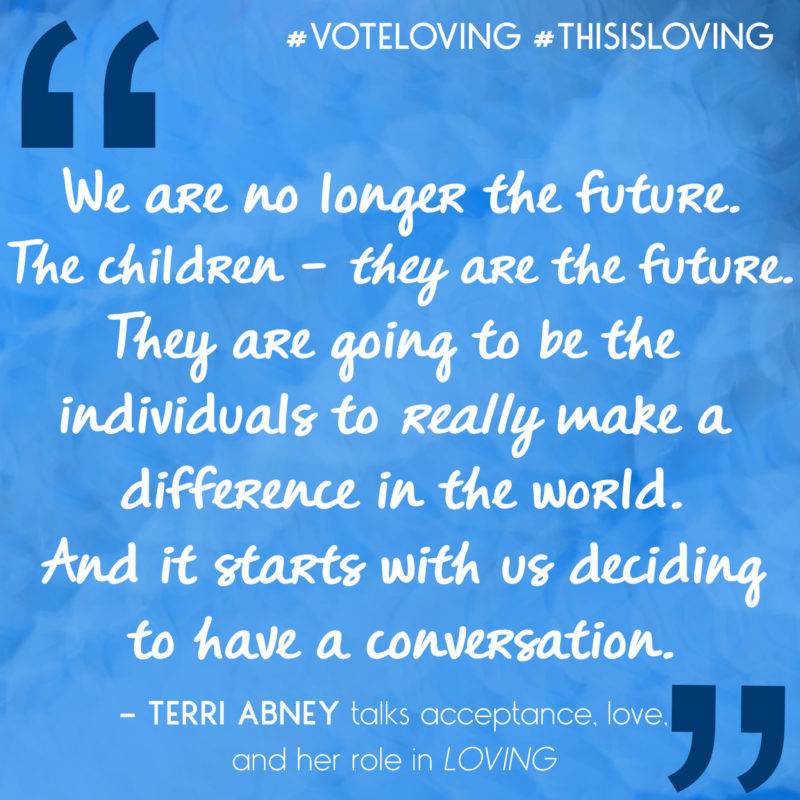 Do you see? Do you see why her words made me tear up? I would have ugly cried, but there were other bloggers and pretty actors. I didn't want to make a scene. I sucked it up and sincerely thanked her afterward. It's been a few weeks now and Terri's words still echo in my mind – start the conversation.
Speak about it. Teach it. Repeat it. Instill it into your children while they are still learning. Teach them that love is more powerful than hate. Teach them that looks are only skin deep and that words mean a lot. Teach your children to have the conversation with others. Teach them to talk about it. Let's start a movement!
Now in Select Theaters
From acclaimed writer/director Jeff Nichols ("Take Shelter," "Mud," "Midnight Special"), LOVING celebrates the real-life courage and commitment of an interracial couple, Richard and Mildred Loving (Joel Edgerton and Ruth Negga), who married and then spent the next nine years fighting for the right to live as a family in their hometown. Their civil rights case, Loving v. Virginia, went all the way to the Supreme Court, which in 1967 reaffirmed the very foundation of the right to marry – and their love story has become an inspiration to couples ever since.
FACEBOOK I TWITTER I INSTAGRAM
#ThisIsLoving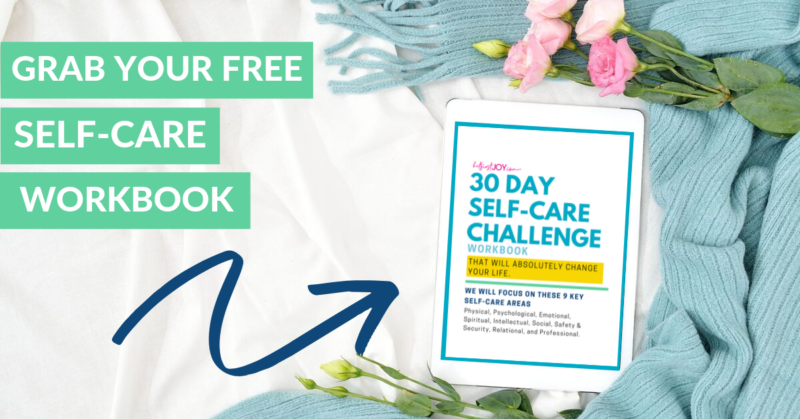 DISCLOSURE
As an Amazon Associate I earn from qualifying purchases. This post may contain affiliate links and/or promotional products, all opinions expressed are that of But First, Joy only. Read my full disclosure.