I have a family of pet lovers. Since I was a child, I have had a deep connection with animals and a deep love for them. Growing up, my favorite toy was the cute little kitty cat that purred when you moved it or cuddled it. Toys have advanced SO much since then! Now toys talk, walk, play, and are more advanced than you'd ever think toys would be. To be honest, I am jealous. I wish that I had toys this cool growing up. At least I can say that the kiddos in my life are lucky enough to play with these awesome toys. I think it is very important that we buy children toys that we wish we had and that we can play with when they are not around. hahaha. When I said, "The Happys Will Make Your Kids Happy," I meant that they will make you just as happy.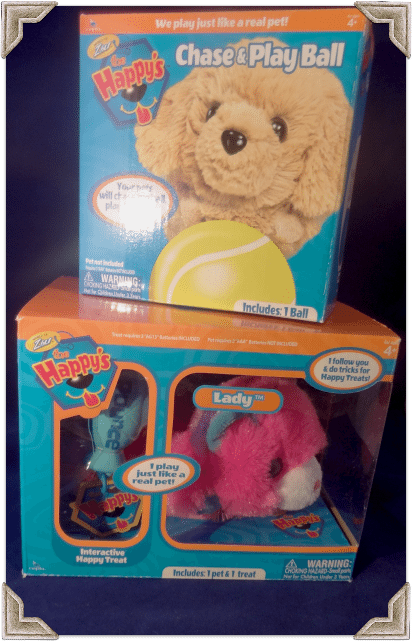 About The Happys
The Happys are interactive toys that will keep your kids (and you) occupied for awhile. They are a member of The Zhus family. They are SO cute and cuddly. I seriously, want to keep my Happy Pet all to myself. It's just too cute. It reminds me of the pretty purring kitty that I had as a child, except much more advanced. The Happy's are furry puppies and kitties that will chase their ball and will do a trick for their treat. These toys are meant for children 4 years or older, but I think that ANY pet lover would love this. It is just too adorable not to love. Each pet comes with 1 treat. You can also purchase a Chase & Play Ball & more treats separately for your pet.
About My Happy Pet
My Happy Pet's name is Lady. She is a beautiful pink and purple kitty that won my heart as soon as she started to follow me. Yes, she follows me. She is such a smart one, that kitty. She does tricks, chases her tail, pounces, and sits up. She just loves to play! My cats love watching her play and they are very curious about how she got such a pretty pink coat.
Overall Impression
I think this is so cute and fun. I think that kids of all ages (and parents) will get a kick out of these pets. It's fun for the kids, parents, and pets! It would be a great idea to get your kids a few of these. They have some really adorable pets, like poodles! (I want!)
Purchase and Connect
Visit The-Happys.com to learn more about The Happys
These can be purchased at any of the places listed below, but you can click HERE to purchase them online.