#MusicMonday
The Music Box Subscription is a company that send you a box full of music related items each month. The subscription prices range from $5-$13, so it is very reasonably priced. Their boxes contain items from up-and-coming and new artists, such as CDs, Stickers, Free MP3 downloads, and more promotional materials.
This was sent to
Women and Their Pretties
for review purposes,
check out other subscription box reviews here
. My opinions are that of my own. I was not compensated for this post in any form other than a free box to give my honest opinion on.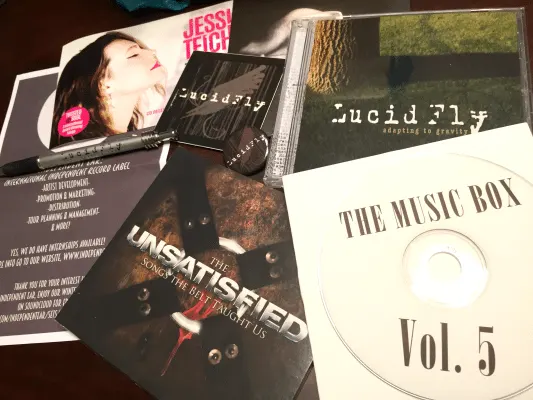 I am never disappointed by The Music Box Subscription. How could I be? I love learning about new artists and hearing music that I have never heard before. The Music Box is reliable and consistent with the music that they send. I have never received duplicate items. My favorite thing is that they offer free promotion for musicians. It's a great way to get your name and music out there!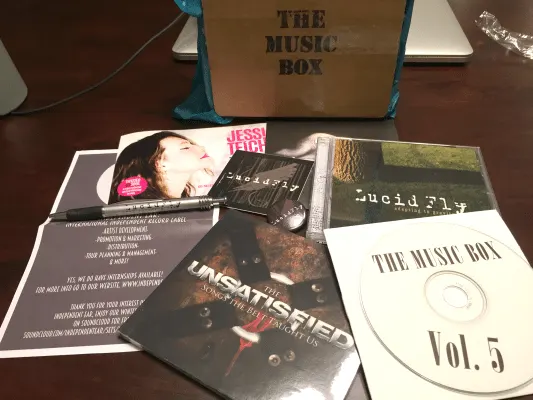 As you can see by my video, Lucid Fly sent a lot of great promotional items. I was thrilled to hear them and learn more about them, so I visited their website www.LucidFly.com. I was so excited to find out that this Alternative Rock band has a female lead singer. From what I have heard of their music, I love them so far. From their vocals, to their instrumentals, to their album art, Lucid Fly displays their talent and their professionalism as a new band wanting to make it in the industry. I have respect for any artist that puts real time and work into their craft. If you want to hear their music, visit their website. You can download an MP3 for free or you can choose your price! Check out their music video of "In This Ocean" below.
Visit Lucid Fly on Social Media: Facebook / Twitter / YouTube
Subscribe to The Music Box Here
Connect with TMB on Social Media: Facebook/ Instagram/ Twitter
Thank you for reading The Music Box Subscription March 2015 #MusicMonday. Read All of my Music Box Subscription Reviews Here