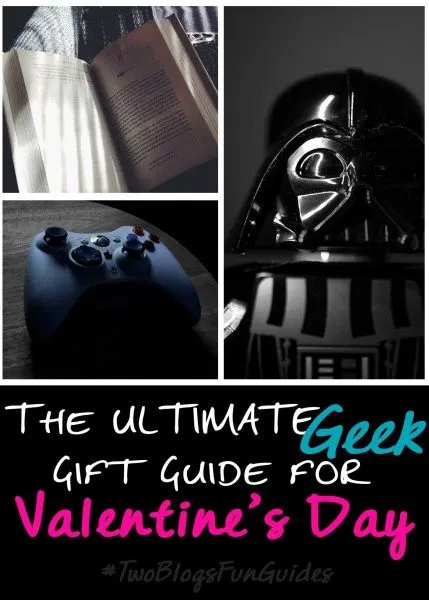 Welcome to the 2016 #TwoBlogsFunGuides Ultimate Geek Gift Guide for Valentine's Day! If you have a gamer, nerd, or geek in your life – check out this unique gifts that we have selected for them! Each of these gifts are personally recommended by Women and Their Pretties and/or Mama Smith's . This guide includes items related to video games, TV shows, movies, technology, science, and more! Enjoy, and remember to keep coming back as more items will be added daily! This guide includes affiliate links.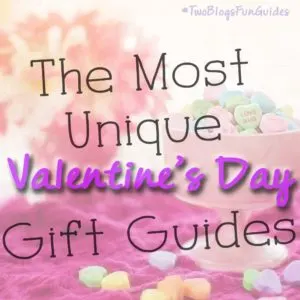 #TwoBlogsFunGuides / #ValentinesDay / #GeekGifts
The Gift Card Shop

The Gift Card Shop's Gift Card Impressions is the leading provider of personalized solutions within the $100 billion gift card industry. Their gift card packaging products can be found in most major retailers and restaurants supporting the leading gift card brands. Their on-line platforms bring first to market personalization innovation allowing the gift card to be a true experience for the recipient. Their patent pending platform includes the ability to wrap your gift card using photo, logo, and text customization as well as the ability to record your own message, upload a personalized video and to send the gift recipient a video teaser that celebrates the occasion. Gift Card Impressions is bringing the "gift" back to gift cards.
Purchase Here
Read Our Reviews: The Gift Card Shop: Gift Giving for All Occasions!
Connect on Social Media: Facebook / Twitter
---
TeeBlox Subscription Box

TeeBlox is a monthly subscription box that brings you an officially licensed geek and/or gamer t-shirt plus two extra goodies – for just $9.99 a month! They also have over 1000 shirts so you can browse them just like you would any online shop to pick out your favorites! The other goodies include movie posters (HUGE ones!), comic books, decals, and stickers. A subscription to this would be an awesomely geeky gift for your nerd on Valentine's Day! They even now have Marvel, DC Comics, Star Wars, and Disney subscriptions! This is a great geek gift!
Subscribe Here – Use Code PRETTIES for 15% off your first box
Read Our Reviews: My First Star Wars TeeBlox / TeeBlox – Why You Need To Subscribe NOW!
Connect On Social Media: Facebook / Twitter / Instagram
---

Avea Bulb

What's a geek without a smart device? A smart light is the perfect gift idea for a geek. He/she can adjust the lighting with their mood. They can impress their guests or set the lighting to help them relax a little bit while they play video games, read, or do fun projects. Transform your home with beautiful dynamic light moods. Control your ambience from your iPhone, iPad, or Apple Watch, and unwind in one of the carefully crafted settings with subtly changing light. You can connect directly using Bluetooth!
Visit Website / Purchase on Amazon
Connect On Social Media: Facebook / Twitter
---
Campbells Limited Edition Star Wars Soups & SpaghettiOs Pasta

What's a geek without Star Wars? With intricate, die-cut pasta shapes, fans can fill their soup spoons with mini calssic "Star Wars" characters including R2D2 and C3PO, Yoda, Chewbacca, and Darth Vader. The packaging itself is worth adding to your guy's Star Wars collection. This is a perfect gift idea for a Star Wars-themed gift basket.
Purchase on Amazon / Some designs are only available at Target
Connect on Social Media: Facebook / Twitter
---
Assassin's Creed Syndicate

I have been a big fan of the Assassin's Creed games since they came out. They are one of my favorite types of games. This new one is set in London 1868 – The Industrial Revolution unleashes an incredible age of invention, transforming the lives of millions with technologies once thought impossible. Opportunities created during this period have people rushing to London to engage in this new world, a world no longer controlled by kings, emperors, politicians, or religion, but by a new common denominator: money. I have spent more hours than I can even count playing this game – and am very near the end. The game play is amazing and I just love the story line. This is a game that I highly recommend, and any geek would be thrilled to get it as a gift!
Purchase Here
Read Our Reviews: 6 Ubisoft Video Games that Every Gamer Needs
Connect On Social Media: Facebook / Twitter / Instagram
---

Mercedes Rockwell Watch

Every geek wears a watch all the time. It kinda comes with the territory. Some watches have display different time zones at once and some make you wonder how the owner can read the time. Then there's a watch like the Rockwell one. The shape is squared, unlike a typical round face watch. The band is wide, and it comes in a variety of colors. The hot pink would be perfect for a geek gal.
Purchase Here
Connect On Social Media: Facebook / Twitter / Instagram
---
Ring Video Doorbell

Give the gift of safety and security to your loved ones this Valentine's Day. The Ring Video Doorbell can help secure your home and even prevent burglaries. The device calls a user's smartphone when pushed, enabling homeowners to see and speak with visitors from wherever they are. Even if no one dings the bell, Ring's built-in motion sensors detect movement as someone approaches the door, triggering instant mobile alerts and initiating HD video recording. Users can then view and share the video recordings with law enforcement officials. Or, simply use the Ring Video Doorbell to dismiss pesky salespeople during your romantic Valentine's Day
dinner at home. Give this to your smart home-loving geeks this Valentine's Day
Purchase Here
Read Our Reviews: Always Be Home with the Ring Video Doorbell
Connect on Social Media: Facebook / Twitter
---

Tardisk

Give your geeky loved ones the gift they really want – more storage on their MacBooks! TarDisk Pear is an enabled SD chip capable of increasing a MacBook's hard drive by as much as 256GB. It's the first device of it's kind, merging your internal hard drive and TarDisk's flash memory into one high-volume, hybrid drive. Why spend thousands on a new MacBook when you could double the capacity (and extend the life) of an existing laptop for just a few hundred dollars?
Purchase Here
Connect on Social Media: Facebook / Twitter / Instagram / Pinterest
---
Personalized Camera Strap (Strange Charm Design)

This strap is gorgeous! It has a bohemian look to it. It's well-made and personalized! Give this to the photography geek this year! This exclusive Strange Charm pattern is the perfect accompaniment to shooting backyard barbecues or summer music festivals. Modern geometric feathers with a southwestern flair fit in perfectly with evenings full of fireworks, cocktails, and great friends. Don't settle for a camera strap with boring black details like everyone else has! The Flock of Feathers strap has accessory elements in coordinating shades of vibrant red, crisp white, and navy blue for the discerning photog who wants to shine down to the last unique detail. The main body of the strap is printed on a sophisticated blend of 55% linen and 45% combed cotton for a soft yet durable fabric. The rest of the strap is made of high quality faux leather and rugged nylon webbing which allows for an adjustable length and will connect to your camera just like a standard strap.
Purchase Here
Our Reviews: Photographers Take Note – A Personalized Camera Strap
---
VTech Cherry Red Cordless Phone (CS6929-16)

The VTech CS6929-16 is a festive, cherry red cordless phone that lets its users stay connected to the ones they love on Valentine's Day (or any day of the year!). I love this phone because not only is it super cute and I can express myself with the red color – but it is practical too. Having two young girls, we need a home phone. You just never know when your cellphones might break (being honest here). Another reason I like having a landline is to make sure there is a way to reach babysitters while we are out. This phone is perfect for just about anyone because of the digital answering machine, caller ID, call waiting, and the full-duplex handset speakerphone (great way for the kids to talk with their grandparents). Not to mention that it stores up to 50 (yes, 50!) names and numbers in it's phonebook and can expand to up to 5 handsets with just one phone jack. This is something we will be utilizing with our 4 floors (including the basement) so we don't have to carry a phone on us at all times. I cannot say enough good things about this phone – and about VTech!
Purchase Here
Connect on Social Media: Facebook / Twitter / Pinterest
---

Powercell 3015c Battery Charger With Micro USB Cable (Ventev)

Every geek needs a charger that gives them more talk time. If you're a tech geek, like me, you have your phone with you at all times. A dying phone gives my anxiety, so I need something to keep my calm and connected. "The powercell 3015c is a 3000mAh portable battery with built-in Micro USB cable. Features an on/off button with LED battery indicator light and provides 12 additional hours of talk time."
Purchase Here
Connect on Social Media: Facebook / Twitter / YouTube
---

Chargesync Alloy Cables (Ventev)

The Ventev 4ft alloy Micro cable showcases an ultra-sleek brushed aluminum housing and is braided with a high tensile wrap providing a premium finish and 'no-fray' durability. Available in six colors.
Purchase Here
Connect on Social Media: Facebook / Twitter / YouTube
---
WD Hard Drives

The WD hard drives deliver solid performance and reliability while providing you with all the space you need to hold an enormous amount of photos, videos and files. These drives are designed for use as primary drives in desktops PCs, notebooks and external enclosures, and for certain industrial applications
Purchase on Their Site / Purchase on Amazon
Read Reviews: Give the ULTIMATE Geek Gift – A WD Desktop Hard Drive
Connect with the brand: Facebook / Twitter
---
Customized Phone Case (Casetify)

Every geek needs a cool phone case to represent their love for all things geek. Casetify is the ultimate gift idea because each phone case can be customized. "Every Casetify product is made-to-order and hand-inspected from corner to corner. With this, we can: ensure high-quality products, remain environmentally conscious by preventing excess waste, and most importantly, offer our employees a livable wage and health benefits. We promise 100% satisfaction."
Purchase Here Use Code – Valentines15 for 15% discount
Connect on Social Media: Facebook / Twitter / Instagram
---

KeyPort – The Ultimate Key Organizer

The Keyport Slide replaces the outdated, bulky keychain & consolidates UP TO 6 (3 Per Side) of your essential personal items (e.g. keys, mini-light, USB flash drive, pen, bottle opener) into a compact hi-tech key fob that attaches easily to any auto remote. Designed with the modern professional in mind, Keyport is the only multi-tool that incorporates keys, that is fully customizable, & that, unlike most multi-tools, you will actually use every day.
Purchase Here
Read Our Reviews: The KeyPort – Organize All Of Your Keys & Some Tools In One Place
Connect on Social Media: Facebook / Twitter / Instagram / Pinterest
---
Queens of Scream: 4 Movie Thrill-Fest

Most geeks that I know love a good horror film. I am certainly guilty of that. There is nothing like turning down the lights, cuddling up under a blanket with a loved one, and putting on something that will scare me! Queens of Scream is a DVD that features 4 of the best scary movies – I Know What You Did Last Summer, When A Stranger Calls, Vacancy, & The Cave! These films star four of the best Queens of Scream (Kate Beckinsale, Jennifer Love Hewitt, & Sarah Michelle Gellar) so grab some popcorn and settle in for a horror marathon. Any geek is sure to love this collection!
Purchase Here
Connect on Social Media: Facebook / Twitter
---
Locked and Loaded: Four-Barrel Combo

This DVD Collection contains four action packed rounds of great films! ATTACK FORCE starring Steven Seagal: When Lawson (Seagal) loses his team in a cold-blooded attack, he takes it upon himself to investigate the suspicious circumstances of the brutal killings. THE POINT MEN starring Christopher Lambert: Tony Eckhardt (Lambert) is as an Israeli secret service agent assigned to track and assassinate Amar, a terrorist who is threatening the future of the Middle East peace process. HUNT FOR EAGLE ONE starring Mark Dacascos. After a raid to capture terrorists holed up with Philippine rebels, Lt. Daniels (Dascascos) must rescue the crew of a downed helicopter before the bioweapons detenate. WALKING TALL: LONE JUSTICE starring Kevin Sorbo: After cleaning up his hometown, Nick (Sorbo) retires as sheriff and hopes to start a new life, when he is pitted against a ruthless drug lord and his army. This is sure to make a great gift for the action movie lover in your life! Put it in a gift basket with some popcorn and soda and you are ready for an awesome movie marathon!
Purchase Here
Connect on Social Media: Facebook / Twitter
---
D-Link Wi-Fi Smart Plug

Your devices should work for you whenever you want them to, right? D-Link agrees – and that's why they made the Smart Plug. You can set device schedules so that you walk into a brightly-lit home every day after work with your favorite song playing and the AC exactly where you want it. It is super easy to set up too, simple connect to your Wi-Fi network with the push of a button. We had ours set up in less than 5 minutes! You can also turn things on and off from your smartphone or tablet using the mobile app. The app is easy to use and it will even send you customized notifications! With the app, you can keep an eye on your energy use – know what each device's power consumption is, monitor air conditioning usage in the summer, or heat usage in the winter! That means no surprises at the end of the month! This is the perfect gift for any Geek who wants a fully connected home! My husband was so excited when ours came in the mail and we just love it!
Purchase Here
Connect on Social Media: Facebook / Twitter
TOTU Bluetooth Wireless Headphones

Get rid of the wires when exercising! TOTU can handle your rigorous workouts with its sweat, dust and shock resistance. The ear hook design allows you to focus on your workout with no worry of fall-off. Incorporating the Ergonomics design and in-ear design, this bluetooth headphones is extremely comfortable and secure for the most users: bicyclist, runners, joggers, walkers etc. Built-in rechargeable battery lasts up to 160 hours standby time, 10 hours of music time, Which makes you do not have to worry your bluetooth headphones runs out of energy when you're enjoying the great outdoor activities. TOTU headphones are protected against sweat and moisture damage by its water-resistant material. It would be a good choice for for running, exercising, and biking. My husband is an avid runner – and he loves this as well as recommends them!
---
TokyoTreat Subscription Box

TOKYOTREAT is a subscription-based service that delivers the most premium Japanese snacks and candies to your door monthly. From the salty, sour to the sweet, discover limited edition Japanese treats that you won't find anywhere else! The Premium Box even contains TWO DIY Candy Sets and a toy! I loved unboxing mine (link to the video is below) and my daughters loved digging through it just moments later. They asked when they can get another one! This box is super fun and pretty much anyone is sure to love it! There are three sizes to choose from, so there is something for everyone!
Purchase Here
Watch My Unboxing Video
Connect On Social Media: Facebook / Twitter / Pinterest / Instagram