Thanks to Focus Features for hosting me at the NYC The Zookeeper's Wife Press Junket.
I am by no means a history buff, but when it comes to World War II, I know more than the average person. Ever since I first read Anne Frank's Diary in Middle School, I had to know more about the horrific events that took place. I've watched more documentaries than I can count and read so many stories that it's given me nightmares. My fascination has never lessened, so when I first heard of The Zookeeper's Wife – I knew I wanted to attend the press junket. I worked really hard and was invited to NYC by Focus Features to cover The Zookeeper's Wife Interviews and I'm forever thankful.
Before I get into the interviews, I want to tell you a little bit about the film and story – just in case you haven't heard anything about it.
The Story: The real-life story of one working wife and mother who became a hero to hundreds during World War II. In 1939 Poland, Antonina Żabińska (portrayed by two-time Academy Award nominee Jessica Chastain) and her husband, Dr. Jan Żabiński (Johan Heldenbergh of "The Broken Circle Breakdown"), have the Warsaw Zoo flourishing under his stewardship and her care. When their country is invaded by the Germans, Jan and Antonina are stunned – and forced to report to the Reich's newly appointed chief zoologist, Lutz Heck (Daniel Brühl of "Captain America: Civil War"). To fight back on their own terms, Antonina and Jan covertly begin working with the Resistance – and put into action plans to save lives out of what has become the Warsaw Ghetto, with Antonina putting herself and even her children at great risk.
The Zookeeper's Wife Interviews with Niki Caro and Jessica Chastain
Approaching The Zookeeper's Wife
Let me begin by saying that I was incredibly impressed to see two emotionally strong and humble women sit before us. As I watched from a few rows back, I saw female Director, Niki Caro describe what she did to make the movie impactful in ways that honored the heroes from World War II. You could see the pride and emotion on her face and she told us about how delicately she approached the making of this film.
I took that responsibility as seriously as it's possible for me to take, which is to say very. Authenticity and specificity has always been really important in my work. But this represented a much bigger challenge – to honor all of those souls that died, whilst celebrating 300 that didn't, and the amazing work of the Zabinskis.
I thought it was interesting when Niki mentioned how there aren't "happy endings" in Holocaust movies. She's right! We don't hear about the heroes or the lives that were saved by selfless men and women.
I thought we were making a historical drama. And it's only now that I realize we're making a contemporary film – sadly.
She goes on to describe how "diligent" and relentless they were in their research and how every single person who worked on the film were "very invested in getting it right!"
Jessica Chastain watched Niki Caro as she spoke, in such a way that you can't help but think she's greatly influenced by Niki. She watches her as if she looks up to her, which I'm sure she does. Niki looks at Jessica the same way. These women really respect once another and clearly feed off of one another in these interviews. With that said, Jessica was inspired to talk about her portion of the research for The Zookeeper's Wife, as an actress. Because the research for a director and actress is similar, but also very different. Jessica describes how she transformed into Mrs. Antonina Żabińska after really losing herself in the world & mind of the World War II hero.
I think by starting to learn about Antonina, and by reading The Zookeeper's Wife, you feel like you know her, because you hear her words; you read her words. That was very helpful for me. I started with the book, because the film is based on the bestselling, incredible novel, which is then based on Antonina's journals. I went to Warsaw, met with Theresa. She took me to the Warsaw Zoo, and I got to ask her secrets that weren't in the book. Things like – if Antonina was an animal, what kind of animal would she be? "Oh, definitely a cat. She'd be a little puma." Theresa said.

And then I went to Auschwitz. Of course, Antonina wouldn't have known what was happening there, but I just wanted to feel the energy of the space.
Jessica builds a bond with the spirit Antonina. She gets to know the person she was – she introduces herself to the life and heart of Antonina and eventually, she becomes a flawless version of her on the big screen.
She would put the caring of others ahead of herself. I mean, she wasn't out there saying, like, "This is what I did. I'm a hero." You know. For her, it was all about others: animals, or people, or whatever it was. My grandmother raised her family, and my mother raised three kids. And I am where I am today because of the sacrifices they made. So it wasn't hard for me to find examples of a woman who – not sacrifices herself, but gives herself to others.
So why did Jessica Chastain take on such a heavy role. She responded so beautifully and honestly, that I couldn't help but to respect her as a woman even more than I already did. Just like Niki, she wanted to tell a story of happiness.
When everybody talks about Holocaust films – when you think of what we've had – we've really seen the darkness, and the hate, and the murder. But rarely do we see the light. And with people like Antonina, it's important to celebrate that lightness.
The significance of working with REAL animals.
One thing I loved about The Zookeeper's Wife was all the animals. In fact, that, along with the Holocaust story, was what really drew me into this film. I'm a huge animal lover and I believe in the bond between human and animals. It was interesting to see the wide range of animals in this film and it was even more interesting to find out that they were real! Jessica Chastain actually interacted with real elephants, monkeys, rabbits, and more in the filming on The Zookeeper's Wife! That's kind of a big deal considering any other filmmaker would have jumped at the opportunity to use CGI. I'm thankful for the different levels of authenticity in The Zookeeper's Wife.
And then I met with a lot of people who spend their lives dedicated to animals. The thing I learned most from everyone was not to impose your energy onto an animal; not to treat an animal as though it's your possession or an object. It's a spiritual being – I guess, [like]what this film is, too – whether human or animal, they are not ours to possess. And I knew, on this film – if I were to ever get hurt on this movie, it's because I'm doing something wrong. Not the animal. And so I spent some time, when we got to Prague, being with the animals before we were even on camera. I wanted them to be happy when they saw me. I wanted them to feel safe, and to know that I wasn't going to try to force them to do anything.
We then go on to discuss her work with the actual animals in the film. She mentioned how she did, in fact, hold a lion club for the first time. However, it was her work in a major elephant scene that really intrigued me. I think we all wondered about Jessica's relationship with this elephant.
Jessica describes her private moments with Lily the elephant before filming. She tells a story of Lily wrapping her trunk around her arm and tugging a little bit. It spooked her a bit and definitely put her in her place as you could say. Lily was just trying to play and that was one step closer to becoming closer to the elephant.
The first time I met Lily (the elephant), we were in this field. It was before we started shooting. And there was this little tiny string that was kind of like the fence between us and she knew not to cross it. And she was finding leaves and looking for food. So I was like, "Oh, okay." So I was on my side."I'm gonna find some for you." So, I was gathering leaves and I'd hand [them] to her. She would put her trunk on my hand.
There was one very intense elephant scene in the movie that had the entire audience holding their breath. The elephant is very much in distress and is rubbing her trunk all over Jessica's body. This scene was very difficult to watch and I thought surely it had to be animated – nope! It was all real, but she had a trick up her sleeve – or maybe an apple or two. However, it was her work in a major elephant scene that really intrigued me. In this scene, the elephant is very much in distress and is rubbing her trunk all over Jessica's body. This scene was very difficult to watch and I thought surely it had to be animated – nope! It was all real, but she had a trick up her sleeve – or maybe an apple or two.
The scene that we did with the elephant, it feels in the film like the elephant is really concerned. But it's the magic of movies. She loved apples – that was her treat. And so right before 'Action' I would say, "Lily, Lily," and I would give her some apples. And then, I'd hide them around me. So I'd hide them under the puppet; we had a puppet, which was the baby. I hid them under my foot, or wherever. So when you see her with the trunk going all over me, she was looking for the apples. So for her, it was a game.

That probably was the most fun I've had, because I had to be so trusting. She was behind me, but I knew she wasn't going to hurt me.
This isn't the only scene where Jessica interacts with animals. In fact, in just about every scene in the film, she has an animal in her arms. I found that to be a very important way to symbolize Antonina's nurturing personality. It seemed as if the only moments she wasn't holding an animal, she was helping a human. The animals were used as coping tools at different moments.
I don't want to spoil the film for you, but there was a girl that the Żabińskas rescued. She was incredibly traumatized after a horrific experience. She wouldn't speak to anyone. She could barely function. It wasn't until she was given a bunny, that she began to slowly heal. Niki Caro specifically mentioned this scene.
But in that scene, in particular, there was a bunny. And the bunny really shows us the healing power of animals – that it's a little bunny that can break through for this girl. And that's Antonina's gift, to know, without words, without overt action, just what to do in that moment. And Jessica absolutely has that gift herself, as a human being.
What was real and what was added for entertainment?
It's the question everyone has about a "true story". How much of it is actually true? Sometimes, we are disappointed to learn that our favorite "true stories" aren't really true at all. Sometimes, they are more inspired by true events which led to the storytelling, imaginative process. You'll be pleased to learn, however, that most of The Zookeeper's Wife was true. Some moments were pulled straight from Antonina's diary, while other scenes were an educated guess. We can't expect every specific scene to be spot on with the actual events. However, we can expect everything to be thoroughly researched, delicately approached, and as authentic as possible. Niki Caro explains it best:
This isn't a documentary, obviously. We have our responsibility to entertain, and to move. That said, it's really close. The character of Urszula, the little girl, she's fictional. About 300 people, just 300 people went through that system, went through the Villa. And we don't have complete stories out of all of them. We don't know details of all of them, or many of them. But Urszula was somebody we felt was important to bring to the story. Lutz Heck (the main soldier in the film) and all of that crazy breeding, totally true. What a nut case. There is evidence from his letters that he greatly admired Antonina; that there was definitely something there.

But, the extraordinary circumstances of getting people out of the ghetto in trash cans, and having them pass through the cages and tunnels into the Villa – all true; her playing the piano – true.
Jessica Chastain also mentioned how Antonina said she thought Lutz Heck "had a crush on her", as stated in her journals. So, there are things that may not have happened in the exact same way, but the filmmakers didn't over exaggerate anything. There's also a huge scene at the end of the film that did actually happen. I will not be specific, as to not give too much away. Ask me about it later and I'll fill you in.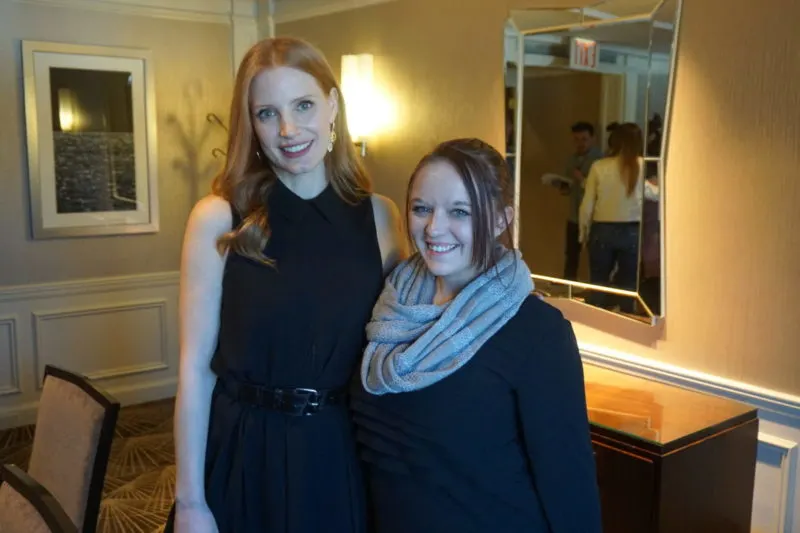 I actually got a chance to chat with Jessica Chastain after the film and we talked about how it must have been to be Antonina. We talked about how we'd all like to think that we'd do exactly what she did, but we don't know we'd do when our families lives and our own were at risk. It's something to really think about!
I'll leave you all with the final some final thoughts right from Jessica Chastain herself. I think it's incredibly important to think of how easily an entire country did this. We need to take a stand and fight only for what's right – even we are the only ones fighting!
How could this have happened – how could an entire country have done this? Many people were ordinary people who just got swayed by the power. I can't help but think how important this film is today, especially looking around. You know, Ann Frank was denied a visa into the United States. I remember being in school, and that's required reading, her diary. But the teacher doesn't say the reason she died is because the United States wouldn't let her in. So it's a very, very emotional, important film for me.
See The Zookeeper's Wife in theaters 3/31/17
& be sure to pick up The Zookeeper's Wife book on Amazon!