Thanks to Focus Features for sponsoring this post as a part of NYC The Zookeeper's Wife Press Junket.
Before chatting with actress, Jessica Chastain and director, Niki Caro, I had the pleasure of screening this beautiful film in a comfy New York City theater. I knew I'd walk away with a new perspective, wet tissues, and a different appreciation for my freedom. Every time I watch a World War II film, I take a moment to myself to reflect on the truth behind the film. While these films entertain us, they are based on real events. Horrifying events that we can't comprehend. They are so disgusting that some people deny these events ever taking place. It's stories like these that need to be told – to honor the lost lives and to recognize the events actually happened.
We always hear about the tragic events that took place during that frightening tome – Auchwitz being a big focus in Holocaust films. We never focus on the heroes in these stories. We never talk about the men and women who put their lives on the line to save strangers. The Zookeeper's Wife is bringing light to the untold story of a hero that we've never ever talked about – until now.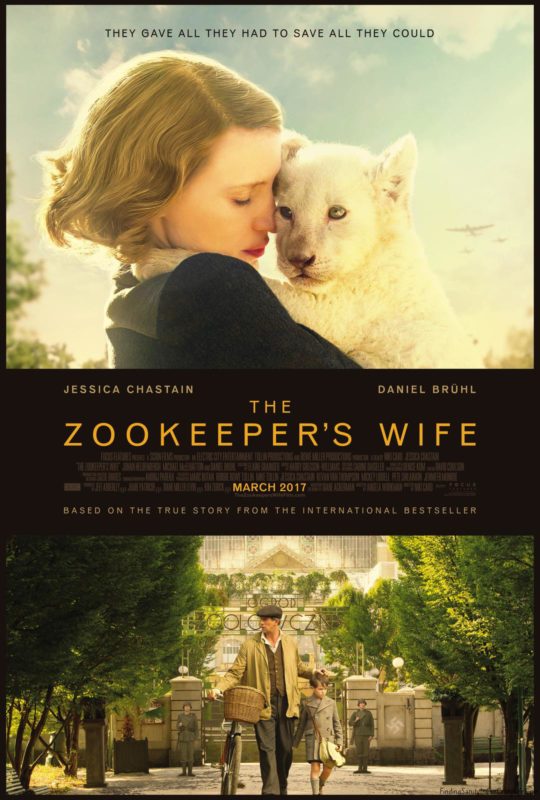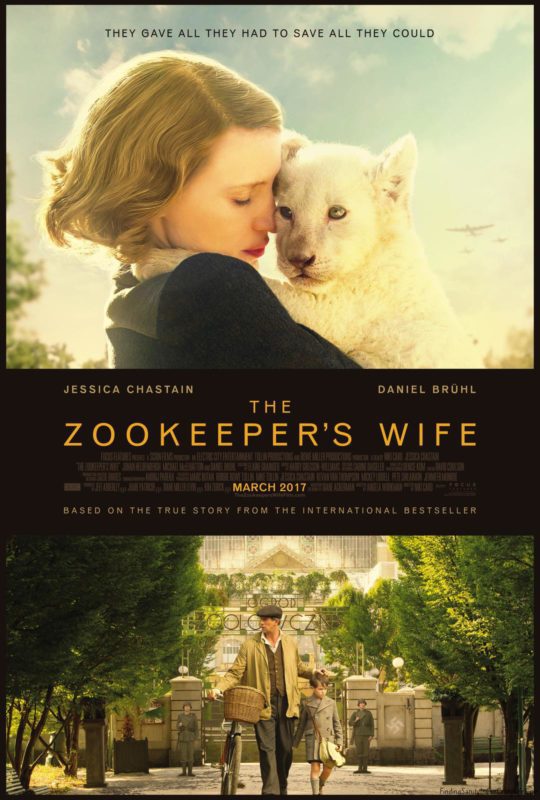 Jessica Chastain puts her skills to the test as she plays the heavy role of Antonina Żabińska – the woman who helped free over 300 Jews by hiding them in the deepest parts of her Warsaw Zoo, disguising them, and helping them sneak away to freedom. Not only did she risk her own life, she risked the lives of her family to save a bunch of strangers. This was especially risky with the German soldiers who took over who zoo. I think we can learn a lot from Antonina, especially in the world we live in today.
I learned a lot from this film, and as a woman, I took a lot away from it! These were my major takeaways and this is my spoiler-free The Zookeeper's Wife review.
We all matter
The Zookeeper's Wife is a reminder that every person matters. It doesn't matter if you're a man, woman, or child. It doesn't matter if you're German or Jewish. We all matter. Every life is significant and the Holocaust happened because people decencitized themselves enough to allow innocent people to be murdered. This is happening today. Innocent lives are being taken because of the color of their skin. We need to stand up for what's right because every life is meaningful. If Antonina could stand up against an army of Nazis who shoot people without a second thought, then we can stand up against the individuals spreading hate in our country.
One woman can do a lot
If Antonina can save over 300 individuals then we can save a few lives ourselves. I know it's easy to say that we would do exactly what Antonina did, but we don't know how we'd react in a situation like that, but we need to react before there is a situation like that! One person can completely change the world. If you don't think you can make a difference – just go out and do one thing for a stranger and see how they react. Spread kindness and they will spread kindness in return. It all begins with one person making a difference.
Some things are bigger than you
In The Zookeeper's Wife Antonina and her family did what their hearts told them to do. They couldn't sit back and pretend that harmless people weren't being killed! They had no idea the extent of the Holocaust at that time and they had no idea the impact they were making. They did this not to be heroes, but because it was the right thing to do. Some things are bigger than you are. Sometimes it takes winning a small battle to win the big war. A regular family, like the Żabińskas, doesn't offer help because they want a place in the history books. They do it because it's the right thing to do.
The major takeaway
I took away so much from this film. It made me want to follow my heart, even if I'm afraid. Heroes are courageous. A hero jumps into a stressful (and sometimes deadly) situation and does what most people would ignore. They do things that are beyond them. It doesn't always mean risking your life. Sometimes it just means being the first person in a chain of events. In The Zookeeper's Wife, the Żabińskas began to save Jews secretly and eventually, they had others helping them. She's not the only hero from WWII. She's just one story of many. Be the person that one person wants to talk about. Offer a helping hand. Be a friend. Stand up when everyone else is too afraid. Speak up when the rest of the world is silent. Do something bigger than you. You never how many people's lives you could change.
In Theaters 3/31/17
Story: The real-life story of one working wife and mother who became a hero to hundreds during World War II. In 1939 Poland, Antonina Żabińska (portrayed by two-time Academy Award nominee Jessica Chastain) and her husband, Dr. Jan Żabiński (Johan Heldenbergh of "The Broken Circle Breakdown"), have the Warsaw Zoo flourishing under his stewardship and her care. When their country is invaded by the Germans, Jan and Antonina are stunned – and forced to report to the Reich's newly appointed chief zoologist, Lutz Heck (Daniel Brühl of "Captain America: Civil War"). To fight back on their own terms, Antonina and Jan covertly begin working with the Resistance – and put into action plans to save lives out of what has become the Warsaw Ghetto, with Antonina putting herself and even her children at great risk.
Director: Niki Caro ("North Country," "Whale Rider," "McFarland, USA")
Writer: Angela Workman ("War Bride"), based on the nonfiction book by Diane Ackerman
Cast: Jessica Chastain, Johan Heldenbergh, Michael McElhatton, and Daniel Brühl
Running Time: 126 minutes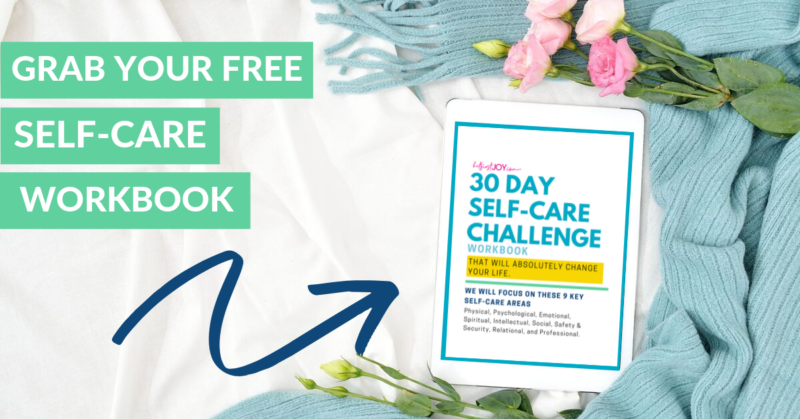 DISCLOSURE
As an Amazon Associate I earn from qualifying purchases. This post may contain affiliate links and/or promotional products, all opinions expressed are that of But First, Joy only. Read my full disclosure.