In this room by room guide, I'll give you detailed tips for how to succeed a toddler proofing your home. This is a full guide to make every room safe!
Toddlers are mobile and inquisitive in nature, resulting in the need for parents to learn all about toddler proofing their home in the safest way possible.
While most baby proofing products would work for crawling infants, toddlers who are walking need something more thoughtful.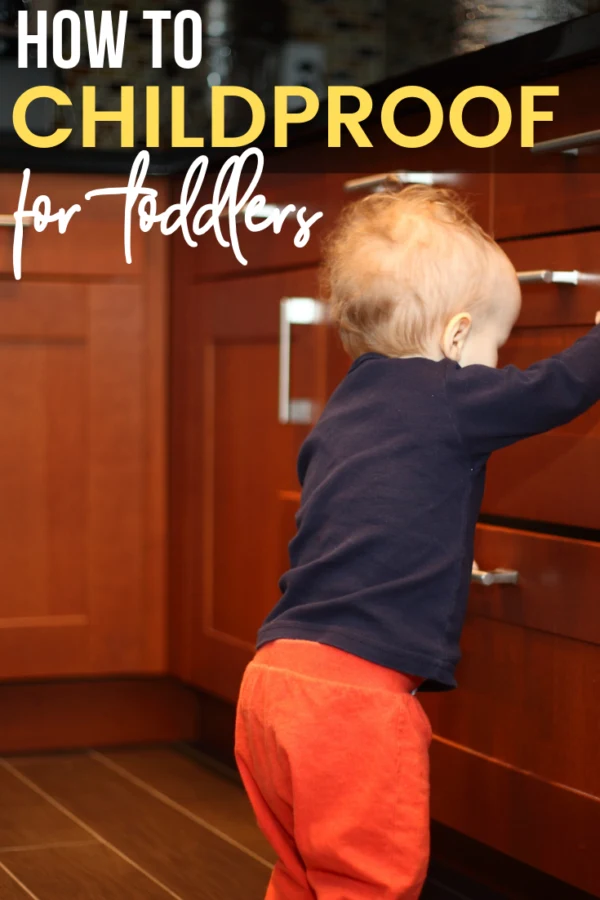 The Guide to Properly Toddler Proofing Your Home
These tiny humans are now running on two feet and reaching for objects. To keep toddlers safe we need to be by childproofing the home with them in mind.
You can do so by using some basic items like child safety gates, childproof locks and latches, and by making a few lifestyle changes.
RELATED: 10 Ways to Emotionally Connect with Your Toddler
Toddler proofing the Kitchen and Bath
Since the kitchen and bathroom hold the most potential for accidents, it is vital that you give both rooms some serious toddler proofing. We want these rooms safe for curious toddlers.
Rearranging Cabinets & Drawers
Rearranging items so that heavier and dangerous items are stored in overhead cabinets is a great place to begin. These items should be out of reach for a toddler. All the while, safer and lighter items can be stored in cabinets that a toddler may access.
In addition, cabinets and drawers that hold dangerous items should have child safety latches installed.
How to Childproof the Bathtub
Make the bathtub safe for toddlers by investing in a protective spout cover, a grab rail low enough for a toddler to hold, and a safety latch for the toilet lid.
The authors of What to Expect the Toddler Years also recommend installing ground fault circuit interrupters to prevent shocks in the kitchen and bathroom. They also recommend keeping the water heater's thermostat set at 120º F or lower.
Additionally, keep the floors in the kitchen and bathroom dry to avoid slips. Likewise, the bathtub bottom should have a skid-proof surface or mat.
To add, you should install child safety latches on all appliances that open. Knob covers can also be great to prevent toddlers from turning on appliances, like the stove.
Kitchen safety reminder:
Never place a toddler on the countertop at anytime and always keep pot handles turned inwards while cooking.
How to Childproof the Garage and Laundry Room
Parents should install childproof locks on doors leading to the garage and laundry room. These rooms should be kept them off limits for toddlers as there are too many potential hazards.
In addition, it would be wise to transfer all poisonous and hazardous items in these rooms to securely locked, out of reach cabinets. It is also recommended to turn off power to the washer and dryer when not in use. Always keep the doors to the washer and dryer closed.
Using Child Safety Locks and Latches in Other Rooms
Cabinets and drawers that store objects not meant for a toddler should be fitted with child safety locks and latches. The Safety 1st Magnetic Tot Lok is a good product for cabinet doors and drawers.
Install these locks on drawers that close sharply, as to prevent tiny fingers from getting hurt. Also, install window safety guards and locks to prevent toddlers from falling out of windows.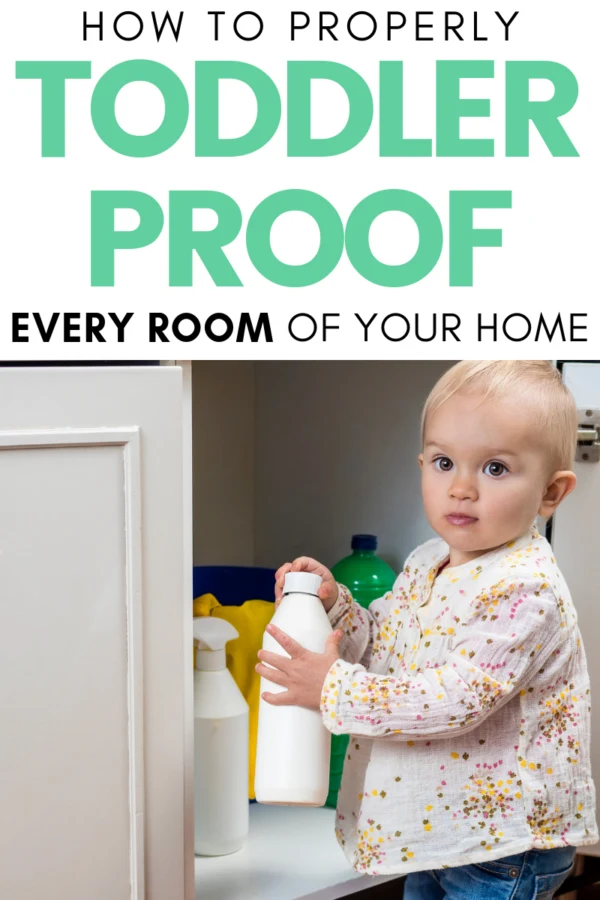 More Tips for Childproofing a home for Toddlers
Parents can also childproof the home for toddlers in the following ways:
Remove plants that may be poisonous or plants with thorns that may prick or hurt a child.
Soften sharp edges of tables by using rubber edges or table cushions.
Install safety gates at the top and bottom of all the stairs in the house and keep steps free of toys and other clutter to prevent falls and accidents.
Remove or change the placement of decorative items that could break, fall on a toddler, or have small parts that may lead to choking accidents.
Ensure additional home safety by installing smoke detectors and carbon monoxide detectors on every floor.
Keep electrical outlets covered and cords bundled and secured.
Keeping the home safe for toddlers requires some amount of planning and a great deal of vigilance. Use these tips to childproof the house for the safety of your toddler. While child safety gates and childproof locks do help in securing the home, they cannot take the place of a parent's watchful eye and a constant lookout for potential hazards.
Do you have any safety tips for toddler proofing? Share them in the comments below!