After having my son, I struggled to find anything cute for baby boys in large retailers, so I searched until I found the best of the best. Now, as I search for baby girls gifts for a friend, the trouble comes from having so many options! This isn't always a bad problem to have but when you're a new mom on a budget, like me, you have to limit yourself to either baby necessities or unique baby gifts. That's why I created this new baby shopping guide: Top Baby Girl Gifts of 2018. Every item on this list was personally approved by me. I hope you find the perfect thing for that sweet baby girl. Happy Shopping!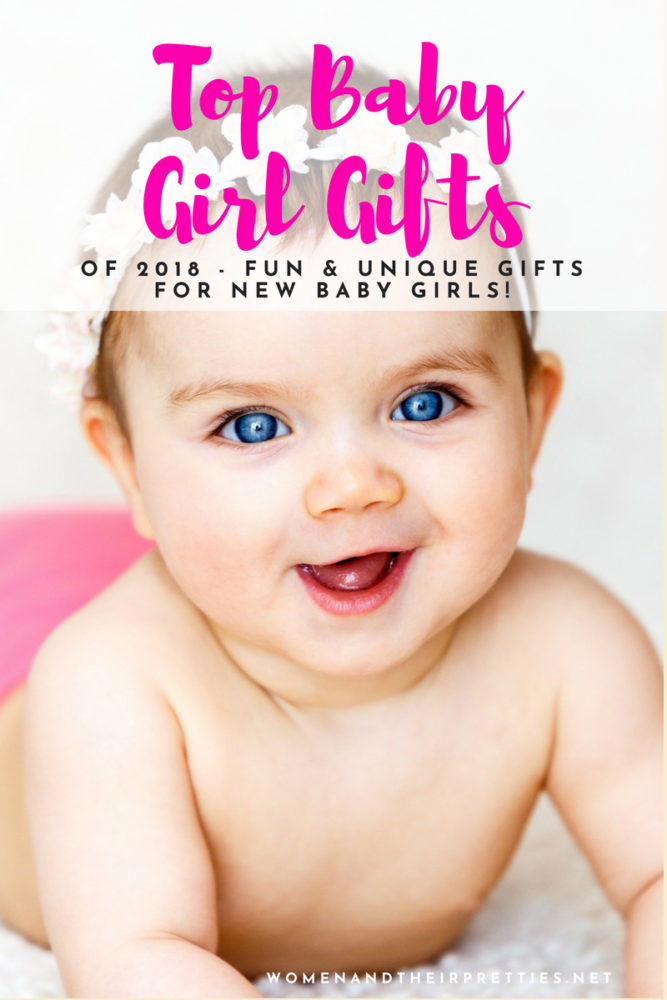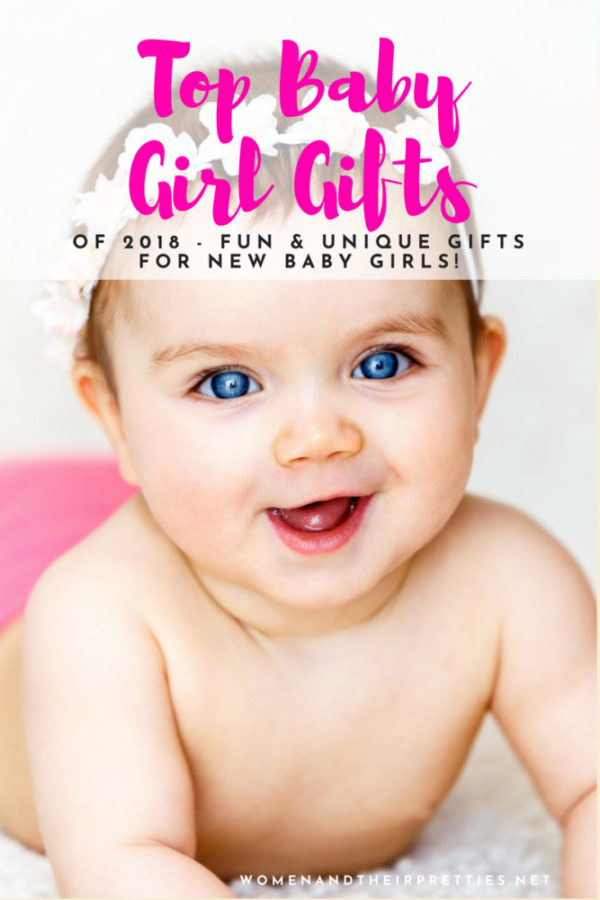 Top Baby Girls Gifts of 2018
1. Unicorn Pacifier and Teether Holder
Because every baby girl is as magical as a unicorn. Description The best things in life are made with Lovey! Dr. Brown's® Lovey Pacifier & Teether Holder is baby's best bud. Soothe and comfort your little one with the Lovey Pacifier & Teether holder, designed to fit Dr. Brown's soothers and teethers and most other brand, too! Soft, multi-textured materials are great for exploring fingers and is easily hand-washed and air-dried. The included Dr. Brown's® HappyPaci™ soother is 100% silicone, featuring a contoured shield and a bulb shaped like Dr. Brown's bottle nipple for better acceptance. The HappyPaci™ snaps securely to Lovey; remove the pacifier for cleaning and attach almost any other soother or teether. HappyPaci is dishwasher safe (top rack) and BPA free.
---
2. Lamaze 
Flapping Fiona toy
Fiona will charm baby with her colorful, flapping wings and pull-me legs. Pull the clip to make her vibrant wings flap up and down, encouraging cause and effect play. Baby girl can tug on Fiona's legs to make the other side get shorter, which helps develop motor skills. A squeaker in her head and surprise crinkle sounds encourage exploration. The Lamaze clip lets you hook Fiona to strollers, carriers and diaper bags to take her along for on-the-go fun.
Get it here → Amazon.com, $19.99
---
3. 
NURSH Silicone Pouch Bottles
Get it in girly colors! It's the best thing to happen to feeding since nipples. The revolutionary air-free feeding design of our NURSH™ Silicone Pouch Bottle feature a 100% silicone pouch that collapses as your little one drinks, squeezing out the nasty gas-inducing air that causes colic. No straws, vents or valves here—so it's a snap to clean and assemble. The silicone can even be boiled, sterilized, microwaved, and frozen. Boobs, you've met your match.
---
4. 
Nova The Unicorn sponge
Unicorns are totally trendy for sweet baby girls! A soft and cuddly animal friend makes bath time fun…and helps get little ones clean, too. Built-in finger pockets allow for secure scrubbing, while a clever opening for liquid soap makes sudsing up all the easier.
Nova the Unicorn is from our SoapSox® legends collection. Nova loves to frolic with her friends in the magical land called Prism, which they call home! Bath time is Nova the Unicorn's favorite time of day, besides blowing bubbles! She loves to splash and dance around in the rainbow glow! Nova the Unicorn needs to have a bubble bath everyday in order to get her glitter off before bed time, when she dreams about exploring and other adventures!
---
5. 
Gallivanting Goose Cuddly
Gallivanting Goose softly nestles on your baby's cheeks. She will help that baby girl fall asleep, and comforts them when teething.
---
6. Harrison and Georgia Handcrafted Teething Accessories
Every baby girl is going to need a teething accessory at some point. Harrison and Georgia just happen to have some of the cutest on the market. Each toy is handcrafted, unique, and safe for baby! Just pick your favorite one.
Get it here → Etsy.com, prices vary
---
7. Noobie Box-  Girl Edition
This is by far my favorite subscription box for babies! You'll be shocked to see all the goodies included in the Noobie Box for your baby girl 4 milestone boxes for your baby's first year – each box contains 5 full size products. Get all 4: Noobie Nest, Noobie Eat, Noobie Play & Noobie One.
---
8.
Hollow Woodworks Personalized Stool
Spoil those baby girls with this personalized gifts! Hollow Woodworks most beloved creation, now with TMEMES. personalized name puzzle stools handcrafted by our seasoned craftsman. Each item is made just for you to cherish your precious memories. It's Stool-Chromatic! (Overall Color Choices) Make the name pop the colors that is you. (Custom Name Puzzle Color Pattern) Engraved, Forever. (Engraving on the Back of the Stool Top) An expression of what is close to the child's heart. (Themes) The name is not in English? No problem! We can make it how you want it! Themes: Hearts, Sports, Cars, Princess, Flowers, Trains, Fireman, Whales (2-piece), Dinosaurs, Nautical, Space, & Engraving on the Top Surface of the Stool Top
---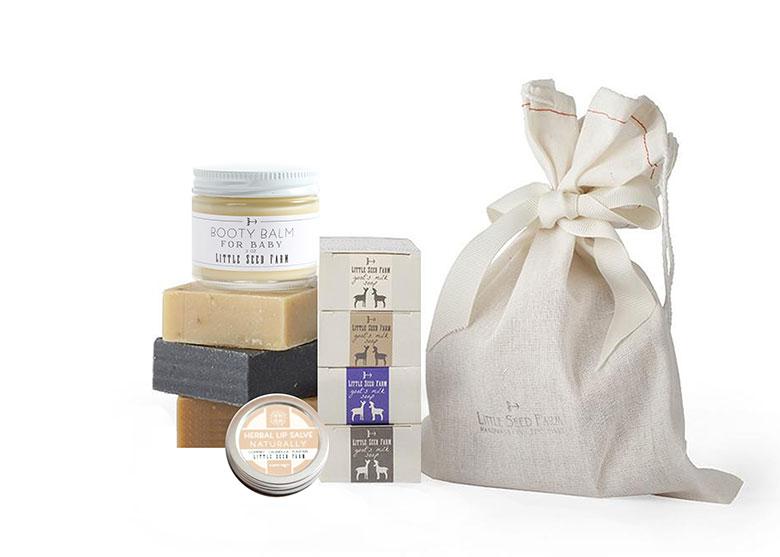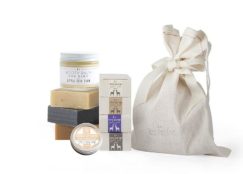 9. Organic Baby Bundle
Great for mommy and baby! A lovingly made bundle of our best selling organic skincare and bath products for baby, ready for gifting or travel in a simple muslin pouch. The bundle includes: Booty Balm for Babies, Naturally Herbal Lip Salve, and Mini versions of our Lavender, Oat, Activated Charcoal, and Milk Soaps.
---
10. nanobébé Newborn Gift Set
Gift the nanobébé experience with the special Newborn Gift Set.  This exclusive gift set includes some of our most innovative products: Breastmilk Bottles to help preserve breastmilk nutrients during storage and warming and our non-electric Smart Warming Bowl for quick and even warming of breastmilk.  The set also features essential accessories such as medium flow and slow flow nipples and breast pump adaptors.  Also included are our Microwave Steam Sterilizer, which quickly eliminates household bacteria, and our space-saving Compact Drying Rack.
---
11. 
When God Made You book
From early on, children are looking to discover their place in the world and longing to understand how their personalities, traits, and talents fit in. The assurance that they are deeply loved and a unique creation in our big universe is certain to help them spread their wings and fly.
Through playful, charming rhyme and vivid, fantastical illustrations, When God Made Youinspires young readers to learn about their own special gifts and how they fit into God's divine plan as they grow, explore, and begin to create for themselves.
Get it here → Amazon.com, $10.73
---
12. Sweet Pineapple 
Beachy Baby Bodysuit
Quality, color, and comfort is everything that baby girl needs in her first few months of life! Part of the Beachy Baby Bodysuit collection, our Sweet Pineapple onesie will look adorable on your little pineapple princess.  Perfect for summer, it features a happy little pineapple wearing a pink bow, and the word "Sweet" underneath, all in bright, beachy colors.
---
13. Babibunny Night-Light Floral Bloom
When it's time to go to sleep, I need two things, namely a big cuddle from my parents and my Babibunny soft baby doll, which is a perfect size for my little hands (12″). When Mum and Dad close my bedroom door, it's really dark. Sometimes I get a little anxious. But I can easily grab my Babibunny soft baby doll by his big ears and give it a hug. It's so soft that it calms me immediately. Then I can just press on its tummy and a soft night-light comes on for five minutes to give me added reassurance. A series of eight tunes lull me to sleep. No need to ask my parents to come and stop the music as my Babibunny soft baby doll stops by itself.
Get it here → Amazon.com, $33.96
---
14. 
Dreft Laundry Detergent
#1 Pediatrician-recommended and hypoallergenic baby detergent, Dreft Stage 1: Newborn HE Liquid Laundry Detergent is perfect for cleaning all your newborn's delicate clothes. These clothes include onesies, baby booties, baby socks, shirts, dresses, hats, coats and bibs. Stage 1 is also perfect for other baby fabrics, including bedding, blankets, sheets, towels, bedding, swaddlers, burp cloths, cloth rattles… the list goes on!
Get it here → Amazon.com, prices vary
---
15. 
Haakaa Nipple Shields – for mom & baby
The Haakaa Nipple Shields are made of ultra-thin, super-soft, flexible 100% food grade silicone. These are perfect for moms with latch-on difficulties or flat and inverted nipples to help mom continue to breastfeed. Their unique shape and super thin silicone allow for more skin contact between mom and baby. They warm up with mom's body temperature for a natural feel.
Get it here → Target.com, $12.99
---
16. 
Baby Butz Diaper Rash Cream
Heal diaper rash quickly and naturally with Baby Butz cream, the most effective baby rash ointment available without a prescription. Composed of 30% zinc oxide along with other simple, natural ingredients, our diaper rash cream will address the symptoms of diaper rash in as little as four hours, with immediate relief upon application. The safest baby healing ointment available, Baby Butz is trusted by hospitals, neonatal units and pediatricians across Canada to treat the symptoms of diaper rash while providing overnight protection. 100% natural, hypoallergenic and fragrance-free, our max strength butt cream is licensed as a Natural Health Product in Canada and is rated #1 by the EWG.
Get it here → Amazon.com, $14.99
---
17. 
Miss Happy Panda baby doll
Perfect to go everywhere, miss happy Panda is the small doll that baby will never leave behind. As with all Corolle baby dolls, miss happy Panda is perfectly sized (9.5 inches) for tiny hands to grasp and hold and made of ultra-soft fabric making her very cuddly. Her sweet, realistic vinyl face is delicately scented with vanilla, a Corolle signature. Miss happy Panda soft baby doll has a sewn-in label to write baby's first name or a phone number in case the doll is lost. Miss happy Panda is machine washable, delicate cycle. From birth.
Get it here → Amazon.com, $24.99
---
18. 
Haakaa Silicone Breast Pump
Every baby girl's mama needs this breast pump! Forget huge, loud and complicated automatic pumps which cost hundreds and need to be pulled to pieces and cleaned thoroughly every time you use them. This 100% food grade and simple to use breast pump will change your life – truly. Fits perfectly into any handbag or baby bag and requires no hard work. Also the best travel pump you will find! This compact pump is perfect for long distance trips, planes, car rides, family BBQ's or anywhere you would like to discretely express, quickly. Simply suction to your breast and let the pump do the work for you as it draws your milk using suction. 100% safe for mum, baby and our environment.
Get it here → Amazon.com, $13.99
---
19. 
JOY 36-piece Fashionably Cute Huggable Hangers®
Bring the joy of the same slim, velvety hangers you love home to your kids! They help keep closets organized and conserve space with their 1/4″ thick design, and their plush material helps keep garments from slipping off. Hey, kids can be messy — but their closets don't have to be.
Get it here → HSN.com, $36
---
20. 
Lemondaisy Design Personalized Whale Rompers + more!
Nothing is more fun than a personalized romper for that sweet baby girl. I personally love the Teal Whale Design because it's bright, soft, and cool enough for summer! Soft 100% Cotton T Shirt Romper with teal whale design.  Romper may be personalized with a baby's name as well
---
21. Haakaa Silicone Fresh Food Feeder & Teether
Give that baby girl something pretty to chew on while she's suffering from sore gums, lots of drool, and fussy days! PVC, BPA & Phthalates free. Soft silicone pouch with small holes for easy feeding. Allowing only small digestible pieces to come through. Full silicone design makes the feeder 100% safe for your child to chew and suck on. Encourage your child to self-feed, build independence, develop confidence and improve hand-eye coordination. Easy to use and clean. Dishwasher safe. Unlike mesh alternatives the silicone pouch does not absorb odor, breed bacteria, leak juice or change colour due to stains. Also a teether. Assists in teething pain and busy little hands.
Get it here → Amazon.com, $11.42
Did you find anything you like? Tell me in the comments below if you purchased something listed above or tell me if you have any favorite baby girl gifts!
Do you have a product that you'd like mentioned in this guide? Send me an email and we will collaborate!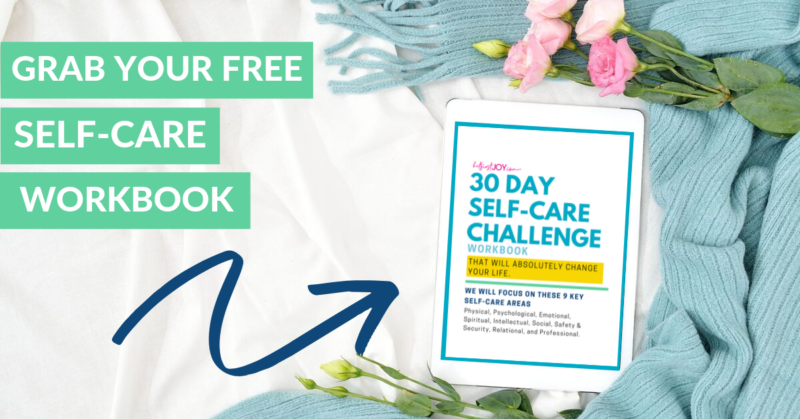 DISCLOSURE
As an Amazon Associate I earn from qualifying purchases. This post may contain affiliate links and/or promotional products, all opinions expressed are that of But First, Joy only. Read my full disclosure.