Give him sweet wishes in a card or online this year! These Valentine's Day Quotes for Husbands are the perfect way to express love on this romantic holiday.
We don't give our husband's enough credit, am I right, ladies? A good man deserves just as much acknowledgement as a woman does. While we may not view men as emotional creatures, they very much are.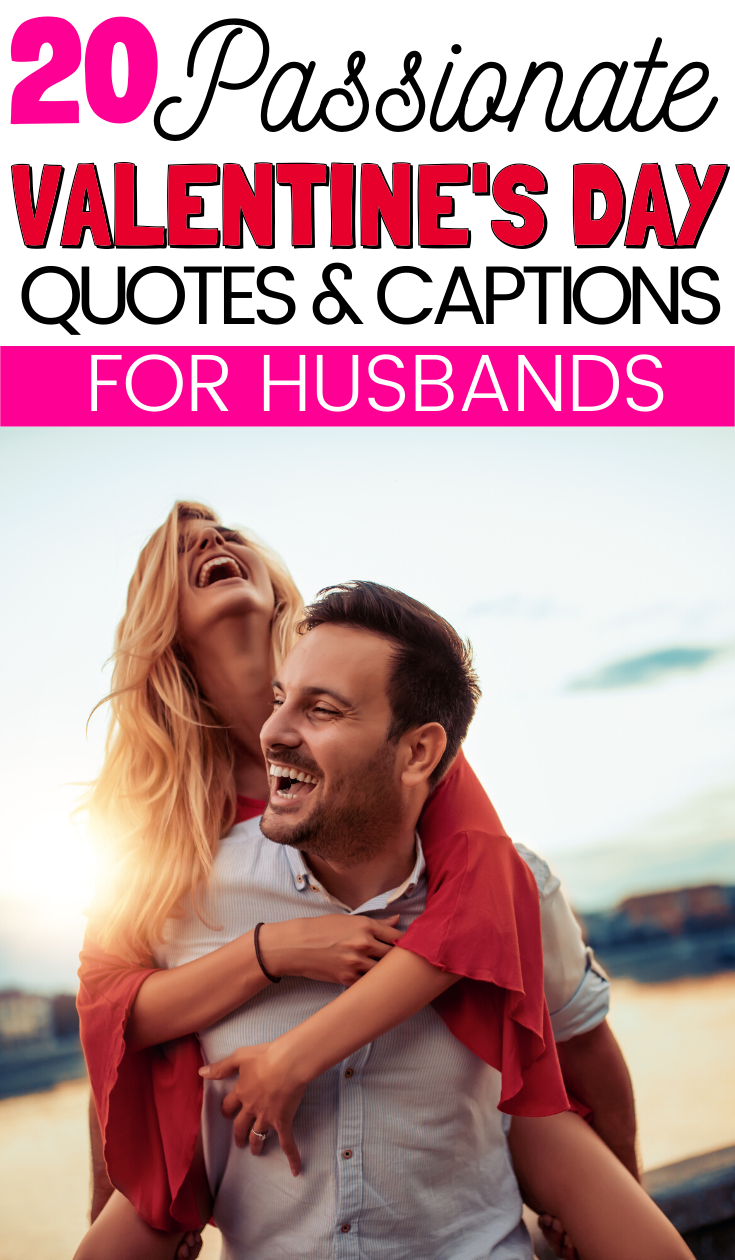 If you're anything like me and want to publicly express your love with sweet Valentine's Day message for the man in your life, these Valentine's Day quotes for him will give you some inspiration.
These love quotes for husbands can be included in a greeting card, as an Instagram caption, or in a sweet love note. You'll even notice that many of these are also movie quotes, which is my specialty.
Valentine's Day Quotes For Husbands
However you decide to use these Husband Valentine's Quotes, be sure to make it a very special moment for him.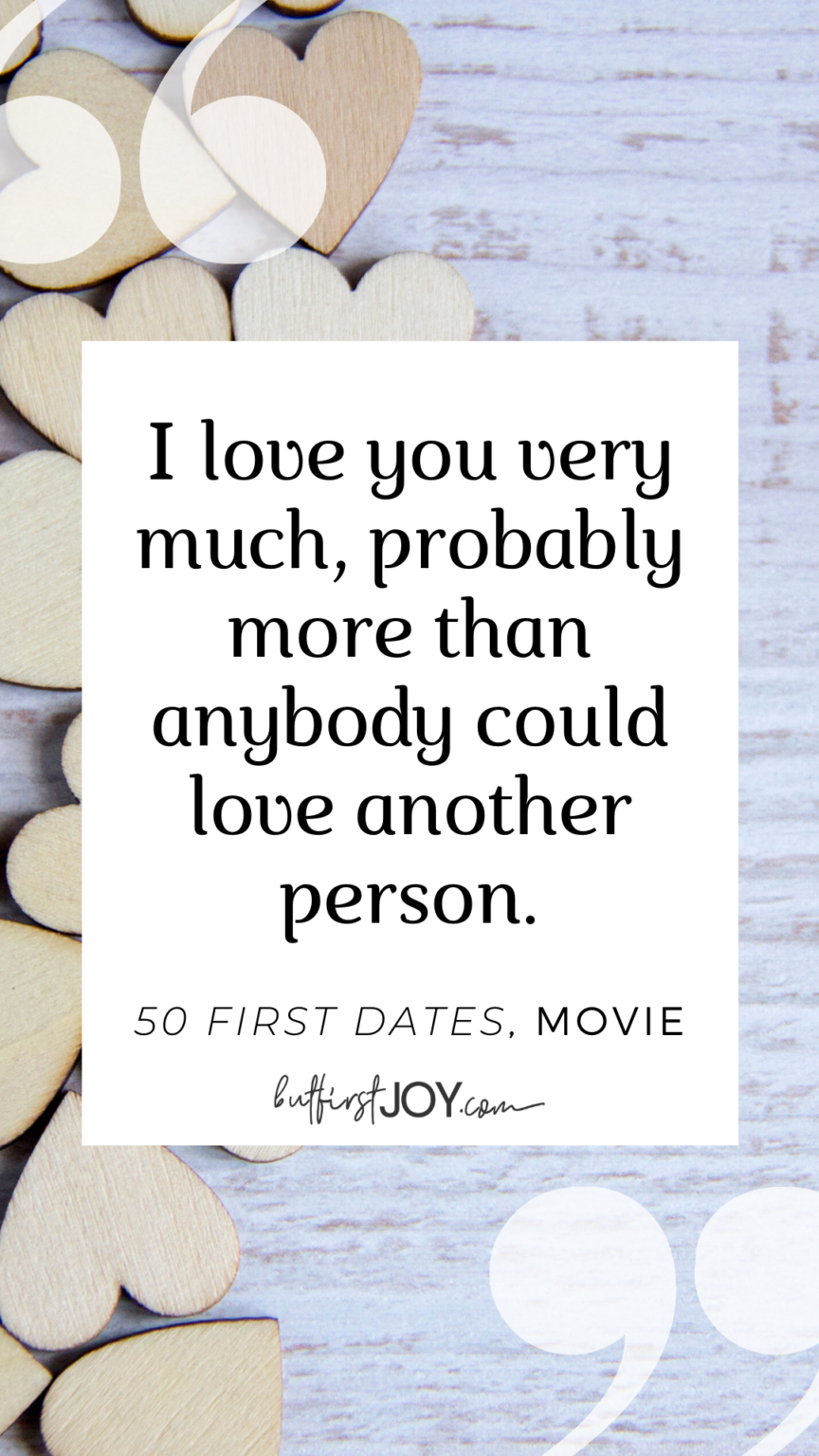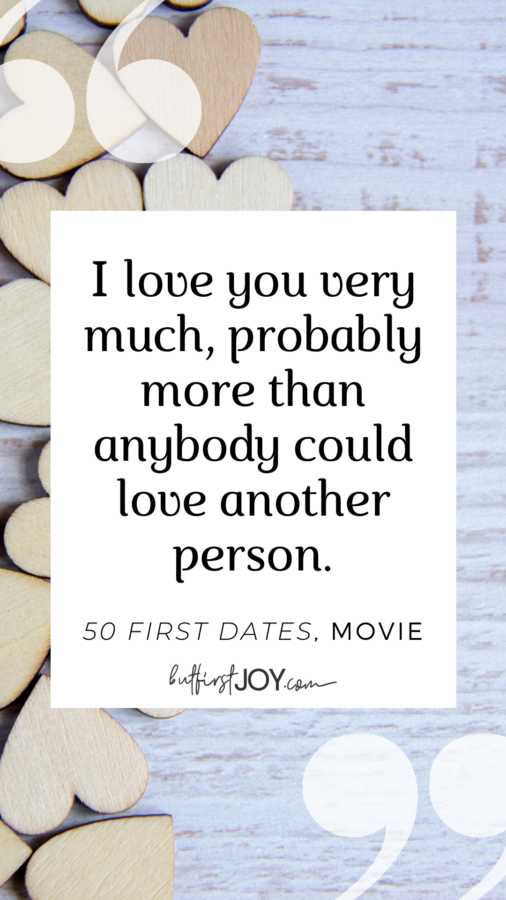 1. "I love you very much, probably more than anybody could love another person." – 50 First Dates
This is one of my all-time favorite movies. Mainly because I love the lead actors, but also because the romantic gestures are better than ever. Because of that, this quote could be a very sweet thing to say or express to your husband this Valentine's Day!
2. "In all the world, there is no heart for me like yours. In all the world, there is no love for you like mine." – Maya Angelou
This may be the Valentine's Day Caption I use for my husband this year. It's sweet, sentimental, and comes straight from the heart.
3. "I would rather share one lifetime with you than face all the ages of this world alone." – J.R.R Tolkien, The Lord of the Rings: The Fellowship of the Ring
This is the absolute truth and if your husband is any kind of geek, he will appreciate this Valentine's Day message for him.
4. "I love being married. It's so great to find one special person you want to annoy for the rest of your life." — Rita Rudner
I love silly love captions, such as this one. This is perfect for partners who have a very playful marriage.
5. "I love you."
"I know." – Star Wars V: The Empire Strikes Back
This is another great love quote from the movies. It's also one of the most popular of all time. A Star Wars lovin' husband would most definitely appreciate this quote on Valentine's Day!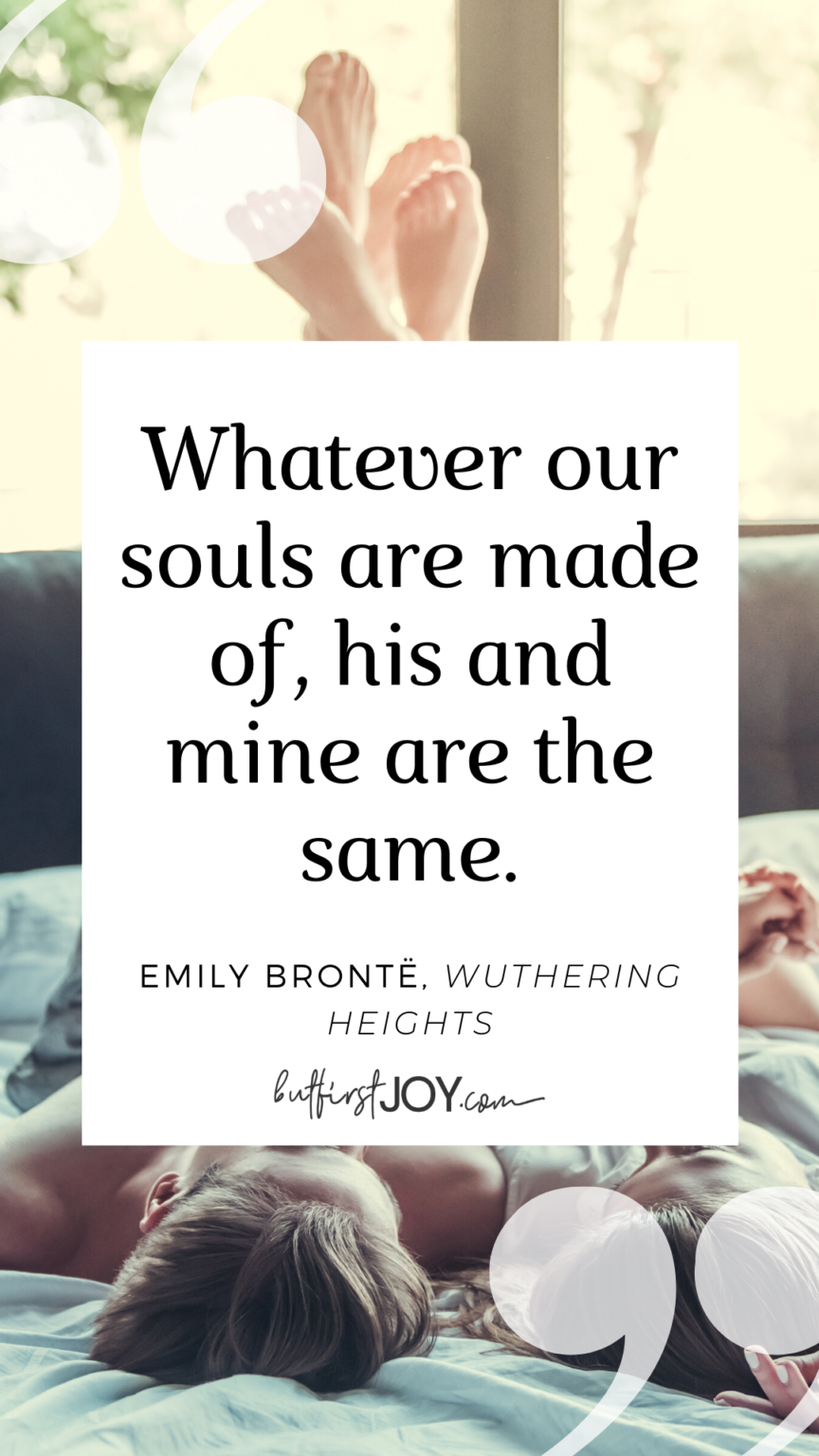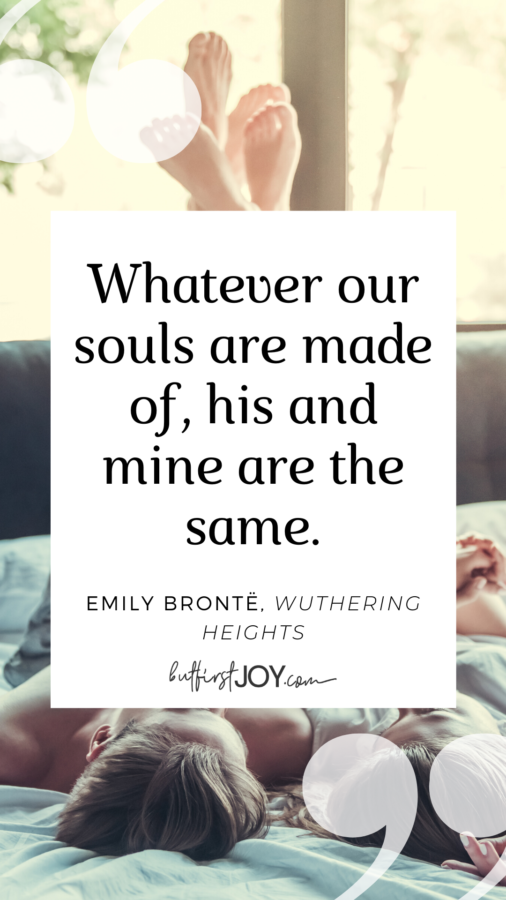 6. "Whatever our souls are made of, his and mine are the same." – Emily Brontë, Wuthering Heights
This is another favorite because everyone who has been in love, probably feels the same way.
7. "Home is wherever I'm with you." – Edward Sharpe & The Magnetic Zeros, Home
This has always been a song that I adore because I feel it so deeply. I love the idea of sharing this song and lyric with your husband on Valentine's Day!
8. "Love, I've come to understand, is more than three words mumbled before bedtime." – Nicholas Sparks, The Wedding
Nicholas Sparks is my favorite author of romance. In fact, it wouldn't be a stretch to say that The Notebook is my favorite love story of all-time. The Wedding comes just after and it's full of romantic quotes that are worth mentioning – especially on Valentine's Day.
9. "Love, it never dies. It never goes away, it never fades, so long as you hang on to it. Love can make you immortal." – If I Stay
I absolutely agree. Love is forever because your souls are connected.
10. "You know you're in love when you can't fall asleep because reality is finally better than your dreams." – Dr. Seuss
This has always been one of my favorite love quotes of all-time. It's innocent, yet such a sweet gesture to share with husbands.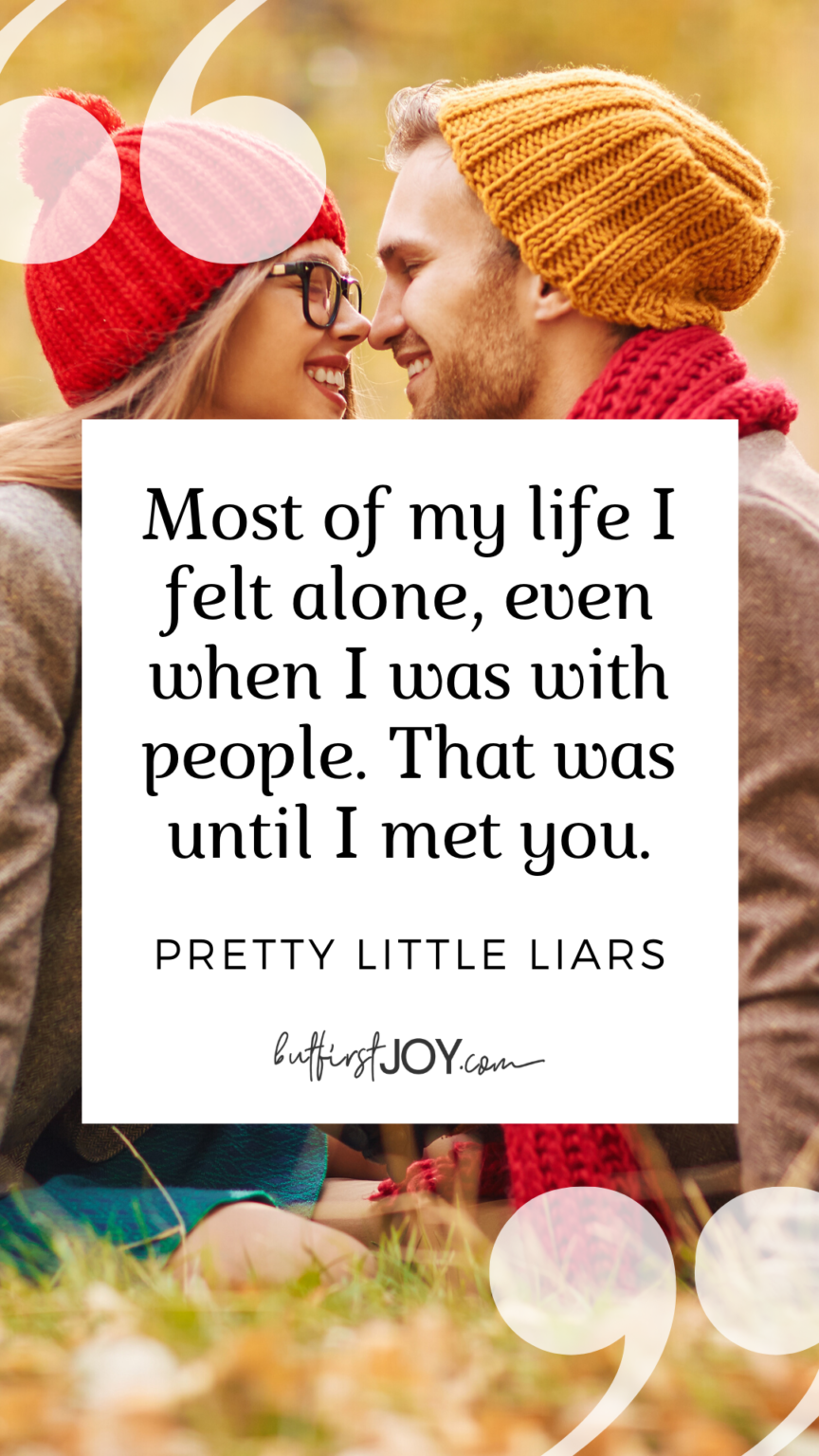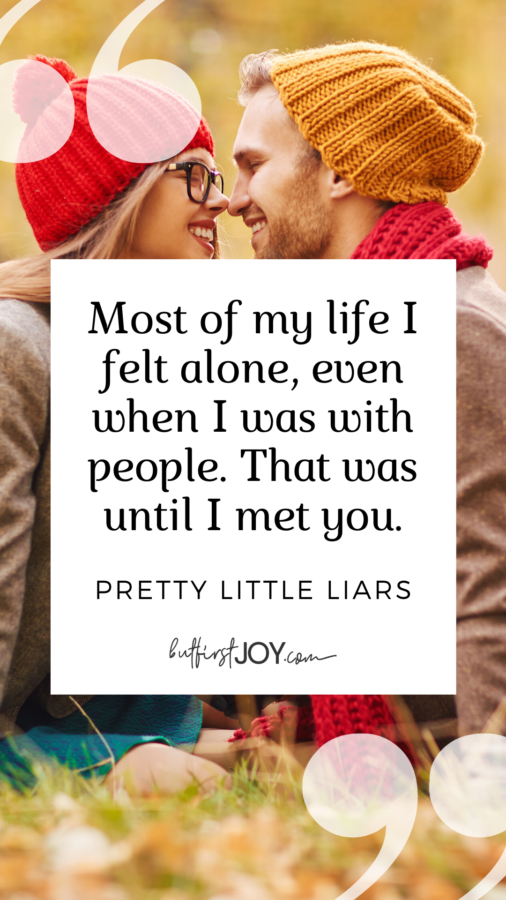 11. "Most of my life I felt alone, even when I was with people. That was until I met you." – Pretty Little Liars
I just cannot with these quotes. This one brings tears to my eyes because it's so true. As far as Valentine's Day Quotes for Husbands, this one really inspires.
12. "This is a thank you for every hour we have spent together, for every kiss, for every embrace and for every tear shed for one another."
I don't know who the author is of this love caption for men but it's definitely one of the romantic things you can express to your husband on this romantic holiday.
13. "When I look at you, I can feel it. I look at you and I'm home." – Finding Nemo
Okay, so this wasn't meant to be a romantic message for a husband but it sure is fitting. You can find beautiful meanings in Disney movie quotes, such as this one.
14. "Some people search their whole lives to find what I found in you."
This is the perfect intro for a long passage of gratitude for your husband on Valentine's Day!
You'll also like: 5 Ways to Express Gratitude to Your Spouse
15. "We're all a little weird. And life is a little weird. And when we find someone whose weirdness is compatible with ours, we join up with them and fall into mutually satisfying weirdness—and call it love—true love." – Robert Fulghum, True Love
This quirky love quotes is a great way to give a glimpse into your marriage and make your husband giggle. As a Valentine's Day Quote for Husband, this one takes the cake!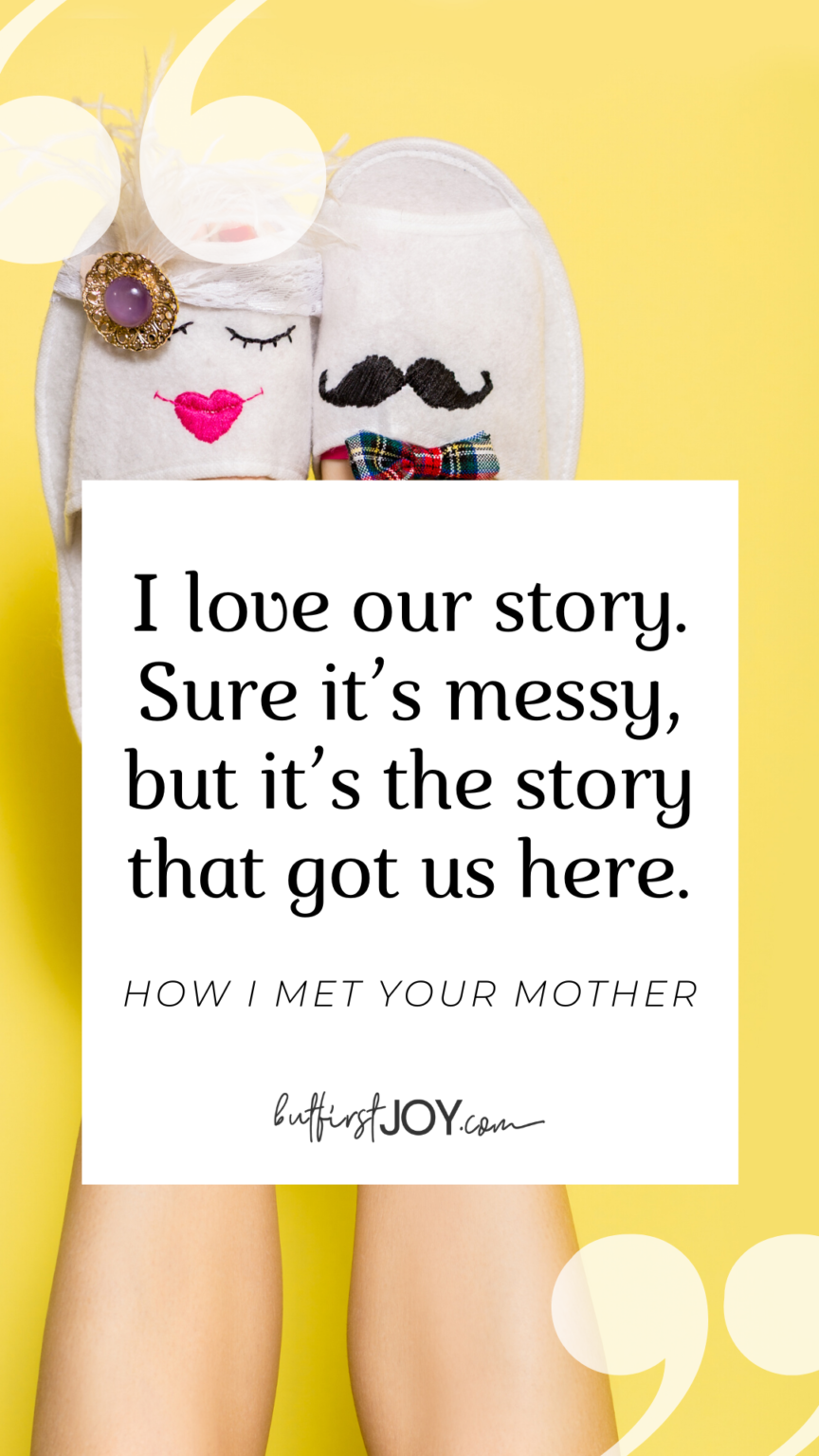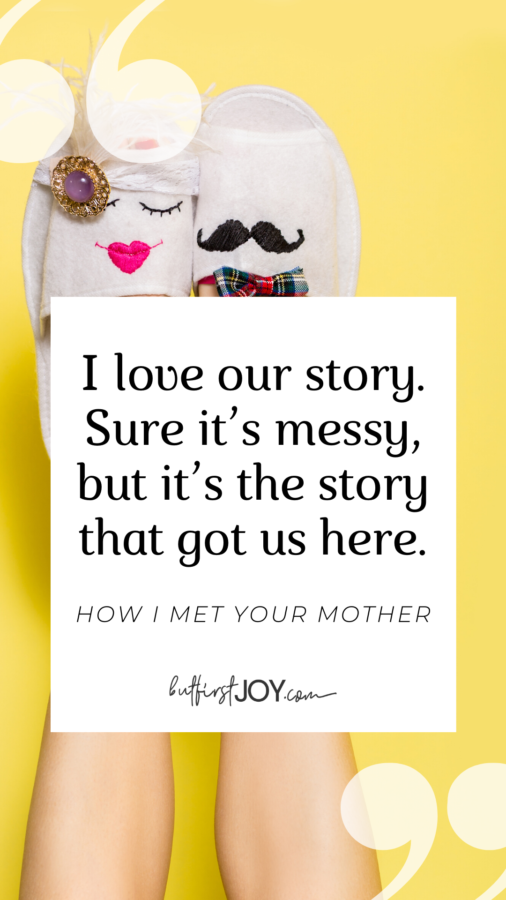 16. "I love our story. Sure it's messy, but it's the story that got us here." – How I Met Your Mother
This quote particularly touches me because my husband and I didn't have a fairytale beginning. However, I love our mess because it gave us so much strength!
17. "You're the moon of my life, that's all I know and all I need to know and if this is a dream I will kill the man who tries to wake me." – Game of Thrones
This Game of Thrones love is the perfect caption for men this Valentine's Day – especially for that GoT husband of yours!
18. "I love you and that's the beginning and end of everything." – F. Scott Fitzgerald
F. Scott Fitzgerald and all those romantic quotes. This quote makes for an absolutely beautiful message for men on Valentine's Day.
19. "I'll follow you down through the eye of the storm
Don't worry I'll keep you warm.
I'll follow you down while we're passing through space
I don't care if we fall from grace
I'll follow you down!" – Shinedown
This was ALMOST my husband and I's wedding song because we both think it's so incredibly romantic. Whether he's a fan of the band or not, this is a great Valentine's Day wish for husbands.
20. "To get the full value of joy you must have someone to divide it with." – Mark Twain
Oh, how I appreciate this Mark Twain love quote because long before I met my husband, I dreamed of finding someone to share my life with. This would definitely be one of the great Valentine's Day Quotes for Him!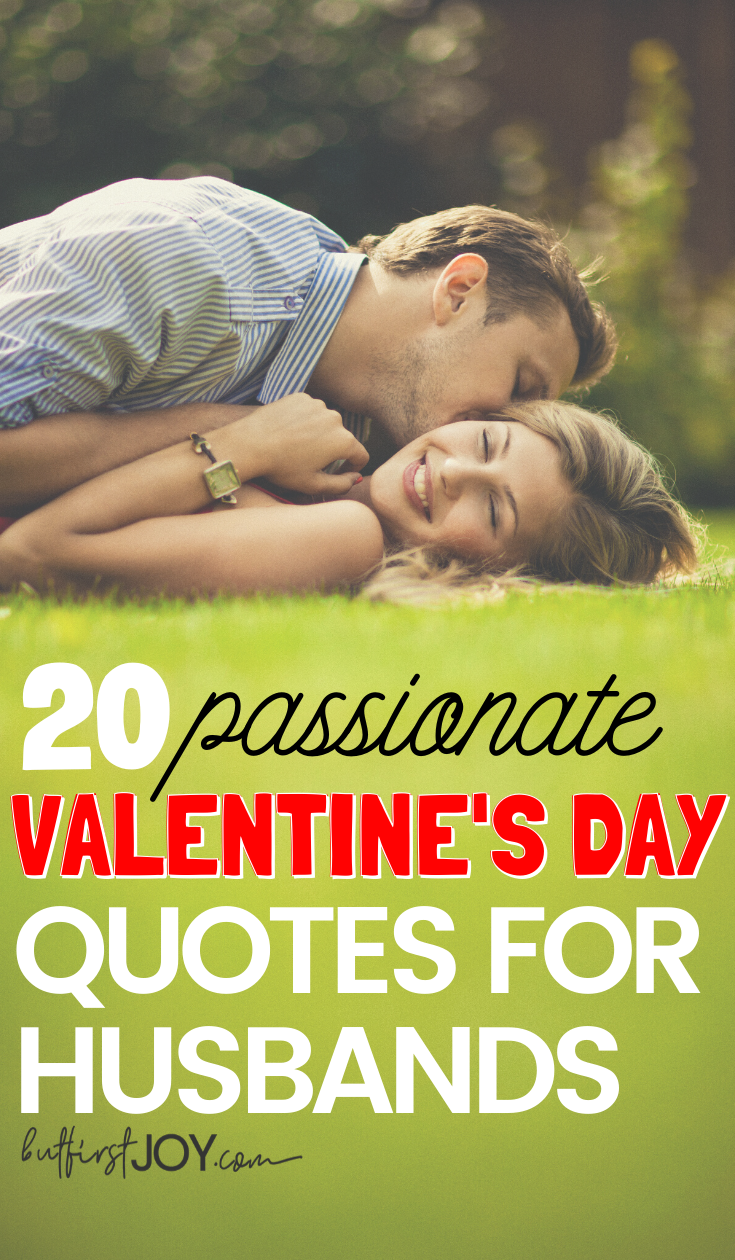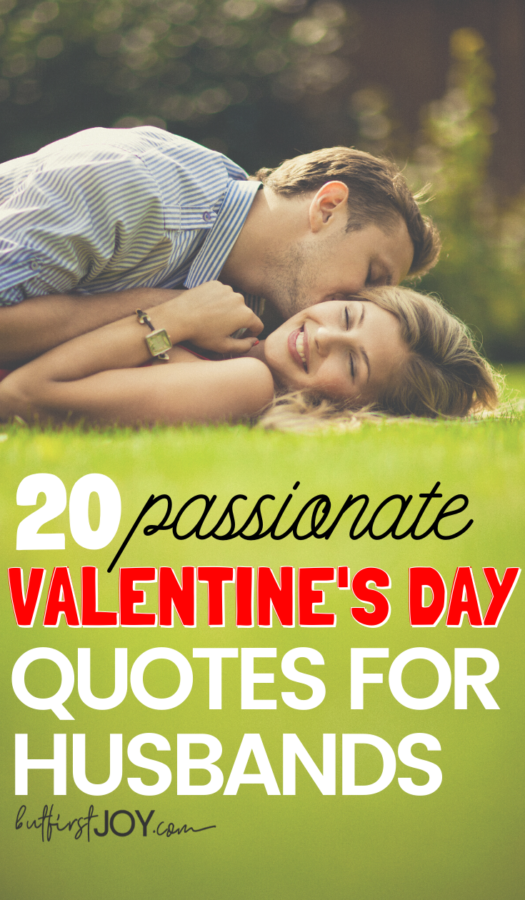 I hope you've found some sort of inspiration to express love to your husband this Valentine's Day. If you need more tips and inspo – comment below or send me an email!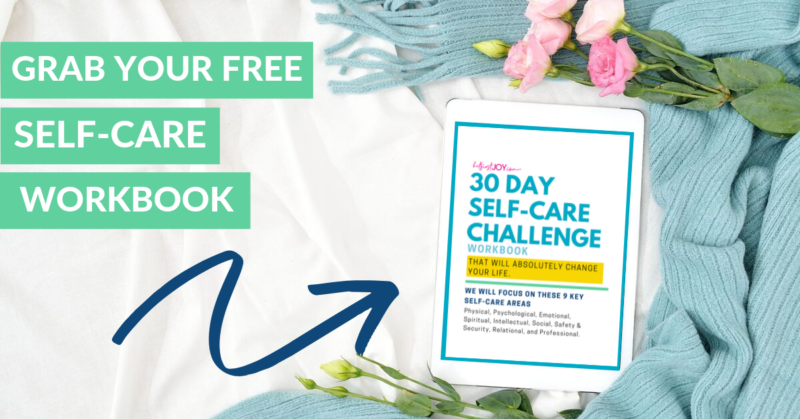 DISCLOSURE
As an Amazon Associate I earn from qualifying purchases. This post may contain affiliate links and/or promotional products, all opinions expressed are that of But First, Joy only. Read my full disclosure.