Let's talk about shopping for your best friends. As women, it isn't always easy to find the perfect gifts for your best friend. In this post, I'm going to give you tips for shopping for your best friend, as well as 10 Girly Gifts for your Best Friend. Maybe these gift ideas will make a little shopping a lot easier.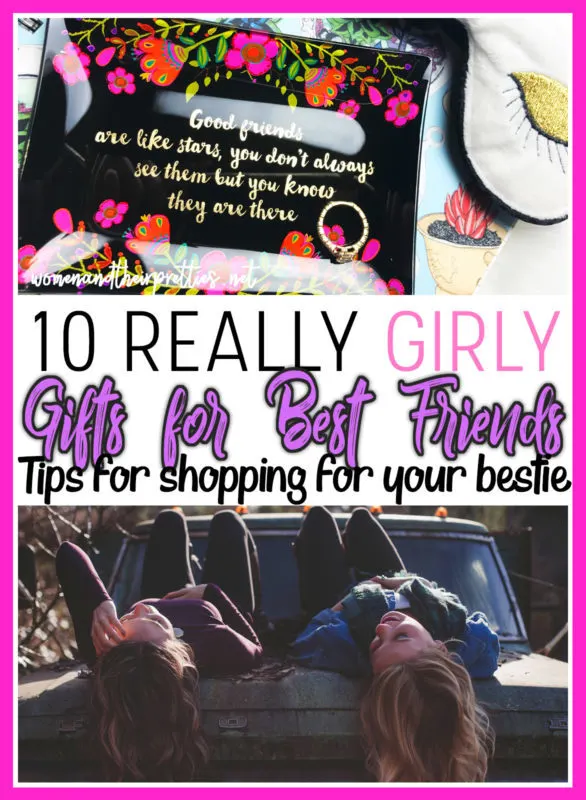 It sounds easy enough right? Shopping for your best friend should be a piece of cake, but it's not. Why is it difficult? Because you know her too well and you probably have a list of 20 things that you're dying to get her! So how do you commit to the perfect gift for your best friend? Don't worry, I've got you covered, girl! I've been shopping for my best friends for years so I've got quite the formula for finding the perfect gift for your bff. These are my tips for shopping for your bestie.
Tips for shopping for your bestie
1. Make notes of what she likes but doesn't buy herself when you're shopping together.
When I'm shopping with my bestie, I always keep a mental note of what she's into. The truth is that we are women – we change our minds like we change our nail color. One minute we love something and the next minute. We're over it! So that's why you need to think of your latest shopping trip with your bff. What did she want to look at? What did she think was "so cute"? Did she "can't even" something in particular? If so, pick it up for her! She'll be surprised you paid attention and excited to get something she actually wants.
2. Think about your inside jokes.
hat kind of inside jokes do you and your bestie have? Are you taco Tuesday queens?Did something super embarrassing happen that only the two of you know about? Get her something to commemorate that! If the two of your are Starbucks queens, get her a Starbucks mug from her favorite city. If her pants split at a party one night, buy her some granny panties just in case it happens again, but also throw in a gift card to her favorite clothing store. Is she always taking naps? Make her an energy basket complete with energy drinks, coffee beans, and a Netflix gift card because we all know a good Netflix Original will keep you up all night! It's clever, it's silly, it's fun, and it's personal. She'll love knowing that you really took the time to think about her.
3. Get her a personalized gift.
Every woman loves a personalized gift. If you want to give your bestie a gift that she will hold onto forever, then something personalized is the way to go. You can personalize gifts with her favorite color combination,
a nice monogram
, her birthstone, or even her kids' names. The options are really endless with this. You know your friend better than anyone else, so take advantage of that.
4. Think of her hobbies.
It's always important to choose a gift with the recipient in mind. Don't choose something you would like, choose something she would like. Chances are, since she's your best friend, you're probably into the same things. However, think of her hobbies. Does she play sports? Is she
crafty
? Maybe she's really into
fitness
. Hook her up with a gif that she will actually use. A hobby is something you enjoy doing in your free time, so anything related to that is something she will love.
5. Give her an experience
One of my all-time favorite gifts to get from friends is an experience. When I was growing up my mother always offered for my brother and I to either receive a gift or to go to an amusement park. We always chose an amusement park because experiences are what we always remember. Give your bestie a memory to make. An experience does not mean a vacation (although that would be pretty awesome). You can give her a massage gift card, tickets to a broadway show, take her to a really fun restaurant. Make new memories with her or give her a date night away from the kids. Maybe you can babysit? Think about it. You'll thank me later and she'll thank you later.
10 Girly Gifts for Your Best Friend
1. Great Friends & Wine Stemless Wine Glass
Every woman is grateful for old friends and aged wine. Enjoy your favorite wine in this handcrafted stemless wine glass that features cerulean brush strokes and inspirational words in elegant gold. This wine glass is sure to become a favorite at your next soiree.
Get it on PapyrusOnline.com
2. Good Friends Floral Glass Tray
Every girl loves something pretty. This beautiful glass tray is the perfect place to keep your special trinkets. A lovely floral design pops against a black backdrop that is sure to brighten any desk or night stand.
Get it on PapyrusOnline.com
3. Denik Notebooks
I have a thing about friends and notebooks. We all have a notebook/journal addiction. I honestly don't use my journals for anything but taking quick notes. When I was a teenager I actually used journals for, well, journaling. I still collect them, though. They are so pretty and cute and there are so many different kinds. Every girl knows what I mean. Denik has some of the cutest notebooks and sketchbooks you'll ever find.
Shop at Denik.com
– Use Code: MAYFLOWERS for 30% off floral notebooks til 5/31

4. Modcloth Gift Card
Every girl deserves something that makes her feel great about herself. Modcloth has something for every woman, of every size. From retro to modern looks, your girlfriend is bound to find something she'll love. There are even some non-clothing girly gift ideas on Modcloth.
Get it on Modcloth.com – new customers get 20% off their first order!
5. Sweet Perspective Sephora Weekender
This is by far the cutest bag I've seen in some time. It has strawberries on it – how adorable is that? It really doesn't get much cuter than this. Give your bestie this weekender filled with beauty products and invite her over for a girl's night in!
This sleek zippered bag contains labeled compartments which allow for quick and efficient access to all your beauty supplies. It can rest fashionably on your beauty counter or hang up when you are on the go. The divider wall serves as a convenient way to separate compartments and hold brushes.
Get it on Sephora.com
6. Contour Blush Palette
My favorite thing to give my girlfriends is makeup. There's something about a good palette that captures my heart. You'll never see me light up like I do when my best friends give me makeup. This Sephora Collection Contour Blush Palette is gorgeous. I've religiously used this palette since I received it a few weeks ago. Give her girly gifts, like Sephora makeup, beauty tools, and accessories. We all love Sephora.
Get it on Sephora.com
7. Fitbit Flex 2
Have you see this Fitbit? The actual tracking device can be removed and placed into a bangle or a necklace. It's every girl's dream come true – a tracking device that isn't bulky or ugly. I literally wore my Fitbit Flex 2 on the red carpet. That's how fashionable it is.
Get it on Amazon.com or Fitbit.com
8. Dixie Delights Custom & Monogrammed Stationary
Nothing screams girls like bright and colorful stationary. Does Lily Pulitzer ring a bell? Probably. Give your bestie some monogrammed notecards or stationary. This is especially great for friends that are newly married, as her new monogram will be super fun and new!
Get it on Etsy.com
9. Stitched – Custom Quilts
Quilts are not outdated. Maybe it's a southern thing, but I think they are the cutest things ever! I love Stitched because they have custom quilts that are really girly. You can personalize it to your best friend's liking. Nothing is as adorbs as this. Get her one and she will tell you the same thing.
Get it on Stitched.com
10. Chalkboard Vase
This is the cutest and coolest thing that I've seen in quite some time. This is one of those quirky little gifts that every gal is sure to love. This is a fun gift because she can keep it at home or keep it in her office.
Get it on Amazon.com
Or maybe just see a new movie about friendship!
VICTORIA & ABDUL
September 22, 2017 (NY/LA); September 29, October 6 (add. cities)
Story: The extraordinary true story of an unexpected friendship in the later years of Queen Victoria's (Academy Award winner Judi Dench) remarkable rule. When Abdul Karim (Ali Fazal), a young clerk, travels from India to participate in the Queen's Golden Jubilee, he is surprised to find favor with the Queen herself. As the Queen questions the constrictions of her long-held position, the two forge an unlikely and devoted alliance with a loyalty to one another that her household and inner circle all attempt to destroy. As the friendship deepens, the Queen begins to see a changing world through new eyes and joyfully reclaims her humanity.
Director: Stephen Frears ("The Queen," "Philomena," "Mrs. Henderson Presents")
Writer: Lee Hall ("Billy Elliot"),
based on Victoria & Abdul: The True Story of the Queen's Closest Confidant by Shrabani Basu
Cast: Judi Dench, Ali Fazal, Eddie Izzard, Adeel Akhtar, Tim Pigott-Smith, Olivia Williams, Fenella Woolgar, Paul Higgins, Robin Soans, Julian Wadham, Simon Callow, and Michael Gambon
MPAA Rating: PG-13
Social: @VictoriaAndAbdul #VictoriaAndAbdul