Having a new baby is so exciting! It's extra fun when their first holidays start rolling around. This year may be your baby's first Easter. Are you wondering how to make baby's first Easter special? There are actually a lot of fun little things you can do to make this day extraordinary for them and for you.
I think it's safe to say that most parents get their baby something because it's a momentous occasion for them. Your baby won't remember their first Easter, but you will. Before long, you'll be thinking about gift basket ideas for your toddler.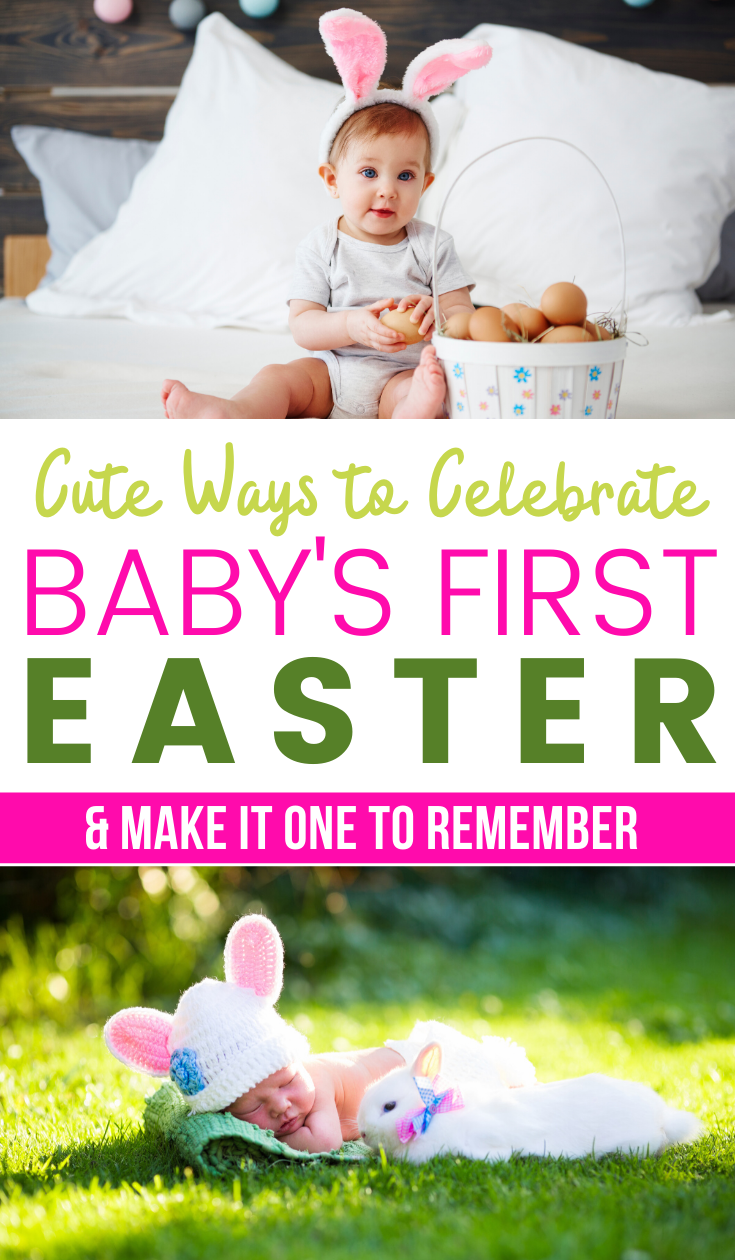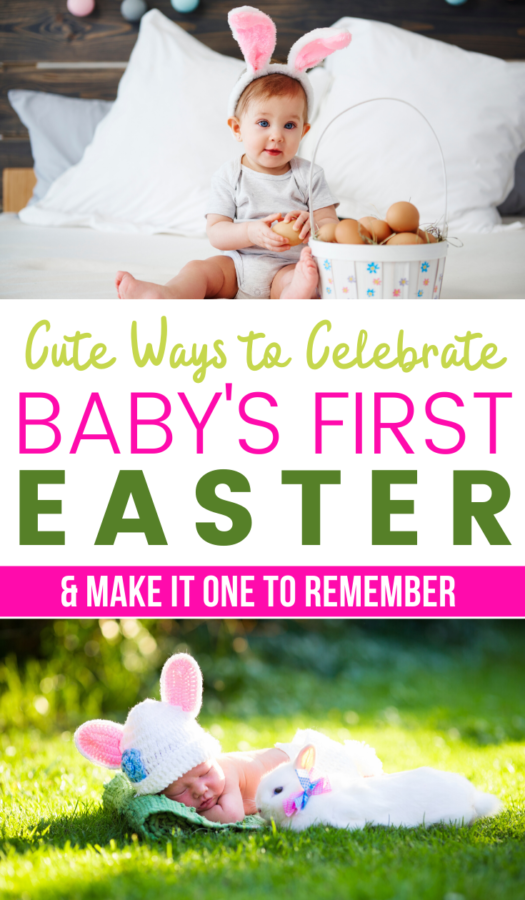 How To Make Baby's First Easter Special
I have been thinking of ways to make a baby's first Easter special. I know when my first was a baby, we wanted to make it as fun and memorable as possible. With a little imagination and planning, there is a lot you can do.
I don't know if the excitement is from it being baby's first Easter or the fact that you can do so many fun things with the baby now. I'm going to share some really fun ideas, so hang tight.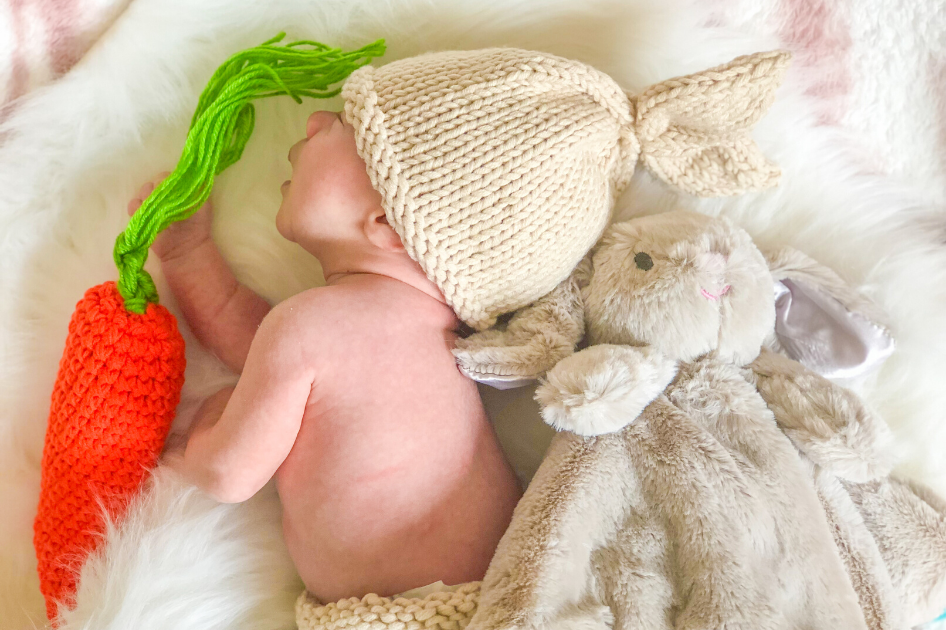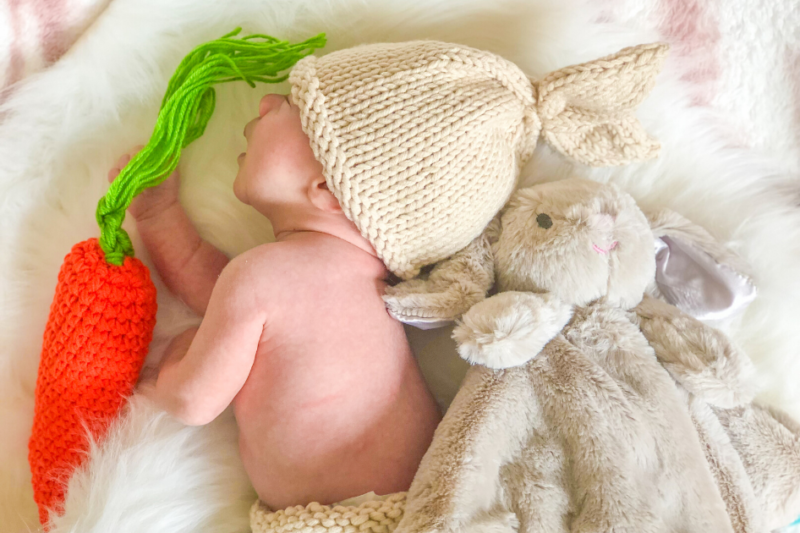 I always find a baby's first holiday so interesting. Some babies are brand new and other babies are almost a year old, but either way, it's so fun to make memories that will last a lifetime.
Keep in mind that some of these ideas are for older babies. time. Just remember to have fun making memories with your baby.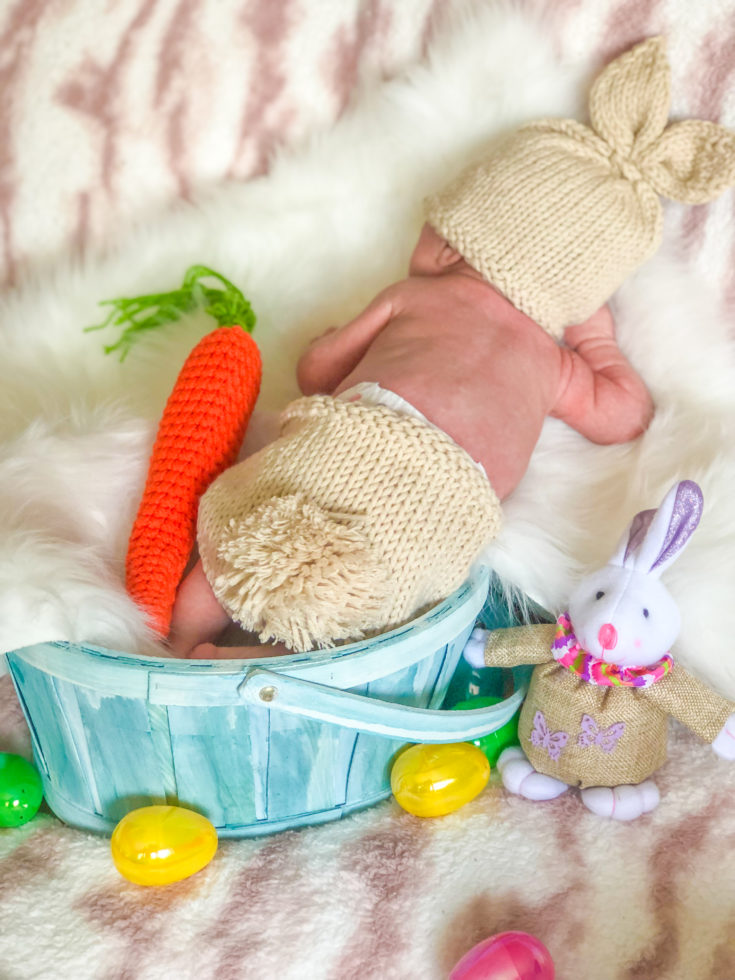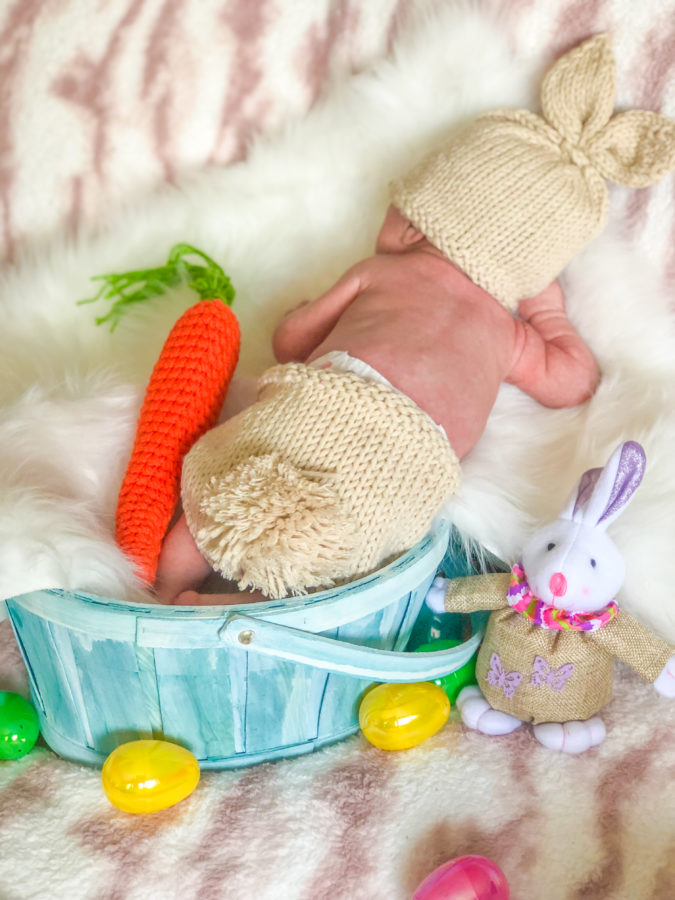 1. Baby Photo Shoot
Take your baby, some Easter grass, fake eggs, and go to town on a baby photoshoot. Take as many pictures of your baby as you'd like! If your baby is smaller, you probably have more photo opps.
Mom, if you're looking for a fun Easter dress, check these out.
2. Put Bunny Ears On Your Baby
If you have a baby that low key doesn't care what you do with him or her, then have some fun with bunny ears. It's so cute to look back on your baby and see that they wore bunny ears on their first Easter.
3. Backyard Easter egg hunt
When you're struggling to know what to do with your baby this Easter, do an egg hunt with them. You don't even need to go anywhere for an Easter egg hunt, you can have the hunt right in your own backyard.
4. Write a Letter To Your Baby
If your baby is too small to even know what's going on, this tip is for you. You may feel the need to do something commemorative for your baby. Well, write a letter to him or her! They can open it when they get older.
5. Make Bunny's With Your Baby's Feet
Did you know that your baby's feet are the gateway to making fun artwork for them to remember forever? Paint the bottom of your baby's feet, then put the print on a piece of paper. From there, you can decorate the baby's footprints as bunnies!
6. Pictures With the Easter Bunny
If you can, why not get pictures with the Easter bunny? This is truly one fun way to remember your baby's first Easter.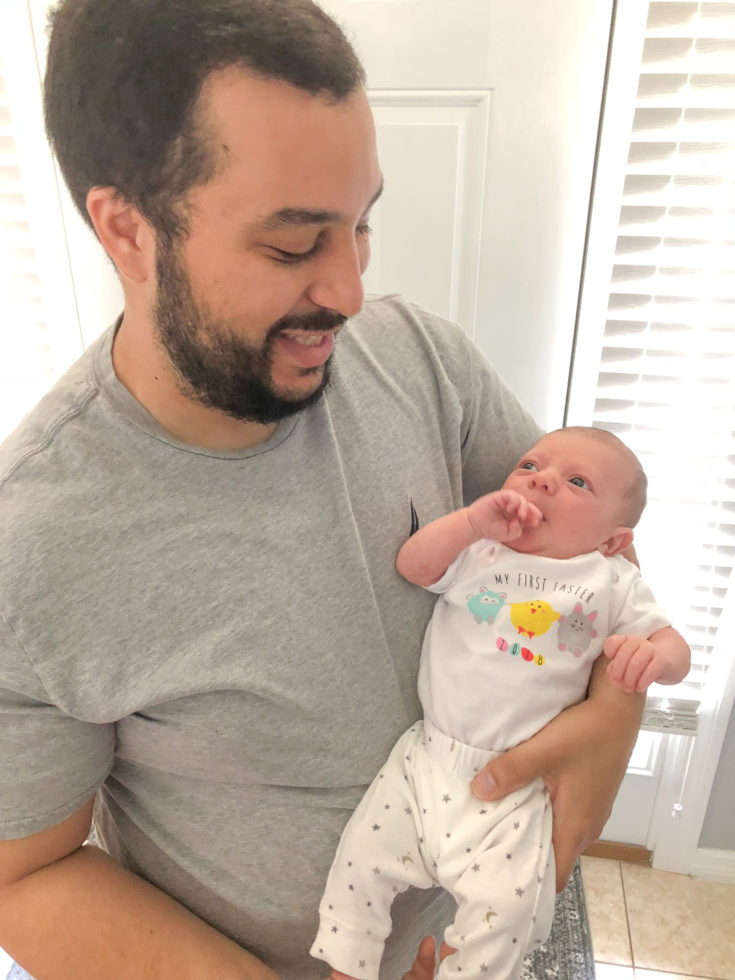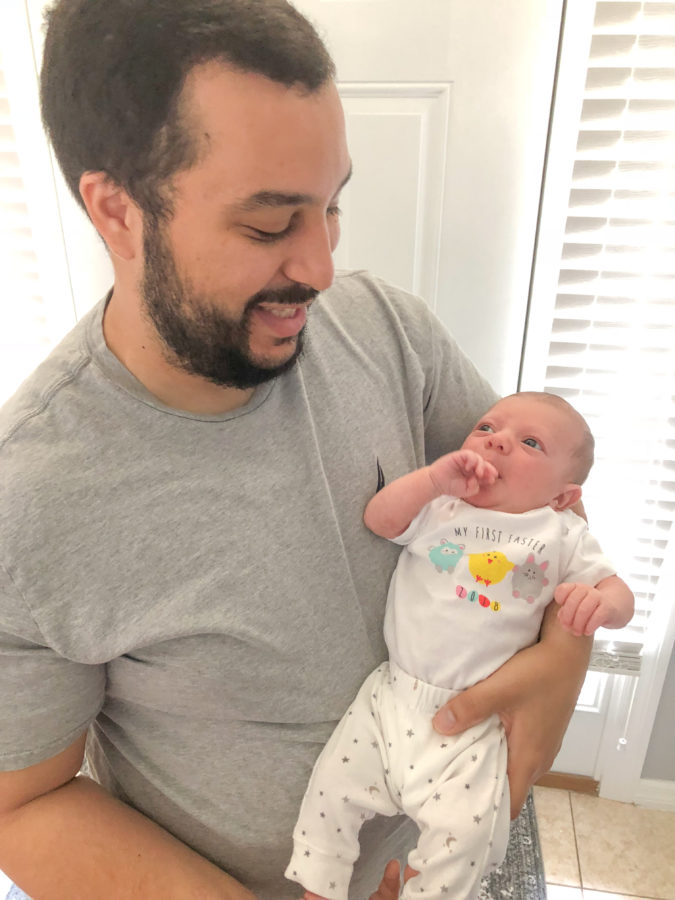 7. Get Family Pictures Taken
Another way to celebrate your baby's first Easter is to get family pictures taken. While you can also take baby's pictures, you can have family pictures to help remember this special day.
If you can't get professional photos done, I recommend taking a few yourself.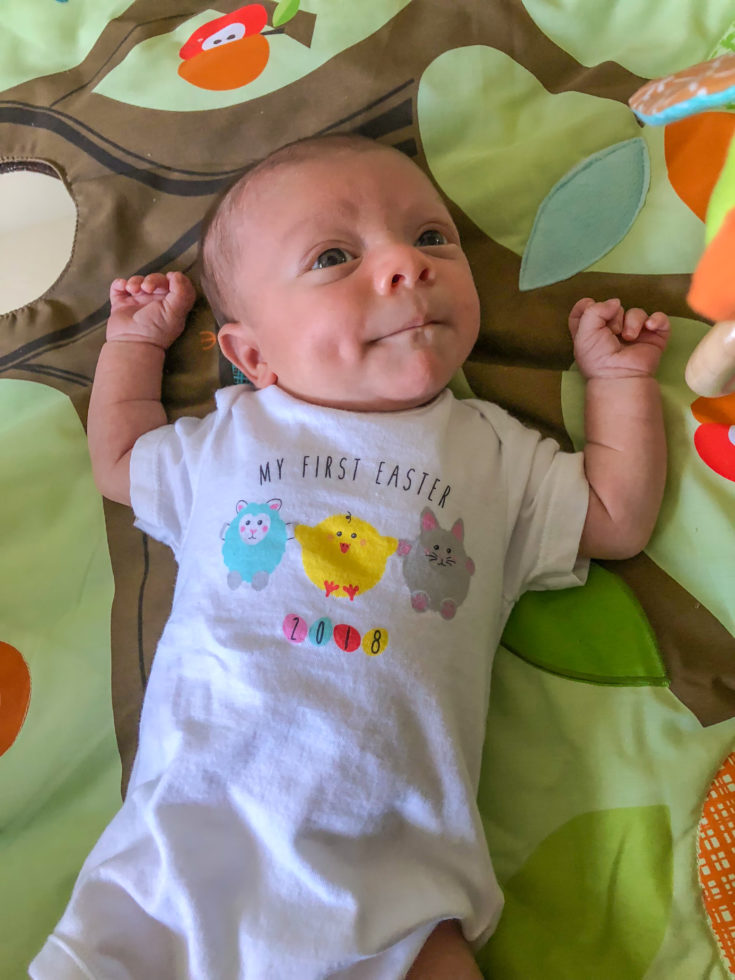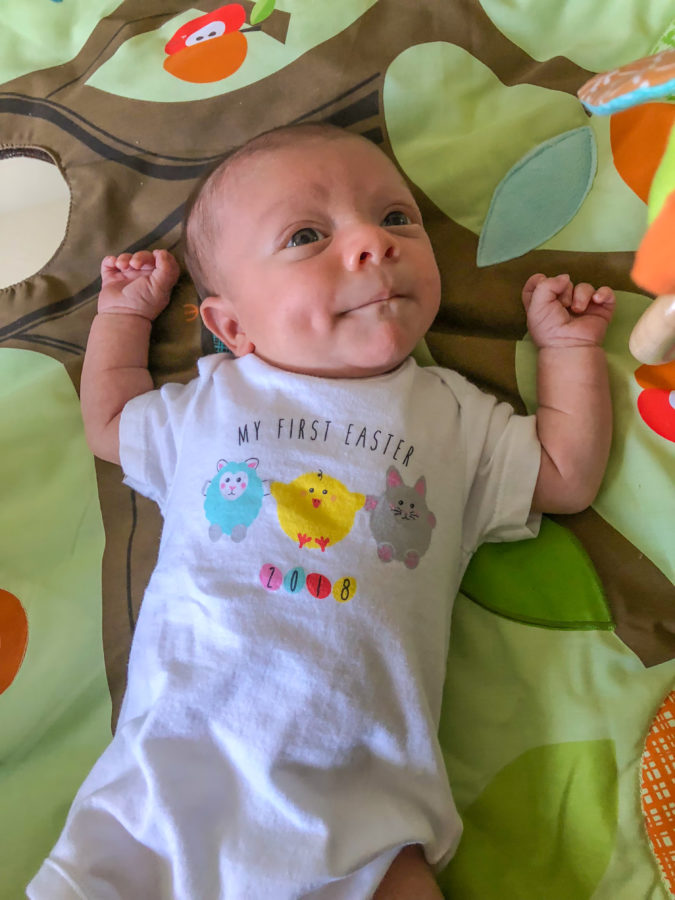 8. Get Baby a Special Outfit
Take the time to order your baby a special Easter outfit this year. You'll love being able to keep the outfit as a keepsake as well! Your baby will grow up and be able to share that outfit with their kids.
9. Make a Special Breakfast
If your baby is old enough, then you can easily make them a special breakfast for Easter. You might consider making themed pancakes made out of bunnies. Even if you wake up and just have some cereal together, this will be a special memory.
10. Write a Poem for Your Baby
When it comes to making memories for a baby, sometimes the most simple things are the best! Take the time to write a poem for your baby. You can frame it and hang it up, so you can remember this Easter poem for many years to come.
11. Dress Your Baby Up Fancy
Sometimes it's a lot of fun to just dress up. Grab some fancy attire for your baby and then dress yourself up too! Dressing fancy around Easter is a family tradition.
12. Get a Sparkly Pair of Shoes
Whether you have a boy or a girl, it's fun to get new shoes. You can make it an Easter tradition to get a sparkly new pair of shoes every single Easter.
13. Carrot Cake Smash
You do know that babies love doing cake smashes, right? Sign your baby up for this as a baby's first Easter activity. You may not love the mess, but you'll love the pictures.
14. Finger Painting
This is one of those activities that you can do if your baby is closer to one. Create some edible finger paint and let your baby do a little finger painting in honor of Easter. This will be a mess, so fun!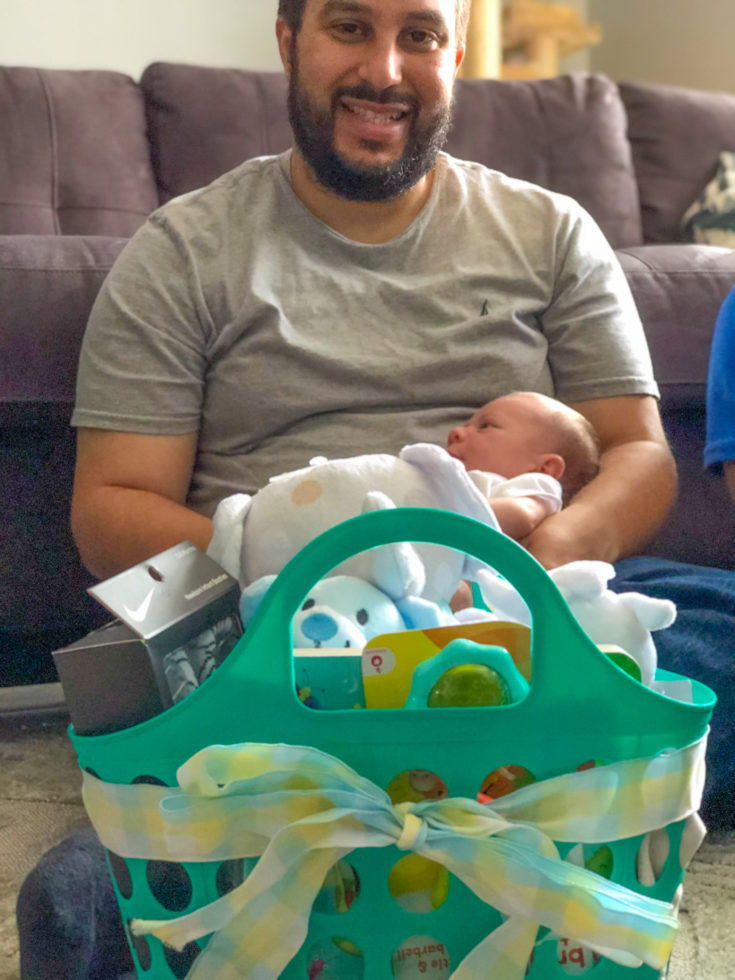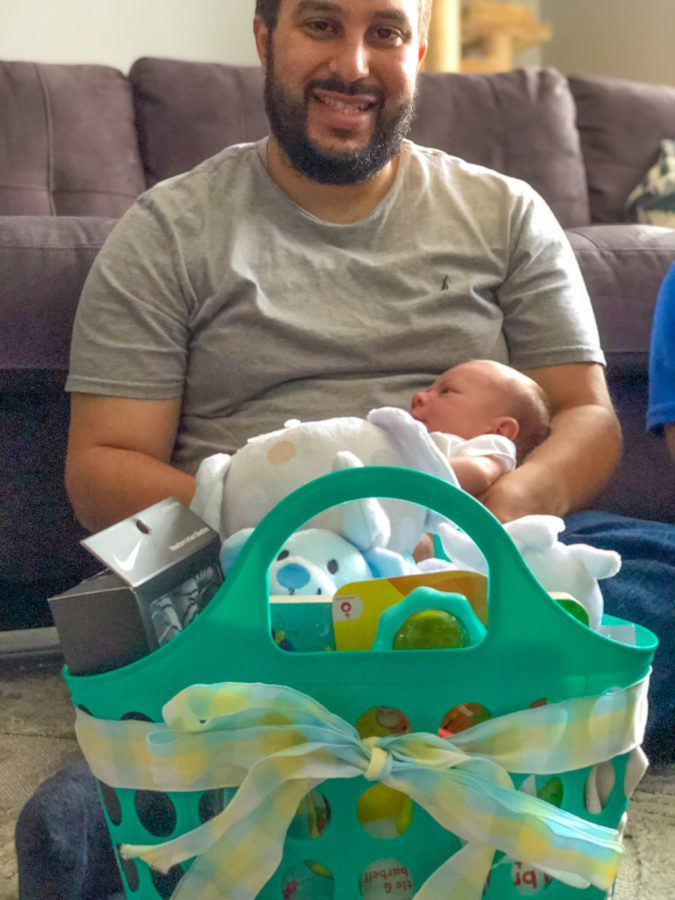 15. First Easter Basket
Personally, one of my favorite Baby's First Easter ideas is an Easter basket. There are so many fun items you can put in a baby's Easter basket for the first time. I say have fun with this one!
What To Add to Baby's First Easter Basket
Now that I've given you several ideas for celebrating baby's first Easter, you may be wondering what you can put in baby's first Easter basket. There are so many fun items you can put in your baby's Easter basket!
I also recommend: 30+ Most Used Items in Baby's First Year
1. Teething Toys
Your baby doesn't know you're doing them a favor when you put teething toys in their Easter basket. Your baby will love it!
2. Singing Plush Bunny
Another fun item to put in your baby's first Easter basket is the Baby GUND Singing Plush Bunny. Not only is this bunny cute and cuddly, it sings and flops it's ears!
3. Sippy Cup
If it's time to move baby on up to a sippy cup, then why not add one to your baby's Easter basket? They will actually end up loving this gift.
4. Yummy Snacks
I have to tell you that babies love snacks. If your baby is old enough for snacks, then don't be shy about stocking them up! I always love buying items like baby puffs and baby fruit pouches.
My son's first snacks were these wafers from Gerber!
5. Easter Board Book
Easter baskets are the perfect opportunity to give your baby a themed book. We buy my son new board books for all of the holidays!
6. Baby Supplies
Hey, if your baby needs baby supplies, the Easter basket is a great time to stock up. Baby wipes, baby diapers, lotion, and baby wash. You'd be surprised as to how many of these items are used in baby's first year.
7. Baby Books!
If you start reading to your baby now, you're doing them a great favor! Grab a few of your favorite baby books and fill your baby's Easter basket with them. What a fun way to celebrate baby's Easter.
8. Photo Frame
Babies love looking at pictures of their mom and dad. Put a picture frame in their Easter basket of the whole family. They'll love looking at you!
9. Baby Toys
This is the time to stock up on baby toys! Whatever you think your baby will like, toy wise, get it! You can even buy toys that they'll play with later.
10. Baby's First Easter Onesie
A baby's first Easter onesie is great for the baby's memory box. Be sure to get it in baby's current size so you can look back at how small they were!
Putting together your baby's first Easter can actually be a lot of fun. I'd love to hear about what you decided to put in your baby's first Easter basket and how you decided to celebrate.
Keep in mind that this is a special time for you and your baby. You can do as much or as little as you want. Just because I'm writing this to give ideas, it doesn't mean you NEED to run out and buy your baby anything to make their day special.
If you decide to just spend the day with your baby, it will be just as special. This first Easter is all about making memories and bonding with your baby. They won't know if you go for a five mile walk with them or if the Easter bunny drops by. Just have fun!
Christmas will be here before you know it. Check out these fun ways to celebrate baby's first Christmas.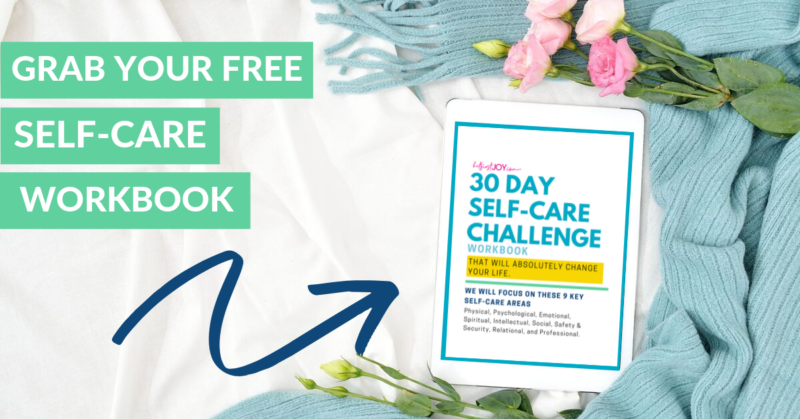 DISCLOSURE
This post may contain affiliate links and/or promotional products, all opinions expressed are that of But First, Joy only. Read my full disclosure.