This Christmas Disney+ movie will have you laughing and crying the entire time. You will love these Noelle Movie Quotes!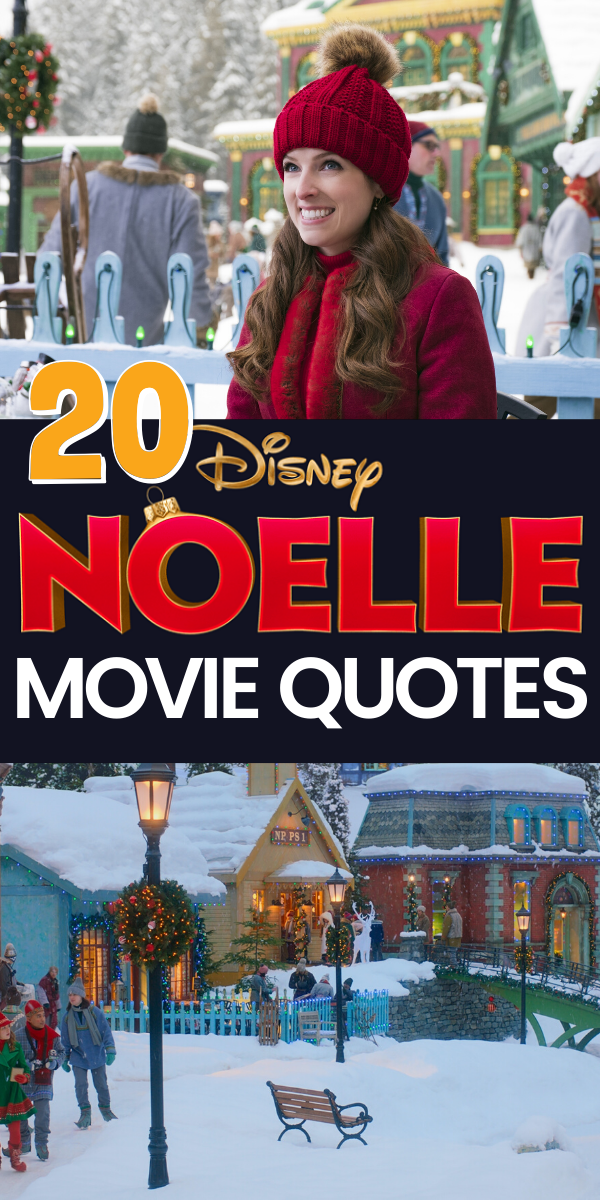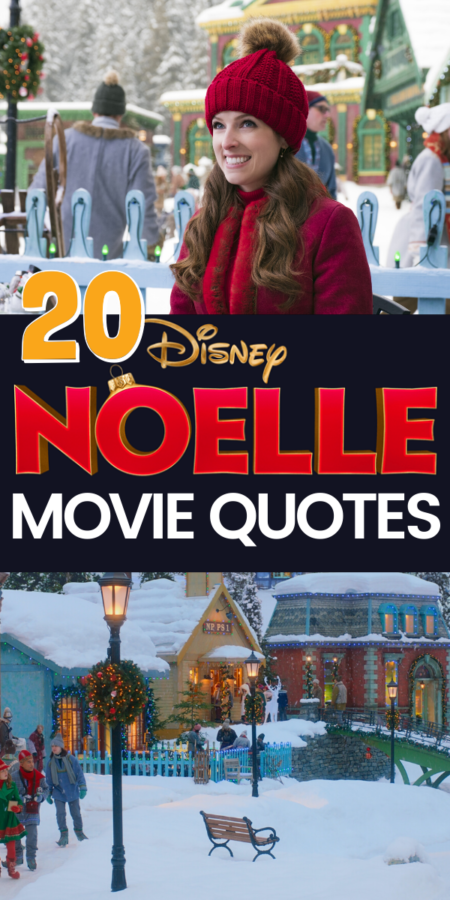 Tis the season for all the best in movies and TV because Christmas is right around the corner! Along with the typical Hallmark and Freeform Christmas movies, we have two new streaming services!
My friend Becky at Week99er got a sneak peek at Noelle! Visit her blog for all things entertainment related.
Disney+ and Apple TV+; both of which I'm subscribed to, of course. Disney+ is smart when it comes to entertainment because they already have a Christmas movie loaded up and ready to launch with the new streaming service on November 12th.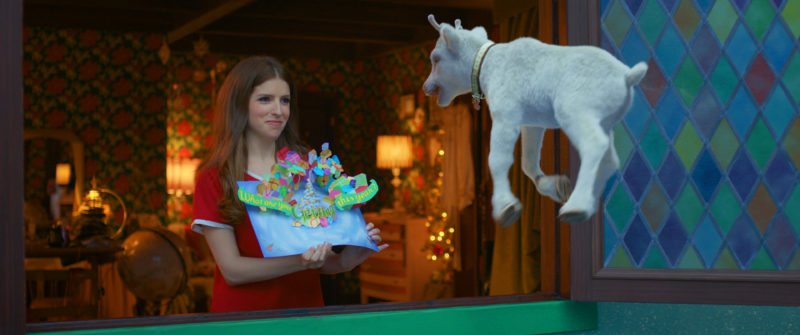 The good news is that I have connections to some of these movies and shows in advance, so I am bringing you the best Noelle Movie Quotes from this Disney+ feature film!
You may have also seen the Live-Action Lady and the Tramp Quotes from the Disney+ film that I shared recently. Trust me, I will have many more movie quotes coming your way.
I'm pretty sure you'll also want to bookmark my FULL MOVIE QUOTES Index for the latest and GREATEST quotes!
Best Noelle Movie quotes
1. "It will fit you when you fit it" – Santa
2. "There you go! It looks jolly good, Nick, and Red is your color!" – Noelle
3. "If mom is Mrs. Claus, and you are Santa, and Nick will be Santa – what do I do?" – Noelle
"What do you want to do?" – Santa
"I want to do what you do – Noelle
4. "You cant be Santa if you're whining and complaining" – Noelle
5. "You put Christmas in jeopardy, young lady!" – Judy
6. "Why not a rescue mission?? My brother may have fallen out of the sleigh. I've seen him do it!" – Noelle
7. "You go out there, be merry, and don't tell anyone who you are and always be ready to run away!" – Polly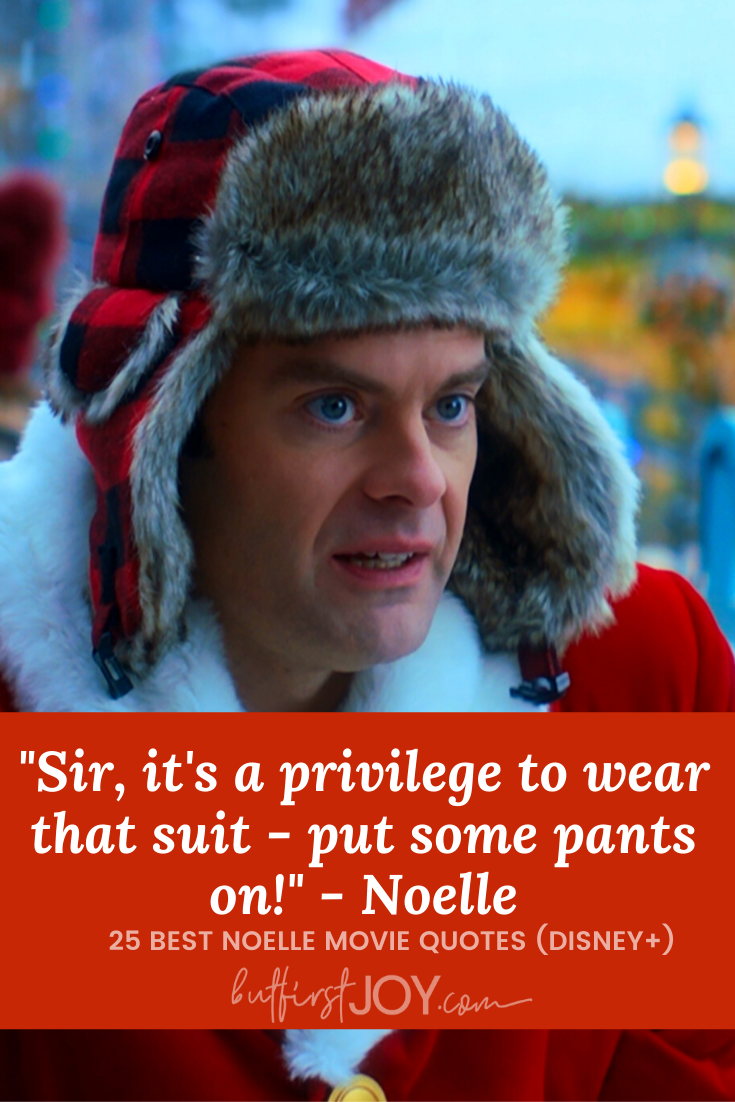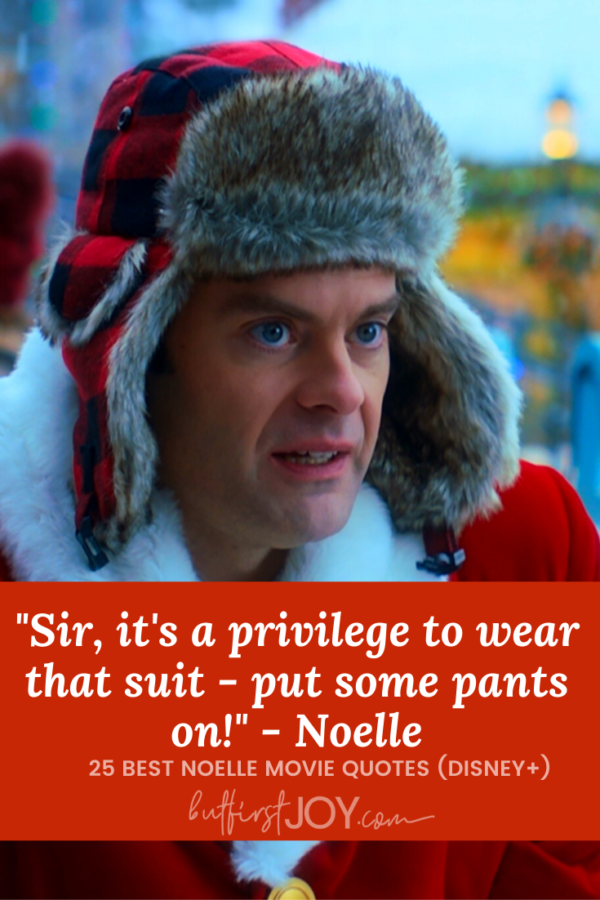 8. "Sir, it's a privilege to wear that suit – put some pants on!" – Noelle
9. "Why are you so red and why are you wearing hats and mittens in Phoenix?" – Jake
"It's an ensemble" – Noelle
10. "How are you planning on having Christmas without the reindeer and the sleigh?" – Mrs Claus
11. "Most people don't know what is in their own heart." – Jake
12. "My dad always said Christmas is like Sushi; the Japanese invented it and now everyone enjoys it." – Noelle
13. "You can't measure a child like that; everyone makes mistakes" – Mrs. Claus
14. "Yes, these are my yogurt pants." – Noelle
15. "Santa's real, he's under a lot of pressure but he's very real." – Noelle
16. "The heat! IT's hot here right? = Nick
"Yeah, it's like being trapped in the cottage during Tollhouse season." – Noelle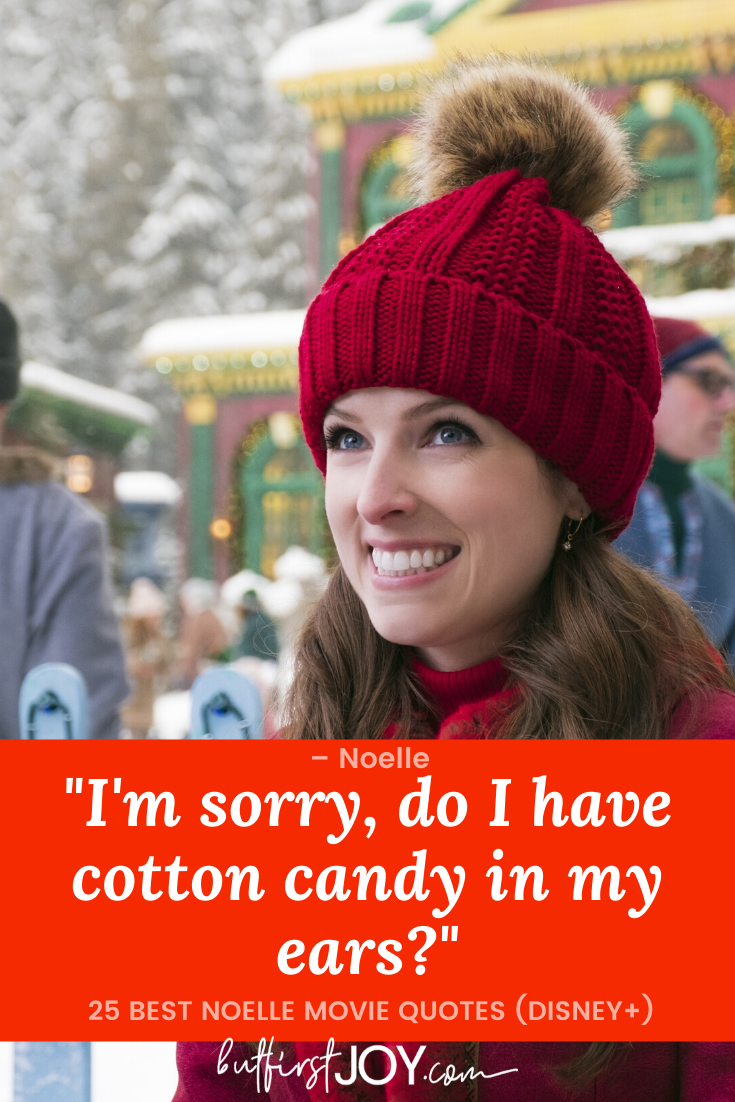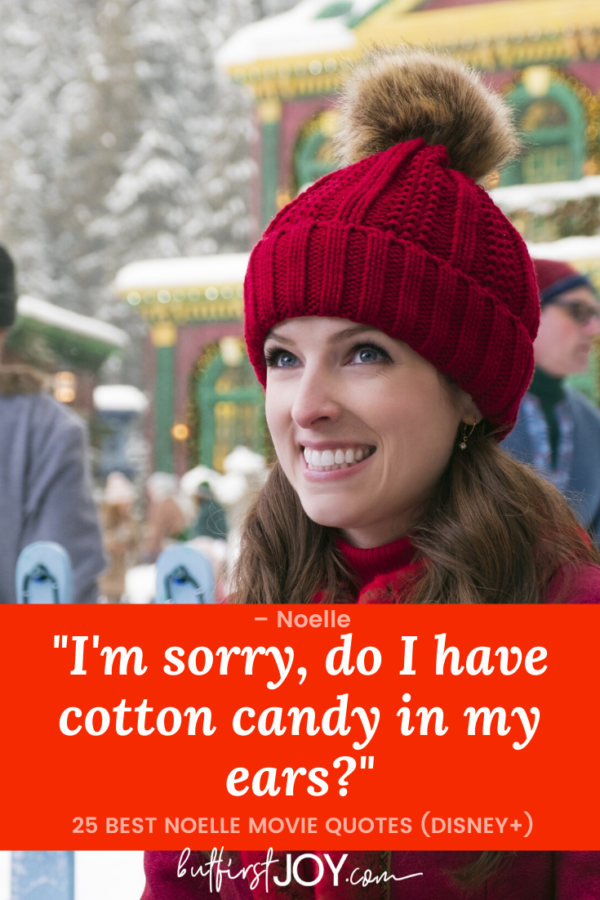 17. "I'm sorry, do I have cotton candy in my ears?" – Noelle
18. "He's a very rare breed, he's a Polar Poodle" – Noelle
19. "Let me ask you a question, detective; can you see love? Can you see joy? Is there anything greater than that?" – Polly
20. "A Girl?! Santa's not a girl!" – Judge"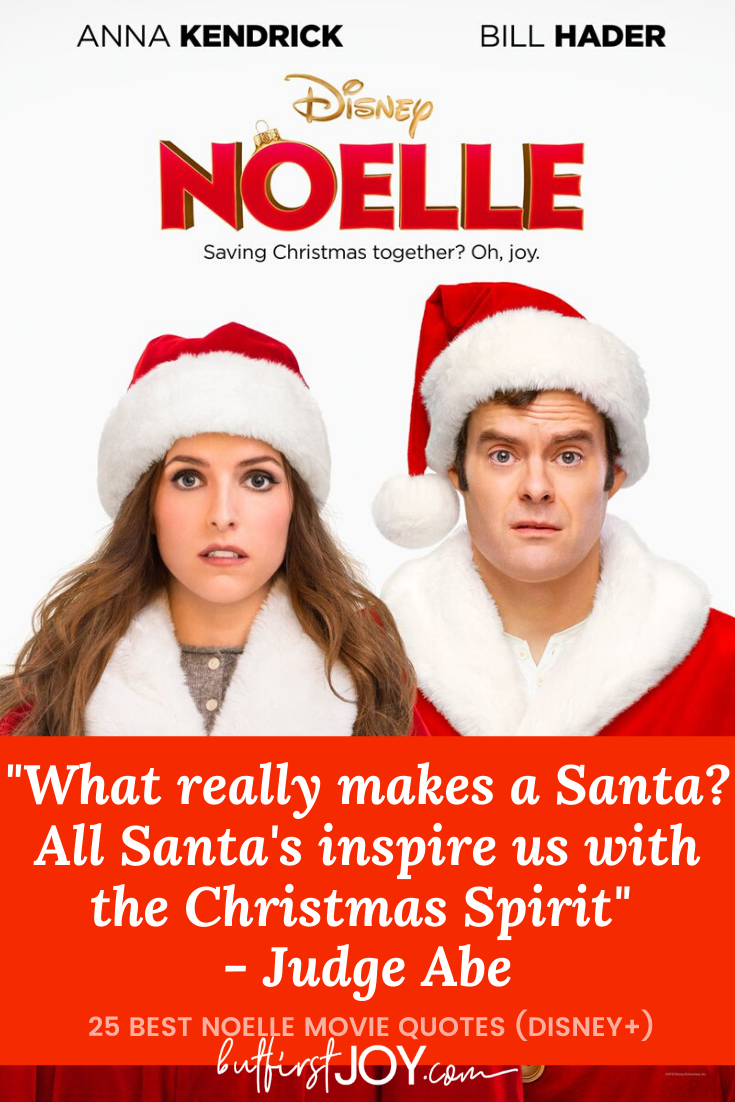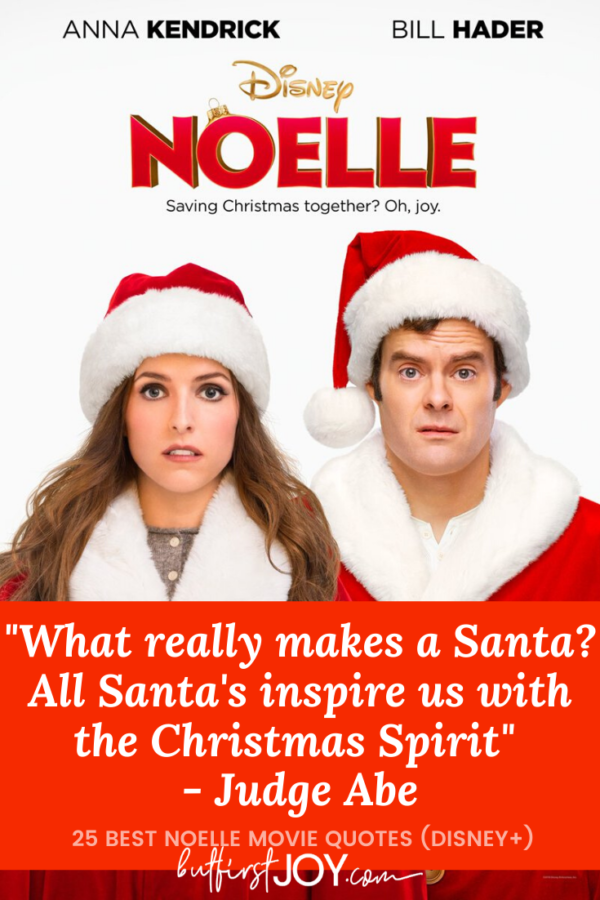 21. "What really makes a Santa? All Santa's inspire us with the Christmas Spirit" – Judge Abe
22. "It's not just about the presents we get but the one we give – love and understanding … and an ipad" – Noelle
23. "Know what I'm really afraid of? Some kid is going to wake up and say 'you're not Santa!'" – Noelle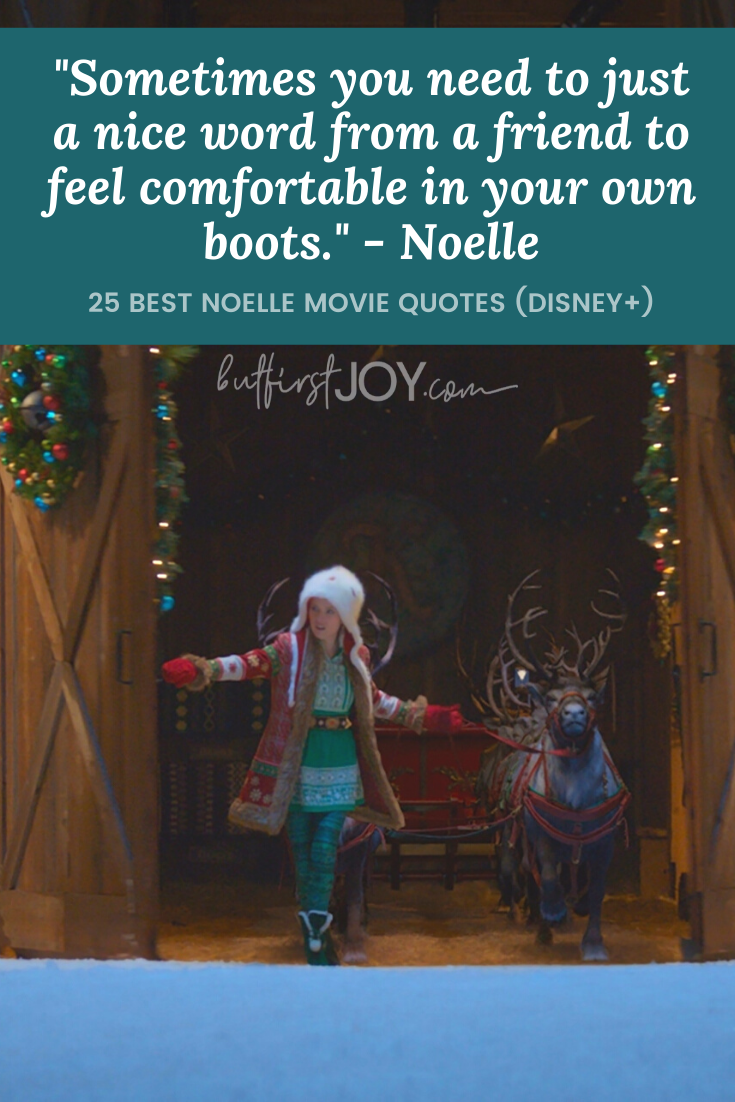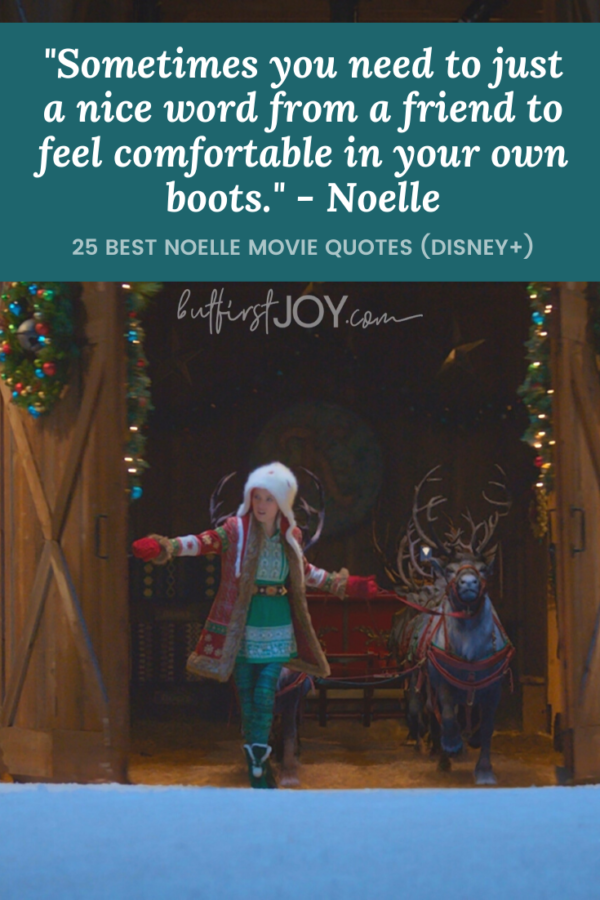 24. "Sometimes you need to just a nice word from a friend to feel comfortable in your own boots." – Noelle
25. "Traditions change, new ones are great!" – Noelle
See Noelle on Disney+ on or after 11/12/19
In Disney+'s holiday comedy "Noelle," Kris Kringle's daughter is full of Christmas spirit and holiday fun, but wishes she could do something "important" like her beloved brother Nick, who will take over from their father this Christmas.
When Nick is about to crumble like a gingerbread cookie from all the pressure, Noelle suggests he take a break and get away…but when he doesn't return, Noelle must find her brother and bring him back in time to save Christmas.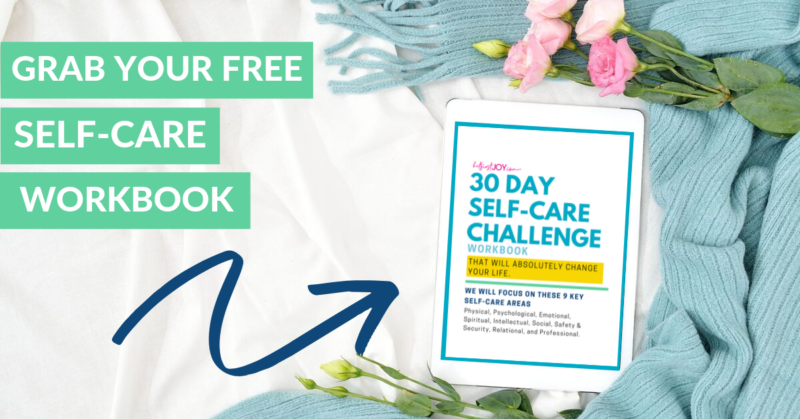 DISCLOSURE
As an Amazon Associate I earn from qualifying purchases. This post may contain affiliate links and/or promotional products, all opinions expressed are that of But First, Joy only. Read my full disclosure.