Excuse me while I cancel every other streaming service I'm subscribed to. I'm totally kidding but Disney has a new streaming service and I'm totally geeking out.
Actually, we are all geeking out because not only is it the typical princess-loving fan's dream come true, it's the Marvel & Star Wars fan's go-to place for all movies and shows! It's basically the Netflix of Disney and the price is SO right.
UPDATED 8/25/19: This post was updated to reflect all of the D23 Expo 2019 Announcements!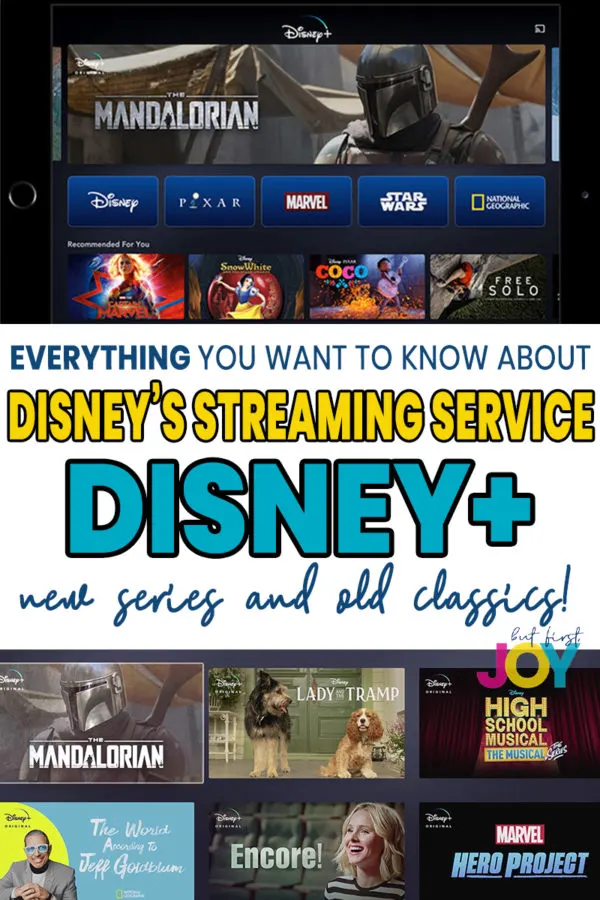 For $6.99 per month (or a special deal for the year), you get to see all the Disney, Pixar, National Geographic, Marvel, and Star Wars things in one place.
Even more impressive is the announcement of new and exclusive shows coming to the Disney streaming service. Disney+ Originals? Count me in!
If we know anything about Disney, it's that they always go big and in this case, we will all be going home… to binge everything.
My only hope is that the Disney Plus will have a library that's impossible to clear out in 1 month.
I wonder if Disney Junior, Disney Channel, Freeform, and ABC will all be included? If so – this is a huge win and a big deal!
Good thing for Netflix is that Disney pulled their titles a long time ago so it shouldn't hurt their business too much. As much as I love Disney, I need my Netflix originals and my Amazon Prime Exclusives! Plus, HBO shows. How do I have a life? I don't even know.
What NEW shows and movies will be on Disney Plus (Disney+)?
According to D23, these are the original/exclusive things we will see on the Disney Streaming Service, so far:
*Announced at D23 Expo 2019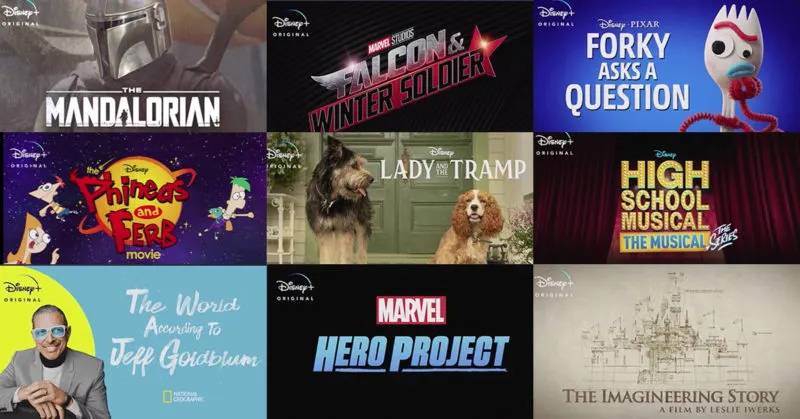 NEW Disney Original Films coming to Disney+
I told you there would be some Disney+ Originals! According to D23, this is what we can look forward to so far:
Disney Series on Disney +
These are all the Disney shows and movies coming to Disney+
High School Musical: The Musical: The Series – SEE TRAILER*
Diary of a Female President (series)
*Lizzie McGuire series (Yes, Hillary Duff will be retuning)
*Muppets Now (an unscripted short-film series)
Disney Documentaries, Reality Shows, Competition Shows, & more!
Encore! (Hosted by Kristen Bell, as she reunites old High School Musical Castmatest to recreate previous performances) – SEE TRAILER*
Untitled Walt Disney Imagineering Documentary Series
The World According to Jeff Goldblum (unscripted series) – SEE TRAILER*
Be Our Chef (Disney cooking competition)
Cinema Relics: Iconic Art of the Movies (working title – an anthology series)
Into the Unknown: Making Frozen 2 (docu-series)
Magic of Animal Kingdom
(Re)Connect (reality series)
Rogue Trip (documentary)
Shop Class (working title – competition series)
Earthkeepers (working title – a cinematic documentary)
Ink & Paint (documentary series about Disney Animation)
One Day at Disney (52 episode short-film series) – See Trailer*
Marvel Series on Disney +
These are all the Marvel shows coming to Disney+
The Falcon and The Winter Soldier (series)
Loki (series – coming in 2021)
WandaVision (series – coming in 2021)
Marvel's What If…? (animated series inspired by comic books with same name – coming in 2021)
Marvel's Hero Project (documentary about real life young heroes)
Marvel's 616 (anthological documentary series)
*She-Hulk (inspired by the comics)
*Ms. Marvel (inspired by the comics)
*Moon Knight (inspired by the comics)
Pixar series & Shorts on Disney +
We couldn't forget Pixar! You'll find all these Pixar shows on Disney+
Forky Asks a Question (a series of 10 shorts by Forky from Toy Story 4)
SparkShorts (a short film series about the storytellers)
Lamp Life (animated short film about Bo Peep from Toy Story 4)
Monsters at Work (animated series)
Star Wars on Disney +
In a galaxy far, far away – there's Disney+. These are the Star Wars shows coming to Disney+.
The Mandalorian (a live-action Star Wars series) – See Trailer*
Untitled Cassian Andor Series
Star Wars: The Clone Wars (returning with 12 exclusive Disney+ episodes)
*New untitled series from Lucasfilm with Ewan McGregor returning as Obi-Wan Kenobi
FOX Shows
Simpsons – all the episodes ever!
Which Disney Classics will be on Disney+?
These are the confirmed classics that will be coming to Disney Plus! Raise your hand if you already have a month set aside to watch all of them Disney movies in order!
Apparently, there will be over 7,000 series episodes and 500 movie titles by the end of the first year of Disney Plus!
Disney+ will also be exclusively streaming all the new, 2019 Walt Disney Studios films: Captain Marvel, Dumbo, Avengers: Endgame, Aladdin , Toy Story 4, The Lion King, Maleficent: Mistress of Evil, Frozen 2, Star Wars: Episode IX
I do have to wonder what this means for ticket sales and for the DVD & Blu-ray sales. Why buy it when you can wait for it to stream on Disney+? Also, how long will we be waiting for movies to show up on the Disney streaming service? Will we be seeing bonus features or will those be saved to sell physical film copies? I still have a thousand questions, but you best believe that I will be signing up for Disney+ as soon as humanly possible.
When can we sign up for Disney+?
Unfortunately, we have to wait until November 12th to join Disney+ but maybe they will push it forward a bit, as they've been known to do with other things. Until then, you can catch up on all these great shows: 35 Shows You Should Already Be Bingewatching.
How much is Disney Plus?
In case you missed the mention above, Disney+ will be at the very low price of $6.99 per month with a special deal for annual subscribers! I'll go ahead and buy a lifetime of this service, please and thanks.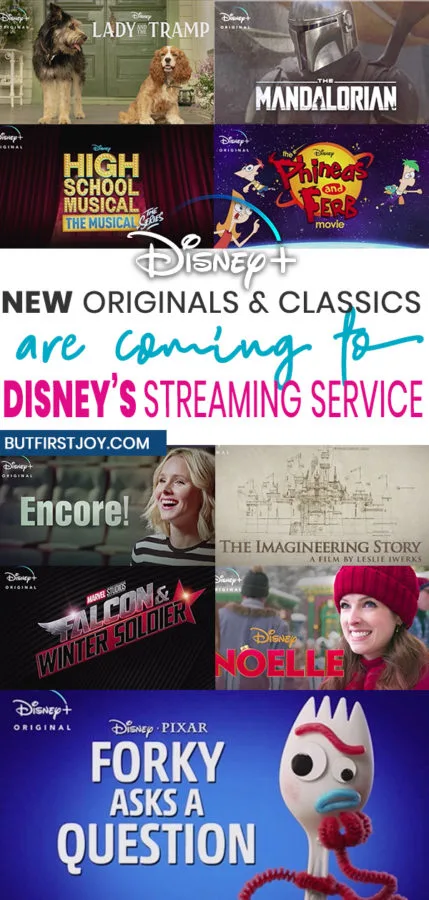 What will you watch first on Disney+ – an old favorite or a Disney+ Original?
Head to DisneyPlus.com and add your email to their waiting list for updates and news!