When anxiety hits, it feels like there's no stopping it. This list will give you the best ways to deal with anxiety – even when it feels impossible.
As someone with chronic anxiety, I can attest to this:
Life appears to come to a halt when anxiety strikes, especially if it hits in the form of a panic attack. Shortness of breath, tingling arms and legs, lightheadedness, sweating, nausea, and a sense of helplessness.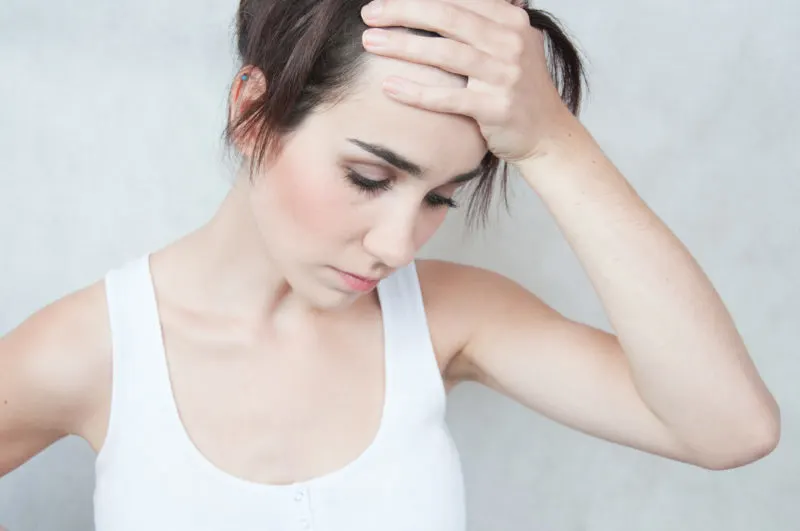 These are all the body's way of signaling for help and getting your immediate attention. It's the body's way of communicating a desperate need for relief, due to the abundance of stress you're feeling.
All of these signs are proof that anxiety isn't only a mental health issue – it's also a physical response. In fact, some people only experience the physical aspects of anxiety while their mind is at ease.
Unfortunately, the majority of us experience all of the above which is why I am sharing these tips to deal with anxiety.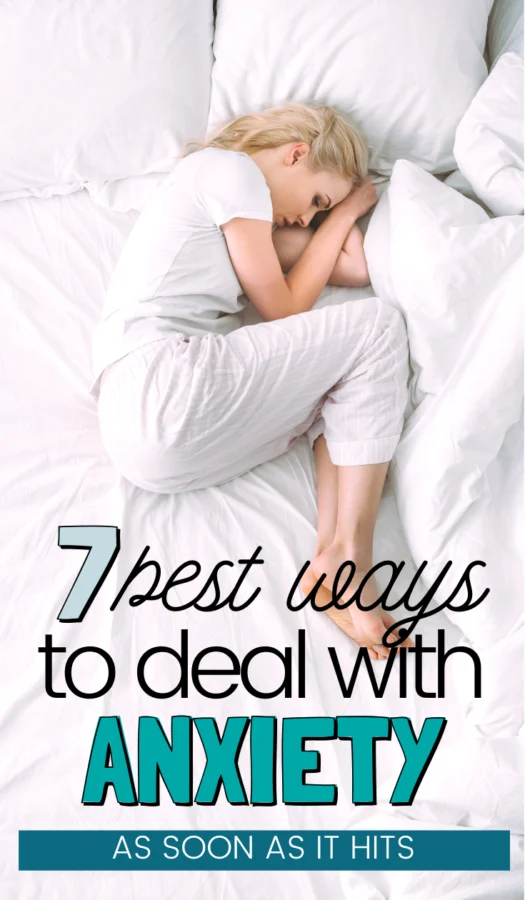 Best Ways to Deal With Anxiety – Even When You Feel Helplesss
If you simply experience feelings of being overwhelmed and unable to perform whatever it is you are trying to do, anxiety has hit. This is your opportunity to make changes before you experience the panic attack, which can feel as if you've lost all control.
There are things you can do to ease the burden and feelings of overwhelm:
1. Focus on your breathing.
Concentrate on slowing down your breathing. Take slow and deep breaths. At first you may believe that you can't take a deep breath but the more you get your body to relax, the deeper you will be able to breathe.
If you need help with breathing, it's always a great idea to learn a breathing meditation. Doing so will help you to focus on your breathing, letting the anxiety triggers slowly fall from your mind.
2. Make positive statements to yourself.
For example, "I can do this." By repeating positive affirmations to yourself, your body begins to believe you. I have a great list of positive affirmations for women that will help get you started.
Self affirmations are also known to help build self-esteem and confidence. Therefor, lessening overall anxiety.
3. Block negative thoughts.
Positive thinking is something I'm a very big believer of. However, I know how self deprecating anxiety ridden thoughts are.
Don't allow any negative statements about yourself to sneak into your thinking. When such a thought strikes, push it aside, replacing it with a positive statement. For example, you begin to think that you can't drive the car. Change that to "I can drive this car anywhere I want to go." Repeat the appropriate statement several times while concentrating on your breathing.
Those of us who have experienced trauma and setback after setback, can fall into a habit of negative thinking (with or without anxiety). If that's the case, I recommend this guide on how to overcome negative thinking.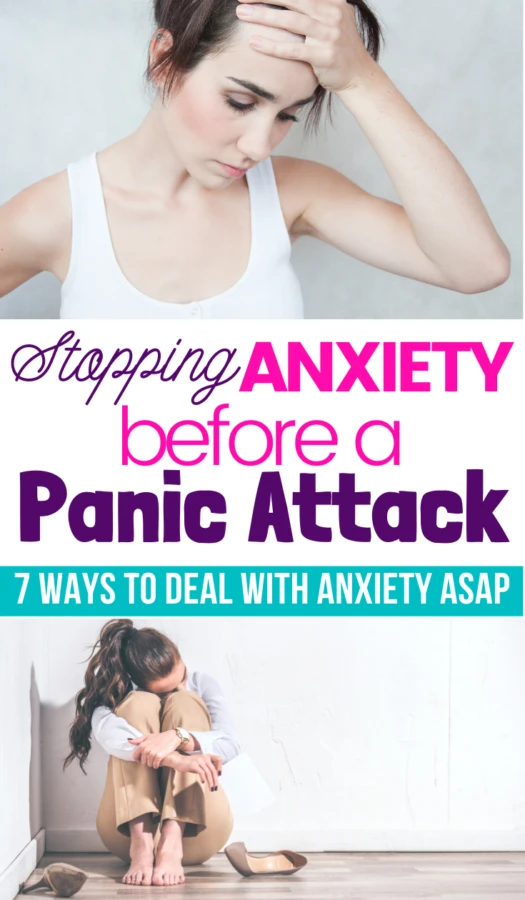 4. Avoid caffeine.
I'll admit that when I am anxious, I turn to things that bring me comfort and one of those things is a big cup of coffee. However, it's been scientifically proven that caffeine has a negative impact on anxiety.
So, I recommend drinking a glass of water and avoiding caffeine whenever possible. In particular, I'd skip the caffeine on days when you have something BIG planned that may cause anxiety.
5. Rest. Relax. Sleep.
Sleep is important for a healthy nervous system. Try to get at least six to eight hours of sleep each night. This is just an anxiety prevention method, not a way to deal with anxiety.
So, I recommend taking a few minutes to yourself anytime you feel anxiety coming on. Whether you're in the office or home with the kids, it's important to step away for even 5 minutes, focus on breathing, and relaxing your mind and body.
Remember, your mind will respond to your body. So, relaxing your body will definitely help ease the anxious thoughts and feelings.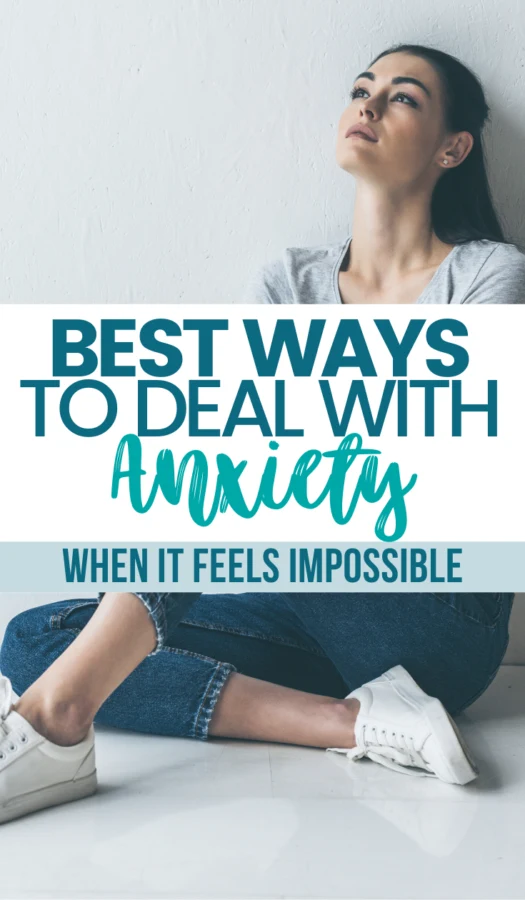 6. Don't stress over the problems of another.
It's very important that you take time to separate your problems from that of another individual. You can't save everyone or control the actions/issues of another.
Too much worry can add unwanted, uncontrollable stress to your life. This causes anxiety that is difficult to interpret or deal with because these situations are beyond your control.
It's not your responsibility to take on the problems of others. Even if they ask or beg. You have to set healthy boundaries that protect your mental health.
7. Let go of some responsibilities
Finally, I want you to let go of some responsibilities. It's okay if you don't get everything done on your to-do list.
Read that again.
You aren't a superhero. You aren't invincible. Allow yourself to be human. Say no to requests that give you anxiety. Likewise, give yourself permission to cancel plans or obligations that don't benefit your wellbeing.
Learn to sort out tasks and responsibilities that are important for you to undertake versus those which somebody else can do. You don't need to take care of everybody, but you do need to take care of yourself.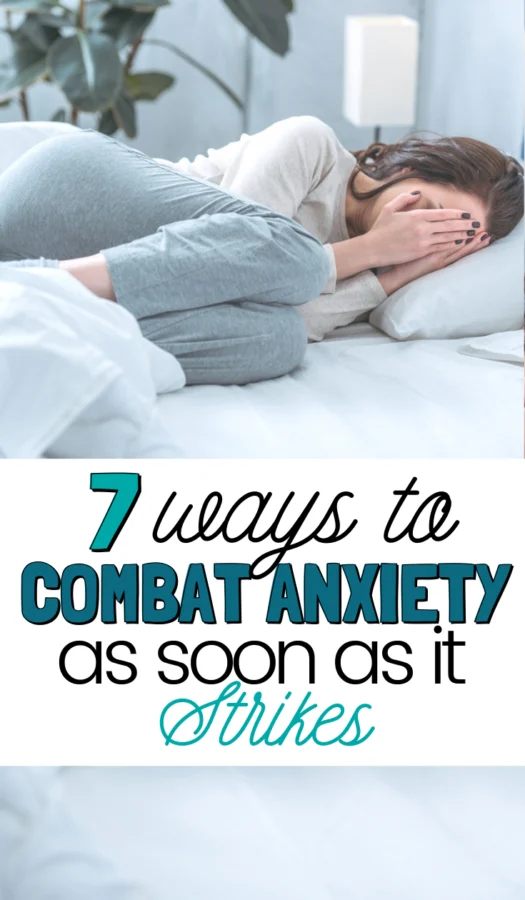 While not all forms of anxiety can be controlled with these techniques, they are definitely worth a shot. These ways to deal with anxiety work best when you use them all together and on a regular or daily basis.