Feeling Feisty? I was as I sat down with China Anne McClain to talk about her role as Uma (aka Ursula's daughter) in Descendants 2. Get to know this new Villain Kid in an exclusive interview. All wickedly unbiased opinions shared here were sponsored by Disney! 
As a Disney blogger, I had the incredible opportunity to watch a couple of Descendants 2 sneak peeks before interviewing the Descendants 2 cast. I instantly fell in love with China Anne McClain's character, Uma. She's so feisty and energetic. I couldn't help but to love her spicy attitude and unapologetic ways. After we left the theater at ABC Studios, we enjoyed a quick lunch. On our way there, I passed a beautiful young lady who was absolutely glowing. I told her how gorgeous she was and she sincerely repaid the compliment. I thought, "I don't know who she is but I love her". When China Anne McClain stepped into the interview room, I recognized her. Not as Ursula's daughter that I just watched on the big screen, but as the lovely gal that I passed in the hallway. The interview couldn't have started with a better tone.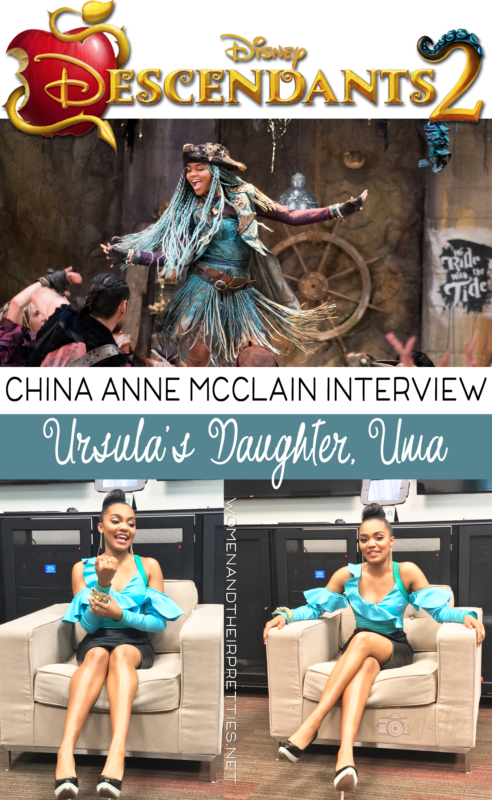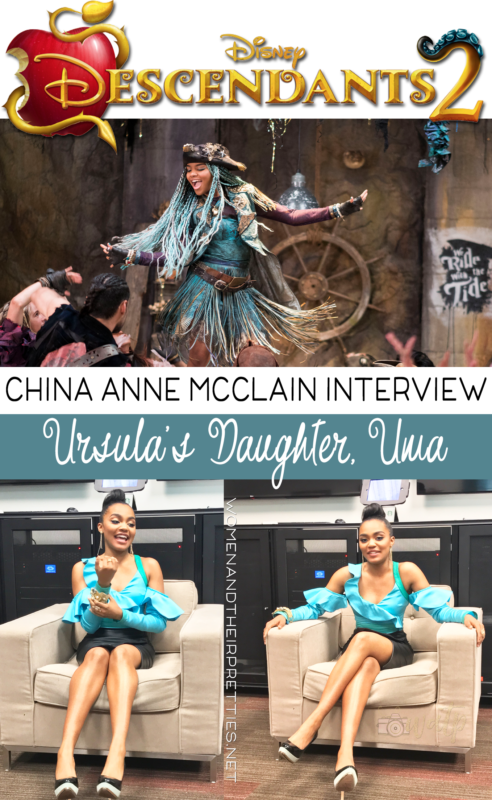 China Anne McClain is apparently a big deal. I'm a 20-something year old, without children. That's my excuse for not being familiar with her. When you watch her play Descendants 2's Uma, she looks a lot different. The costumes are big and at times, bulky. Uma is a bit of a tom-boy with a lot of edge. China, however, is a very thin and feminine young lady that always has a gorgeous smile on her face. I was in awe of her from the moment she started talking. She's very gracious and humble. As Descendants fans and feminists, we showered China with compliments. We couldn't help but to be in love with her as a woman and her as Uma. With every compliment came blushing cheeks and an ear-to-ear smile! She seemed surprised by our outpouring of love. After all, we were the first audience to give her feedback on her performance!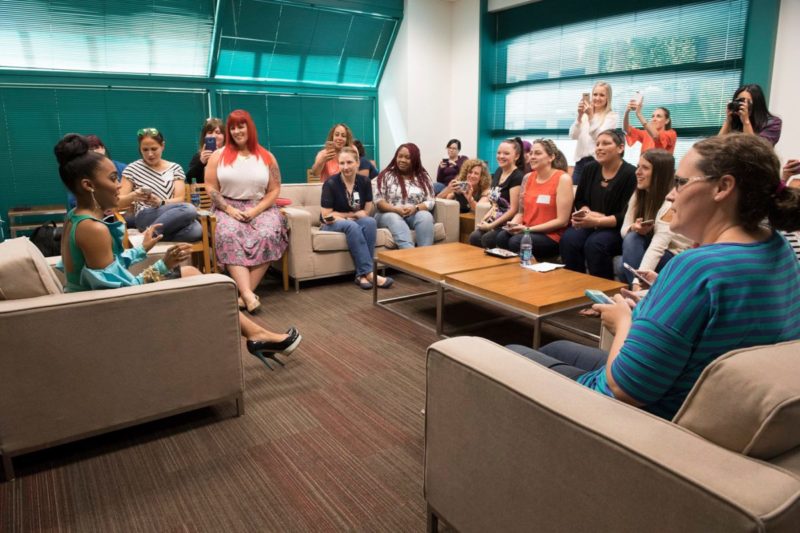 China Anne McClain Descendants 2 Interview
Getting the role as Descendants 2 "Uma"
I couldn't imagine getting a role on a sequel to a movie with such a huge built-in fanbase! It must have been exciting and intimidating, all at the same time. China Ann McClains talks about joining the Descendants cast.
Joining the cast of "Descendants" was surreal for me. It was an honor because everyone loved the first film and I was a fan of the first film. I thought it was beautifully put together. And Kenny Ortega is just great. I really wanted to work on it so when I got the call saying I got the role, I said, "Yes!"
China talked about being a newbie in the Descendants cast
Being a newbie must be difficult. It's like joining a new school. You feel like you've missed so much. We couldn't help but wonder how China and the rest of the Descendants cast felt about this transition.
It was like there was no difference[between us. It felt like we'd worked on the first film, too. That's how comfortable they made us feel. So that was really cool.
Her new "family" even celebrated a milestone birthday with her, on set.
A lot of them just picked on me. They said, "It's your birthday! We're going to go out and you're going to have fun! You're not doing anything on your birthday!" So it was really fun being around them because they're such a cool cast. They're like a family and they included me immediately. I was away from my family and my sister was off shooting "Empire" and I couldn't be there with them, so it was like having another family that I could spend it with and they made it really fun.
Becoming Ursula's Daughter
What's interesting about the Descendants movies is that you're creating a new character, based on another character. China Anne McClain plays Ursula's daughter, Uma. While the script may be written for her, she still has to become the character with her expressions, attitude, and mannerisms. China did her research and it surely paid off.
She (Ursula) is one of my favorite movie villains ever. She has so much attitude. In preparation, I watched "The Little Mermaid" about 20 times before I went to Vancouver to shoot. I was looking at her mannerisms, how she talked and everything that she said, and that helped me a lot on set.

It's cool to play a villain. This is my very first time playing one, I think. We all have those feelings inside that we just want to unleash on people sometimes, and that's the definition of Uma's character. She has always bottled up feelings that she randomly unleashes on people and is not sorry for it at all. So, it was fun playing that and it was really cool. She's really cool.
Being a villain's daughter can be…challenging
She makes being bad looks so good. As funny as it sounds, she looks so natural. That just shows are skilled she is as an actor. There were some challenges that she revealed in our exclusive China Anne McClain Descendants 2 interview:
I think the biggest challenge playing Uma was probably making her relatable and trying to make her likable because you can't mess with the VKs. The fans love the Villain Kids and I see why because in the first film they are really, really good and they connected with a lot of kids. So, just making kids not dislike her and helping them to understand her was probably the biggest challenge.
She also found some of the dances challenging.
It was really hard because you rehearse in this huge studio so you have a lot of space. But then they put you on the set and it's a totally different story and there are tables and background actors and you're in costume. Everything's totally different. That was a big challenge and we only had one day to rehearse on set.
Famous choreographer, Kenny Ortega pushes China to her limit!
Kenny Ortega has worked with the biggest names in showbiz and now he can add China to his list because he choreographed Descendants 2. A fan question came from @SofiaCarson_JLS on Twitter. She wanted to know what it was like to work with Kenny!
Kenny is a genius. I can call him that because he really is. He's worked with everyone. He's so patient and he doesn't settle for anything less than your best. He'll push you until you're really giving it your best and]going all the way there, and that's what you want in a director. You want somebody that knows what they want and knows how to get it out of people. That's exactly who he is. He's a genius!
Uma's song "What's My Name" is a real winner!
The other Disney bloggers and I had the pleasure of seeing the "What's My Name" music video before the rest of the world. That's when I absolutely fell in love with Uma's sassy personality. Uma loved working on that one, too!
Well, working on that was so much fun. How did you guys like Thomas and Dylan, who played Harry and Gil? Harry is bomb. He's Uma's best friend. Fun fact, this little tattoo that I have right here, he has one back here and Dylan does too. So we got really close on set. Hopefully you can see that on screen because that was one of the last things we shot, another fun fact. We had all gotten to know each other and had all become really close by that point. So, we were lucky that we got to shoot "What's My Name" last.
Uma's incredible costumes
Uma's costumes in the film are absolutely incredible. I wish I had a designer creating interchangeable costumes for me. I think we all do, but they aren't as fun as they may look – not when you're working and moving, at least.
It was difficult working in the costumes because I had a skirt and heels on, not to mention the heavy braids and the leather jacket I could barely move my arms in. I had to do a dance number in all of that, and part of the process is just getting adjusted to the costume. We did three weeks of rehearsing before we started shooting, and part of the rehearsal was with the wig on. I thought, "I'm going to wear this so I can get used to doing the dance numbers in it." So, after I got adjusted to it, it was pretty much as easy as cake.
Speaking of costumes, Uma's hair is on-point! China dishes on that process!
They braided the perimeter of my head in the back and the rest of it was a wig. They braided all of this with teal extensions and I walked around for the length of shooting with these braids. It was really cool and it was quick every day. You would think it would take a really long time, but they just slipped the wig on and put the hat on.
China Anne McClain is a little wicked sometimes, too
Sometimes an actress plays her part so well that we can't help but wonder if they are anything like the character they are portraying. Sometimes they are completely opposite, while other times they nearly have identical personalities.
I got to really unleash that anger and I didn't have to say I was sorry for it. Just doing that was cool and really fun, so that wild side of me was in this character for sure. Also, just the dancing and the singing was a part of me. I was expressing Uma first but I got to express myself through that because I love to sing and I love to dance. Being in the studio and being in rehearsals was just really fun for me. It was a cool way to let myself shine through.
Will we see a softer side of Uma in Descendants 2?
The trailers are previews suggest that Ursula's daughter, Uma is one tough cookie. But, will we see some sensitivity in Descendants 2? China kept this top secret. So, I'm thinking YES. We will see some sweet or sad moments with her.
I will not confirm or deny that. You will definitely see some dimension to Uma's character. You wont to see her be upset all the time. Trust me.
Premieres July 21st (8:00 p.m. EDT) on Disney Channel, ABC, Disney XD, Freeform and Lifetime
In Descendants 2 the villain kids are back and the stakes are even higher in the highly anticipated sequel to the Disney Channel Original Movie "Descendants"! The story deepens in the music-driven sequel to the global smash hit "Descendants," as the teenage sons and daughters of Disney's most infamous villains try to find their place in idyllic Auradon. When the pressure to be royally perfect becomes too much for Mal, she returns to her rotten roots on the Isle of the Lost where her archenemy Uma, the daughter of Ursula, has taken her spot as self-proclaimed queen of the run-down town. Uma, still resentful over not being selected by Ben to go to Auradon Prep with the other Villain Kids, stirs her pirate gang including Captain Hook's son Harry and Gaston's son Gil, to break the barrier between the Isle of the Lost and Auradon, and unleash all the villains imprisoned on the Isle, once and for all.
What new Villain Kids are you the most excited about? Tell me in the comments below!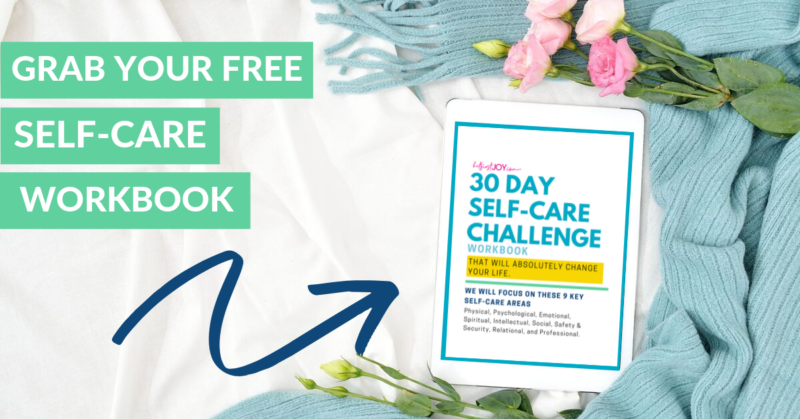 DISCLOSURE
As an Amazon Associate I earn from qualifying purchases. This post may contain affiliate links and/or promotional products, all opinions expressed are that of But First, Joy only. Read my full disclosure.