This is a sponsored post written by me on behalf of Cricut. All opinions are 100% mine.
If you're looking for Cricut Infusible Ink Projects, I have a great list of my simple projects for beginners. These projects are fun to make and can double as gifts.
If you've followed my blog for awhile, you know how much I love Cricut Infusible Ink Transfer Sheets. I even prefer it over vinyl or iron-on! Not only is it innovative, it's a quality product. Infusible Ink is bright, bold, and doesn't rub off or wrinkle. Therefore, projects made with Infusible Ink are great for gifts!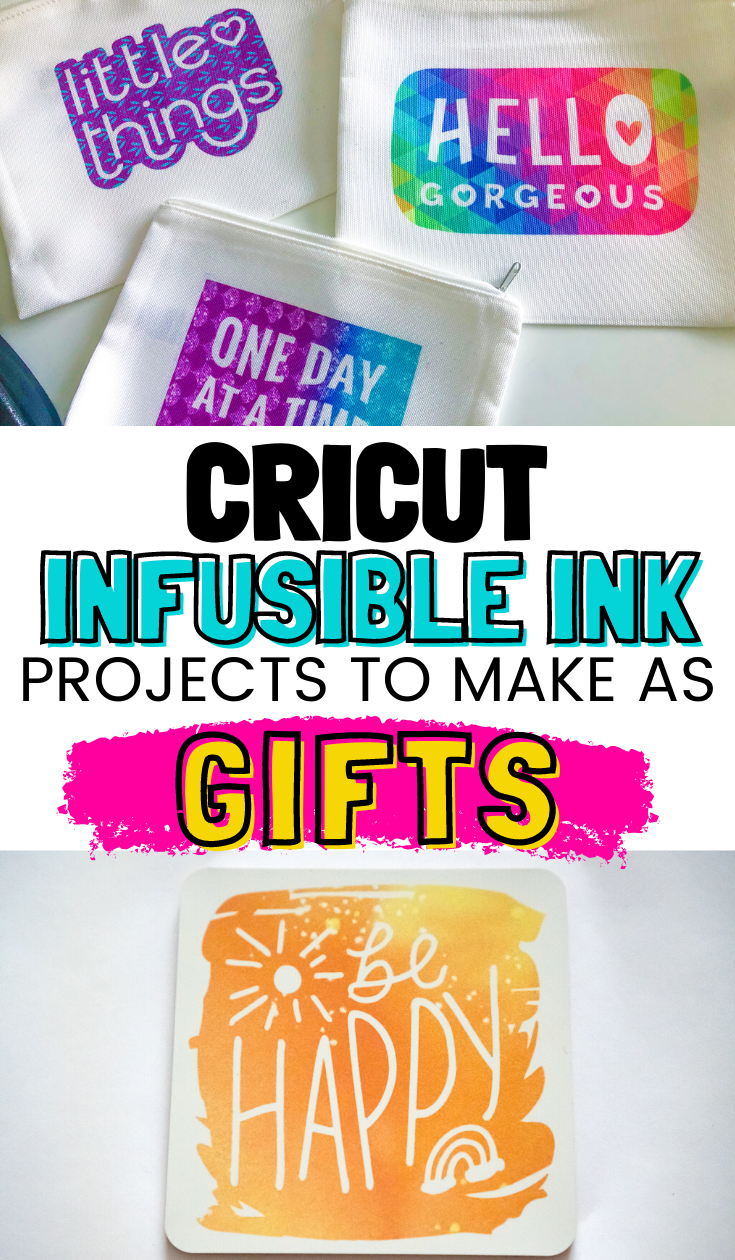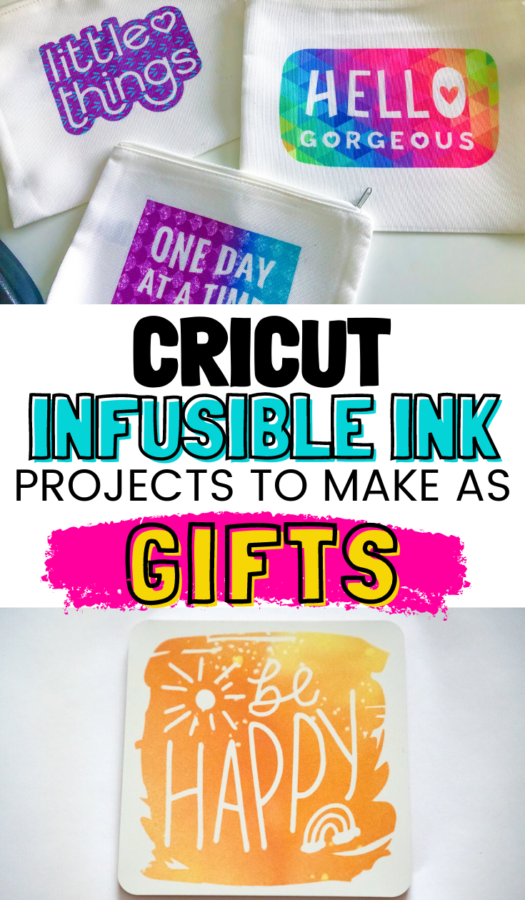 If you're a Cricut Infusible Ink beginner, you know how intimidating it can be. At first glance, you may be confused or discouraged because the Infusible Ink Transfer Sheets look very dull. However, after activated with heat, the color and patterns really pop.
7 Cricut Infusible Ink Projects that make great Gifts
So, if you're looking for a place to begin with Infusible Ink – I recommend the following easy Cricut Infusible Ink Projects: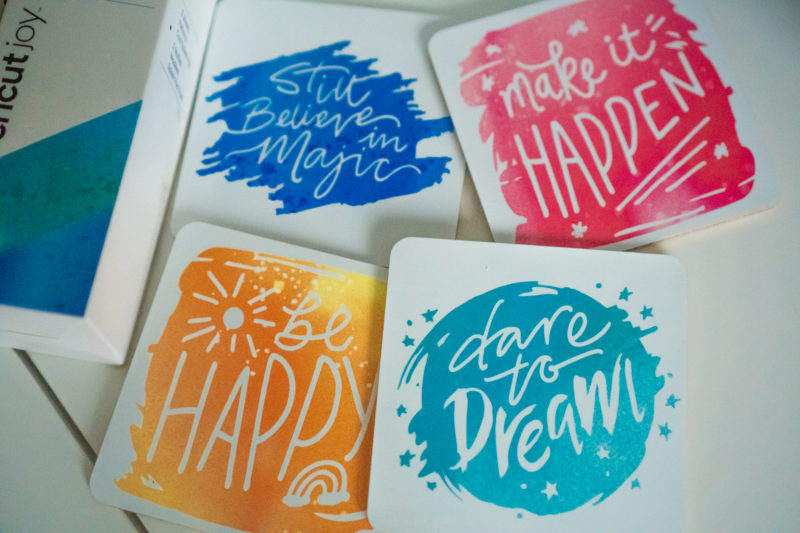 1. Coasters
I absolutely love making coasters with the Cricut Infusible Ink Transfer Sheets. It's actually my favorite project to make with these because the coasters are always bright and beautiful.
Note: Use the Cricut blank coasters for the best results. Keep in mind that the round coasters are ceramic and the square coasters have a corked bottom. Both are great!
Tutorial: How To Make Coasters with Cricut Infusible Ink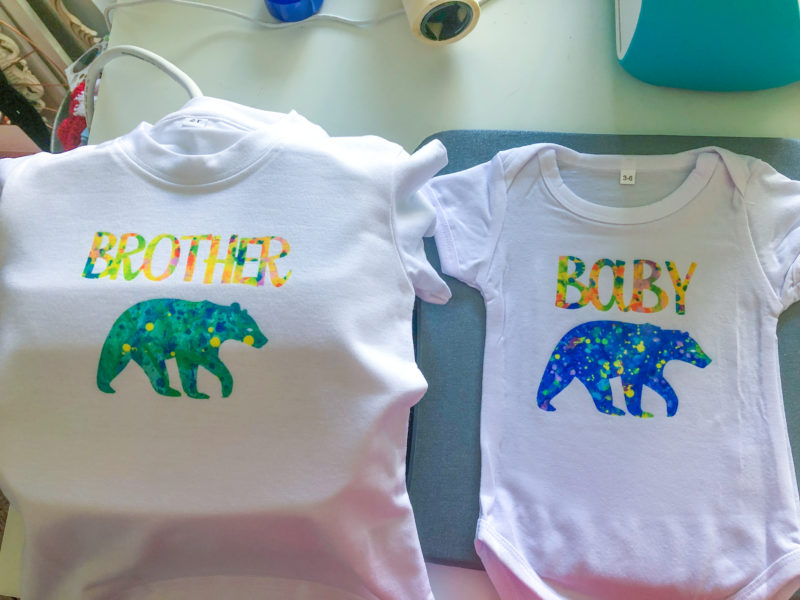 2. Matching Family Shirts/Onesies
I think shirts are a go-to for Cricut makers but many of us are used to using Cricut Iron-On Vinyl. While that's lovely, the Infusible Ink Transfer Sheets and Pens offer a different look and feel for shirts. Plus, the patterns will really make your Infusible Ink Shirts stand-out.
Note: Cricut has a variety of blank shirts that are made for Infusible Ink. There are sizes for men, women, children, toddlers, and baby bodysuits!
See More: Best Infusible Ink Projects and Materials
3. Custom Wine Bags
One thing I have yet to dip my toes into are wine bags! Cricut's new Wine Bag blanks are a great way to customize a bottle of wine (or other bagged gifts) for special occasions.
Tutorial: DIY Wine Gift Bag with Infusible Ink by 100 Directions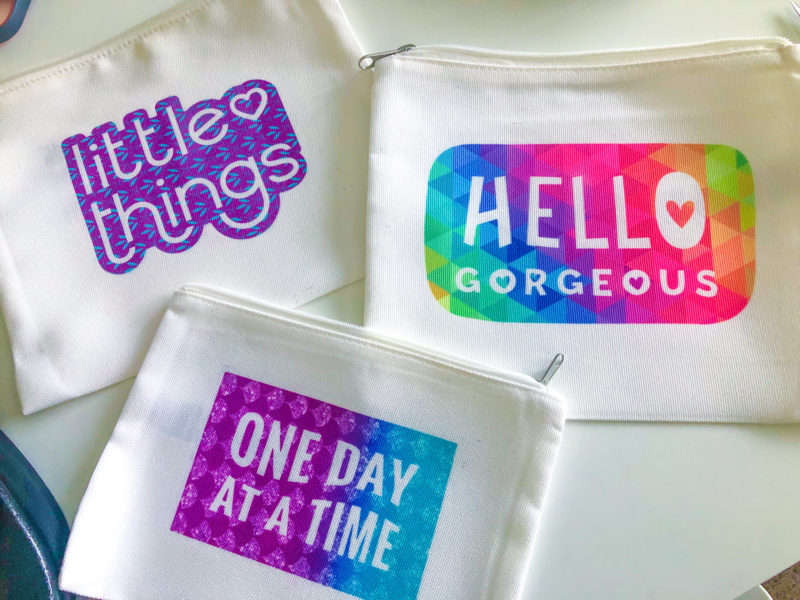 4. Inspirational Cosmetic Bags
Cricut's Cosmetic Bag blanks come in a set of 3 and are really nice to hold makeup, toiletries, or even writing utensils. In fact, I've seen some creatives use theirs to hold dirty/clean face masks.
See More: Best Infusible Ink Projects and Materials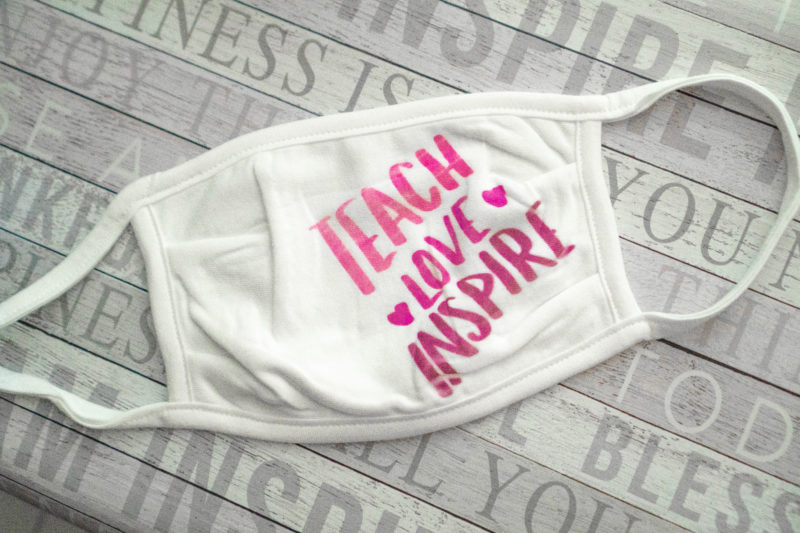 5. Face Masks
Speaking of face masks, you can customize them with Infusible Ink. As of now, Cricut doesn't offer face mask blanks but you can grab packs on Amazon for a decent price. Just try to stick to a blended mask because 100% cotton washes the ink right out.
Tutorials: 10 DIY Face Masks for Back To School / Teach, Love, Inspire Face Mask for Teachers
6. Pillow Cases
Finally, you can make pillow cases with Infusible Ink. Yep, that's right – Cricut released blank pillow cases this year and you can get creative with them.
Idea: "Chill Pillow" Throw Pillow made with Infusible Ink by The Cards We Drew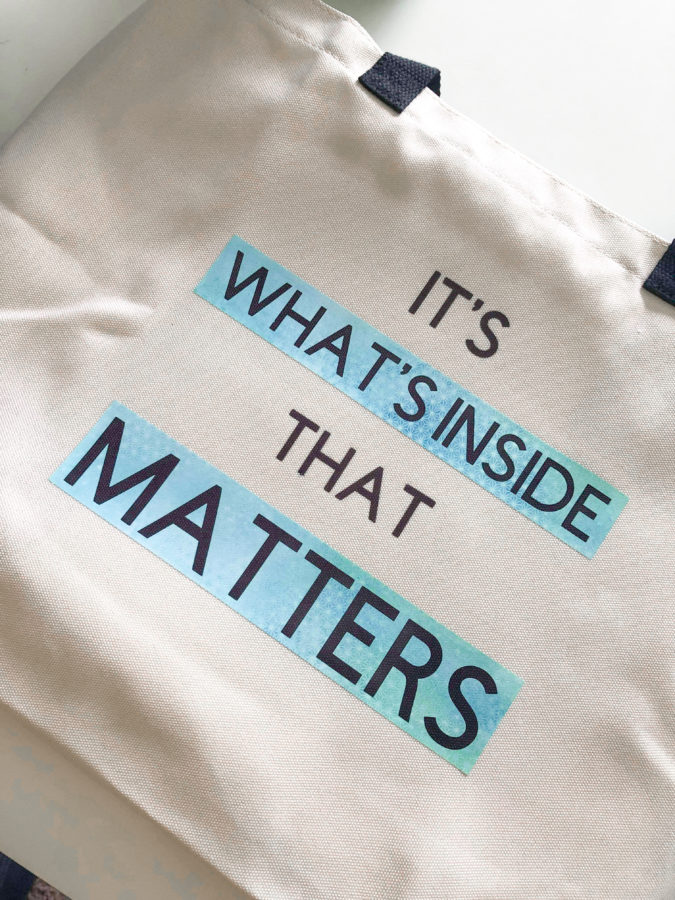 7. Tote Bags
Tote bags are another fun thing to make with Transfer Sheets and lucky us – Cricut has blank tote bags in different sizes. Get creative with sayings and images for these tote bags, as they can be used for shopping, travel, or even school.
Tips for Using Cricut Infusible Ink Transfer Sheets
After making with infusible ink many times, I have a few tips that will help you succeed every single time. Trust me, I've failed time and time again so I've been on both sides of the coin.
Use Heat Resistant Tape to hold down designs
Lift EasyPress straight up, rather than dragging to the side – this prevents ghosting.
Use Cricut Blanks whenever possible as they are specifically made for Infusible Ink. If you can't find Cricut blanks for your particular project, find a cotton/polyester blend.
Refer to the Cricut Heat Guide for the correct times and temps for pressing the design.
If layering Infusible Ink, be sure to always layer dark colors over light and not the other way around.
Don't use the slice method with transfer sheets that have a lot of white space or your design will not show up. Trust me! I made this mistake.
You can layer iron-on vinyl on top of Infusible Ink!
Weed Infusible Ink cuts with your fingers, as recommended by Cricut (and myself). It's actually very easy to weed.
Always mirror the Infusible Ink transfer sheet designs.
Cricut Joy transfer sheets can be used in all machines and regular Cricut Infusible Ink Transfer Sheets can be cut to fit into the Cricut Joy.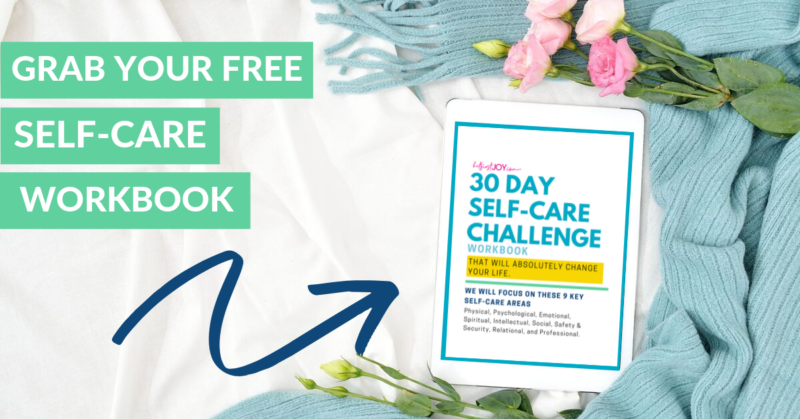 DISCLOSURE
As an Amazon Associate I earn from qualifying purchases. This post may contain affiliate links and/or promotional products, all opinions expressed are that of But First, Joy only. Read my full disclosure.