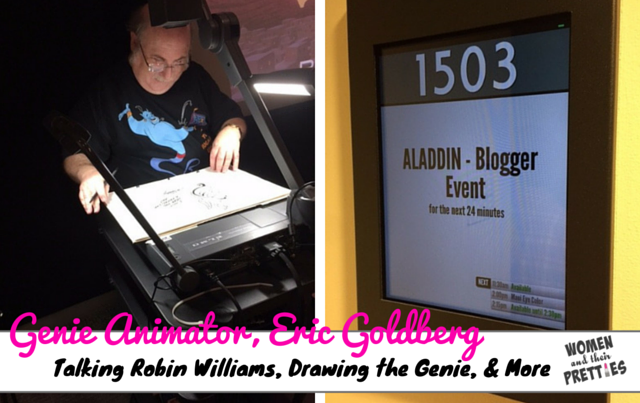 In September, I hopped on my magic carpet and took a ride to California to celebrate the release of Aladdin, from Disney's Vault. One of the most memorable moments during my press event was meeting the animator of the Genie, Eric Goldberg. I think that the Genie is the most beloved character of Aladdin. There's something about him that makes you want to be his best friend. Maybe it's his witty lines. Maybe it's the huge grin on his bubbly blue face. Or maybe I am biased. Robin Williams, rest his soul, will always be one of my all-time favorite actors and comedians. Meeting someone as talented as Eric Goldberg that worked directly with Robin Williams was nothing less than an honor. The entire experience was surreal.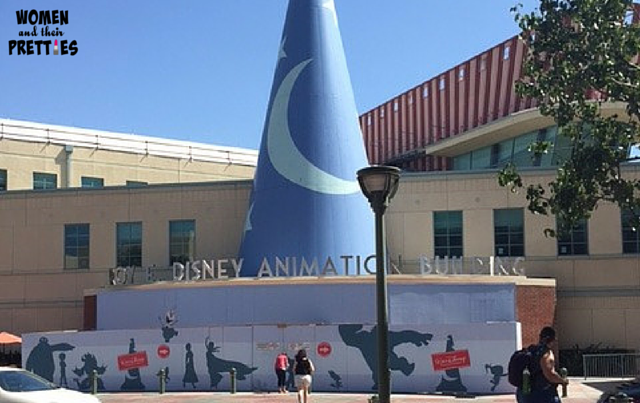 The day began with a trip to the Disney Animation Building. We all sat in a small room with a sketch pad and pencils. Eric Goldberg, with his charismatic personality, began giving us the story on how he and Robin Williams brought the Genie to life. He showed us a few of the original sketches of the Genie.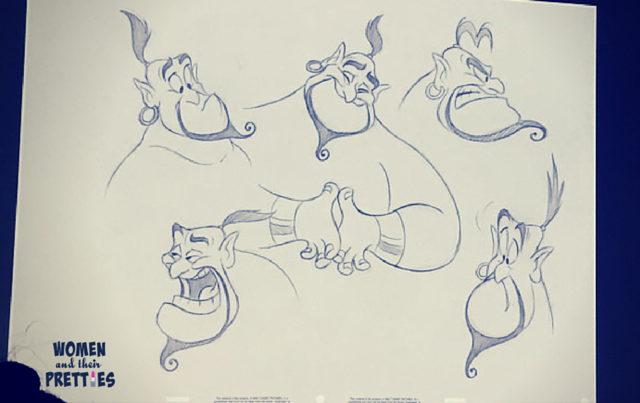 He confessed that his drawing inspiration for the Genie was Al Hirschfeld He loved how curvy his characters were and how it seemed like one line connected the entire character together.
Eric told us about cold-calling Al and thanking him for influencing the design. He didn't get much of a response, but Al did show up at the screening of Aladdin. Eric sat next to him through the entire movie. He described how he was sweating bullets, as he wondered what Al Hirshfeld thought of his design and of the entire movie. He said that Al had one thing to say afterward, "It looks like it was all drawn by one hand." Being that they had a ton of different animators in the film, that was the best compliment they could have received!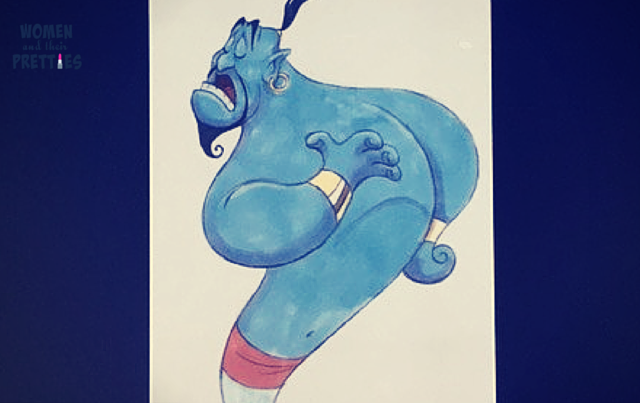 Fun Fact: Eric drew the Genie, but he didn't color him. The production designer made the Genie blue to match the color script of the movie. Have you ever noticed in Aladdin that the good guys are cool colors and the bad guys are red and dark colors?
Eric began to explain how they chose Robin for the voice of the Genie. They wrote the Genie's part with Robin Williams in mind the entire time. This was before Robin has even signed for the part. To kind of lure Robin in, Eric animated Genie to some of Robin's comedy routines. Let's just say, he signed after that.
It was emotional to hear all of the lovely stories about Robin Williams. I definitely got emotional hearing all about him. How could you not? Eric explained how Robin was such a kind soul. How Robin was actually very quiet and calm when he wasn't "working". He said that you would watch him eat his lunch, very quietly, but you could see the wheels in his head turning as he came up with his next routines. As soon as Robin was in front of the mic,
it was on
!
Robin gave them so much material to work with for Genie, that they had a lot to work with visually. This was the most improvisational animated film that Eric's ever worked on. Robin could take one line and turn it into 28 other characters without any writing, without any pauses. These are the kind of things that you get to see in "The Genie Outtakes" on the
Aladdin Blu-ray Combo pack
!
He finished the session with a demonstration on how to draw the Genie. I definitely felt special because this was the first time he had ever taught anyone to draw the Genie. He taught us, one step at a time, how to turn a simple lead and paper into this character that I grew up adoring. It was a lot easier than I could have imagined. With a little practice, I think I could draw a pretty darn good Genie. What do you think?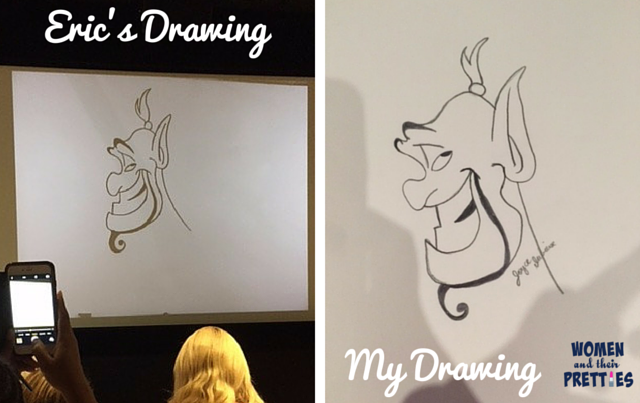 We were sent home with this swag too. An Eric Goldberg drawing of the Genie, signed TO me! How awesome is that!? This is something that I will cherish forever. Also, my new cuddle buddy is totally my new Genie plush.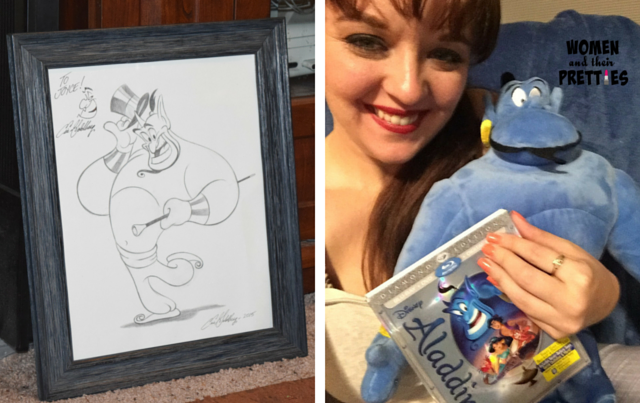 Aladdin is now available on Disney Movies Anywhere for digital purchase and download. Aladdin will be available on Blue-ray and DVD on October 13, 2015. Be sure you pick it up to see the exclusive bonus material. See an Aladdin bonus clip here.
Disclosure: Women and Their Pretties was compensated for this post with an all-expenses paid trip to LA to the #AladdinBloggers #TomorrowlandBloggers & #Disneyland60 press event. All opinion expressed here unbiased and my own.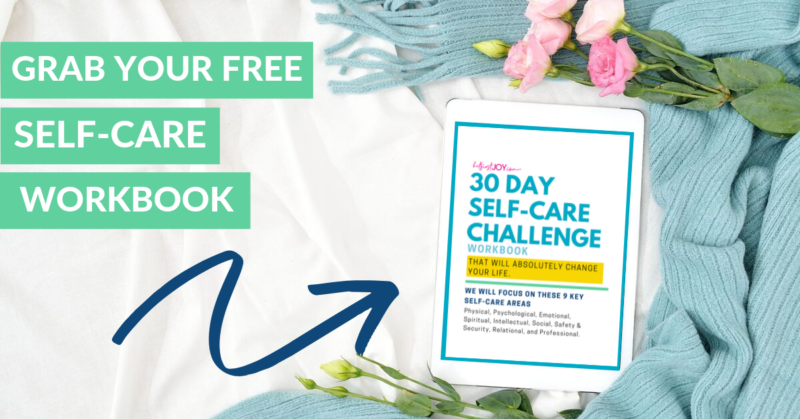 DISCLOSURE
As an Amazon Associate I earn from qualifying purchases. This post may contain affiliate links and/or promotional products, all opinions expressed are that of But First, Joy only. Read my full disclosure.