I've got the full scoop! Here are 10 exclusive Guardians of the Galaxy Vol. 2 secrets from my incredible Kevin Feige and James Gunn interview. That's right – James saved all the good stuff for the mommy bloggers. This unbiased post is sponsored by Disney as a part of the #GotGVol2Event!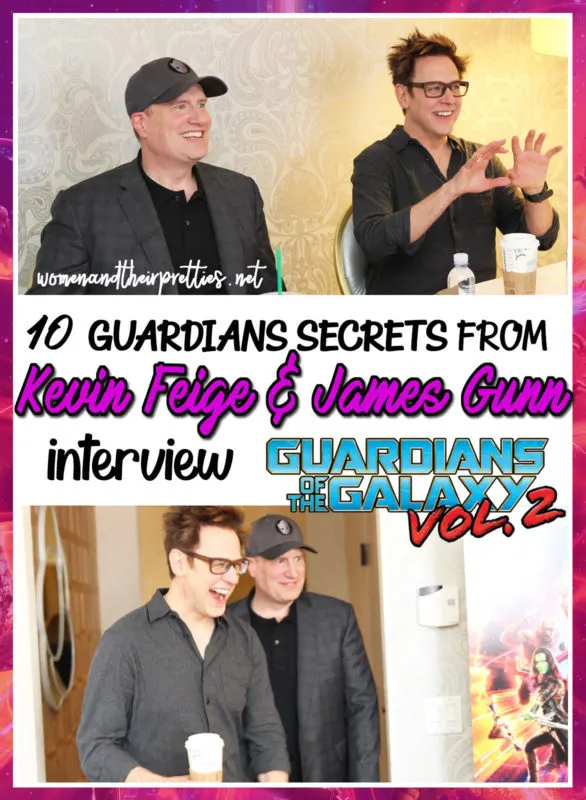 When James Gunn walks into a room and immediately announces how he loves being interviewed by your group, you feel pretty special. And then, when he mentions that he had exclusive
Guardians of the Galaxy
Vol. 2 secrets JUST for your group, it feels even better. Obviously, James is a fan of the "mommy bloggers" and I'm proud to be in that group. Even if I'm just a mommy of a few cats.
"My favorite part of making the Guardians movies is meeting with the Mommy Bloggers"

– James Gunn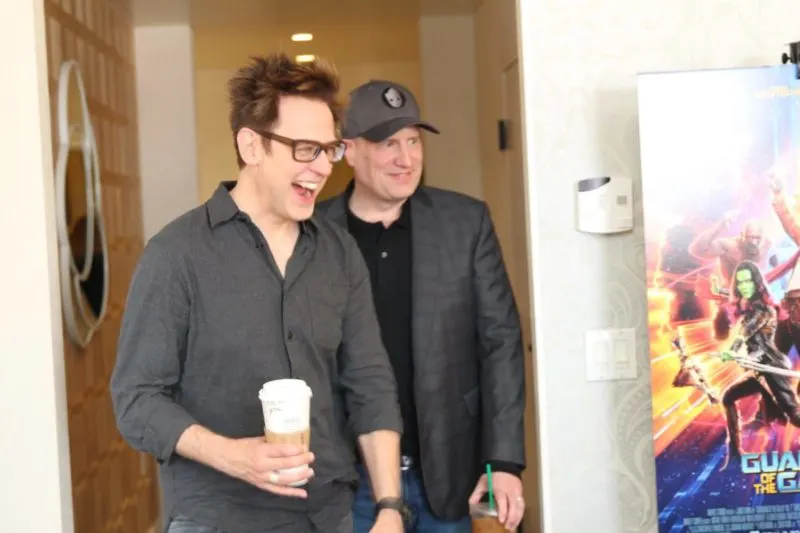 By the way, Kevin Feige agreed.
I'm pretty sure 25 women swooned and blushed at this point. It's not every day that you feel like the talent is there for you, instead of the other way around.
Kevin Feige and James Gunn Interview
The Kevin Feige and James Gunn interview begins and they have the biggest smiles on their faces. They are incredibly proud of their newest masterpiece and after the audience reaction at the
premiere the night before
, they have every right to be.
10 Guardians of the Galaxy Vol. 2 Secrets
1. Kevin used a song recommended on Twitter for the new film's soundtrack!
Yes, that's right. Keep those recommendations coming for Vol. 3 because someone recommended a song on Twitter, James Gunn checked it out – and actually used it! He is reading your tweets, guys. Unfortunately he can't remember who tweeted him. While James Gunn has a huge list of songs, every once in awhile he needs something that will be a better fit for the film.
"I have a list of about 500 Guardians-type songs that Meredith Quill might really love. And when I'm going through and writing the script, I put the songs into the script where they seem to fit. Sometimes I don't have a song that seems right on that list, so I have to go search, and listen to a bunch of stuff, and see what I like. Eventually it's all basically baked into the organic story of what's happening in a movie, in the same way you put sugar in a cake.
There was one song in the soundtrack that came from Twitter: Wham Bam
I've studied my Seventies music, especially since starting on this series, and somebody sent this song by this band called Silver, called "Wham Bam."
And I'm like, "What is that song? This is a really cool. A total Seventies pop song that is so different. Is this a fake song?" I thought it was a modern band with a retro vibe.
I had to go and do research on it, and found out that it really existed, and then I put it in the movie. I wish I knew who that Twitter person was."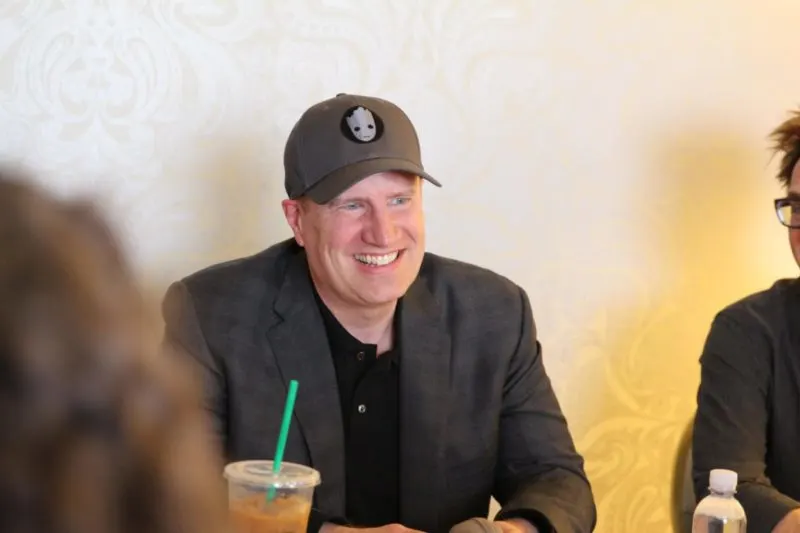 2. Almost every song James wrote into the Guardians scripts made it into the movie
Apparently screenwriters always suggest songs when writing a script, but they never make it into the film. Kevin Feige laughed when James Gunn did that in the first script saying, "Oh, that's cute. He thinks these songs are going be in the movie. We'll see." Being the incredibly elaborate genius that he is, James Gunn even made an outline with songs for both scripts. Kevin explains:
"Every single song. It's not just the [good for] the movie. But what's perfect for the movie! And then on part two, I knew better. So, I'd listen to the song as I'm reading the outline, and then later the script. And that pool of songs that he has comes in handy."
3. The upcoming California Adventure ride, Guardians of the Galaxy – Mission: BREAKOUT! features songs that James Gunn suggested.
That was a "hot scoop" as James Gunn said. In other words, it was a secret for our group only. James is so great with his song choices that the new Guardians ride at Disneyland will feature some of this song choices. What an honor that must be! Kevin Feige gave us the scoop!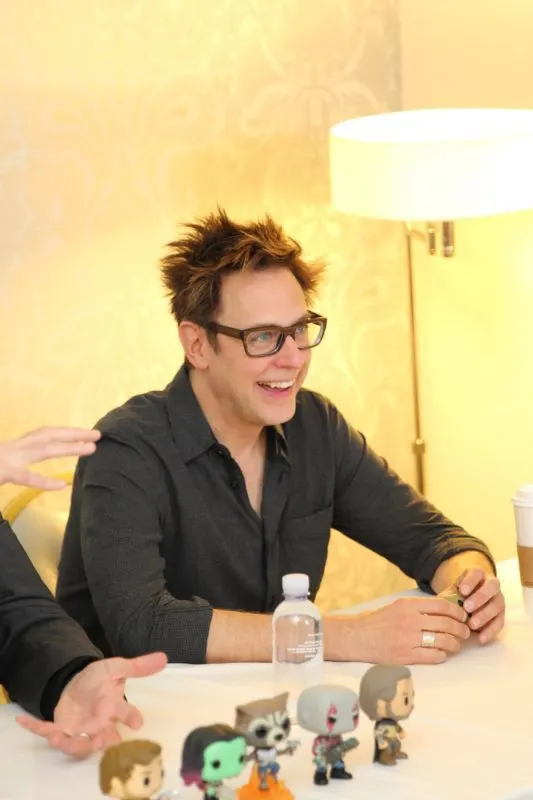 "There's a Guardians of the Galaxy theme park ride opening soon at California Adventure that features songs that James suggested as well, and a few other places coming up in the future."
Hmm. Wandering minds are asking exactly what the "other places" entail. What do you guys think?
4. Gamora and Star-Lord's relationship is going very slow for a reason!
As you saw in the first film, Gamora and Star-Lord's relationship is moving at a very slow pace. We talked about this in our interview with Zoe Saldana, as well. James Gunn and Zoe Saldana have had very in-depth conversations about this relationship and where it needs to go. These actors and directors get paid the big bucks for a reason. They think about things that we'd never think of. For example, would it really be in Gamora's character to fall head over heels for someone? Hmm, I'll let James Gunn tell you what he thinks.
"Zoe and I actually talked about this for a long time last night, at the party after the premiere. We tried to treat these characters with such respect and such love. I don't think that Gamora is a character who would be swept up in the moment by passion, and if she was, I think she would have to deal with the ramifications of that. I don't think she would be easy on herself about it."
Seriously, that makes total sense. James Gunn isn't giving into the mushy-gushy love scenes that Hollywood likes to squeeze into every movie possible. Kevin Feige acknowledges that, as well:
"It's the difference between a truthful, emotional moment, and a Hollywood moment, and that was very savvy of James to navigate that."
5. The Guardians will be meeting the Avengers and this is the plan!
The news of the Guardians being in Avengers was released to us in our Dave Bautista interview. Obviously, we had to know more. So, we asked Kevin Feige exactly how it was going to work. How will fitting a whole team dynamic into a supporting role work? Kevin gives us the scoop!
"As with all of the connectivity between our characters on various films, you have to be careful about it. We never want it to just seem like characters are popping their heads out of windows and saying "Hello" and then going back in."
James Gunn jokes about that being a "whole movie of Stan Lee cameos". Can someone go ahead and make one of those for us? Okay, thanks!
"Believe me, it'd be easier to do it that way, but it wouldn't be as satisfying. So a big role, a small role, regardless of the actual screen time that any single character has, and I think you've seen this in the Avengers films, and in Civil War last year, it'll be very meaningful and very important to the story that we're telling.
And that film's shooting right now and we've already shot a lot of those interactions, and they're very exciting. It's very exciting!"
If Kevin Feige is excited, then we're definitely excited. I literally have butterflies thinking of what's to come! Especially after all the great things Dave Bautista told us about Avengers.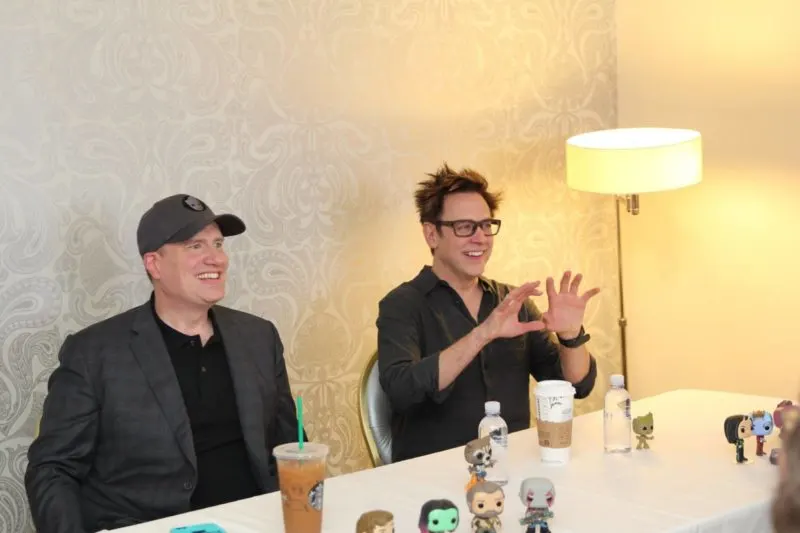 6. Miley Cyrus has a cameo in Guardians of the Galaxy Vol. 2!
I bet nobody in the universe caught this cameo! There's a small part in the film with the Marvel character, Mainframe. Well, she is voiced by none other than, Miley Cyrus! It's a very small cameo and you wouldn't catch it if you didn't know it. Keep your eye out for a talking metal head, that's her! James Gunn goes into more detail.
"Miley Cyrus has a cameo in the movie. I'm a hundred percent serious. I was watching The Voice, and I'm like, "She's so likeable." And her voice is awesome. I'm like, "She's got the best voice." And then I wrote this thing and I said, "Kevin, what do you think about casting Miley Cyrus as the voice of Mainframe?" And he was like, "Well, I'll see if we can get her." And then I got her to do it."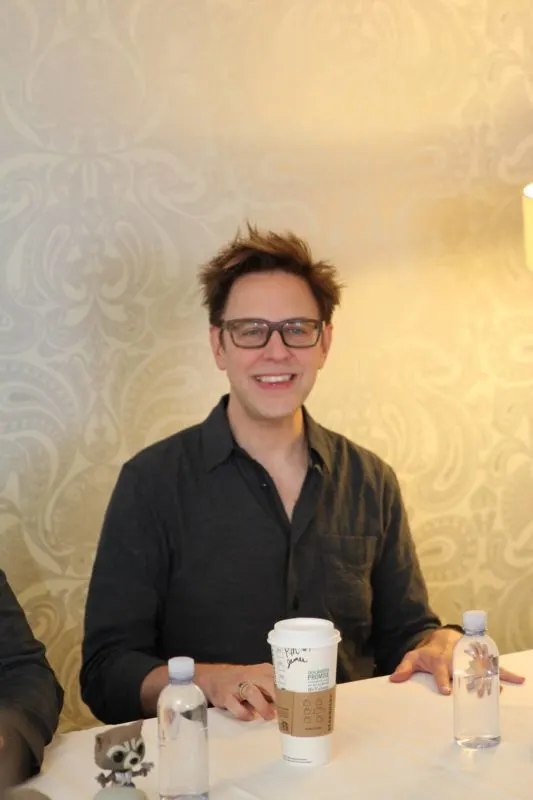 7. James Gunn's family is in the film & they are credited in a hilarious way at the end!
How funny is that? It's true! There's a scene with a lot of James Gunn's family in it. I refuse to tell you what scene it is, but trust me when I say that you'll know.
"In that scene, my parents are in it. My brother. My brother's wife. My my two nephews and my niece are all in that scene. That's my parents. They're credited in the credits as "weird old man" and "weird old man's mistress." Which my mom loved. My mom loved it. My mom loves being the mistress. "
How hilarious is that? I cannot wait to watch the film again just for that alone!
As for my own little bonus, I have to tell you that Guillermo Rodriguez, Jimmy Kimmel's main man in Jimmy Kimmel Live, has a very small cameo in the film. Honestly, I knew about it before the film and tried to catch it but I couldn't! It's very small, but I checked IMDB and it's actually legit! Watch the scene below to see if you can catch it.
8. Kevin Feige picks Directors as a "Leap of Faith" and from a "vibe"
I know it would be more fun to think that Kevin Feige has a skilled way of choosing directors for films, but he doesn't. There's not an application or checklist. He describes it all as a "leap of faith" in our James Gunn and Kevin Feige interview!
"There are a lot of meetings, and it's really a leap of faith, to some regard. And a lot of it is the vibe! "Do we want to spend, in a worst-case scenario, three years together, and in a best-case scenario, ten years together? 12?"
It's simple and sensible. See, Kevin is human just like all of us. Would you hire someone who you couldn't stand being around? I don't think so!
9. James Gunn thought the idea of Guardians of the Galaxy was a terrible idea when he was pitched the story.
I mean, if someone explained the story to me, I'd also think they were a little insane. It sounds like a story that someone who wasn't exactly sober would tell. In hindsight, we realize how incredible the idea of it is. But, it's because of James Gunn that it's so great. Kevin explains the process and James chimes in.
"We have a great team at Marvel Studios. And in the case of Guardians it was executive producer, Jeremy Latcham and now executive producer, Jonathan Schwartz, who did the first round of meetings. They were the first people James met with. And pitched the notion of this weird space movie with raccoons and trees. "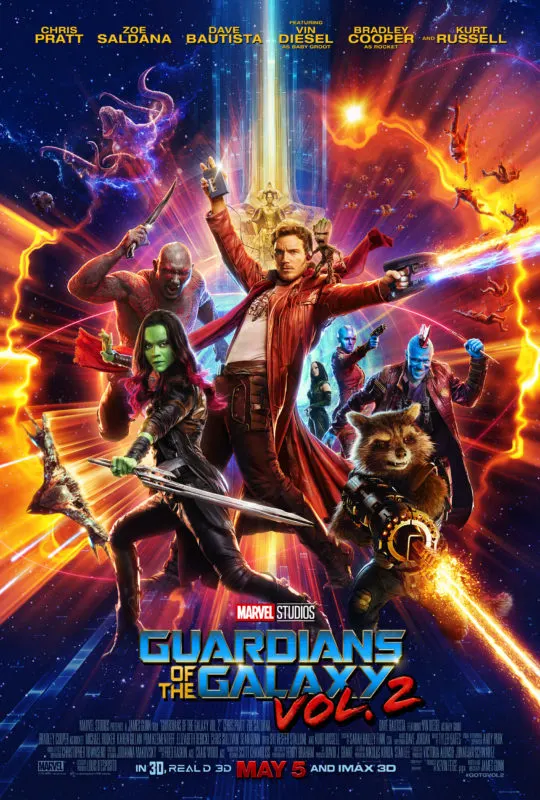 James Gunn was not privy to the idea, to say the least. This was his take on the whole idea. I can't help but to giggle as I write this.
"Yeah, they pitched that idea to me. Then, I was driving home after the meeting and when I said goodbye to them, I thought they were making a huge mistake! I'm like, "You guys have done a great job so far as Marvel, but, you know this is Bugs Bunny in the middle of the Avengers, and you're gonna look like idiots!
And so, I kind of smiled and shook their hand and I went home, and I didn't really think I was going to take the gig, or that wasn't being offered the gig, but I didn't think I was going to pursue it in any way."
But then, everything changes…
"And then, it really hit me. I was like seeing the first poster in my head on the way home, and I realized what this movie could be, and how it could bring color and heart into a big, franchise film, and create the kind of space opera that I've wanted to do my entire life, so that's how it started."
I think Kevin cast me. I gave Chris an opportunity, and Kevin gave me an opportunity.

– James Gunn talks about Kevin Feige giving him a chance
10. Guardians of the Galaxy was the first movie James Gunn every really wanted!
It sounds funny to say that it was the first movie James ever really wanted, but apparently it's true! He'd never been so excited or passionate about a movie. He put all of his time and effort into this film.
"It's weird. In the first Guardians movie, the Guardians say, you know, "Maybe it's time to actually give a shit about something." And this is being completely honest…
I had a lot of success doing things in Hollywood, and I always considered it my strength that I didn't really give a shit. I would go in and I would pitch something, and I'm like, "Well, if I get the job, then I'm gonna get money. But if I don't get the job, then I don't have to work for a little while." The fact that I didn't care, I always thought it was my strength.
And for the first time in my life, I really wanted the Guardians of the Galaxy gig.
That honestly had never happened to me before. I had never done it. And so it was a new experience for me in caring, and it's so funny because that's exactly what the Guardians are all about."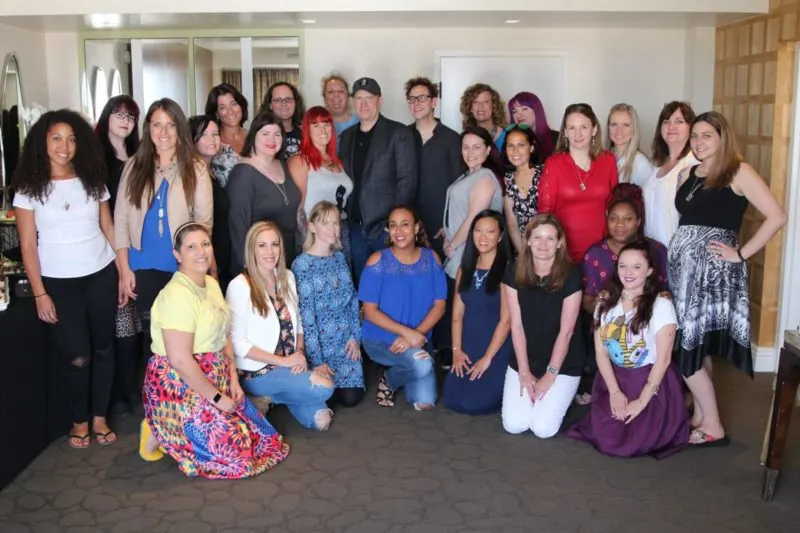 And that's it, folks. That's how we ended the interview and it couldn't have been more perfect. We took our obligatory interview group photo and went on with our day. Except we walked away way more excited, passionate, and encouraged than ever before. I think the Guardians just do that to ya.


Set to the all-new sonic backdrop of Awesome Mixtape #2, Marvel Studios' "Guardians of the Galaxy Vol. 2" continues the team's adventures as they traverse the outer reaches of the cosmos. The Guardians must fight to keep their newfound family together as they unravel the mystery of Peter Quill's true parentage. Old foes become new allies and fan-favorite characters from the classic comics will come to our heroes' aid as the Marvel Cinematic Universe continues to expand. "Guardians of the Galaxy Vol. 2" blasts into theaters on
May 5, 2017
.