Bookmark this list for the next time you're shopping to find last minute gifts for him. Whether you're getting gifts for husband, dad, brother, son, or boyfriend – there's a little something here that he will actually appreciate. So, grab a gift now and he will never know that you procrastinated for as long as womanly possible.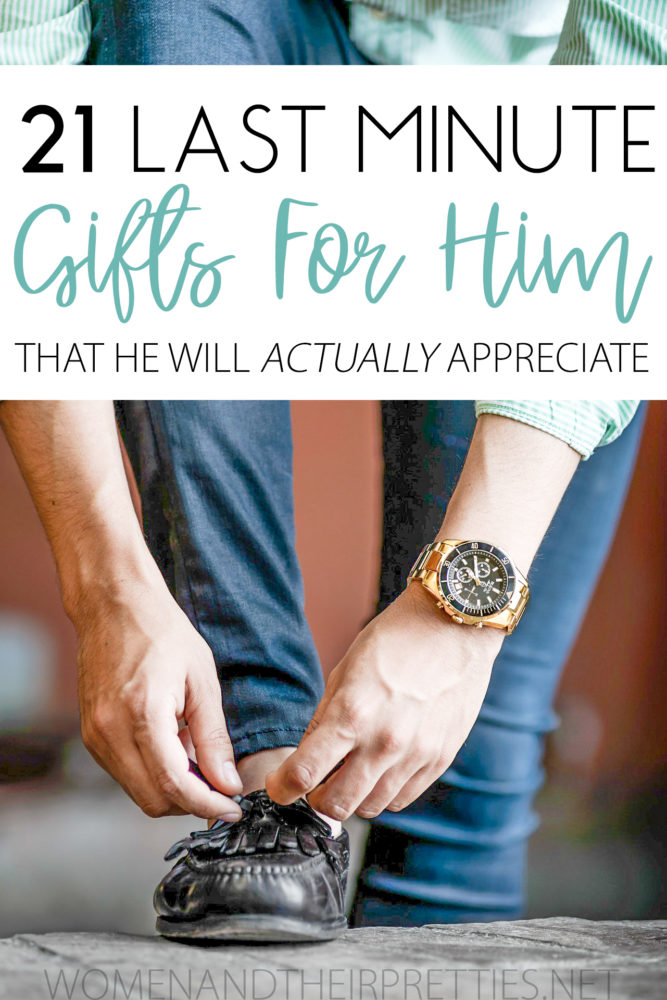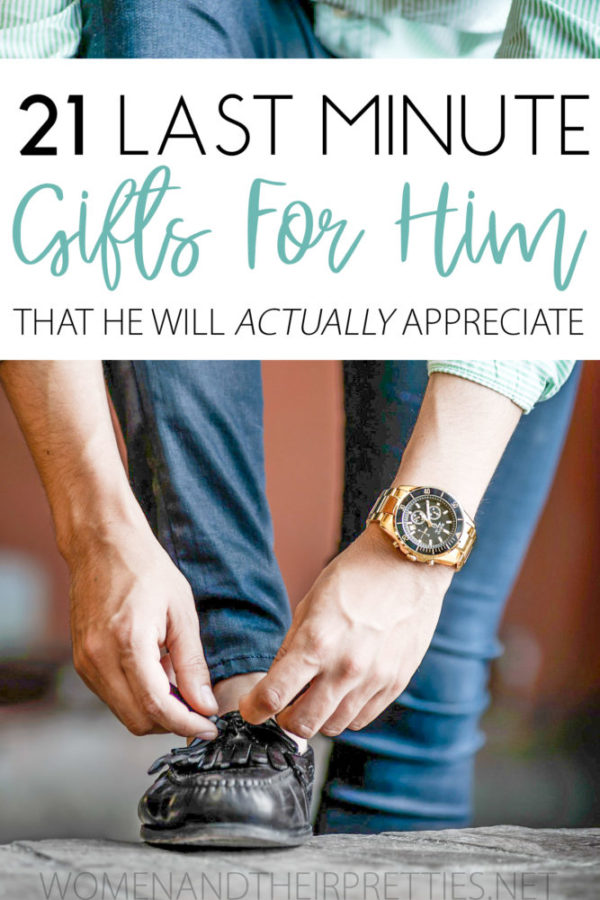 I'll admit it – I find myself getting caught up in all the wild and crazy rollercoasters of life and I forget special dates, days, and sometimes – people. Point your finger, smack my hand, and put me in time out. I'm not perfect but I still care. When it comes to gift giving, I pride myself on picking out gifts that are unique and special for every single recipient. Thoughtful doesn't always mean personalized. Sometimes a last minute gift for him, means something practical or maybe a little quirky. These are 20 last minute gifts that are made of quality and care. You'll thank me later and trust he will, too.
21 Last Minute Gifts for Him That He Will Actually Appreciate
1. 
Heat Holders Oversized Throws
It's what many of you have been waiting for! The phenomenal success of our Heat Holders® socks has led to several additional products, such as hats and gloves but this is – literally – the big one! Our new Heat Holders® Thermal Oversized Throw/Blanket is made of a luxuriously soft fur fleece we call HeatWeaver®. It's been developed to be efficient at retaining heat, which is why it has an official tog rating of 1.4 – it's measurably warmer to the touch.
The Heat Holders® Thermal Oversized Throw/Blanket is a big 70¾" x 78¾" so you can wrap up warmly in it on those chilly evenings. It's incredibly soft and very easy to look after, as it's fully machine washable. So with heating costs rising, don't get left in the cold – get a Heat Holders® Thermal Oversized Throw/Blanket!
[maxbutton id="2″ url="https://www.heatholders.com/collections/throws-blankets/products/oversized-throws-blankets?variant=5787970373″ ]
2. Echo Dot
Echo Dot (2nd Generation) is a hands-free, voice-controlled device that uses Alexa to play music, control smart home devices, make calls, send and receive messages, provide information, read the news, set alarms, read audiobooks from Audible, control Amazon Video on Fire TV, and more
[maxbutton id="2″ url="https://www.nvidia.com/en-us/shield/shield-tv/" ][maxbutton id="3″ url="http://amzn.to/2z5itE6″ ]
3. 
Gamevice (turn his mobile device into a gaming device)
Mobile console gaming is a reality. By combining the latest iOS device from Apple with Gamevice, you get a phenomenal mobile gaming experience. Apple iOS devices have processors and storage on par with most popular consoles. Gamevice delivers the controls and with over 1000 games on Gamevice Live, you have a gaming rig and a library of games in the palm of your hand.
[maxbutton id="2″ url="https://gamevice.com/" ] [maxbutton id="3″ url="http://amzn.to/2iVX8nR" ]
4. 
Watch Ya' Mouth NSFW Edition
Level up with Watch Ya' Mouth NSFW Expansion Pack #1. Get your mind in the gutter and our mouthpieces into your mouth. C'mon, the kids are asleep. Put Watch Ya Mouth NSFW Expansion Pack #1 deep inside your cart. For ages 18+.
[maxbutton id="2″ url="https://wymgame.com/product/nsfw-adult-expansion-pack-1/" ] [maxbutton id="3″ url="http://amzn.to/2yj2OgK" ]
5. 
Bella Sun Luci Gift Basket
Our signature box is filled with some of our most premium items including; Bella Sun Luci sun dried tomatoes in olive oil & herbs, julienne cut in olive oil & herbs, sun dried tomato pesto, sun dried tomato risotto blend, Tomato Artichoke Pasta sauce, Sun Dried Tomato Julienne Cut, Arbequina Extra Virgin Olive Oil and imported Italian Pasta. An authentic and healthy Mediterranean dining experience in every box!
[maxbutton id="2″ url="https://bellasunluci.com/products/mooney-family-story-box" ] [maxbutton id="3″ url="http://amzn.to/2BYSTPB" ]
6. Wacom 
Bamboo Folio & Bamboo Sketch
Bring your notes and drawings from paper to the digital world with the Bamboo Folio Smartpad from Wacom. This smartpad converts your handwritten notes and hand-drawn doodles into digital files at the push of a button. With a digital file, you can back it up on the Cloud as well as export it in multiple file formats. Combined with the Wacom Inkspace app, you'll be able to organize, edit, and share your creations on your Bluetooth-enabled iOS or Android device. If you're not near your mobile device, don't worry because the Folio can store up to one hundred pages and sync them later on. The Folio also has a foldable flap that doubles as a cover and a pocket for business cards.
[maxbutton id="2″ url="http://amzn.to/2APs1SW" ]
7. 
BIT – Wearable Bluetooth Speaker
The Polk BOOM Bit is the world's first truly wearable Bluetooth speaker that clips securely to your clothing and seamlessly integrates with how you move, safely balancing all your audio with your immediate surroundings. It features a durable enclosure, spring steel clip, speakerphone capability, and a standard USB for on-the-go charging.
[maxbutton id="2″ url="https://www.polkaudio.com/products/boombit" ] [maxbutton id="3″ url="http://amzn.to/2yjhTii" ]
8. 
Steven Raichlen's World-Wide BBQ Combo
Steven Raichlen Project Smoke BBQ Spice Rub Seasoning Combo Pack – Best of Barbecue 6 Pack- World Wide Barbeque: Multi-award winning author, TV show host, and renowned global grilling authority Steven Raichlen has scoured the world to find the best in barbecuing and grilling. His Project Smoke spice rubs are like no other, bringing you authentic flavors from around Planet Barbecue.
 [maxbutton id="2″ url="http://amzn.to/2AfQQ9A" ]
9. 
Collectivo Holiday Cheer Box
Give the gift of cheer! Our Holiday Cheer Box includes some of our favorite treats nestled in a custom box with a festive matchbox wrap.
Includes: half-pound each of Snow Day & Starry Night coffees, 12 oz. tin of Holiday Cocoa, quarter-pound pouches of Choco-covered Espresso Beans and Choco-covered Caramels, plus 1oz. bars of Dark Chocolate with Cacao Nibs and Classic Milk. Huzzah!
[maxbutton id="2″ url="https://shop.colectivocoffee.com/collections/gift-box/products/holiday-cheer-box" ]
10. 
Snow Cooling Pillow
This pillow manages heat and moisture, and also provides optimal support for proper head and neck alignment. The receiver of this gift will sleep better and wake up with less pain.
[maxbutton id="2″ url="https://www.protectabed.com/snow-cooling-pillow-with-medium-firm-shredded-memory-foam-fill-standard-size.html" ]
11. Fire TV with Alexa Voice Remote
Your Alexa Voice Remote can easily find, launch, and control content. Simply press and say, "Alexa, find suspense thrillers" and Alexa will show you results. For hands-free content control, pair Fire TV with your favorite Echo device and Alexa will hear you from across the room using far-field voice recognition.
Plus, Alexa on Fire TV is always getting smarter. With newly expanded voice control in apps like Bravo, CBS All Access, Hulu, NBC, PlayStation Vue, and SHOWTIME, Alexa can help you do even more. Use your voice to search, control playback, and even change the channel within supported apps.
[maxbutton id="2″ url="http://amzn.to/2AU1XFB" ]
12. 
diskAshur 2 Hard Drive
An easy to use ultra-secure, PIN authenticated, portable USB 3.1 hard drive with real-time AES-XTS 256-bit hardware encryption, software free design and super-fast data transfer speeds. The diskAshur2 has an easy-to-use keypad design enabling you to securely access the drive with your own unique 7-15 digit PIN and with software free setup and operation, the diskAshur2 is platform/device independent and works across all operating systems including all versions of MS Windows, macOS, Linux, Android, Chrome, Thin Clients, Zero Clients and embedded systems. In fact, it will work on any device with a USB port! One of the unique and underlying security features of the GDPR compliant diskAshur2 is the dedicated hardware based secure microprocessor (Common Criteria EAL4+ ready), which employs built-in physical protection mechanisms designed to defend against external tamper, bypass attacks and more. Unlike other solutions, the diskAshur2reacts to an automated attack by entering the deadlock frozen state, which renders all such attacks as useless.In plain and simple terms, without the PIN there's no way in!
[maxbutton id="2″ url="https://istorage-uk.com/product/diskashur2/" ] [maxbutton id="3″ url="http://amzn.to/2CA3Jw2″ ]
13. pureLYFT (a natural energy supplement)
LYFT's first-to-market Energy Stir Sticks were born to give you the freedom to enjoy a natural caffeine boost anyway you want, without the sickly taste of "extreme" energy drinks and without racking up empty calories. pureLYFT can get you out of bed for your 6AM CrossFit, get you over that 3pm slump at work, and it can help you get to the next level when happy hour has just begun.
[maxbutton id="2″ url="https://purelyft.com/collections/shop-now/products/purelyft%E2%84%A2-mixed-berry" ] [maxbutton id="3″ url="http://amzn.to/2yUlsMh" ]
14. Collar Perfect (portable iron)
Collar Perfect is a compact and quick ironing solution that works by clamping onto collars, cuffs, creases, between buttons, and other parts to smooth out wrinkles. What makes it Perfect is the ability to transform by opening to flatten the wings for use like a regular iron. Collar Perfect comes with five adjustable temperature settings and international power support to iron out all of life's wrinkles.
[maxbutton id="2″ url="http://amzn.to/2CA5hpQ" ]
15. Fire HD 8 Tablet
Fire HD 8 features a 1280 x 800 high-definition display with over a million pixels (189 ppi) and a bright, vivid picture. Enjoy movies and games in a crisp, clear HD resolution, with less glare and more brightness thanks to a stunning IPS (in-plane-switching) LCD display.
[maxbutton id="2″ url="http://amzn.to/2CyAbio" ]
16. Krups Double Basket Fryer
Make delicious fried food at home with the KRUPS Easy Pro KJ332051 2.5 L Deep Fryer with Snacking Tray. The 1500-watt deep fryer, with its 2.5 L oil capacity and 2.2 Lb food capacity, quickly and efficiently fries food to crispy perfection thanks to its professional heating element, adjustable thermostat, and temperature-ready indicator light. Raise and lower food safely using the stay-cool external basket handle, and the included snacking tray makes it easy to keep two different types of food separate while frying. The countertop deep fryer also provides a nonstick interior and removable dishwasher-safe parts for easy cleaning. Easily create restaurant-quality fried-food favorites with the KRUPS Easy Pro deep fryer.
[maxbutton id="2″ url="https://www.target.com/p/krups-double-basket-fryer/-/A-52574375″ ]
17. Copper Chef Pan
Copper Chef can be a workhorse in your kitchen. It's a sauté pan,a deep-fryer, a steamer, a baker, a slow cooker, a roaster, and so much more. It comes with a fry basket for making your favorite deep-fried foods like fried chicken and French fries, and also acts as a pasta cooker and strainer, eliminating the need for a separate colander. You also get the benefits of the steamer tray that allows you to make lighter and healthier dishes as well. You can oven-roast in Copper Chef because it goes into the oven up to 800º F and the capacity is huge. (You can fit up to a 5 lb. roast in Copper Chef!) Getting rid of some of the other less versatile pans you have in your kitchen cabinets simply increases your kitchen storage space and also simplifies your culinary life!
[maxbutton id="2″ url="http://amzn.to/2AVuyu1″ ]
18. Thug Kitchen Cookbook
Thug Kitchen lives in the real world. Intheir first cookbook, they're throwing down more than 100 recipes fortheir best-loved meals, snacks and sides for beginning cooks to homechefs. (Roasted Beer and Lime Cauliflower Tacos? Pumpkin Chili? GrilledPeach Salsa? Believe that sh*t.) Plus they're going to arm you with allthe info and techniques you need to shop on a budget and go and kick abunch of ass on your own.
[maxbutton id="2″ url="http://amzn.to/2CXTFxP" ]
19. Philips Hue Smart Bulb Kit
Meet Hue. Your personal wireless lighting system that lets you easily control your Hue lights from your smart device or compatible controls and create the right ambiance for your every moment.
This kit includes four LED A19 smart light bulbs designed to fit standard table lamps, and one Hue Bridge. Choose the perfect light setting for any mood or activity such as reading or relaxing, concentrating, or energizing, all with wireless control from your smartphone or tablet.
[maxbutton id="2″ url="http://amzn.to/2CBz7KB" ]
20. Super Mario Odyssey – Nintendo Switch
Odyssey is a love letter to that Nintendo 64 classic, with tips of the hat and references littered liberally throughout. It also brings back the look and play of Mario's first 8-bit adventure for a variety of wonderful challenges. These connections to the past produce a nostalgic charm that is always present and worthy of a smile, but Mario's history doesn't dominate this experience – it just makes it more meaningful for longtime fans. A number of the callbacks are clever, fun, and bigger than you'd expect.
Performing a triple-jump maneuver is a clear reference to the 64-bit heritage, as the animations and timing are nearly identical, but the historical elements are just the tip of the iceberg in what is easily Mario's biggest and most adventurous game to date. I'd argue that the former plumber isn't even the star of this game; that honor goes to Cappy, his new symbiotic hat that does most of the work for combat and exploration. Cappy is a ghostly entity gifted with the power of possession. When he latches onto an enemy's head, Mario becomes that foe, and the player controls it.
GameStop is making it easy to check your local store for availability with this Switch inventory tracker. Grab them at GameStop while they still last! https://www.gamestop.com/gs/pages/events/switch-in-stock
[maxbutton id="2″ url="https://www.gamestop.com/nintendo-switch/games/super-mario-odyssey/141908″ ]
21. T-fal Food Chopper
The T-Fall Ingenio Rapid Chopper is the fast and easy way to prepare delicious salsas, sauces, guacamoles, chopped fruits, vegetables, meats, and even baby food! In just 5 seconds you can have 2 cups of your favorite foods chopped to the chop/puree level of your choice. Unlike with a traditional blender, the manual pull knob allows you to have complete control of the chop/puree level of your food. The easy pull knob provides a smooth, effort free pull every time. The non slip base provides stability during the chopping process while the ultra sharp stainless steel blades provides clean cuts. The T-Fall Ingenious Rapid Chopper is patented system that features two independent blades to provide fast chopping with zero electric power. The unit is easy to clean and the cutting case and blades are dishwasher safe.
[maxbutton id="2″ url="http://amzn.to/2CzQFXp" ]
Stop Procrastinating & Start Shopping Now!
Did you find something you were looking for? If you're shopping for others on your list, be sure to visit my 2017 Holiday Gift Guide and take a stroll through my Amazon Finds for those really last minute gifts that can be purchased with 2-day Prime shipping. There's no reason your recipient should be disappointed on this special day, so make it count!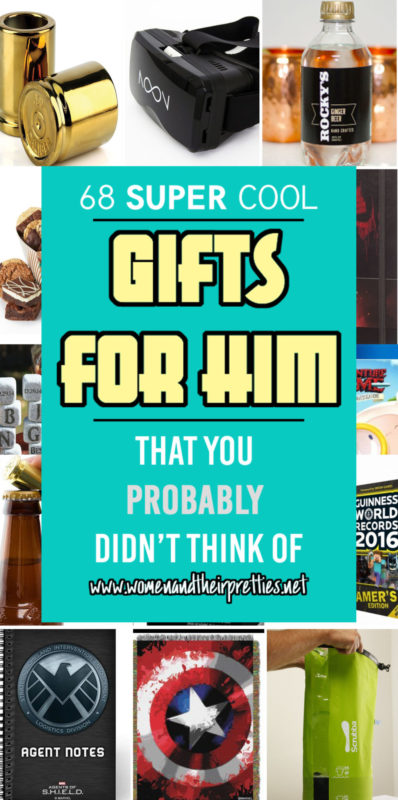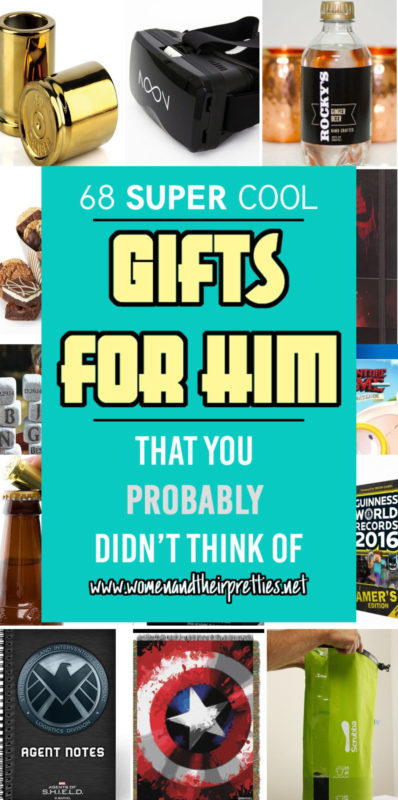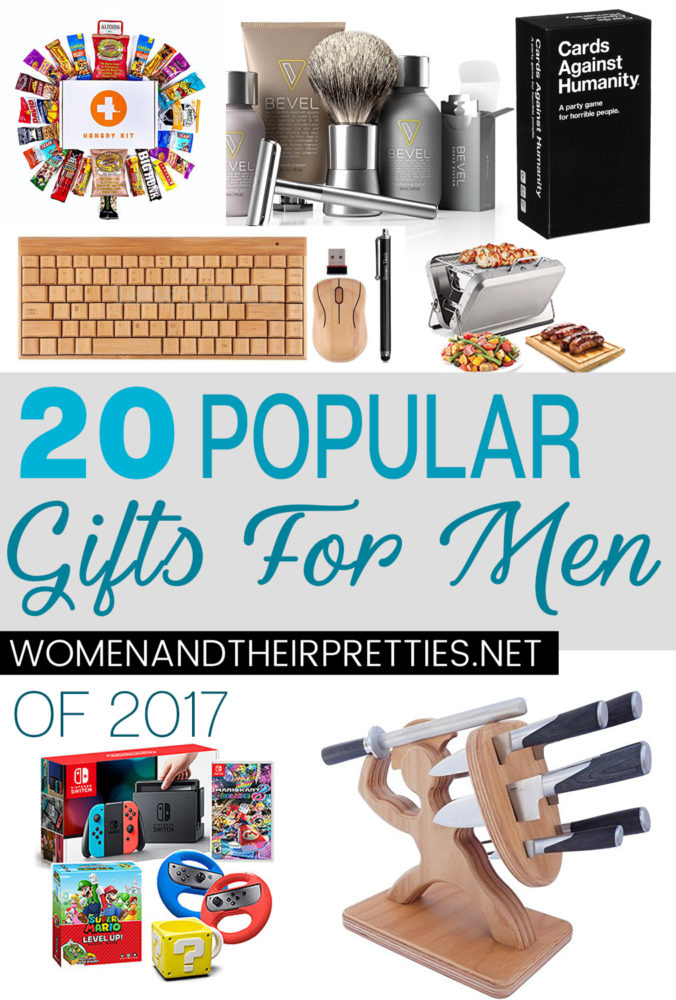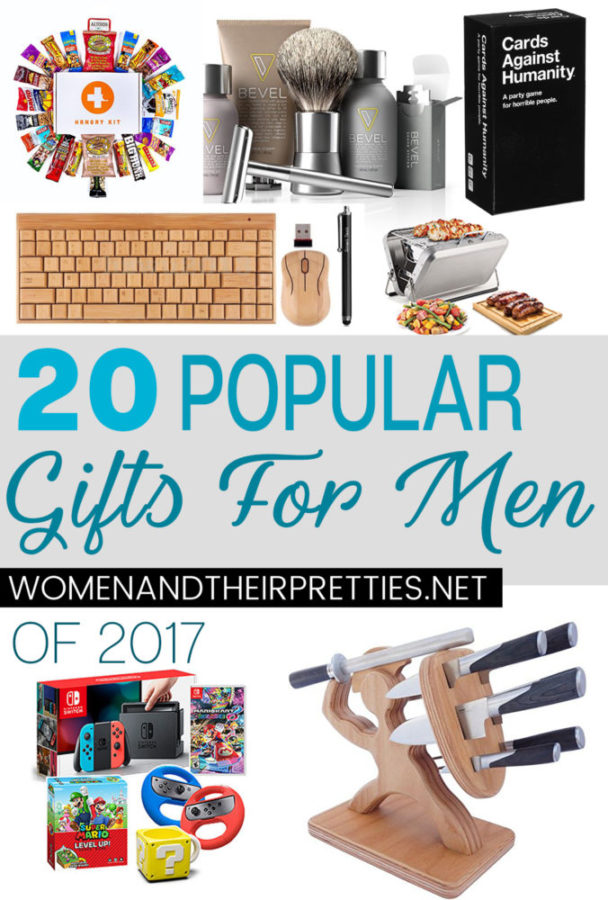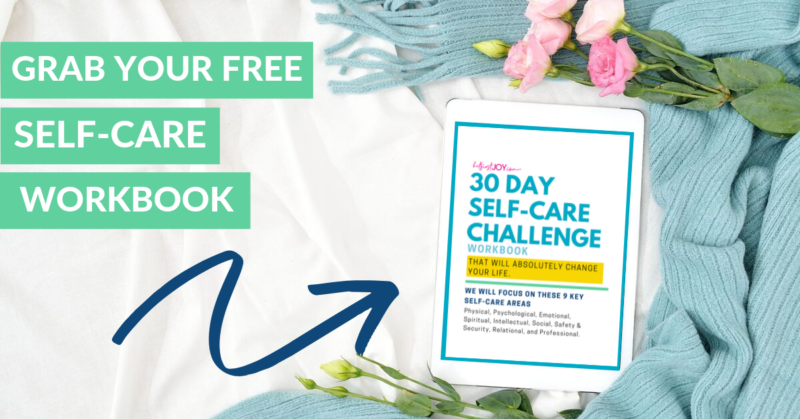 DISCLOSURE
As an Amazon Associate I earn from qualifying purchases. This post may contain affiliate links and/or promotional products, all opinions expressed are that of But First, Joy only. Read my full disclosure.