Did you know that movie therapy can help you with personal growth? In this guide I'll explain how to choose the best movies to help with mental and emotional issues.
I've always had a very special connection with movies. Growing up with toxic family dynamics, I used movies and music to escape. Which probably explains why I've seen 75% of the 101 Movies To See Before You Die.
Little did I know how much of an impact movies had on shaping me as a woman. Did you even know that "movie therapy" was a thing? I sure didn't!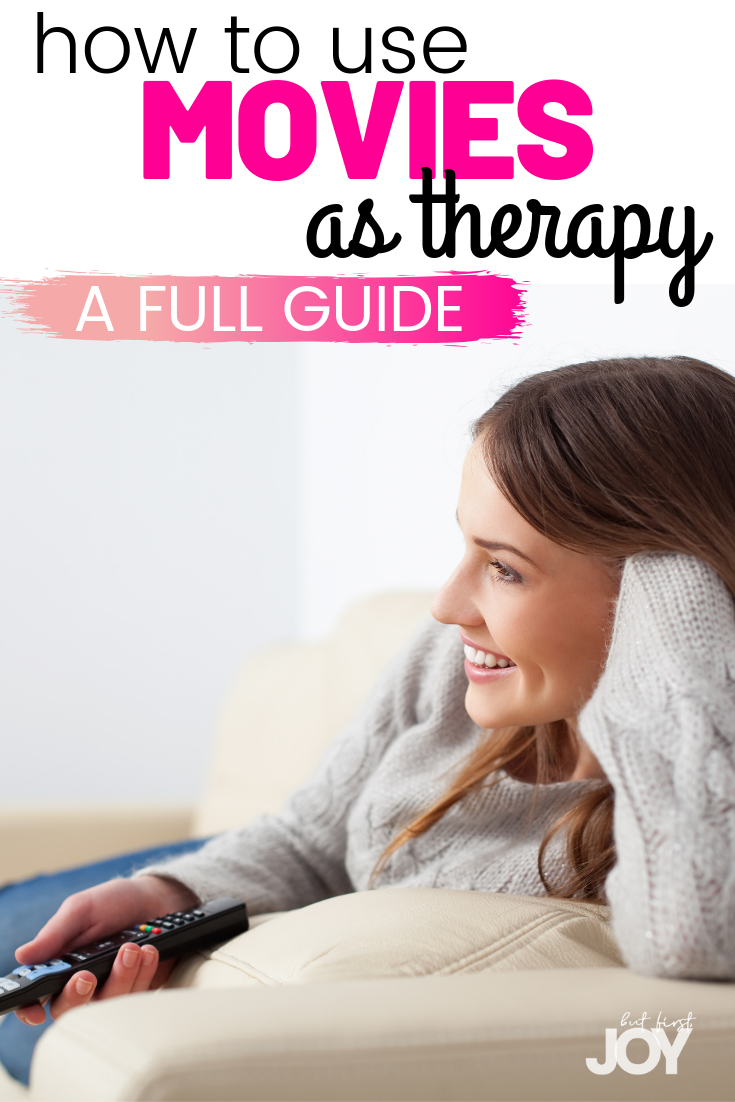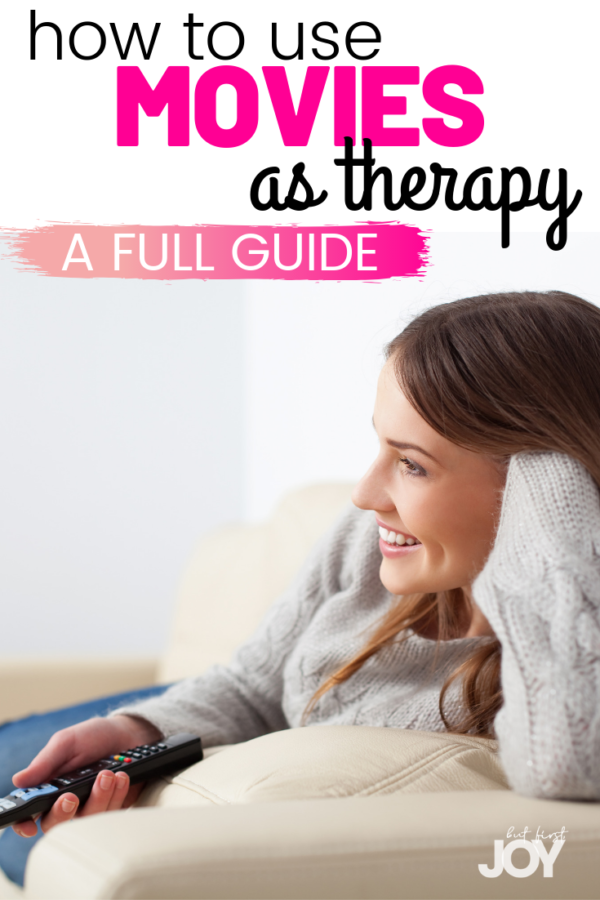 What is Movie Therapy?
You could think of Movie Therapy as a resource for individuals who need a DIY approach to counseling. They use movies to build life skills, see the cause and effect of situations, and learn how to make better choices.
Believe it or not, films can help teach tough lessons that and individual may not have learned otherwise. In fact, movies can prevent people, especially children, from making bad decisions.
Movie therapy is the most entertaining way to achieve more positive results in your life.
Is Movie Therapy recognized by therapists?
According to this Los Angeles Times article, many therapists are prescribing specific books and movies to their patients. This is a great unconventional way to use storytelling to get patients talking.
How to use Movie Therapy for Personal Growth
Using this guide, I'll teach you how to use Movie Therapy in your personal life. From choosing the right movies for you to watching them with intention – you'll get the most out of all your binge watching.
In addition, I'll tell you how to take your newly found knowledge to open up important conversations with families and partners.
How to Choose the Right Movies
1. Finding Connections.
Look for films that connect with your concerns. The Internet makes it easy to search for every possible movie topic, from high school cliques to becoming a grandparent.
If you're struggling with grief or becoming an empty nester– there's something out there for you to watch. I personally recommend Otherhood on Netflix for all those empty nesters!
2. Choose a Tearjerker
To make progress, you'll need to release some of those pent-up emotions. For example, maybe you're going through a divorce. A film about divorce may reduce you to tears temporarily, but then it lets you move on.
3. Explore Positive Role Models.
Seek out movie characters you admire. Identify the qualities and actions of those characters that you already have or would like to become.
I have a great list of Fictional Female Role Models that could be a great start!
4. Enjoy Great Masterpieces
Rather than searching for your favorite actors, I recommend taking a look at the work of the greatest Directors in World Cinema. Directors are known for creating masterpieces and sticking to themes. Find a director who is known for their spiritual, inspiring messages.
Visit my list of 101 Movies to Watch in a Lifetime to get you started! While many of these are purely entertainment, there are some great lessons to be learned!
5. Enjoy a Lighthearted Comedy
Movie therapy doesn't have to be so serious. While crying is a great release, so is laughing! Allow yourself to let go of your troubles, lose yourself in a nice comedy, and relax.
In fact, laughing has been proven to reduce stress. This will help to clear your mind and focus on more important feelings later on.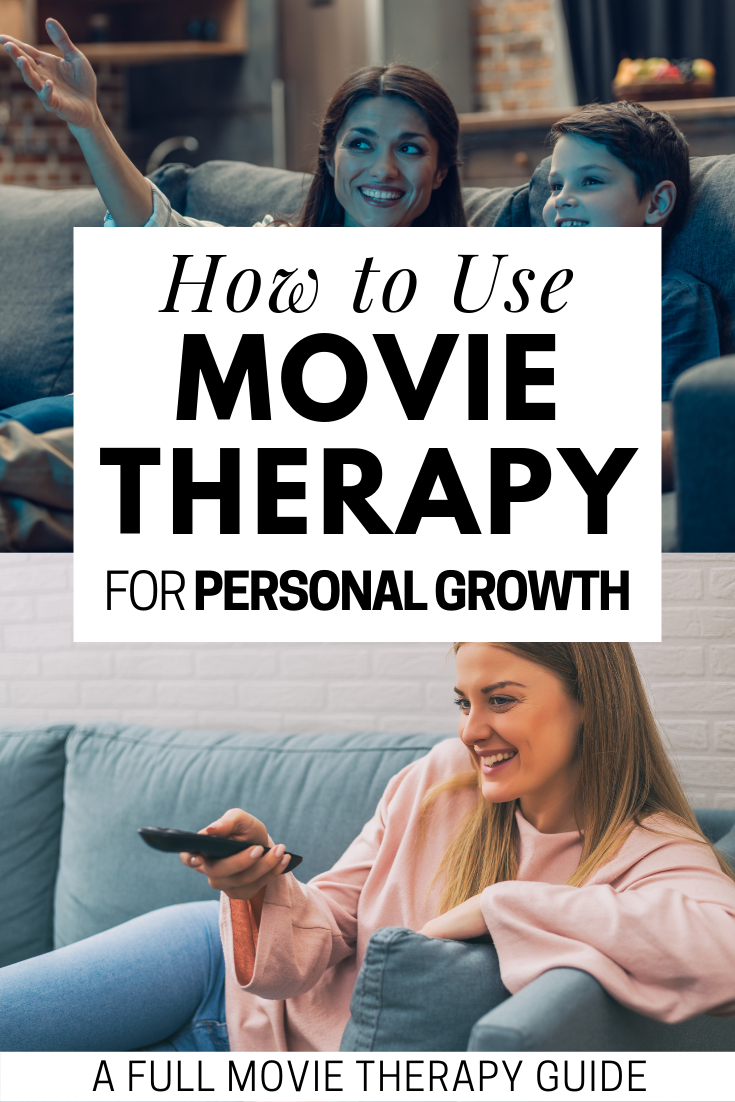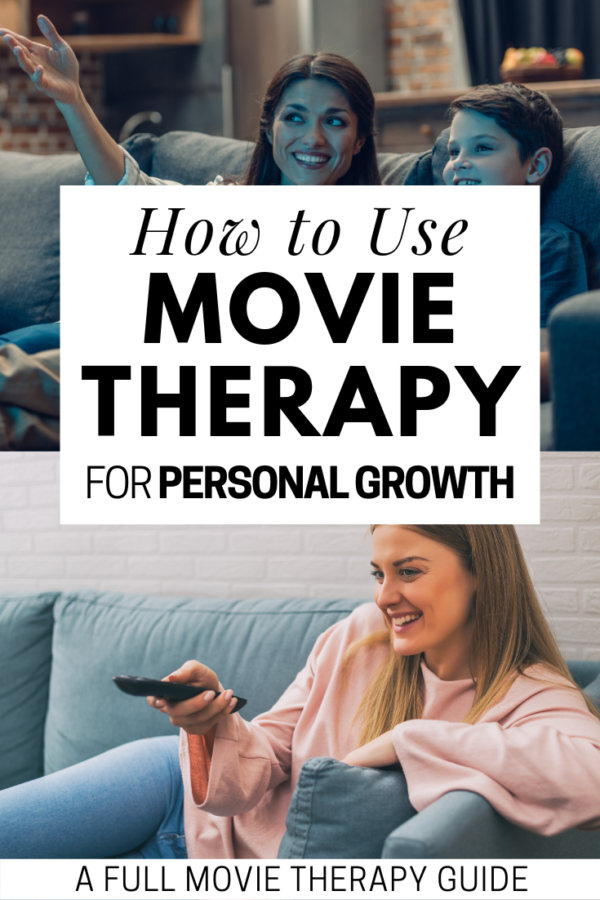 How To Watch The Movies With Intention
1. Repeat Viewings
How many times have you watched your favorite movie? Have you ever noticed that you catch something new when you watch it a second or third time. That's because it can be difficult to absorb everything all at once.
Furthermore, as you reach different stages of your life, your reactions and feelings may change. A movie that once broke your heart might make you feel gratitude now because you're in a new stage of life. Basically, never underestimate the potential impact of watching a good movie over and over again.
2. Pay Attention to your Physical Reactions.
Our bodies sometimes provide clues to our deepest thoughts. While viewing a movie, pay attention to when you're becoming tense or relaxed. Notice what makes you smile or frown.
3. Take Note of Your Likes and Dislikes
At times, we love the villain and all he stands for. Other times, we're cheering on the hero of a film. Why is this? Could it be our subconscious telling us something?
By examining our acceptance or resistance to certain characters, scenes, or themes can help us to understand ourselves better. You'd be surprised at what you'll learn about yourself while doing this. You could even noticed some suppressed memories resurfacing.
Moreover, you should pay attention to the characters you love and hate. Do they remind you of someone you know? Maybe they remind you of yourself? Why do they make you feel something?
4. Keep a Journal.
Take notes of how you're feeling during certain scenes in a movie. You can choose to take notes during or after but it's important to track these feelings, plot points, and touching scenes.
By keeping a movie therapy journal, you can reflect on what topics gave you certain feelings. Additionally, this is something you could share with your therapist.
5. Develop an Action Plan.
Finally, you'll want to use these lessons to your advantage. This is a time for you to set some attainable emotional goals. A self-care challenge is a great start. This will give you time to work through those negative emotions!
Taking it a Step Further: Talk About the Movies
1. Talk To Your Partner.
Sometimes we feel fear and shame when bringing up tough subjects to our partners. In fact, many of us feel more comfortable talking to a stranger than our own loved ones!
That's where Movie Therapy comes into play:
Watch movies with your partner that will help break the ice on sensitive topics. This will be a lighthearted way to talk about those tough subjects like sex, abuse, money, etc..
2. Watch and Talk with Family.
Likewise, our families have a profound impact on our lives. Make it a point to watch films together. Then, encourage everyone to participate in a meaningful discussion about the movie.
3. Observe Others' Reactions.
It can be very revealing to see how different people interpret the same movie. If you go to a movie with friends, reflect on it afterwards over coffee or dinner. Discuss major plot points and the feelings they evoked.
Another fun option is to join a movie club on Facebook or begin viewing a wider range of films to discuss with your friends. Movie challenges and discussions are also fun.
4. Discuss With Your Therapist, if Applicable.
If you're already in counseling or dealing with serious issues, talk with your therapist. They can advise you about whether movie therapy is appropriate for you and how to integrate it into your treatment plan.
In addition, your therapist could offer some great movie recommendations
5. Make the Most Out of Your Movie Sessions.
Make this a lifelong practice. Focus on films that teach you surprising new things about yourself and strengthen your coping skills. Movie therapy is an effective way to make personal development more fun.
Movie Therapy can be a beneficial and fun way to delve deep into those tough emotions. By choosing the right movies, watching them with intention, and discussing them afterward – you can make the most out of this do-it-yourself experience.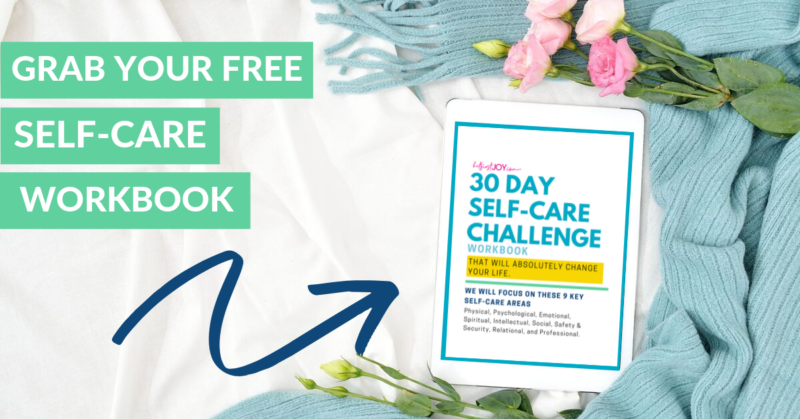 DISCLOSURE
This post may contain affiliate links and/or promotional products, all opinions expressed are that of But First, Joy only. Read my full disclosure.