ABC recently announced that they picked up the Roseanne Reboot for 2018! Fans across the country are having mixed emotions: Many are ecstatic, while others are weary. It's understand to have some questions about the new season – we all do. Let's talk about it!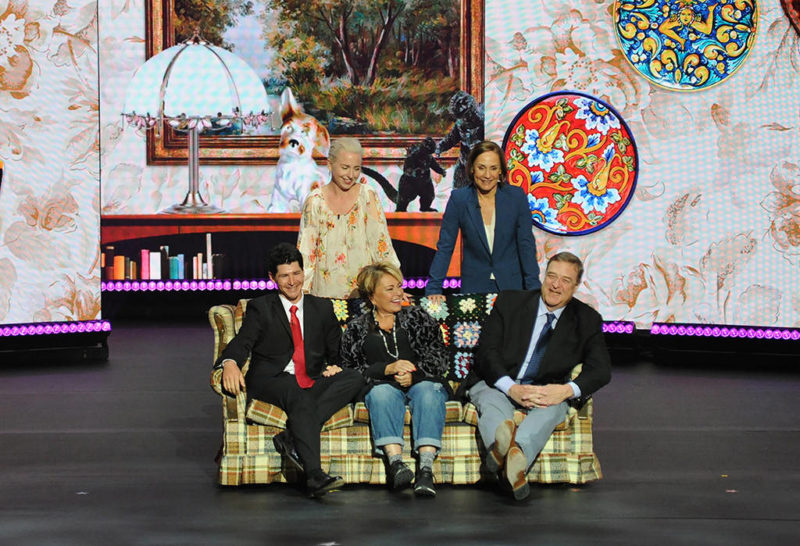 As an only child, I watched more TV than the average kid. Maybe that's why I feel such an emotional attachment to the shows I grew up with. I remember watching Roseanne and loving their family dynamic. Roseanne was television's most honest example of an American family. Both parents worked to barely scrape by. Roseanne wasn't perfect, didn't claim to be, and damn sure didn't try to be. The kids wore hand-me-downs and ate whatever mom cooked. It was the epitome of what an American family is and audiences loved feeling like they were normal.
Let's be honest, we went through a television phase featuring perfect little (rich) families. Fortunately, the true American family dynamic is making a comeback to television with sitcoms like American Housewife and The Middle. It was only a matter of time before a Roseanne Reboot. Roseanne fans have been demanding it for years. I am just happy that they waited for the right time.
In addition to the popularity of a relaxed family dynamic, reboots are the trendy thing in television and movies right now. Just look at the success of Fuller House, the Full House reboot!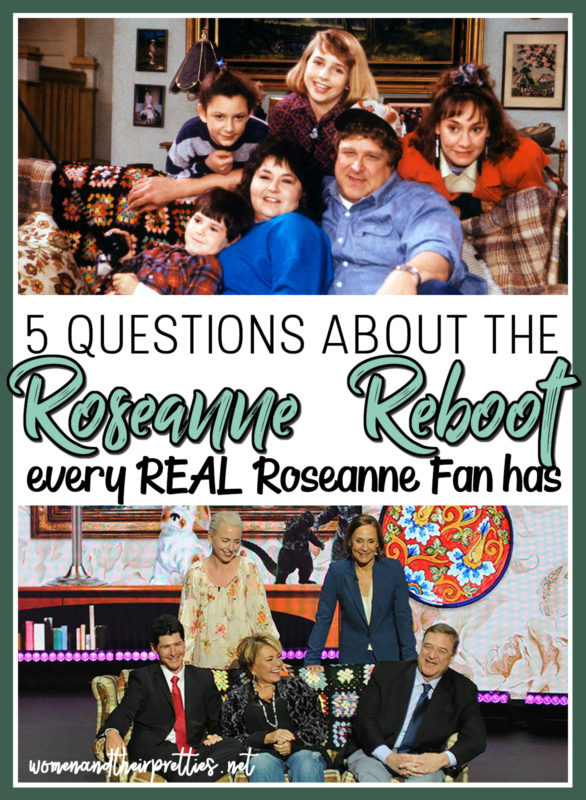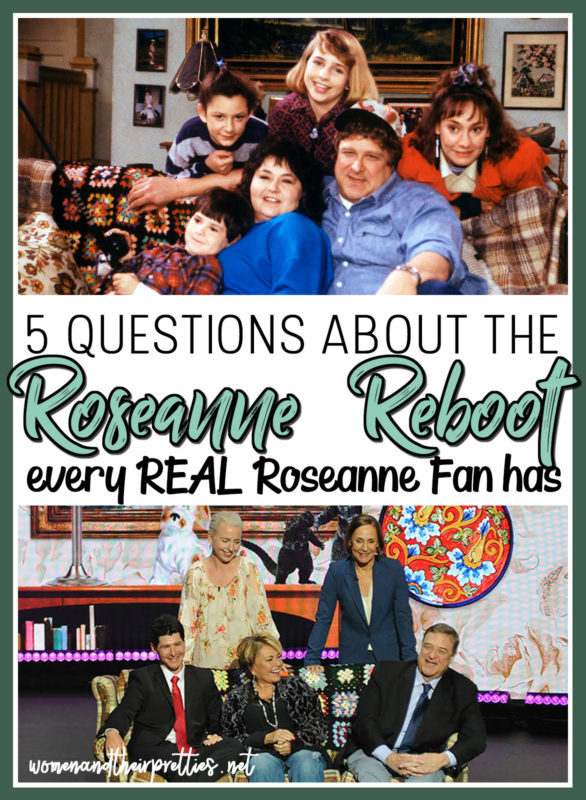 5 major questions about the 2018 Roseanne Reboot
1. Is the entire cast coming back?
This is the number one question that every real Roseanne fan has about the 2018 Roseanne Revival. Obviously, we need the entire cast to come back or it will not be the Roseanne that we all know and love. Unfortunately the actor who played Mark, Glenn Quinn, passed away in 2002. So, I'm guessing the storyline will not include him or maybe there will be a replacement actor. I definitely would rather them not replace him, but if they did – I nominate Milo Ventimiglia. Mainly because he's great eye candy.
Who's officially confirmed?
Roseanne Barr (Roseanne)
John Goodman (Dan)
Sara Gilbert (Darlene)
Laurie Metcalf (Jackie)
Michael Fishman (D.J.)
Lecy Goranson (Becky)
I think the biggest question is about
Johnny Galecki
, who played David! I mean, he's obviously doing Big Bang Theory. Would he have time for both? One can only hope. One of the best parts of the show is his quirky, awkward self. I really don't want to think of what Roseanne would be without him.
2. What about the "Beckys"
As you can see, the original Becky confirmed her participation in the Roseanne Reboot, but what about the other Becky? You know, the one that randomly popped up in the later seasons of Roseanne. Well, because ABC is incredible, Sarah Chalke, who played the character Becky in later seasons, will also appear in another role. So, basically, we have to pretend like she wasn't Becky for years. I hope do some sort of silly mention about her playing Becky. I love little inside jokes like that.
3. Will their be a Halloween episode?
The Roseanne show is very well-known for their elaborate Halloween episodes. I've always wanted a Halloween like a Roseanne Halloween. We're talking the most epic pranks, insane costumes, and parties like no other. This may only be an 8 episode series but I think we're all hoping for a Halloween episode. Please, creators, don't let the Roseanne Super Fans down!
4. With the ending, how is this going to work?
Playing if you've seen all of Roseanne then you're really wondering about how the heck they are going to make this new season work. I mean, the show ended with a giant twist!
Here's what happened:
If you don't already know, from the moment Dan and the kids gave Roseanne her writing desk/office, she started writing a story. In the story, she basically wrote everything the way she wanted it to happen or thought it should happen, which was what we, as the audience saw in each episode after that one.
Remember when Dan had a heart attack at Darlene's wedding? Apparently he actually died.
The Conners never won the lottery. In this episode, you'll see the house transform back into the old, grungy how that we all adored.
Jackie is a lesbian. Yep. Not the biggest twist if you ask me, haha.
Roseanne's mom is actually straight.
Oh and Becky is really with David and Darlene is with Mark. Not cool. Not cool at all. That wouldn't work if you ask me.
Did you see this episode? It will completely break your heart! I mean, what is life without Dan and without the family dynamic that we've loved for so long? Hmm. I can't imagine where the reboot will go with the story. Maybe it will be what really happened while Roseanne was writing her story? Will it continue with this "story" that Roseanne wrote? We need to know, like right now!
5. Will it be in the same house?
The Conner house is a big part of the show. I think we could all relate to the mismatched furniture, old carpet, and minimal decor. I personally wasn't a fan of the new furniture when the Conners won the lottery. In fact, a lot of the fans weren't because we could no longer relate to the lavish storyline. I was still a super fan of Roseanne but it just didn't feel the same.
So, the big question is – will the Roseanne Revival setting be in the old house? What about the "kids" who are now adults? What about Darlene and David's baby? So many questions!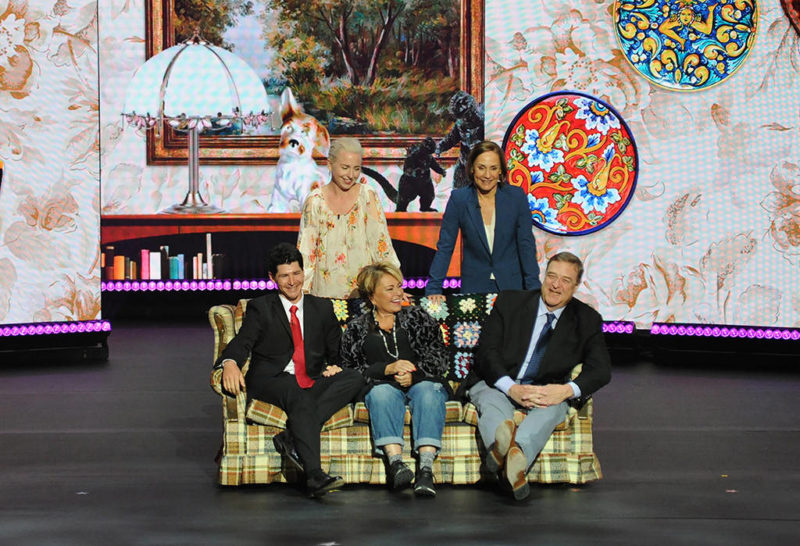 Official ABC Roseanne Reboot press release
'ROSEANNE,' THE GROUNDBREAKING FAMILY COMEDY, RETURNS TO ABC
Original Cast, Headed by Roseanne Barr, to Star in Eight-Episode Reboot
Iconic comedy series "Roseanne" will return to The ABC Television Network, Channing Dungey, president, ABC Entertainment, announced today. The eight-episode reboot, featuring the original cast – Roseanne Barr (Roseanne), John Goodman (Dan), Sara Gilbert (Darlene), Laurie Metcalf (Jackie), Michael Fishman (D.J.) and Lecy Goranson (Becky) – will air in 2018. Sarah Chalke, who played the character Becky in later seasons, will also appear in another role.
"The Conners' joys and struggles are as relevant – and hilarious – today as they were then, and there's really no one better to comment on our modern America than Roseanne," said Dungey.
When it premiered on ABC, the series broke new ground for its realistic portrayal of a working-class family, the Conners, barely scraping by in the fictional town of Lanford, Illinois. It also dominated the ratings as one of the highest-rated television series on the air for its near-decade run. A comedy about ordinary people who faced day-to-day survival with a sense of the absurdity of it all, the inimitable Roseanne was its epicenter. Lauded for its humor, relevance, warmth and honesty, the Conner family will continue to deal with the economic challenges of living pay check to pay check in 2018. In its nine seasons on ABC, in addition to being a primetime ratings hit, the series won a Peabody Award and a Golden Globe Award for best television series (comedy or musical). Barr and Goodman each won Golden Globes for best performance by an actress and actor. Barr went on to win an Emmy as lead actress, and Metcalf won two supporting actress Emmys for her work on the series.
Roseanne Barr will executive produce, along with Sara Gilbert, Tom Werner, Bruce Helford, Whitney Cummings and Tony Hernandez. The series is from Carsey-Werner Television.
Let's talk about the Roseanne Revival in the comments below!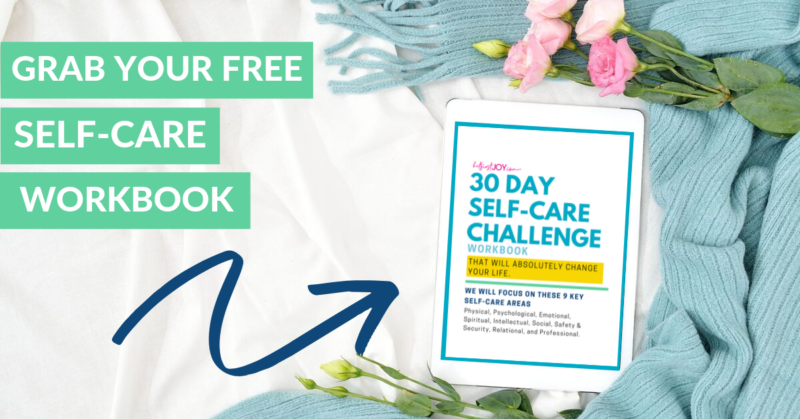 DISCLOSURE
As an Amazon Associate I earn from qualifying purchases. This post may contain affiliate links and/or promotional products, all opinions expressed are that of But First, Joy only. Read my full disclosure.