Thank you to Cricut for sponsoring this "Cricut Business Branding" post.
If you want to take your small business or shop to the next level – you'll need to think about branding. Using the Cricut Maker 3, you can brand your small business like an expert.
In this guide, I'll not only teach you how to succeed at small business branding with the Cricut Maker 3, I will teach you what products work best for branding. From signage to packaging and gifting, you'll learn where to focus your attention.
To begin, let's discuss exactly what Small Business Branding means.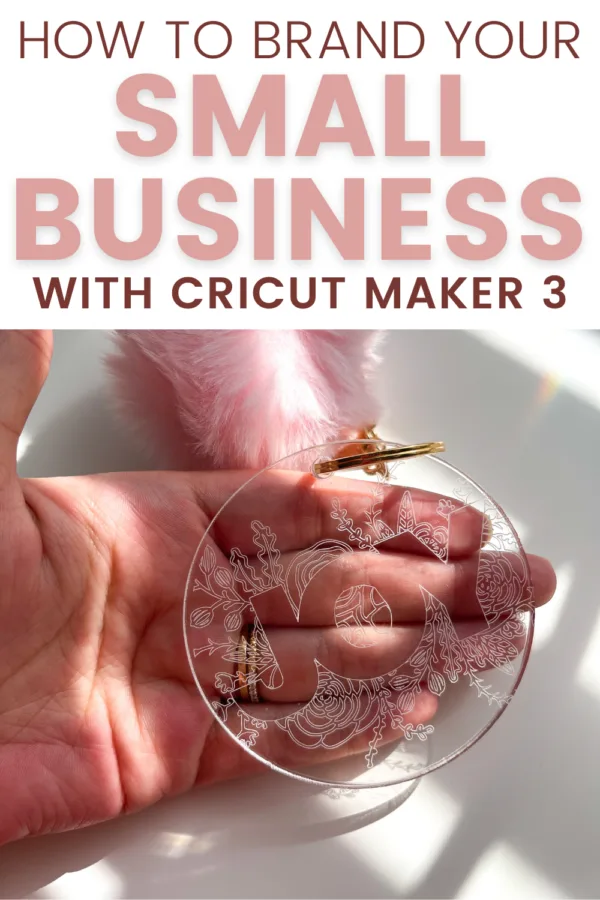 What is Small Business Branding?
Small business branding is basically advertising for your small business, also known as your brand. This can be displaying your logo, using specific colors that are associated with your brand, and/or sharing a specific quote or phrase that aligns with the key messaging of your business.
Branding is extremely important for business, especially small businesses. It's what sets your brand apart from others. Additionally, a good branding aesthetic will allow others to immediately identify your business. This is particularly great for social media exposure and for merchandising.
How to use Cricut for Business Branding
Using your Cricut machine (Cricut Maker 3 is encouraged), you can brand your small shop or business in a way that doesn't look homemade. Below, you'll find my top 5 ways to use Cricut for branding, with quick how-tos to get you started.
Before beginning, I recommend subscribing to Cricut Access for over 100k images and thousands of beautiful fonts for your Cricut designs. It's not a requirement for this tutorial but it makes creating so much more fun!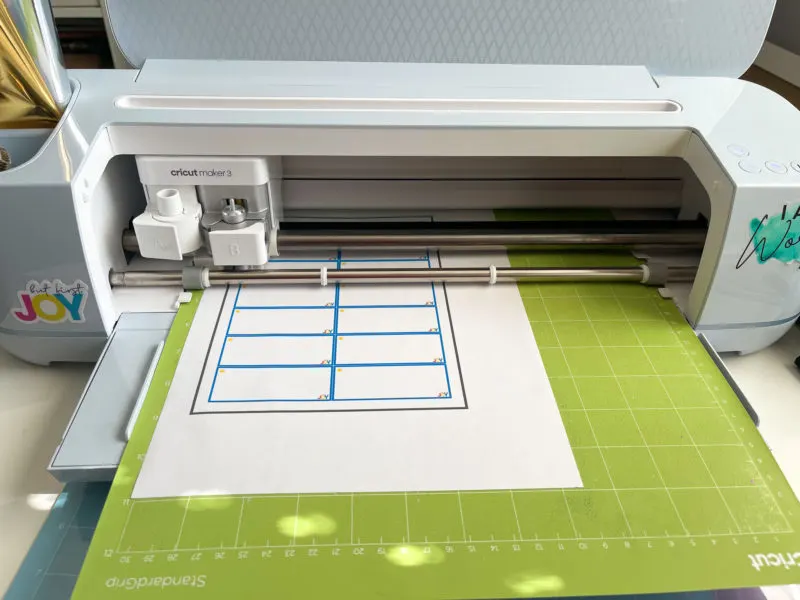 1. Print & Cut Address Labels with Cricut Maker 3
One thing I've found to be incredibly helpful is using my Cricut Maker 3, along with sticker paper, to print & cut BRANDED address labels.
You can make your labels in Cricut Design Space by simply using the rectangle tool and the font of your choice. I also like placing my logo in the bottom corner of the label.
2. DIY Merchandise or Gifts
Another way to use Cricut for Business Branding is by making branded gifts or merchandise. Ideas include, but aren't limited to:
Branded Mugs using Infusible Ink or Permanent Vinyl. (Grab the Cricut Mug Press if you want a GAME CHANGER!)
Keychains, as seen below.
Put your logo on a t-shirt with a catchphrase or pretty design.
Tote Bags and Cosmetic bags are another great merch idea. I love the Cricut Infusible Ink Blank Totes and Cosmetic Bags.
Infusible Ink Coasters with quotes that relate to your brand. Wrap them in a DIY sleeve with your brand name or put the brand name on the coaster.
& More – just ask me if you need more ideas! I would love to help!
3. Make your own Thank You Cards
I love making my own Thank You Cards. I personally like using my Card Mat with my Cricut Joy because it's made to work with that machine.
However, you can put your card mat on a StrongGrip Mat and feed it into the Cricut Maker 3. Use any of the "Thank You Card" projects in Cricut Design Space for a beautiful card to send with your orders!
Cards are a great way to add a personal touch which reminds customers that you are a real person.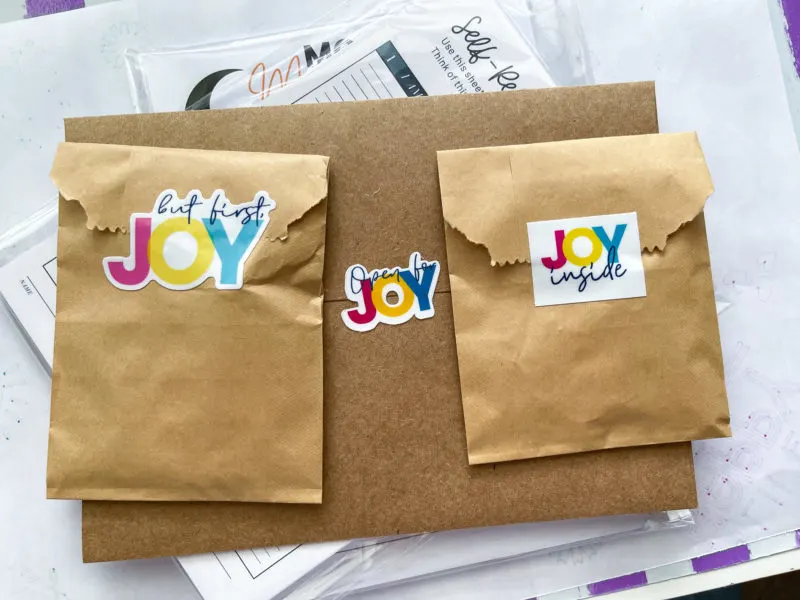 4. Print & Cut Stickers for Packaging
I personally use my Cricut Maker 3 for printing and cutting stickers on a regular basis. It's such a quick and easy process. Here are the different types of stickers to make with your Cricut:
Thank you stickers for packages.
Handle With Care Stickers
Made with Love Stickers
Purely decorative stickers that match your brand.
Stickers to give as freebies. For example, I give my customers "Small Business Supporter" stickers as a gift with all orders over $10. It's a fun little extra.
Logo Stickers as freebies.
You can either use Cricut's Printable Vinyl, White Printable Sticker Paper, or Clear Printable Sticker Paper.
5. Branded, Engraved Acrylic Keychains with Cricut Maker 3
Keychains is probably one of the easiest things to make with your Cricut using a variety of materials. I love combining faux leather, chipboard, and a decorative vinyl to make cute "JOY" keychains.
What you'll need:
GET THE FULL TUTORIAL HERE: 10 Things You Can Make and Sell With Cricut – Right Away.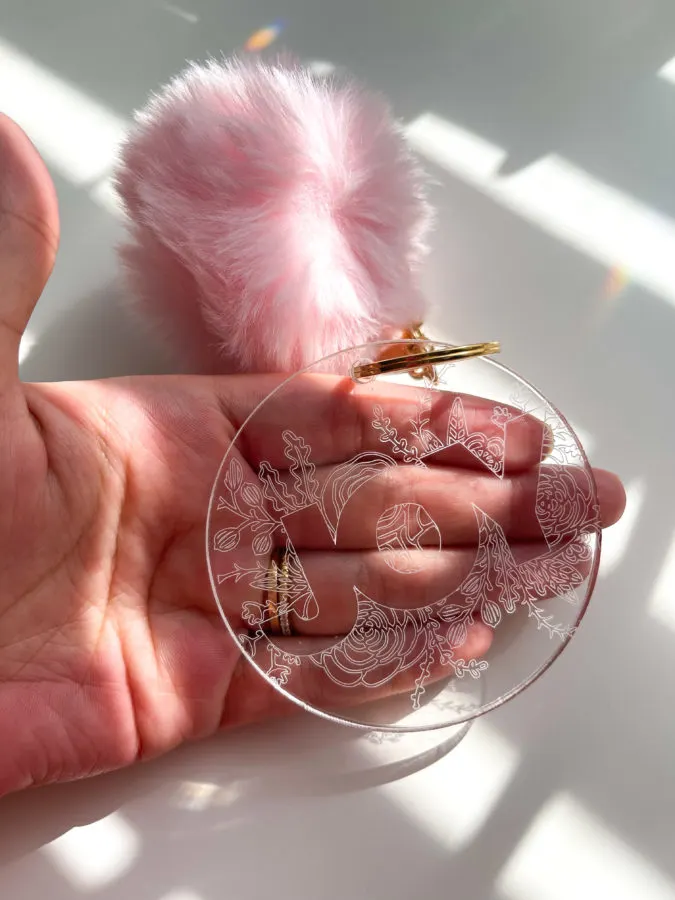 How To Engrave Keychains with Cricut Maker 3
What you'll need is the Cricut Engraving Blade, Cricut Maker 3, StrongGrip Mat, Masking tape, and Acrylic Blank Keychains.
How To: Tape the acrylic blanks to your StrongGrip Mat, select ACRYLIC as the material, and engrave your design onto the keychain. You can also add permanent vinyl should you feel so inclined.
6. Decorative Packing Paper
Finally, you can use your cricut to draw on your packing paper!
What you'll need:
Packing Paper of your choice (I use white Kraft paper and trim it to size)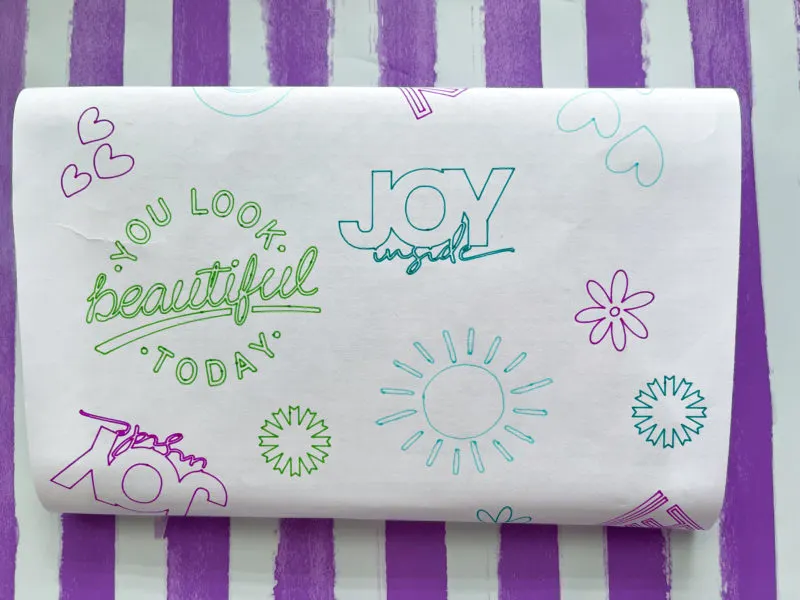 How To Make Branded Packing Paper with Cricut Maker
First, size a square or rectangle in Cricut Design Space to the size of your paper.
Next, choose images from Design Space (I recommend using Cricut Access for unlimited access to thousands of designs)
Set each design to "PEN" in the top left corner under "Operation".
Change the colors of each design based on which markers or pens you'll be using using the box next to "pen".
Place your packing paper on your LightGrip Mat (I used my StandardGrip Mat because it's less sticky than the LightGrip mat after so many uses).
Place your pin in Clamp A of your Cricut Maker. – BE SURE IT CLICKS INTO THE CLAMP.
Follow the on-screen instructions to decorate your small shop's packing paper with your Cricut!