This post is in partnership with the Sing Street DVD media team.
Have you ever paid close attention to fashion and beauty trends? If you have then you've noticed that every few years, fashion and beauty trends revert back earlier decades. For example, crop tops and high-waisted shorts are the "new" big thing. But they aren't really new, per say – they originated in the 70's. Being a millennial, I can say that we are the generation the most guilty of stealing looks from other decades. I speak for all of us when I say that it's a lot of fun. It's like playing dress up in your mother's closet, except we have managed to reinvent these looks in a way that is really fun and trendy.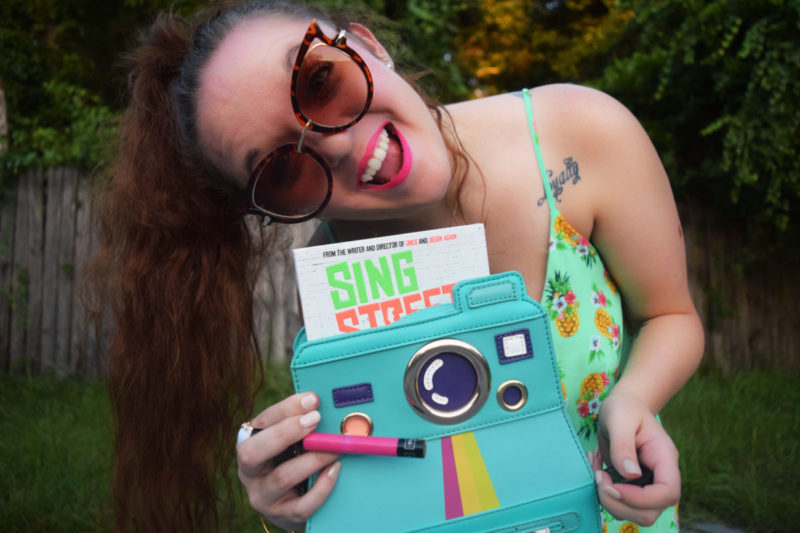 This bag came from Modcloth, but it's currently out of stock – shop their entire vintage collection.
The most popular blast from the past beauty trend comes right out of the 80's. We are rockin' high pony tails, big hair, and colorful lipsticks. It's not unusual to walk into your local Sephora and find lipstick shades in every color of the rainbow. I have more pink and purple lipsticks (and lipstains) than I'd like to admit. My makeup bag is packed full of 80's flair and I blame Sephora and the Sing Street DVD. I'm wearing the Kat Von D 'Backstage Bambi' Everlasting Liquid Lipstick in these pictures. You can pick this beauty up at Sephora using the gift card that you win!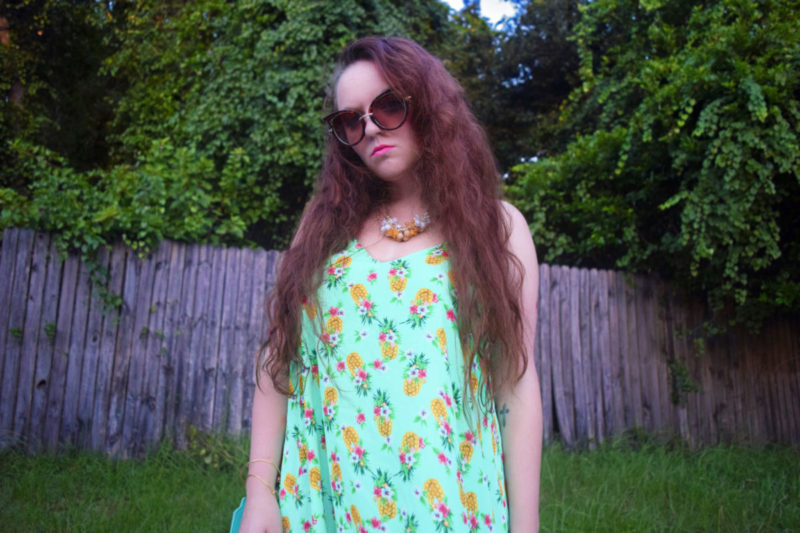 I couldn't help but to feel inspired to plaster every bright colored pigment onto my face while watching the movie. The hot pink lips, the bright blushes, and the blue eyeshadow – okay, I'll pass on the blue eyeshadow – I swear I felt like I hopped into a time-machine!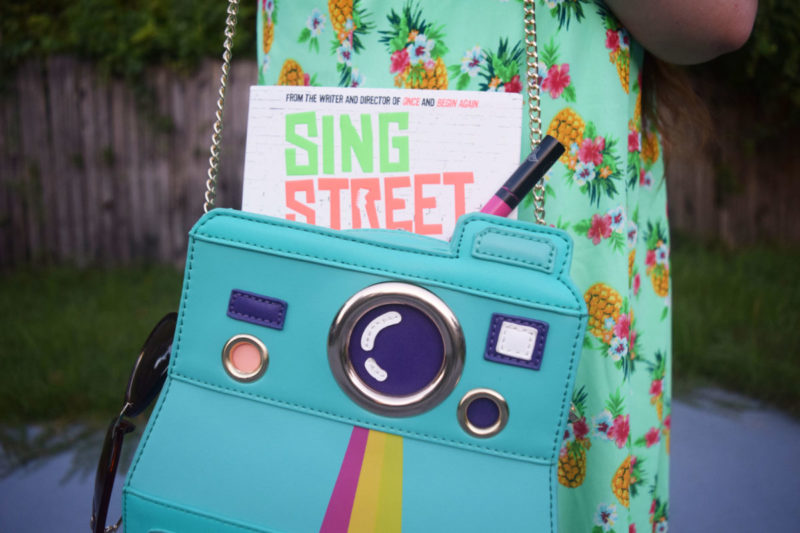 It wasn't just the makeup that inspired me – it was the overall feeling that the movie gave me. When I watch a good movie, I'm compelled to feel connected to it on a deeper level. Whether it's dressing up in a specific color combination, reading the novel, researching the actors, or just watching the bonus features, I just want more.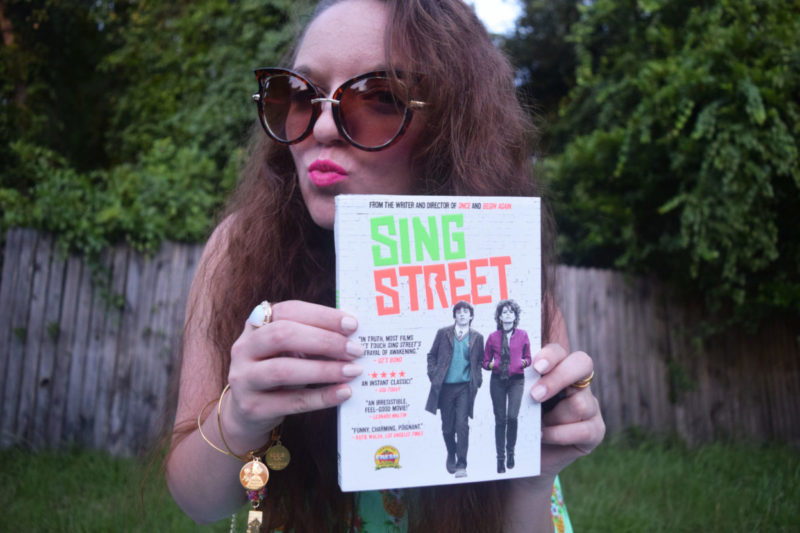 With this particular movie, it was a combination of everything that really aroused me. The fashion and beauty are absolutely on point. I was born in the late 80s and grew up in the 90s, so I wasn't around much for the fashion. That doesn't mean that my parents had kicked the 80s style. I distinctly remember my mother's big hair and denim jackets. Watching Sing Street made me a bit nostalgic for my childhood. Every setting was taken right from that decade. You'll see old school table lamps, gaudy wallpaper, and horrendous carpet – you know, the 80s!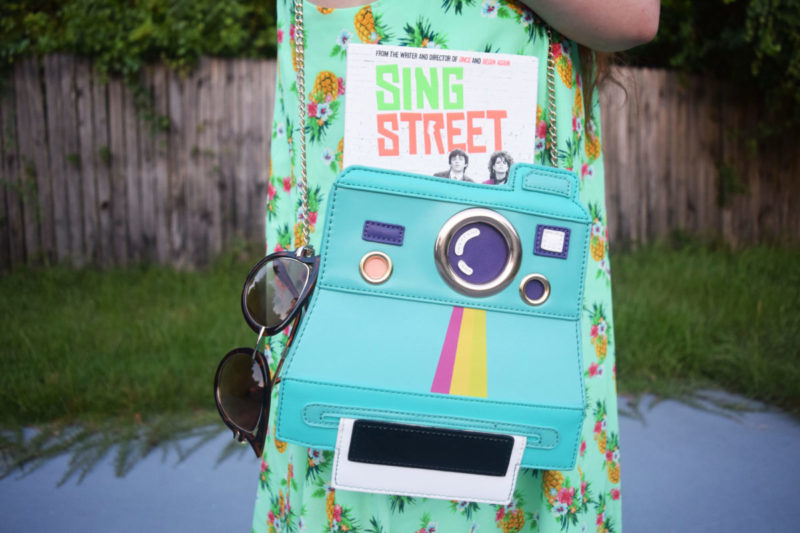 The comedy is what really stole my heart. You know the old saying, "If you can make a girl laugh, you can make her do anything." Well, in this case, it made me unplug for over an hour. That's a feat that not many conquer. The characters are just so darn likable! They are all misfits with bold personalities. When you bring them all together it's a hilarious, entertaining, and dramatic adventure! It's an adventure that you'll want to take.
Sing Street DVD & a $25 Sephora Giftcard Giveaway
Connect with Sing Street – #SingStreetDVD
Like on Facebook
Follow @SingStreetMovie on Twitter and Instagram
Find out where you can purchase your copy of Sing Street on Go Watch It!
Watch the trailer
About the Film
Now on Blu-ray™, DVD, Digital HD & On Demand
SING STREET takes us back to 1980s Dublin seen through the eyes of a 14-year-old boy named Conor (Ferdia Walsh-Peelo) who is looking for a break from a home strained by his parents' relationship and money troubles, while trying to adjust to his new inner-city public school where the kids are rough and the teachers are rougher.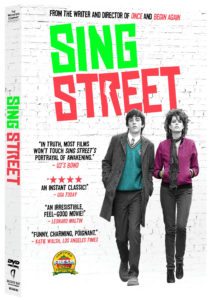 He finds a glimmer of hope in the mysterious, über-cool and beautiful Raphina (Lucy Boynton), and with the aim of winning her heart he invites her to star in his band's music videos. There's only one problem: he's not part of a band… yet. She agrees, and now Conor must deliver what he's promised – calling himself "Cosmo" and immersing himself in the vibrant rock music trends of the decade, he forms a band with a few lads, and the group pours their heart into writing lyrics and shooting videos.
Inspired by writer/director John Carney's (ONCE, BEGIN AGAIN) life and love for music, SING STREET shows us a world where music has the power to take us away from the turmoil of everyday life and transform us into something greater.
Rated PG-13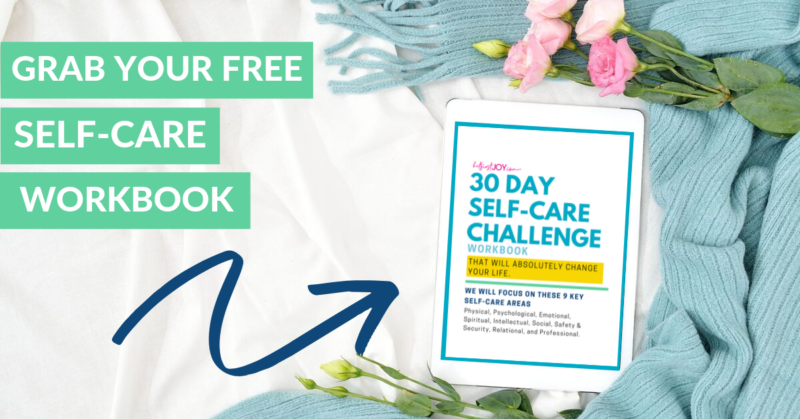 DISCLOSURE
As an Amazon Associate I earn from qualifying purchases. This post may contain affiliate links and/or promotional products, all opinions expressed are that of But First, Joy only. Read my full disclosure.