The OFFICIAL Thor: Ragnarok press conference is where all the fun stuff happened. Find out the top 5 moments from the event, along with a few other sparkly details. This event is was hosted by Disney as part of the #ThorRagnarokEvent.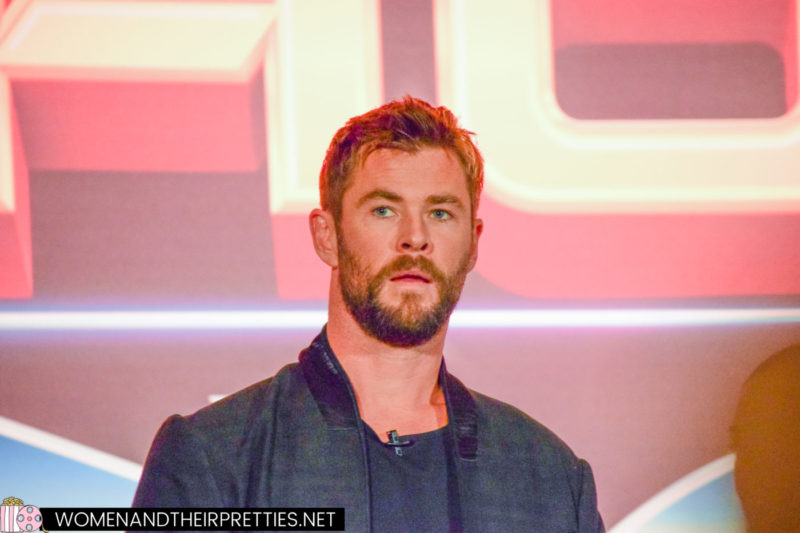 What it was like at the Thor: Ragnarok Press Conference
If you've had the pleasure of watching a press conference on television or Facebook Live, then you kind of have a vision of the setup: the main actors, director, and host are lined up on the stage as a host asks them questions. That's exactly how it is in person, except the room and audience isn't as large as it seems on the television. For the Thor: Ragnarok press conference, there was a limited number of press allowed in the room. We all sit in front of the stage in individual chairs, hoping for a good view of the talent and an opportunity to ask a question. The hostbegins the interview and then the press take over with individual questions of their choice. Now that you can kind of picture yourself there, let's talk about the actual conference.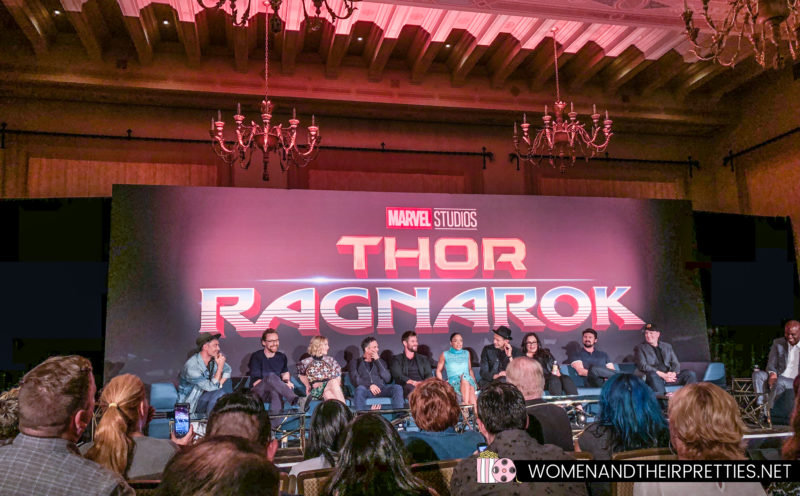 Press conferences are much different than individual interviews. While individual interviews are much more intimate and give you the opportunity to ask more questions, a press conference is fun because you can see all of the actors interact with one another. Their project is finally complete and they are enthusiastic to talk about everything that they've kept secret for so long! They tell stories and bounce off of one another. It's fun to see the dynamic of the heroes and villains behind-the-scenes.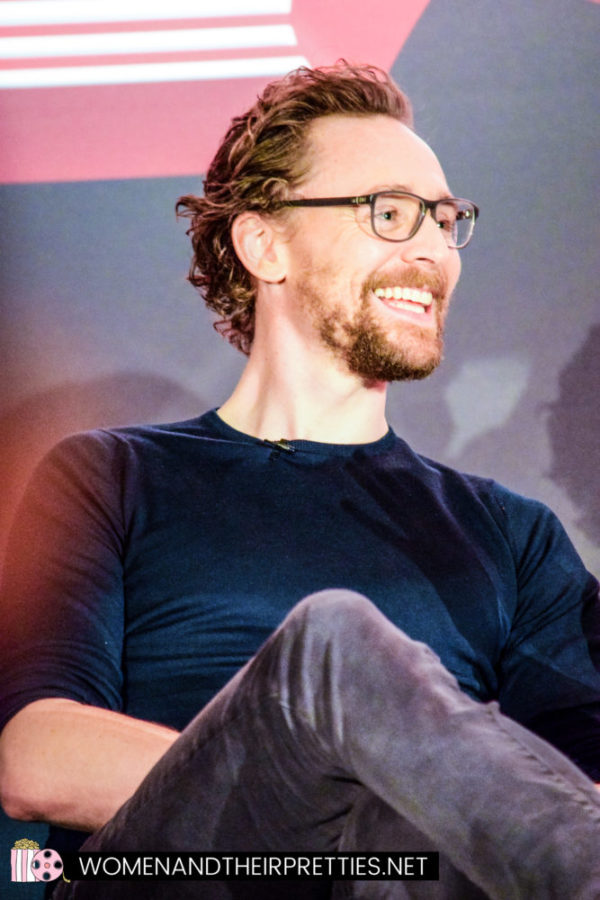 Who was in attendance?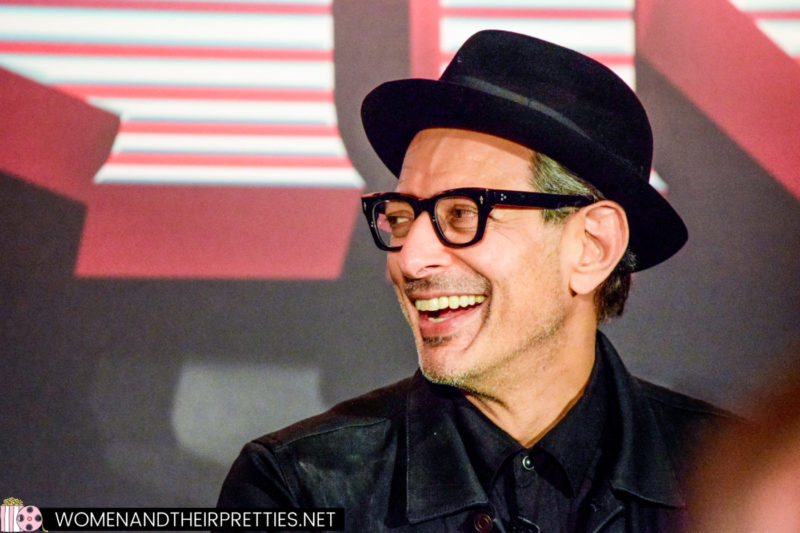 And of course, the actors:
Tom Hiddleston (Loki)
Cate Blanchett (Hela)
Mark Ruffalo (Hulk/Bruce Banner)
Chris Hemsworth (Thor)
Tessa Thompson (Valkyrie)
Jeff Goldblum (The Goldmaster)
Rachel House (Topaz)
Karl Urban (Skurge)
5 Fun Facts from the official Thor: Ragnarok Press Conference
1. Kevin Feige chose Taika Waititi as director because he wanted a new approach to Thor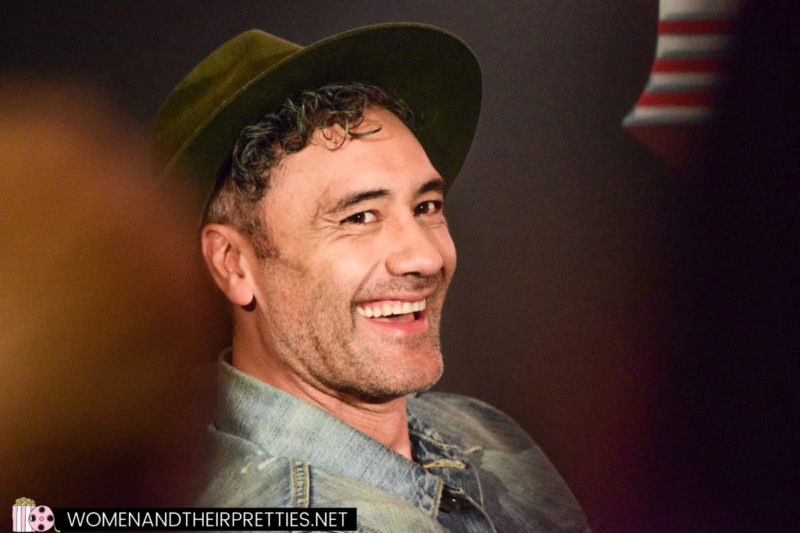 Even from a simple trailer, you can see that Thor has a much different look and feel than we're used to. That wasn't an accident and if we're all honest with ourselves – Thor needed it! Kevin new that Taika could bring something new to the table, even if Taika wasn't even sure of that himself. Kevin Feige gives us a look into his though process:
"We wanted a new sensibility. We wanted to take Thor – and if you look at everything Chris has done as this character, there have been moments of humor – moments of humor throughout. We wanted to build on that. And if you look at the movie, it's got the epic action. It's got Thor arguably more powerful than he's ever been in any of the films, with his powers going up against the Hulk, but at the same time embracing what Mr. Hemsworth does better than anyone up until now has ever been able to see, which is his acting chops expands to comedy in an amazing way. And it was with Taika giving them the confidence to explore that and to try new things. 
2. Taika Waititi highly influenced the Thor: Ragnarok music and that rarely happens.
Kevin Feige made it very clear to us back when we interviewed him alongside James Gunn, that directors rarely have a say-so in a film's score. In fact, he laughs when a director even recommends a song because it's highly unlikely that the song will not make the movie. However, the main Led Zeppelin song in Thor: Ragnarok was all Taika's idea. Kevin gives him credit at the press conference:
"Filmmakers sometimes will say,  'Here's what I have in mind.' And sometimes they're not good. Most of the times, they're okay. His was amazing, and was scored to that Led Zeppelin song!

From the beginning that song kind of defined what Taika was going to do with this. That it's in the trailer, that it's in the film – all from that first meeting, and from one of his first instincts of this movie, is very impressive!"
3. Mark Ruffalo confirmed that he'd love to do a solo Hulk movie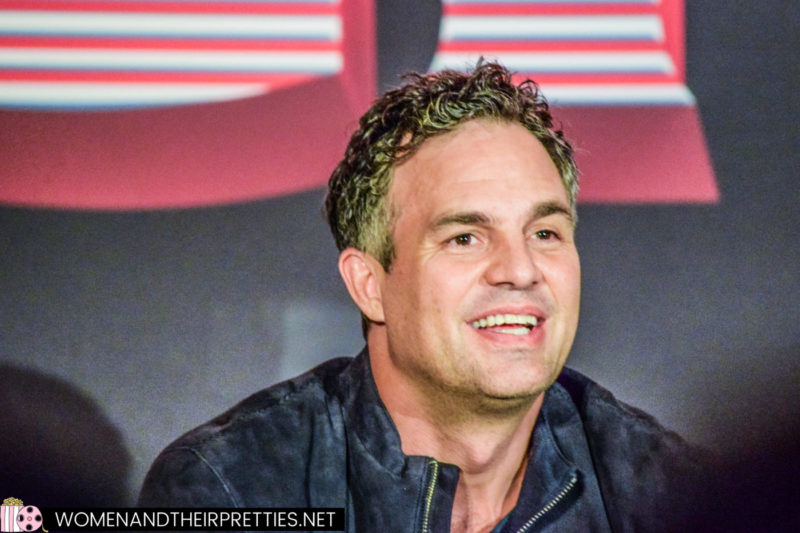 Hulk has a soft place in all of our hearts and especially after watching Thor: Ragnarok. There's something about a big green giant that just tugs at my heart strings, haha. Basically what I'm saying is that the world is ready for a solo Hulk movie. We love Mark Ruffalo and we need this. Mark Ruffalo agreed:
"I would love to do a Hulk movie and I think we all would love to do one. But about a year ago, before I even had this part, or were talking about doing this – it was well over a year ago, Kevin had asked me to come over and have a script meeting. And basically he sat me down and he said, 'What would you like to do if you had a stand-alone Hulk movie?' And I said, 'I'd like to do this, this, and this; and this and this – and then this. And then this, and this, and this, and then it would end like this.' And he's like, 'I love that. Let's do that over the next there movies, starting with Thor 3 and carry it on through Avengers 3 and Avengers 4.' And so that's my stand-alone Hulk movie."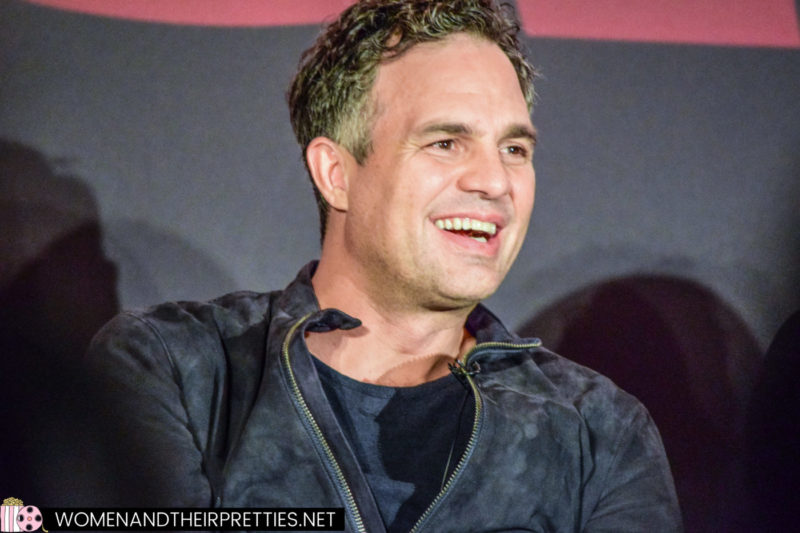 bahahaha. Well, there you have it, folks. Mark busted Kevin's chops a bit there. Kevin Feige response was a bit more serious:
"And someday, a stand-alone would be great, but for the time being, Hulk's presence in these movies, and certainly now, as Mark has talked about, what we're going to be able to do with his character arc over these three movies is super exciting!"
Okay, I guess we can all agree to that. If there is going to be a stand-alone Hulk movie, it needs to be at exactly the right time. We want it to be done the right way and that means it needs a focus like no other. I think Taika Waititi should direct it, but I'm biased.
4. Tessa Thompson gave no thought to playing Valkyrie, who's white in the comics
This is when I fell in love with Tessa Thompson. I loved her as Valkyrie, but after the Thor: Ragnarok Press Conference, I realized how wonderfully inspirational she is. She's exactly who should be role modeling for the next generations.
When Tessa was asked if she was nervous to play a character who's white in the comics, her response was a 'mic-drop moment'.
"I didn't feel any pressure with that specifically. The things that I thought about were the particulars of Valkyrie, like mass and size. For example, I thought, like 'Oh, I'm – I'm short,' you know.   Or like, 'I'm not buff enough.' Or how – you know, she's arguably as strong as Thor. How do I stand next to a person like Chris Hemsworth and feel like that's true? So I didn't think so much about that.

Any character has its own iconography and I'm tasked to capture the spirit of the character, and I think the spirit of all of us, at the risk of sounding cheesy, has very little to do with what color we are. So I just didn't really invest in that.
5. An all female film has been discussed amongst all the Marvel women and Kevin Feige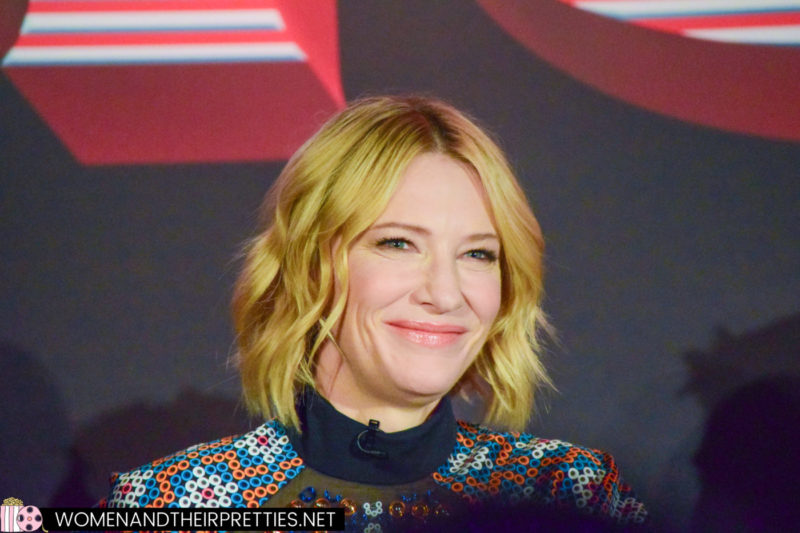 The most exciting part of the press conference for me personally, was the talk of an all-female superhero movie. As I mentioned in my Thor: Ragnarok review, Kevin was approached by a group of Marvel women to ask about their own movie. While Kevin didn't confirm or deny the possibility of the film at the press conference, he did officially confirm it in our intimate Kevin Feige interview which I quoted in my Thor: Ragnarok Review.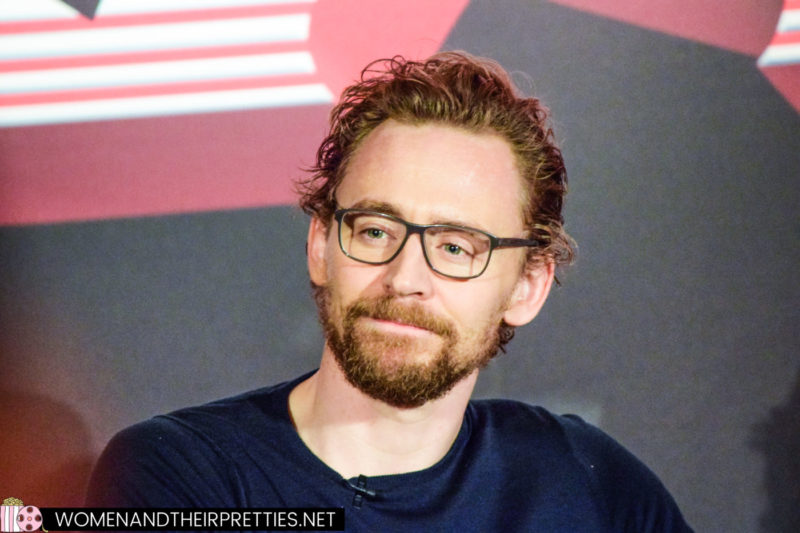 See Thor: Ragnarok in theater November 3rd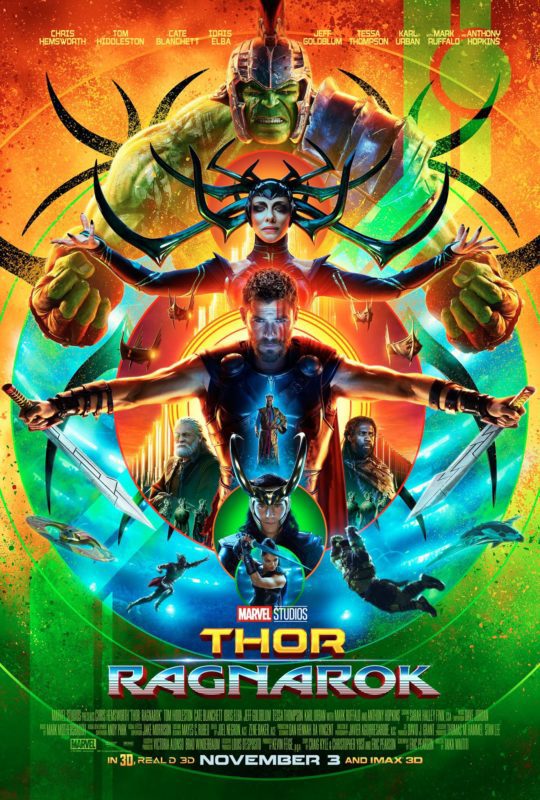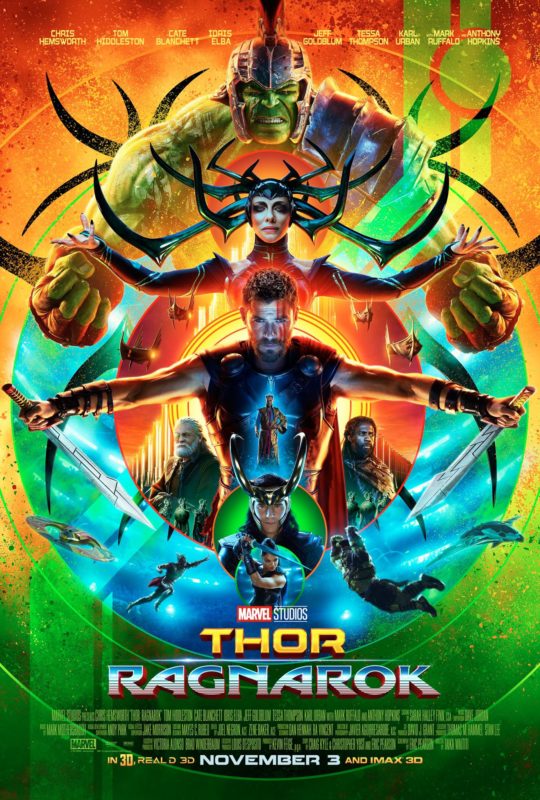 The newest Marvel movie to crash into the big screen this fall is is Thor: Ragnarok! In Marvel Studios' THOR: RAGNAROK, Thor is imprisoned on the other side of the universe without his mighty hammer and finds himself in a race against time to get back to Asgard to stop Ragnarok—the destruction of his homeworld and the end of Asgardian civilization—at the hands of an all-powerful new threat, the ruthless Hela. But first he must survive a deadly gladiatorial contest that pits him against his former ally and fellow Avenger—the Incredible Hulk! THOR: RAGNAROK is directed by Taika Waititi and returns Chris Hemsworth starring as Thor and Tom Hiddleston reprising his role as Loki. They are joined by Cate Blanchett, Idris Elba, Jeff Goldblum, Tessa Thompson and Karl Urban, with Mark Ruffalo and Anthony Hopkins.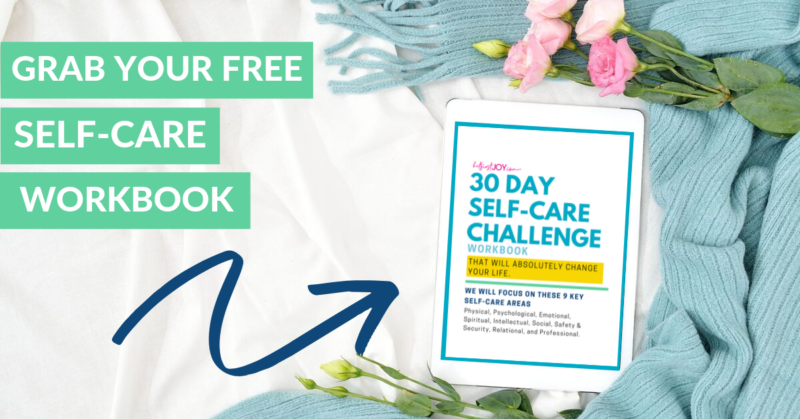 DISCLOSURE
This post may contain affiliate links and/or promotional products, all opinions expressed are that of But First, Joy only. Read my full disclosure.