Travel and accommodations were provided by DreamWorks Animation.
I had an unbelievable opportunity not too long ago. The last you heard, I was telling you all about my Voltron DreamWorks Animation experience. Part of the activities for the Voltron press event included interviews with the Voltron Legendary Defender cast. I've definitely had my fair share of interviews with talented actors, but Voltron interviews gave me a much different feeling. Perhaps it was because we were in such a small, intimate setting. All of the actors were very humble, friendly, and excited. It felt like we were chatting with a group of friends because of how welcoming they were.
As I mentioned in my experience post, we ate a Voltron-themed lunch. The actors were hanging out with us at lunch and were able to snap a few pictures of them before the interviews. Seriously, they are hilarious. Tyler Labine even teased me about my bag of candy that I was holding, "Did you find the candy or did the candy FIND YOU?" haha.
So, we walked into the interviews and we all introduced ourselves. This was a first for me. Typically we get started with the interview right away, but it was nice for the actors to learn a little bit about us. This definitely made us all feel more comfortable and welcomed.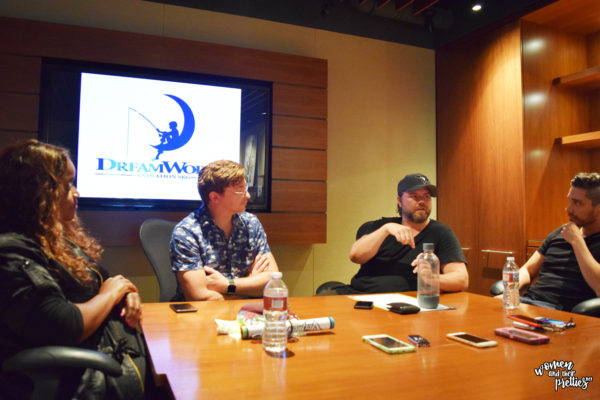 At this press event, we were lucky enough to interview Josh Keaton (Shiro), Tyler Labine (Hunk), Kimberly Brooks (Princess Allura), and Rhys Darby (Coran). I was so excited to be interviewing Tyler Labine because I just love his energy and Hunk is my favorite character. What can I say? I'm a sucker anything that makes me laugh.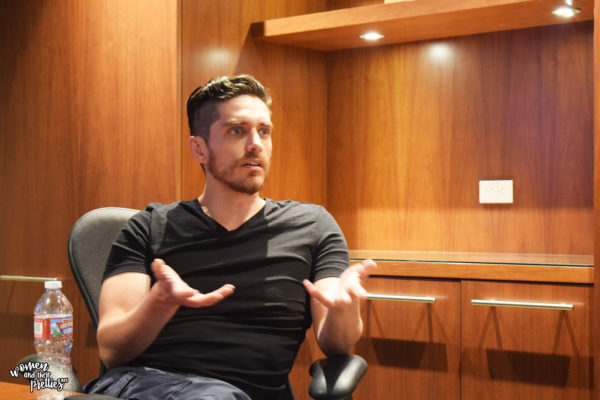 To start the interview, we asked how each actor got into character. Did they use their everyday voice? Did they have a special approach or technique?
I thought it was interesting to hear that Josh Keaton, who voices the natural-born leader, Shiro, had to tone his voice down a little bit because his voice lies in the same range as Steven Yeun's, who plays Keith.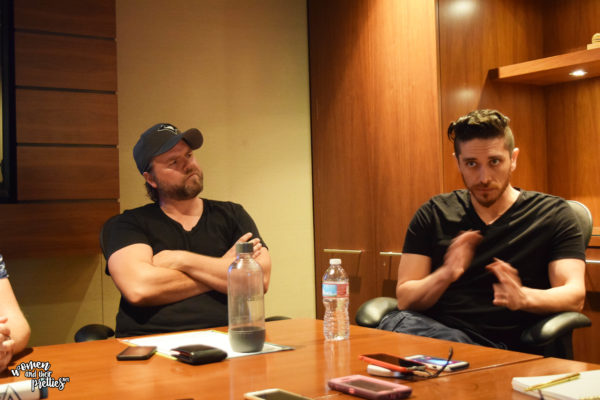 Tyler Labine explained how he used his regular voice and they asked him to sound a little more immature, haha. The casting director said he loves his voice, but he needs to find immaturity in it. "Because naturally I'm a very mature guy. I reek of maturity!" So, basically, he found a youthful and animated sound, which comes off as "panicked and worried" as he explained.
After spending only a few minutes in the studio for our voiceovers, we realized how intimidating it was, so we asked the guys how they stay motivated and how they syke themselves up for each recording session.
They immediately explained how incredibly it is to be in the studio recording together, so they feed off of one another. Tyle and Josh tried explaining exactly how the process works. Then Rhys Darby interrupted with, "Let me take over!" Which had us all laughing!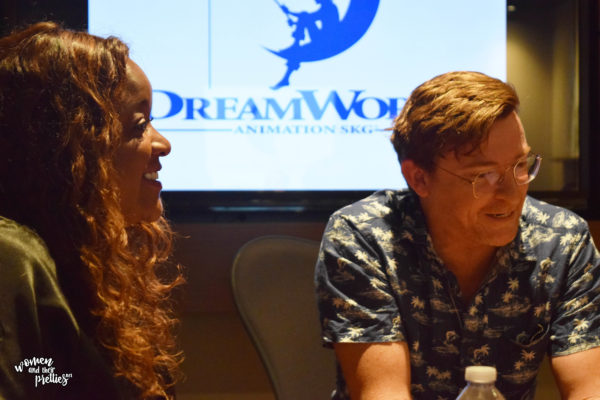 Rhys begins to explain, "A lot of the action takes place as a group and I feel likes it's just portrayed much bigger when we are together as a group. We are feeling the excitement together. When you're separated it can feel like you are just doing a voice and reading a line, but this show is so much more than reading a line on a piece of paper, we are living it because we are excited about it – it's a rush."
Rhys then gets a little carried away describing his voice as Coran, "I'm very high-pitched, very highly strung. I'm very intellectual, incredibly brave…" Tyler chimes in with "incredibly handsome too." haha.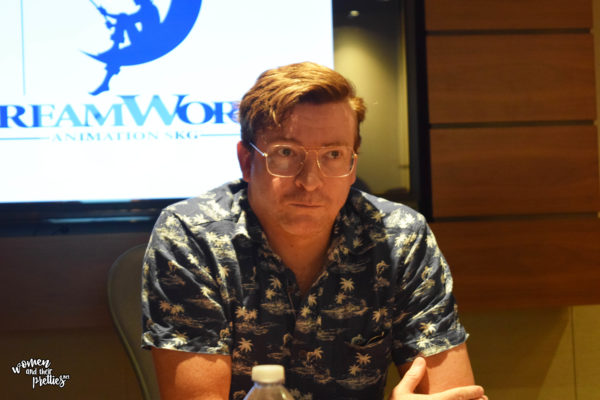 So, what was like for them to record with the Voltron villain, Zarkon (voiced by Neil Kaplan) in the same room?
It sounds like it was just as bone-chilling and frightening as in the show. Rhys Darby describes how he'd feel the hairs on the back of his neck stand up every time he'd speak. He said that his voice was just so deep and it was so frightening because he's standing right there in the corner. He said that every time he would speak they'd cower and their bones would rattle. "Neil Kaplan does this really powerful voice and then afterwards her perks right up and gives hugs". Isn't it funny to think of Zarkon giving hugs?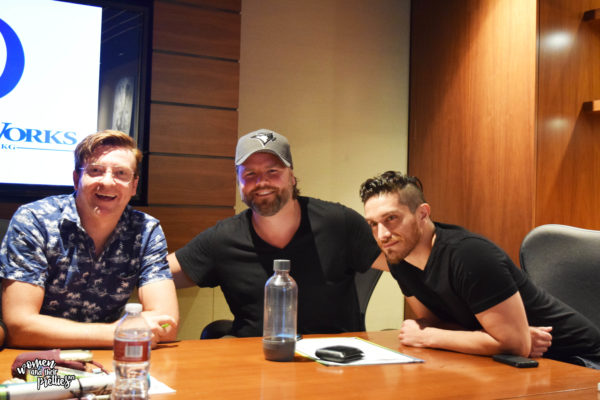 I was curious as to whether or not it was intimidating to audition for Voltron, since they were already big fans of the original.
Tyler immediately said, "Of course!" He said that he never walks into an audition thinking he's got it in the bag, but being a fan of this did make him work harder at getting the role. "I'd walk out of one audition and into the next one thinking of the areas that I can improve to make it that much better." Since the auditioning process was very long and drawn out, due to DreamWorks wanting to be certain the cast meshed well together, the entire process was very nerve-racking.
And that's a wrap! Be sure that you binge-watch Voltron to see this talented group in action as they FORM VOLTRON and defend the universe!
Voltron is now available to stream on Netflix
The universe's greatest protector will rise again in the all-new series DREAMWORKS VOLTRON LEGENDARY DEFENDER, premiering June 10, exclusively on Netflix. Witness the rebirth of the legend with this ambitious reimagining of the fan-favorite science-fiction saga, promising galaxies worth of action, comedy, and adventure, as good battles evil in an intergalactic war ten thousand years in the making. These series will launch with an hour-long origin story called "The Rise of Voltron," and will be followed by 10 episodes.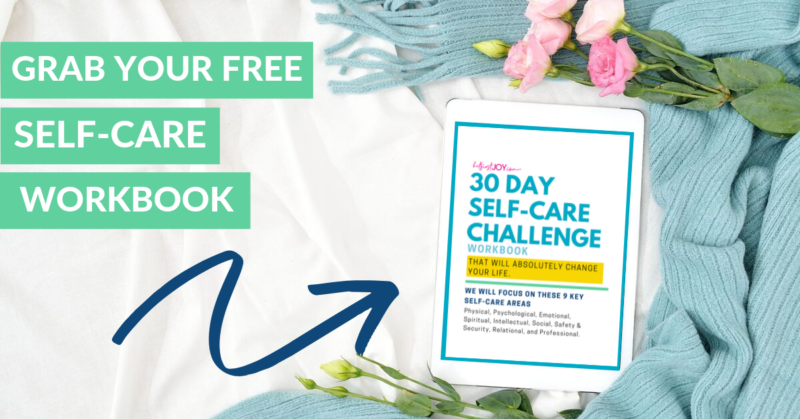 DISCLOSURE
As an Amazon Associate I earn from qualifying purchases. This post may contain affiliate links and/or promotional products, all opinions expressed are that of But First, Joy only. Read my full disclosure.