Thanks to BabbleBoxx.com for sponsoring this post and helping new moms find out exactly what they need for a successful (and happy) breastfeeding journey!
The first week of nursing will be very important for you and your child. In this post, I will tell you exactly what to expect in the first week of breastfeeding a newborn and what you will need!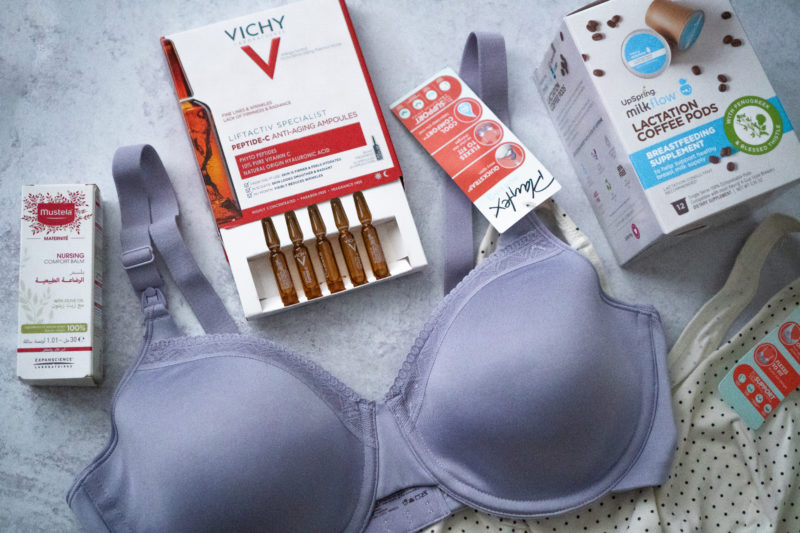 My Breastfeeding Journey: A Quick Overview
When I was pregnant with my son, I made a promise to myself that I'd try my absolute best to breastfeed my son. After hearing a multitude of failed breastfeeding stories, I didn't want to set myself up for disappointment.
After all, "Fed is best," they say.
I wouldn't give up without a fight, though. Breastfeeding didn't come easily for me. I had to speak with lactation consultants and even take breastfeeding advice from my son's pediatrician. I wanted so badly to feed my son.
So, that's what I did.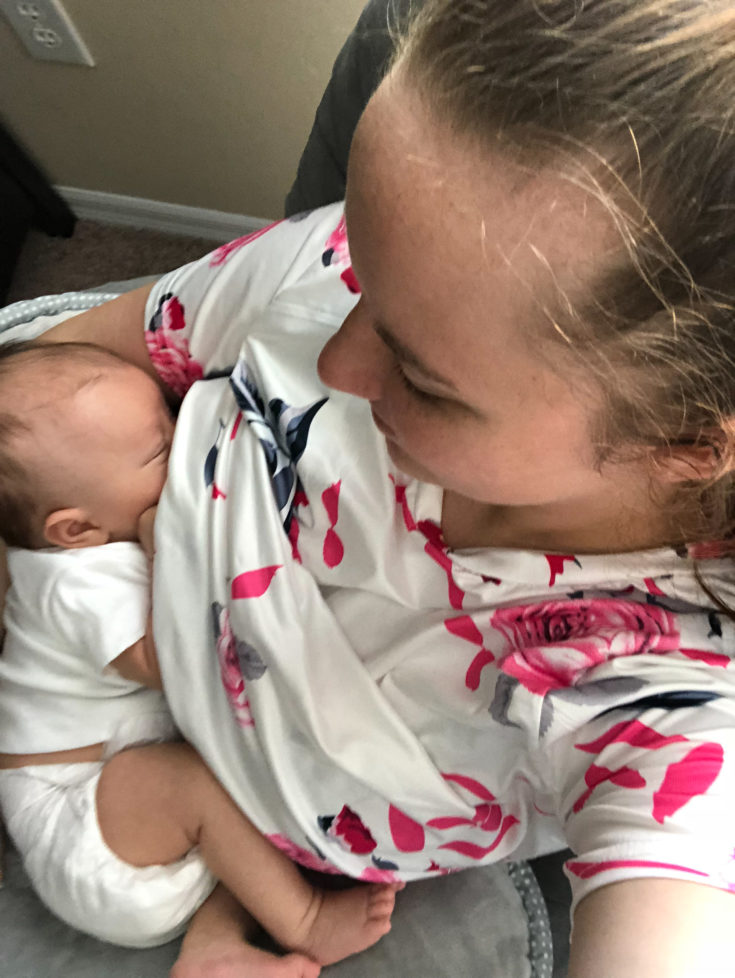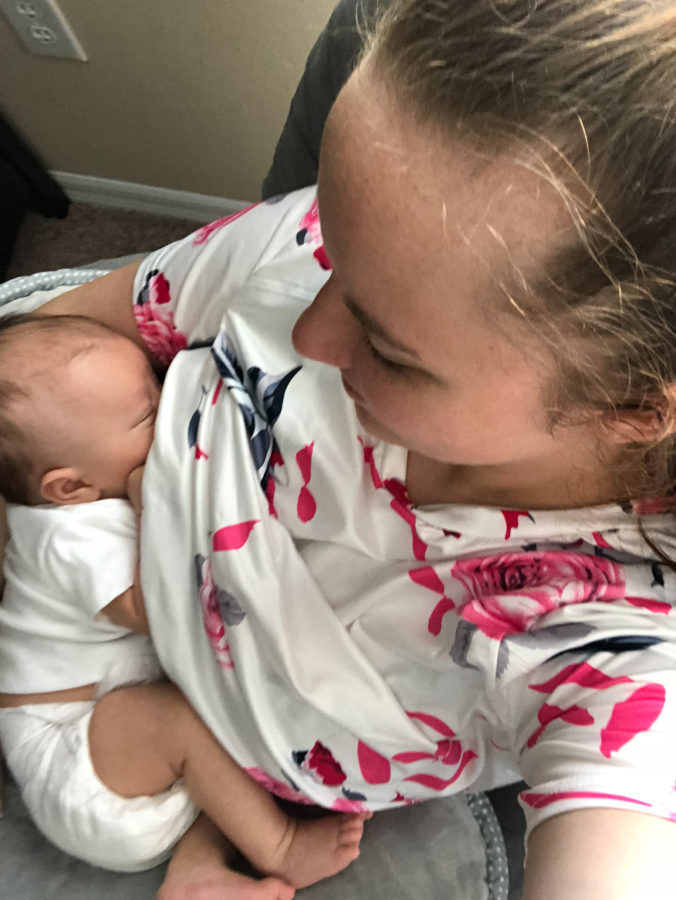 I tried and tried until I could successfully feed my son full-time and eventually, I produced enough milk to store 2-3 months worth in the freezer! Looking back, I think that was my first big triumph as a new mother.
Breastfeeding my son, after a difficult start, was my first big triumph as a mother.
I breastfed my son for a successful 17 months, until I had to cut him off – I wrote all about our breastfeeding journey and how I grieved the end of breastfeeding. Plus, I talk about why I had to cut him off and how it affected us both.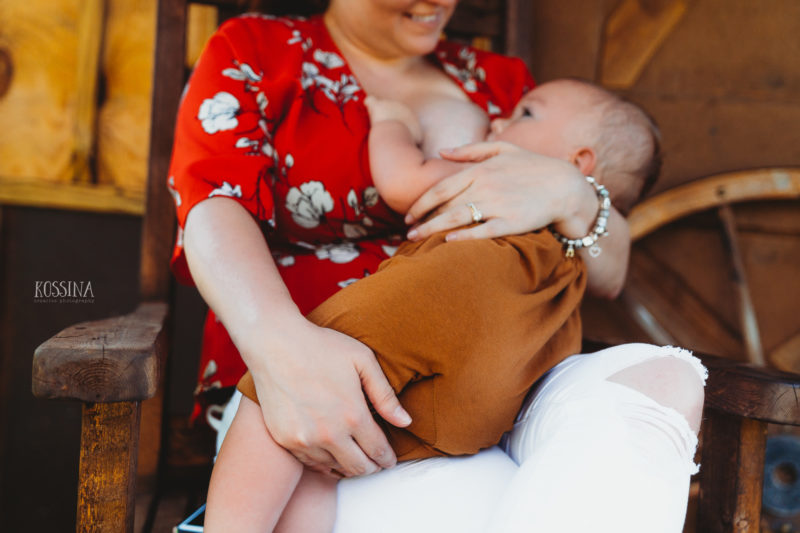 The First Week of Breastfeeding: What To Expect
As a mother who exclusively breastfed my newborn multiple times per day for over a year, I have quite the experience.
I distinctly remember the beginning of our journey. It was pure chaos and I was a mess. I only wish I'd known what to expect in the first week of breastfeeding. So, I'd love to share my guide to surviving the beginning of breastfeeding AKA everything you can expect in the beginning.
1. You'll be waking your newborn to feed him or her – every 2 hours.
The thought of waking your child 2-3 hours makes every new mom want to cry. Not only are you exhausted from lack of sleep and birthing a child, this means your support system can't help you in the first week.
It's important for breastfeeding mothers to be sure the baby is eating every 2-3 hours for a number of reasons:
Baby is well-fed and getting important nutrients.
Feeding from the breast ONLY in the beginning will teach the baby to get used to a REAL nipple, rather that of a bottle – which could cause a newborn to decline the real thing.
Increases Milk Supply
2. Prepare for dry, cracked, and bloody nipples.
Why didn't anyone warn me about the pain of bloody, dry, and cracked nipples? Lactation consultant told me if it hurts then the latch isn't right.
While that is very true, it's important to know the difference between a pinching feeling from a bad latch and the stinging, painful feeling of irritated nipples.
To prepare for this I recommend stocking up on Mustela's Nursing Comfort Balm. Honestly, a good nursing balm is the biggest relief when experiencing all the early breastfeeding pain!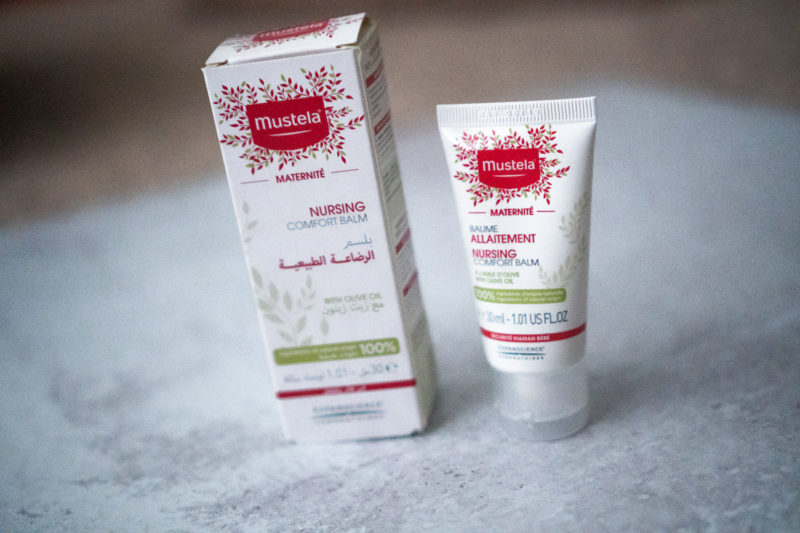 Made with 100% naturally-derived ingredients, you can feel safe using this nursing comfort balm. It soothes and restores skin and is completely fine for a breastfeeding baby.
I recommend rubbing this on before and after breastfeeding in the first week to lessen the pain.
Get 20% off your Mustela order with code: JOY20

This offer cannot be combined with any other offers. Offer valid at www.mustelausa.com only. Limit 1 per person. Offer expires February 28, 2020, 11:59 PM EST.
3. You might have trouble producing milk.
The scariest things I experienced after giving birth was learning that I wasn't producing enough milk. This meant my son wasn't getting his tiny belly full, which led to lots of fussy days and weight loss.
By pumping after every nursing session and in between sessions, I was able to teach my body to produce more milk which was a huge help!
Additionally, you can keep some of UpSpring's Milkflow Lactation Coffee Pods in your pantry. This will give you a healthy boost in your milk supply, that's safe for mama and baby.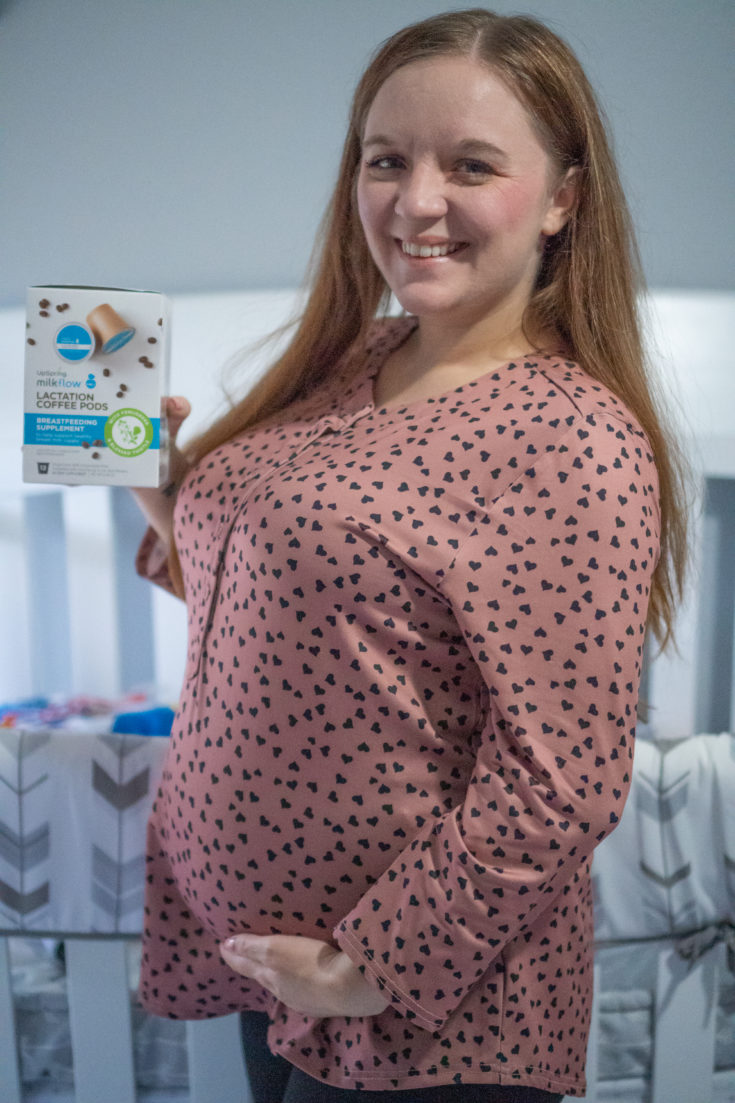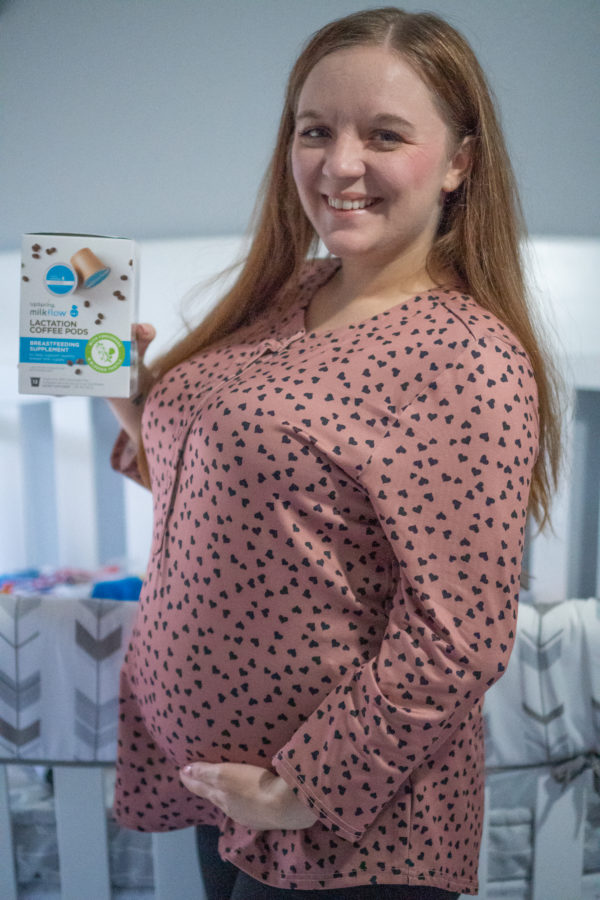 With herbal ingredients and plant-based ingredients, you can expect a healthy dose of coffee that even lactation consultants recommend!
You can grab these at a Target near you in the baby aisle!
4. Your baby is going to lose weight – but it's not your fault.
As a breastfeeding mother, the first doctor's visit may alarm you. Your baby will have lost weight – but don't worry! It isn't because they aren't getting enough milk (unless you're told otherwise).
All newborns lose extra fluid after birth. It's not your fault and shouldn't be alarming.
5. Your skin is probably going to change.
Sorry, mama. Don't expect to look the same after birthing and breastfeeding a child. You're going to notice fine lines, wrinkles, and definitely some dull skin. These postpartum skin changes are normal – but you can combat them!
Do a little something nice for your new mama self by picking up a pack of LiftActiv Peptide-C Ampoule Serum from Vichy. This Anti-Aging Ampoule Serum is formulated with only 10-ingredients and has been clinically proven to improve fine lines, wrinkles, and radiance!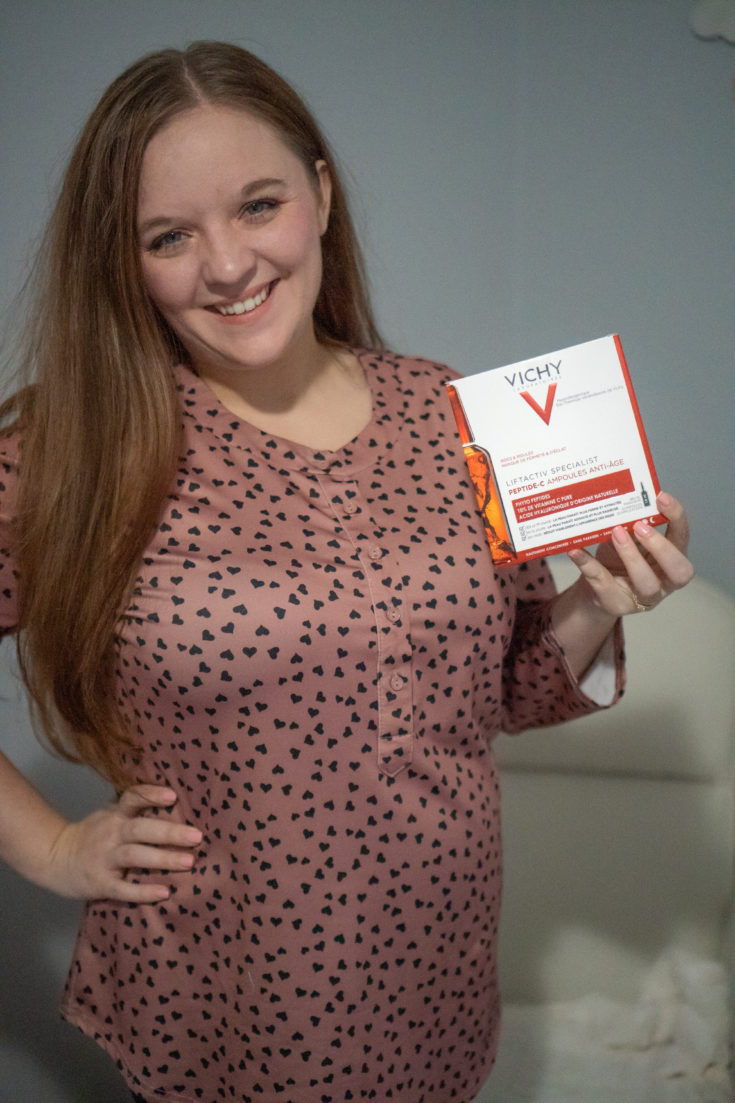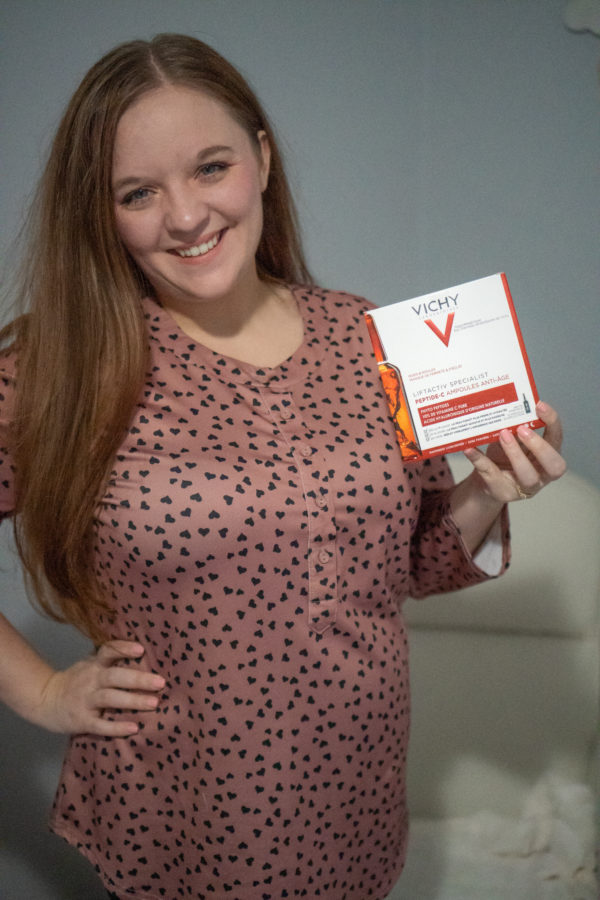 Just for my readers, I've got a great deal!
Promo code: VICHYBABBLE2020
Offer: 15% off
Duration: 1/23-2/14
6. Your breasts are going to leak and it's going to upset you.
The first time my breasts leaked, I was crying and thought it was may tears. I was crying from pain, lack of sleep, and overall new mommy life. When I realized what was happening, I cried more because I was losing my precious milk!
You see, in the first week or two, you will not be producing much milk so every little drop will count! When your breast become full, they will begin to leak.
When this happens, I recommend using a good breast pump to save every drop for baby later. Breast milk has many great uses, other than feeding your precious baby.
7. Nursing bras will be your new BFFs.
Why did I think I could survive without nursing bras? These are a necessity during all your breastfeeding days – especially when you're just starting out.
Nursing bras are great because they are comfortable and supportive for mama and make nursing as easy as a snap or slip to give your baby the breast. Keep in mind, that you'll want a variety nursing bras.
These can be pricey but Playtex makes some affordable, comfortable, and stylish nursing bras that you'll love! You buy them in packs of two sleep bras and even with underwire (those are my favorite).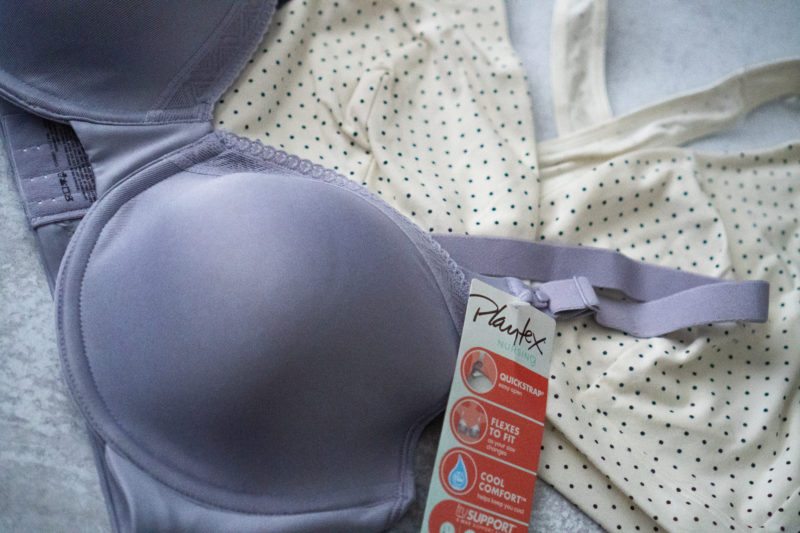 The sleep bras are super cute and offer a cooling material that keeps bedtime nursing comfortable.
I love the Playtex Shaping Foam Underwire bras because they are give me the support I need and allow me to unsnap the cups for quick and easy nursing sessions.
8. You're going to be extremely hungry and thirsty.
I know they say you'll lose weight while breastfeeding, but you'll be sitting a lot. You'll not only be sitting because you're nursing a baby, but because you're still in pain after birthing a child. That said, you'll likely be less active.
Breastfeeding takes a lot out of you. That baby is taking all of your nutrients and energy, leaving you with hardly enough. That said, you're going to find yourself craving a cold jug of water and lots of snacks. Keep it healthy, mama but don't deny yourself!
9. It may take awhile to find a comfortable nursing position.
I'd say it took me a good 2-3 weeks to find a position my son and I enjoyed while nursing. You have to be comfortable, so don't expect to sit awkwardly just because baby is happy.
I looked up videos on nursing positions and tried them all until I found one that we both loved. Using breastfeeding pillows can be a huge help!
10. You'll be extremely emotional – but it's normal.
The last thing I want you to be prepared for in that first week (or month) of breastfeeding is for your emotions to be all over the place. Mama, this normal. You'll find yourself crying at commercials and sympathizing with babies and children more than ever before.
If you're feeling like this now – or later, I recommend visiting Love Without Boundaries. This international charity provides hope and healing to orphaned and vulnerable children, and their communities.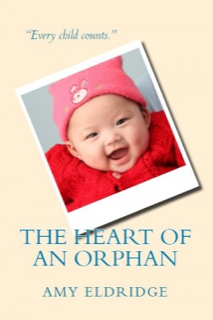 This organization believes that Every Child Counts and is worthy of love and a chance at a better life! Find out how you can lend your support by visiting their website.
FREEBIE: Download The Heart of an Orphan, by Amy Eldridge, for free beginning January 27, 2020 and learn more about LWB's story of love, hope and healing.
Additionally, I'd like to remind you to keep an eye on your health after your baby is born. If your emotions are feeling too intense for you to handle, please contact a physician immediately. Postpartum Depression is a real thing that affects many new mothers.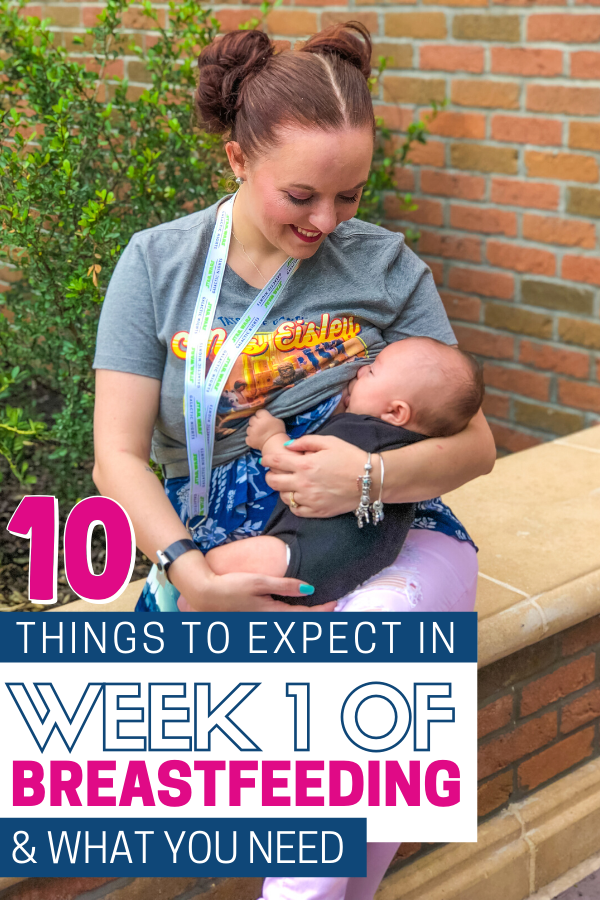 There are plenty of other things to expect during the first week of breastfeeding, specifically in the first couple days. If you have questions, tips, or other things you'd like me to write about – please comment below or send me an email!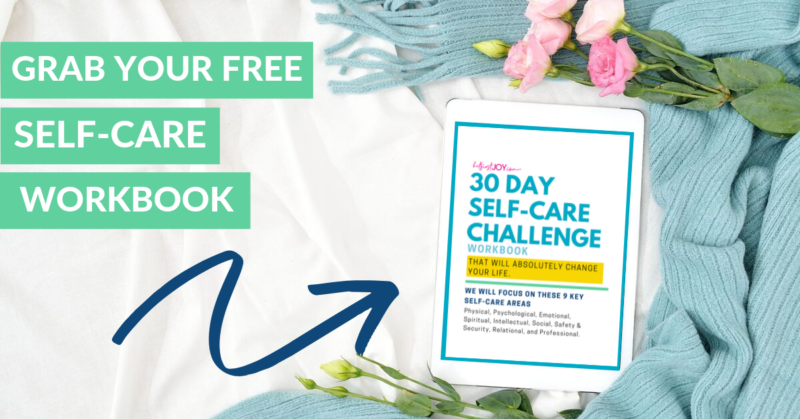 DISCLOSURE
As an Amazon Associate I earn from qualifying purchases. This post may contain affiliate links and/or promotional products, all opinions expressed are that of But First, Joy only. Read my full disclosure.