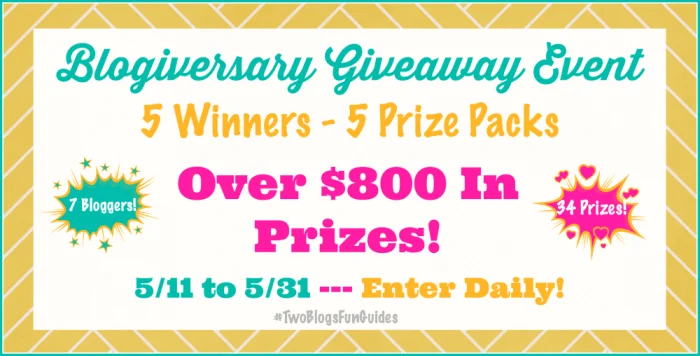 Welcome to another #TwoBlogsFunGuides event! We have gathered an incredible group of bloggers to bring to you the first annual Blogiversary Giveaway Event! This giveaway event is held in honor of our blog anniversaries, whether it's our first year or fifth year, we have something to celebrate! We want to thank our fans for this incredible experience by giving back to all of you!
I am so excited and proud to have made it a year on my blog. This has been a full time job, but one that I absolutely love. It takes a lot of hard work and dedication, but it's very rewarding work. Thank you all for being a part of this!
There will be multiple prize packs that you can win, so make sure you choose carefully.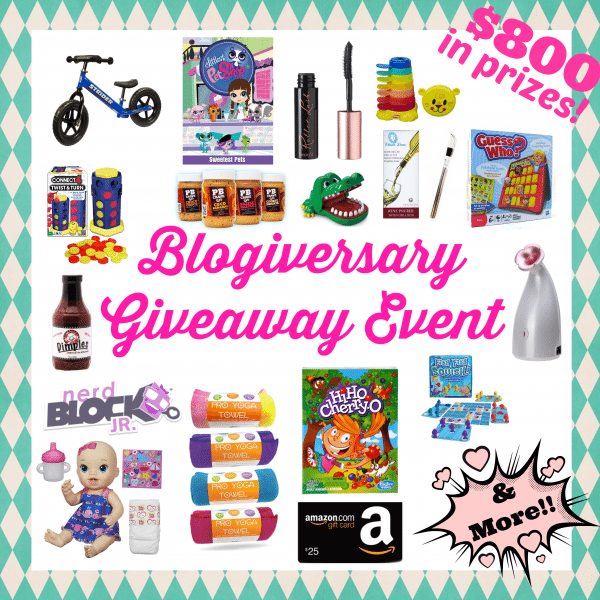 Strider Balance Bike
$25 Amazon GC

$15 FatBrainToys.com Gift Card
$50 Every Man Jack GiftCard
Guess Who? Game
Connect 4 Twist & Turn Game
EcoCycled Set of 3 Prints
Classic Lines Wine Chiller Rod
HI-HO! CHERRY-O Game
BBQ Grill Gloves
Merlot Handsoap
Lauren Brooke Cosmetiques Item


FISH, FISH, SQUISH! Game
Littlest Pet Shop DVD
Baby Alive Sips 'N Cuddles Doll
STACK 'N STOW Cups
Crocodile Dentist Game
EcoCycled Set of 3 Prints
Crib Mattress Bamboo Pad
Nerd Block Jr – Boy or Girl

Facial Steamer
Hot Yoga & Fitness Towel
Home Relaxation Spa Package ( Bath Bombs, Scrubs, Wax Melts)
$35 Orglamix Gift Card
Harvey Prince Rollerball
Pair of Darcus Tori Earrings
Jewelry Organizer
Benefit's Rollerlash
It Works Defining Gel
Lauren Brooke Cosmetiques Gift Set

BBQ Oven Mits
Taco Tenders
Newman's Own Organics Snack Pack
$15 Subway Gift Card
PB Crave 4 Pack
Dimples BBQ Sauce + T-Shirt

Disclosure: Women and Their Pretties and Mama Smith's Blog is not responsible for the delivery of prizes. Each blogger is responsible for delivering their own prizes to the winners. Please read the terms of service for more information on sponsors, prizes, and delivery dates.