Believe it or not, we have another exciting list of movies based on books coming in 2020! This year, I want to share the list of book to movie adaptations so you can plan your read list and watch list for 2020.
Please keep in mind that dates may change as that's how the movie world works. Plus, you may see missing dates or posters. That's because things are tentative or just not yet released.
Also, if you're interested, you can see my list of the previous years of books becoming movies:
Movies Based on Books Coming in 2020
Please note: This list does not include movies based on comic books or graphic novels.
1. Just Mercy – In Theaters: Jan 10th
Based on the 2014 book/memoir "Just Mercy: A Story of Justice and Redemption" by Bryan Stevenson. This is a true story.
MOVIE PLOT: World-renowned civil rights defense attorney Bryan Stevenson works to free a wrongly condemned death row prisoner.
2. Three Christs – In Theaters: Jan 3rd
Based on the biographical novel "The Three Christs of Ypsilanti" by Milton Rokeach.
MOVIE PLOT: Three Christs follows Dr. Alan Stone who is treating three paranoid schizophrenic patients at the Ypsilanti State Hospital in Michigan, each of whom believed they were Jesus Christ. What transpires is both comic and deeply moving.
3. Dolittle – In Theaters: Jan 20th
Based on the 1920s children's books by Hugh Lofting.
MOVIE PLOT: A vivid reimagining of the classic tale of the man who could talk to animals.
4. The Turning – In Theaters: Jan 24th
Based on "The Turn of the Screw" by Henry James.
MOVIE PLOT: Set on a mysterious estate where newly appointed nanny Kate is charged with the care of two disturbed orphans, Flora and Miles.
5. Color Out of Space – In Theaters: Jan 24th
Adaptation of the 1927 short story by H.P. Lovecraft.
MOVIE PLOT: A rural town is struck by a meteorite and a family finds themselves battling a mutant extraterrestrial organism infecting their minds and bodies.
6. The Rhythm Section – In Theaters: Jan 31st
Mark Burnell will adapt from his own novel, which was published in 1999.
MOVIE PLOT: Blake Lively stars as Stephanie Patrick, an ordinary woman on a path of self-destruction after her family is tragically killed in a plane crash. When Stephanie discovers that the crash was not an accident, she enters a dark, complex world to seek revenge on those responsible and find her own redemption.
7. The Last Thing He Wanted – In Theaters: TBA
Based on Joan Didion's best-selling 1996 political thriller.
MOVIE PLOT: Dee Rees, a veteran D.C. journalist (Anne Hathaway) loses the thread of her own story when a guilt-propelled errand for her father thrusts her from byline to unwitting subject in the very story she's trying to break.
8. Timmy Failure: Mistakes Were Made – on Disney+: Feb 7th
Based on the children's book series by Stephan Pastis.
MOVIE PLOT: The film follows the hilarious exploits of our quirky, deadpan hero, Timmy Failure, who, along with his 1,500-pound polar bear partner Total, operates Total Failure Inc., a Portland detective agency.
9. To All The Boys: Ps. I Still Love You – On Netflix: Feb 12th
Based on the #1 New York Times best-selling YA romance novel, P.S. I STILL LOVE YOU by Jenny Han.
MOVIE PLOT: Lara Jean and Peter have just taken their relationship from pretend to officially official when another recipient of one of her old love letters enters the picture.
10. The Call of The Wild – In Theaters: Feb 21st
Based on Jack London's novel.
MOVIE PLOT: The story of Buck, a big-hearted dog whose blissful domestic life is turned upside down when he is suddenly uprooted from his California home and transplanted to the exotic wilds of the Alaskan Yukon during the Gold Rush of the 1890s. As the newest rookie on a mail delivery dog sled team–and later its leader–Buck experiences the adventure of a lifetime, ultimately finding his true place in the world and becoming his own master.
11. Emma – In Theaters: Feb 21st
Based on the 1815 novel by Jane Austen.
MOVIE PLOT: Handsome, clever, and rich, Emma Woodhouse is a restless queen bee without rivals in her sleepy little town. In this glittering satire of social class and the pain of growing up, Emma must adventure through misguided matches and romantic missteps to find the love that has been there all along.
12. The Invisible Man – In Theaters: Feb 28th
Based on the HG Wells novel.
MOVIE PLOT: When Cecilia's abusive ex takes his own life and leaves her his fortune, she suspects his death was a hoax. As a series of coincidences turn lethal, Cecilia works to prove that she is being hunted by someone nobody can see.

13. All The Bright Places – In Theaters: Feb 28th
Based on the novel by Jennifer Niven.
MOVIE PLOT: The story of Violet and Theodore, who meet and change each other's lives forever. As they struggle with the emotional and physical scars of their past, they discover that even the smallest places and moments can mean something.
14. Lost Girls – In Theaters: March 2020 (tentative)
Based on "Lost Girls: An Unsolved American Mystery" by Robert Kolker. This is a true story.
MOVIE PLOT: When Mari Gilbert's daughter disappears, police inaction drives her own investigation into the gated Long Island community where Shannan was last seen. Her search brings attention to over a dozen murdered sex workers.
15. First Cow – In Theaters: March 6th
Based on Jonathan Raymond's novel "The Half-Life".
MOVIE PLOT: A loner and cook (John Magaro) has traveled west and joined a group of fur trappers in Oregon Territory, though he only finds connection with a Chinese immigrant (Orion Lee). The men collaborate on a business, although its longevity is reliant upon the participation of a wealthy landowner's prized milking cow.
16. The Informer – In Theaters: March 13th
Based on the Swedish novel by Anders Roslund & Borge Hellstrom.
MOVIE PLOT: An ex-convict working undercover intentionally gets himself incarcerated again in order to infiltrate the mob at a maximum security prison.
17. The Willoughbys – In Theaters: April 2020
Based on the children's book by Lois Lowry.
MOVIE PLOT: Convinced they'd be better off raising themselves, the Willoughby children hatch a sneaky plan to send their selfish parents on vacation.
18. Greyhound – In Theaters: May 8th
Based on the novel "The Good Shepherd" by C.S. Forester.
MOVIE PLOT: Set during World War II, a career officer is finally given command of a Navy destroyer and along with the enemy fights his self doubts and personal demons to prove he belongs.
19. The Personal History of David Copperfield – In Theaters: May 8th
Based on the novel by Charles Dickens.
MOVIE PLOT: From birth to infancy, from adolescence to adulthood, the good-hearted David Copperfield is surrounded by kindness, wickedness, poverty and wealth, as he meets an array of remarkable characters in Victorian England. As David sets out to be a writer, in his quest for family, friendship, romance and status, the story of his life is the most seductive tale of all.
20. The Woman in the Window – In Theaters: May 15th
Based on the novel by A.J. Finn.
MOVIE PLOT: An agoraphobic woman living alone in New York begins spying on her new neighbors, only to witness a disturbing act of violence.
21. Artemis Fowl – In Theaters: May 29th
Based on Disney Publishing Worldwide's best-selling children's fiction series by author Eoin Colfer.
MOVIE PLOT: Artemis Fowl is about a 12-year-old Artemis who is a millionaire, a genius – and above all, a criminal mastermind. But Artemis doesn't know what he's taken on when he kidnaps a fairy (Captain Holly Short of the LEPrecon Unit) to harness her magic to save his family. These aren't the fairies of the bedtime stories – they're dangerous.
22. Infinite – In Theaters: August 7th
Based on the novel, "The Reincarnationist Papers" by D. Eric Maikranz.
MOVIE PLOT: A schizophrenic discovers his hallucinations are actually memories of past lives that he can access as well as the skills he possessed in those time periods.
23. The One and Only Ivan – In Theaters: August 14th
Based on the Newbery Medal-winning book written by Katherine Applegate and illustrated by Patricia Castelao.
MOVIE PLOT: A silverback gorilla named Ivan lives in a cage in a shopping mall along with an elephant named Stella and a stray dog called Bob. Ivan does not remember life before the mall, but when a baby elephant enters and Ivan finds himself taking care of her, he begins to rediscover his previous life and concocts a plan to take the baby elephant away from their abusive owner.
24. Let Him Go – In Theaters: August 21st
Based on Larry Watson's novel of the same name.
MOVIE PLOT: Kevin Costner and Diane Lane star as a couple set out to rescue their young grandson from the clutches of a dangerous family.
25. The Witches – In Theaters: October 9th
Based on Roald Dahl's 1983 children's book.
MOVIE PLOT: A seven-year-old boy, Bruno, who has a run-in with some real-life witches!
26. Death on The Nile – In Theaters: October 9th
Based on Agatha Christie's novel.
MOVIE PLOT: A detective is on a vacation in Egypt and becomes involved in a love triangle gone murderously bad.
27. Clifford the Big Red Dog – In Theaters: November 13th
Based on the children's book by author and illustrator Norman Bridwell.
MOVIE PLOT: A young girl named Emily discovers a small red puppy who magically becomes a gigantic dog. The significant growth of the dog attracts the attention and interest of a genetics company. Emily and her Uncle Casey (Whitehall) have to fight the forces of greed as they go on the run across New York City. Along the way, Clifford affects the lives of everyone around him and teaches Emily and her uncle the true meaning of acceptance and unconditional love.
28. Dune – In Theaters: November 20th
Based on Frank Herbert's 1965 novel.
MOVIE PLOT: Set on the remote desert planet of Arrakis, the one planet that produces the interstellar's sole source of the spice Melange, a empirewide power struggle begins over the control of the spice.
29. News of the World – In Theaters: December 25th
Based on the October 2016 novel by Paulette Jiles.
MOVIE PLOT: Set in 1870, a road trip through the untamed West is taken by unlikely traveling partners. Captain Jefferson Kyle Kidd, a Texan, travels from town to town to read the news to locals who would otherwise not know what is going on in the world.
30. The Last Duel – In Theaters: December 25th
Based on the book "The Last Duel: A True Story of Crime, Scandal, and Trial by Combat in Medieval France" by Eric Jager
MOVIE PLOT: When Jean de Carrouges, a Norman knight, returns from combat in Scotland to find his wife, Marguerite, accusing Jacques LeGris, her husband's old friend and fellow courtier, of brutally raping her, the knight takes his cause before the teenage King Charles VI.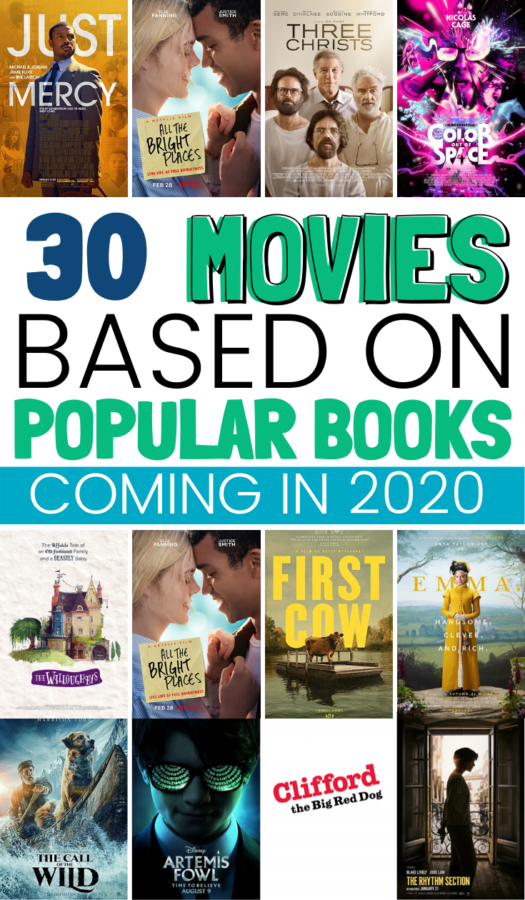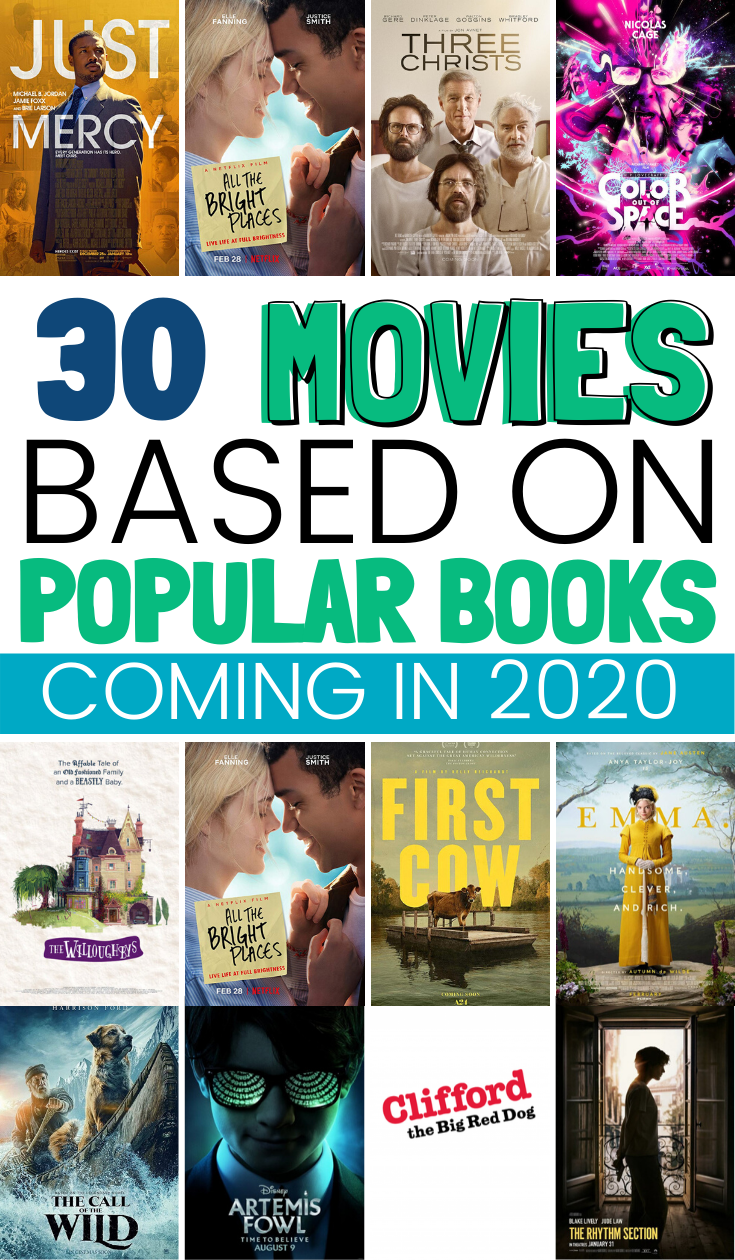 The following movies based on books have an expected 2020 release, but no date or much info yet:
The War With Grandpa – Based on the novel by Robert Kimmel Smith.
Chaos Walking – Based on the trilogy of young-adult novels by Patrick Ness.
Fear Street – Based on the series of young adult novels by R.L. Stine.
A Boy Called Christmas – Based on the 2015 novel by Matt Haig.
Monster on the Hill – Based on Rob Harrell's 2013 novel.