Are you visiting Disney with an infant and wondering if it's a good idea? I've done it and here are my best tips, tricks, and ideas for the BEST DAY EVER!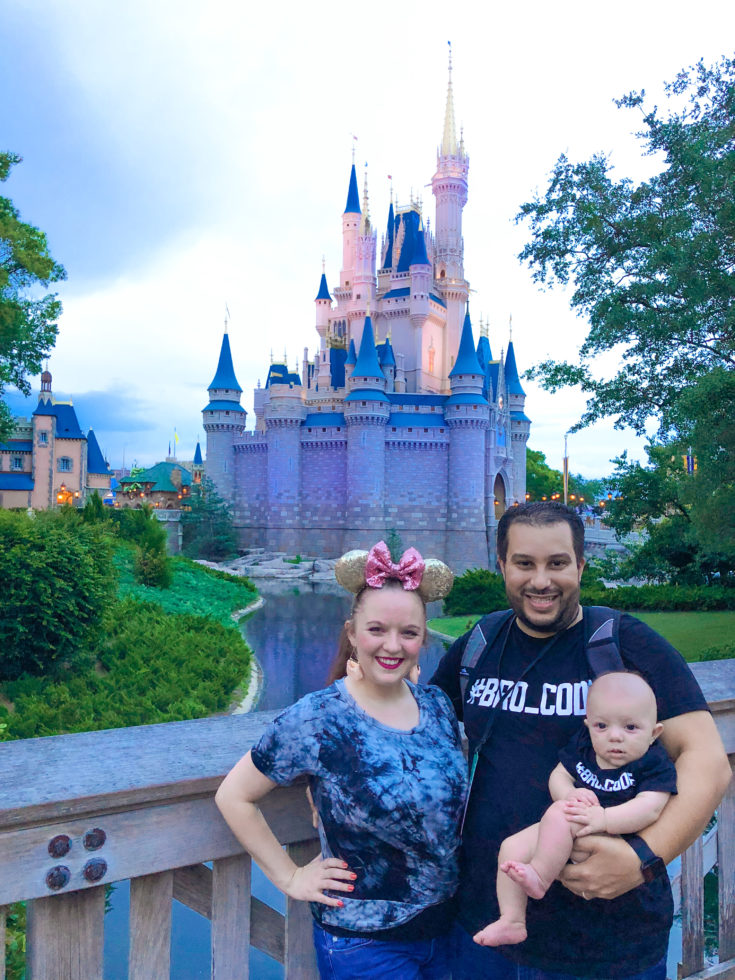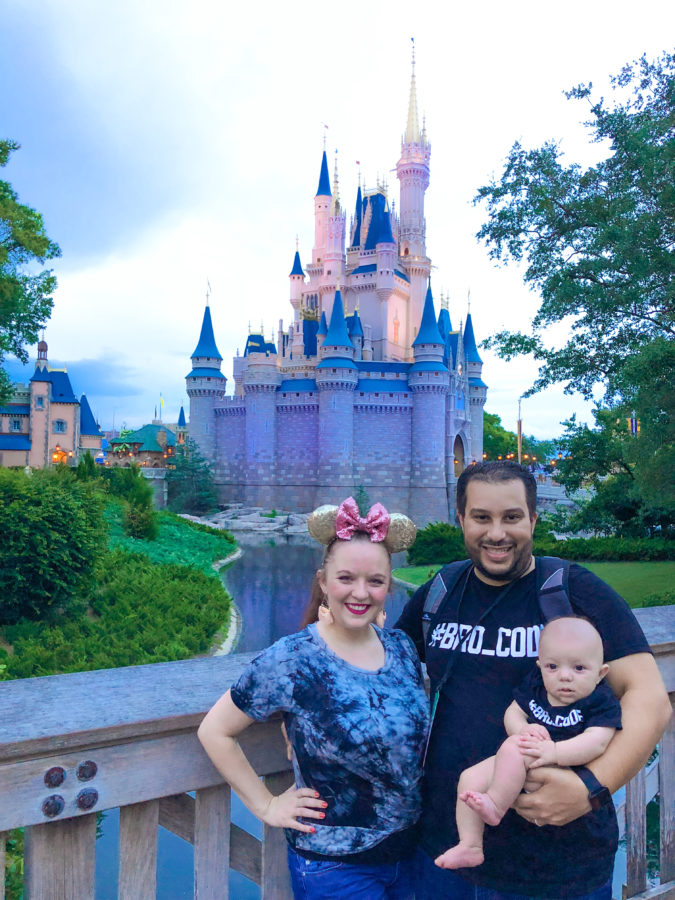 Doing anything with an infant can be incredibly difficult but taking on an amusement park? It can be extremely intimidating. You might be thinking, what could you possibly do at an amusement park with an infant?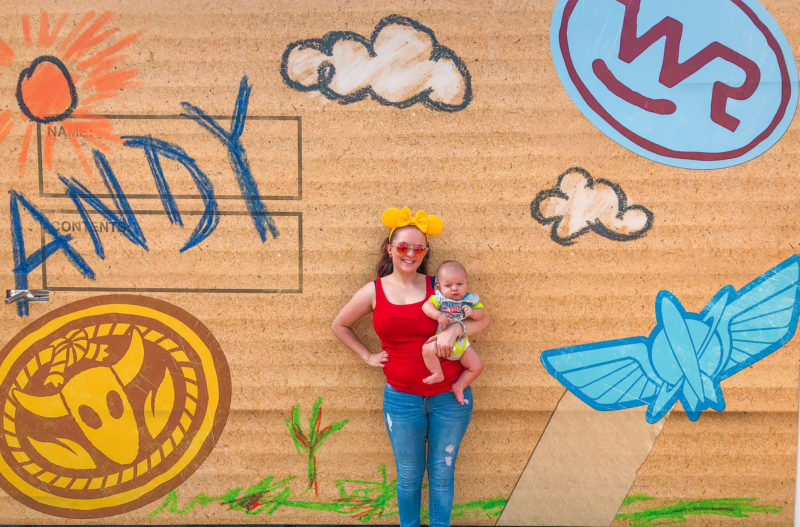 Well, that's the great part of Disney parks; there's a whole lot of attractions and rides that are age appropriate for all, including infants. You may have even seen my list of Disney rides for Pregnant Women.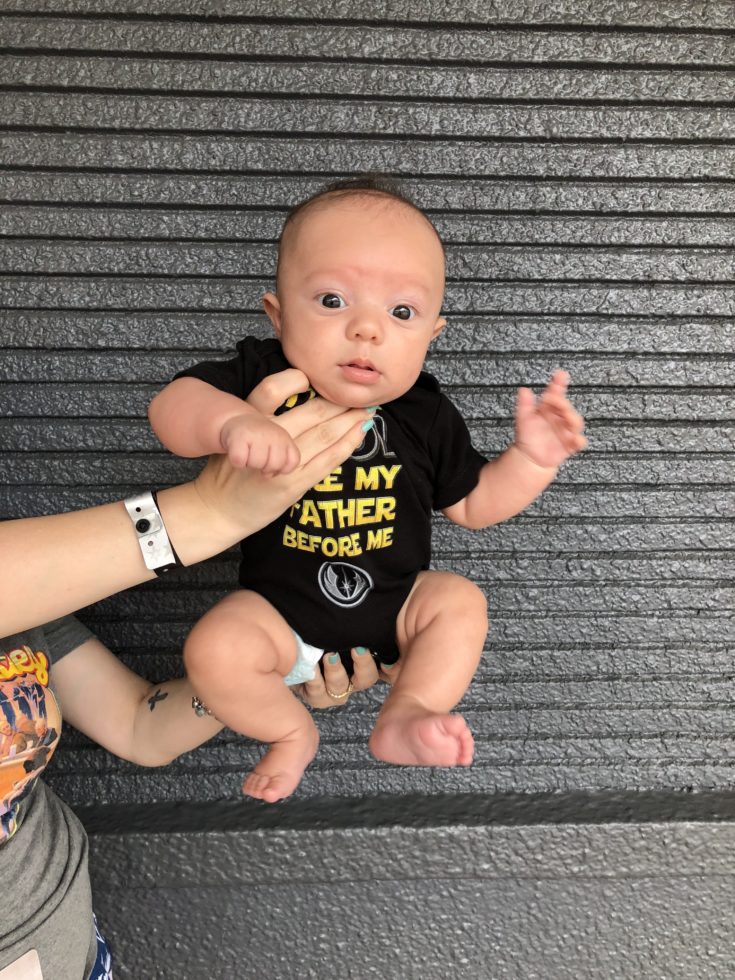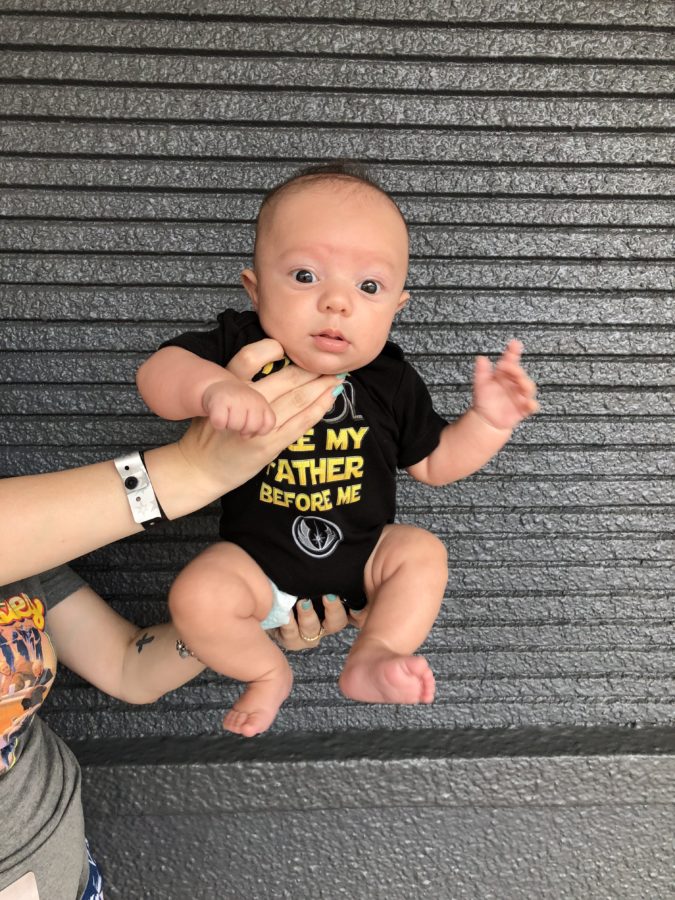 Surviving Disney with an Infant
Today, I'll be sharing my best tips, tricks, and ideas for taking a baby to Disney!
1. Find Attractions that Are Infant Friendly
There are plenty of rides at Disney parks that have absolutely no age or size limit.
Most of these include ride through attractions such as It's a Small World, Winnie the Pooh, and Jungle Cruise.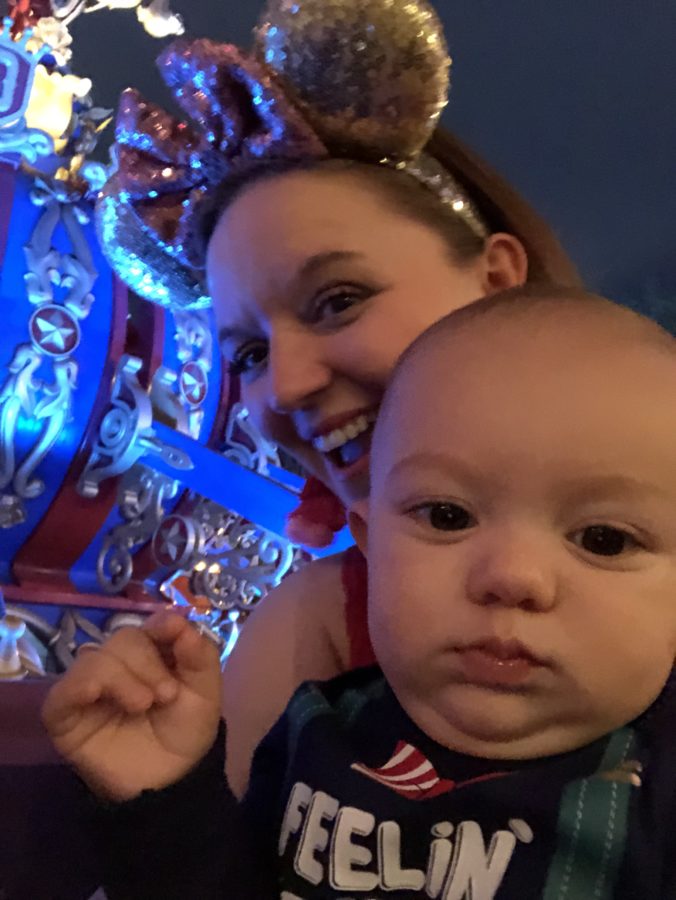 A couple other great rides that are a little more interactive than just sitting there and watching as you ride through include the Dumbo Flying Elephants and Aladdin's Magic Carpet Ride.
In fact, MOST of the attractions at Disney's Magic Kingdom, in particular, are baby friendly. In fact, many of the Disney rides that are safe for pregnant women are also safe for babies.
2. Bring a Stroller or Rent a Stroller
This may be an obvious tip but for new moms or Disney First-Timers, but a stroller is a must for babies at Disney. I know what you're probably thinking, "I can carry the baby all day long or use a baby carrier".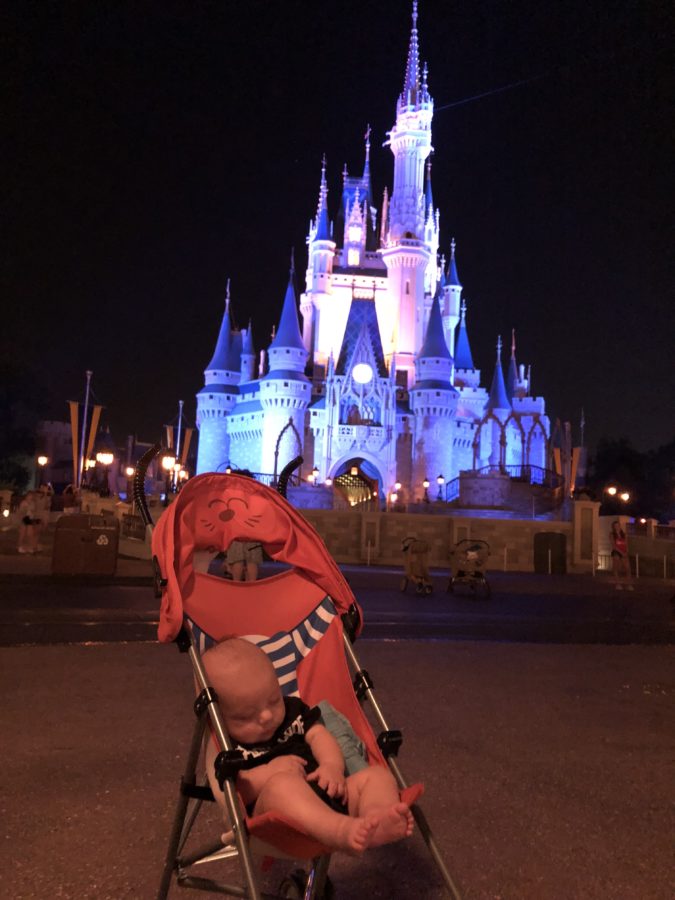 Trust me, you will get tired and you will be sorry if you don't either bring a stroller along or rent a stroller at the parks.
RELATED: Disney Packing List for Babies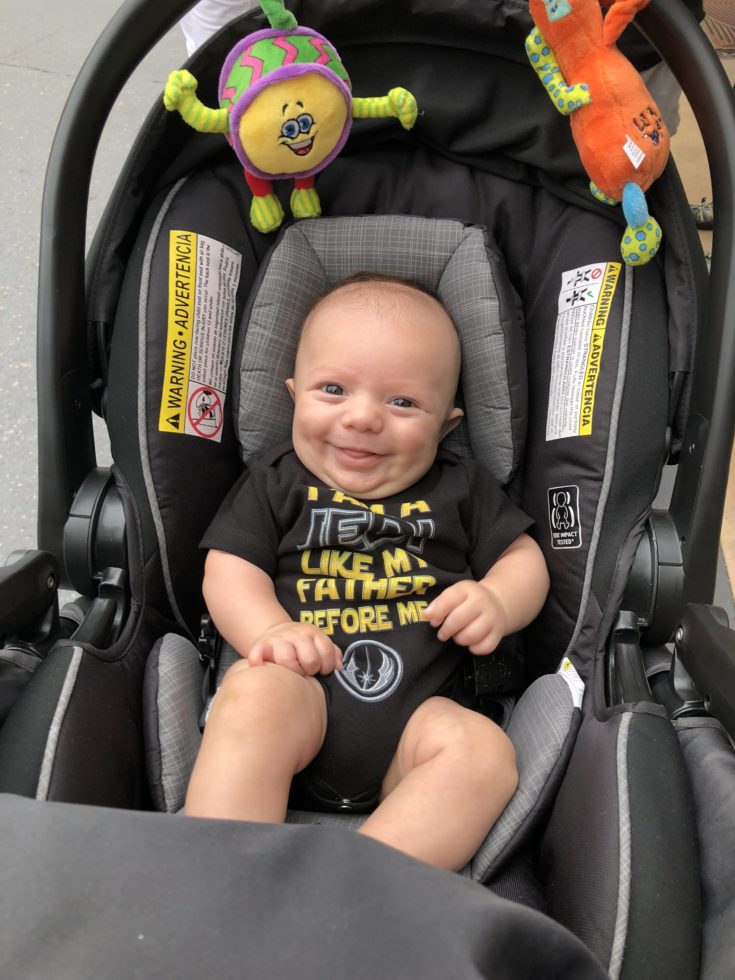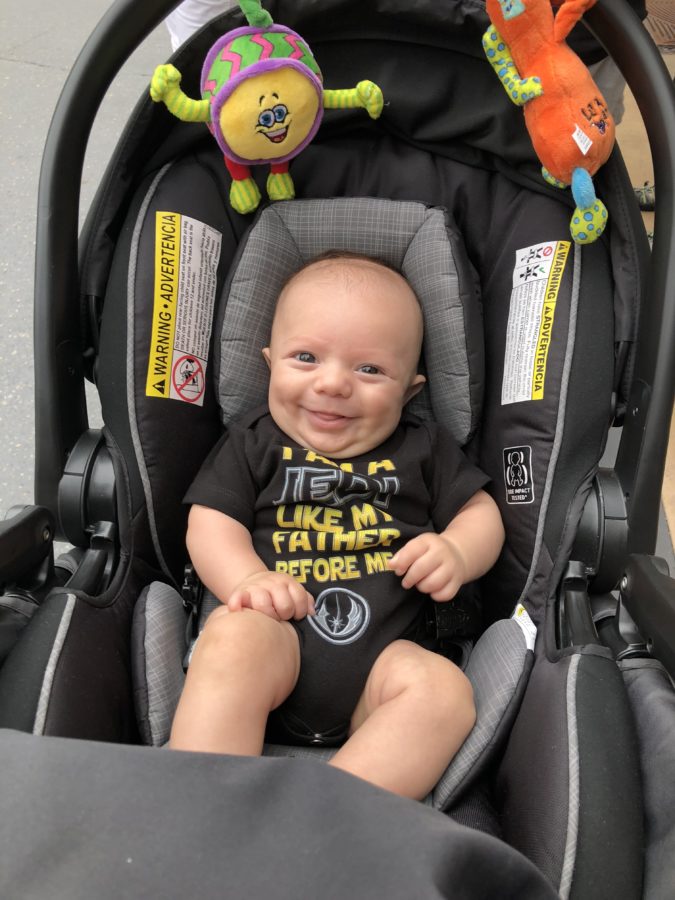 Another perk of bringing a stroller is that it can carry your bags while wandering around the parks. If you choose to bring your own stroller, keep in mind that you'll be parking it for the rides so it may be worth buying a small, cheaper stroller that you feel safe leaving.
3. Don't Force Character Interactions, but Take Advantage of Them, if Possible.
One of the most exciting things about being at Disney with an infant is taking character photos. These are fun to mark milestones and to recreate at a later time.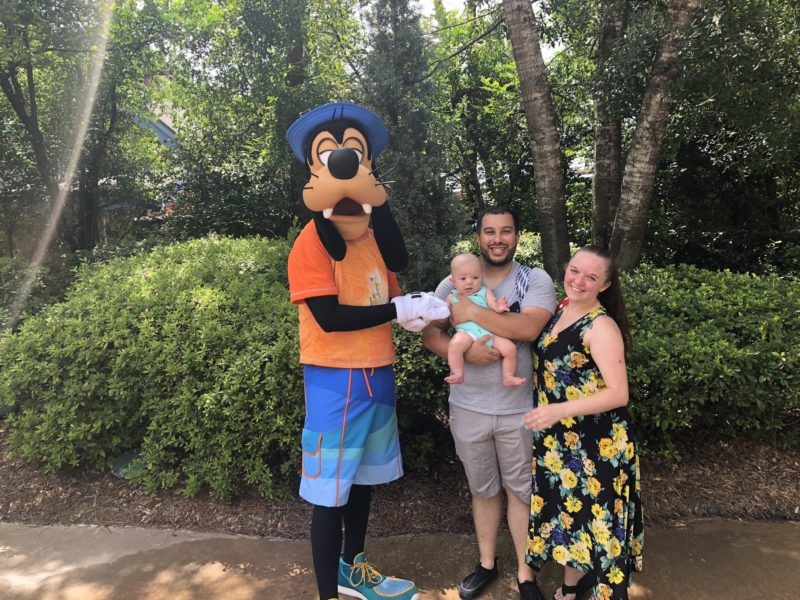 While meeting characters is always super exciting, be sure to keep in mind that these characters may be overstimulating for infants. Your baby feeds off of your energy, so the excitement combined with the strange, large character may feel scary for a little one.
If you are going to take advantage of character photo opps at Disney, be sure to keep them short and sweet. Don't force it and maybe even focus on the more human-like characters, such as the Disney Princesses.
4. Bring Snacks/Formula
If your little one is at an age where he or she can enjoy small snacks, be sure to pack those. You are allowed to bring outside food into Disney Parks and it will save you a ton of money throughout your visit! I typically bring crunchy baby snacks and a couple applesauce pouches.
Of course if you are breastfeeding that is something that you can do at any time! In Fact, you may have seen my breastfeeding photo at Hollywood Studios from our Star Wars Galactic Nights event! This was my son's first time at Disney – and he was a newborn. *Insert mom sobs here*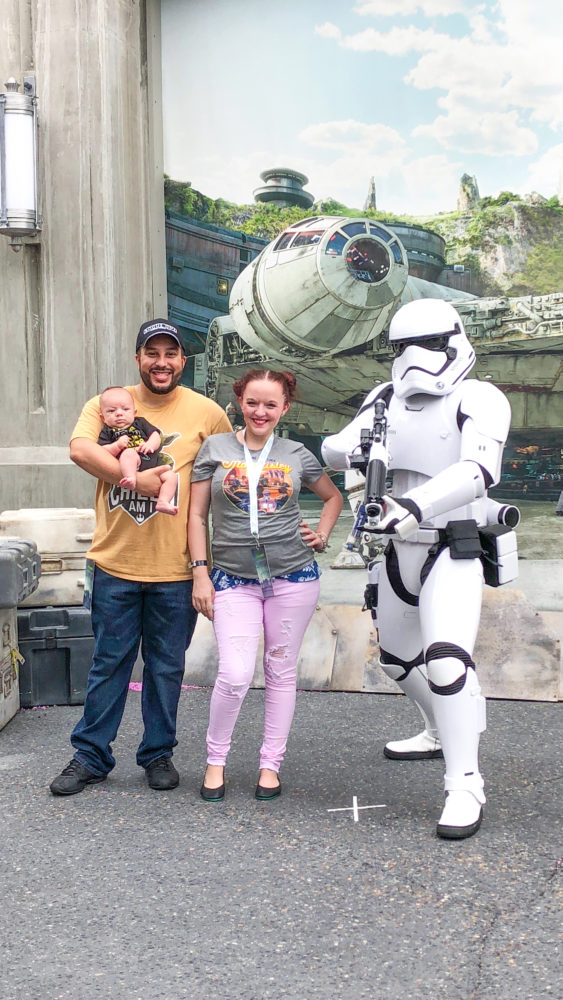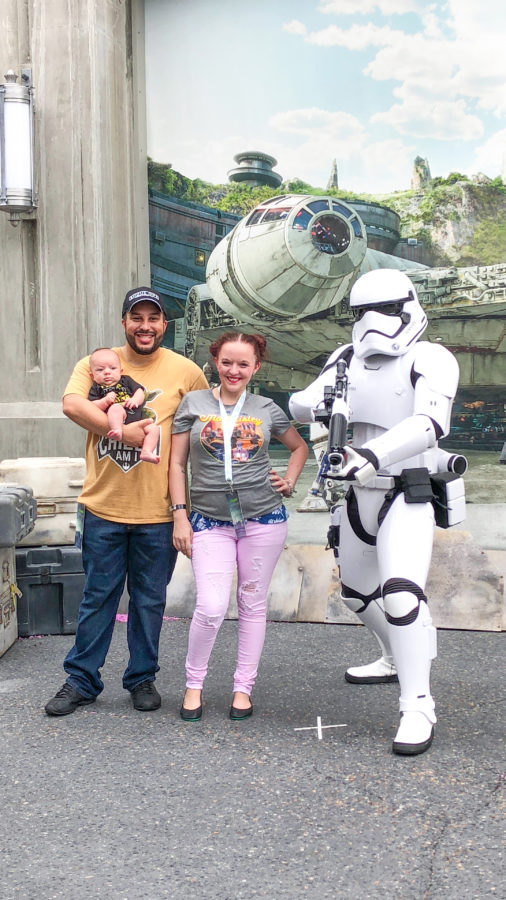 If you are formula feeding, I would certainly recommend bringing some along with you. Disney does sell formula in a gift shop but of course you will shell out money for that convenience.
5. Utilize Rider Switch
If you want to ride the bigger rides that are restricted by height/age such as Big Thunder Mountain, Space Mountain, or the Seven Dwarfs Mine Train you can utilize Rider Switch.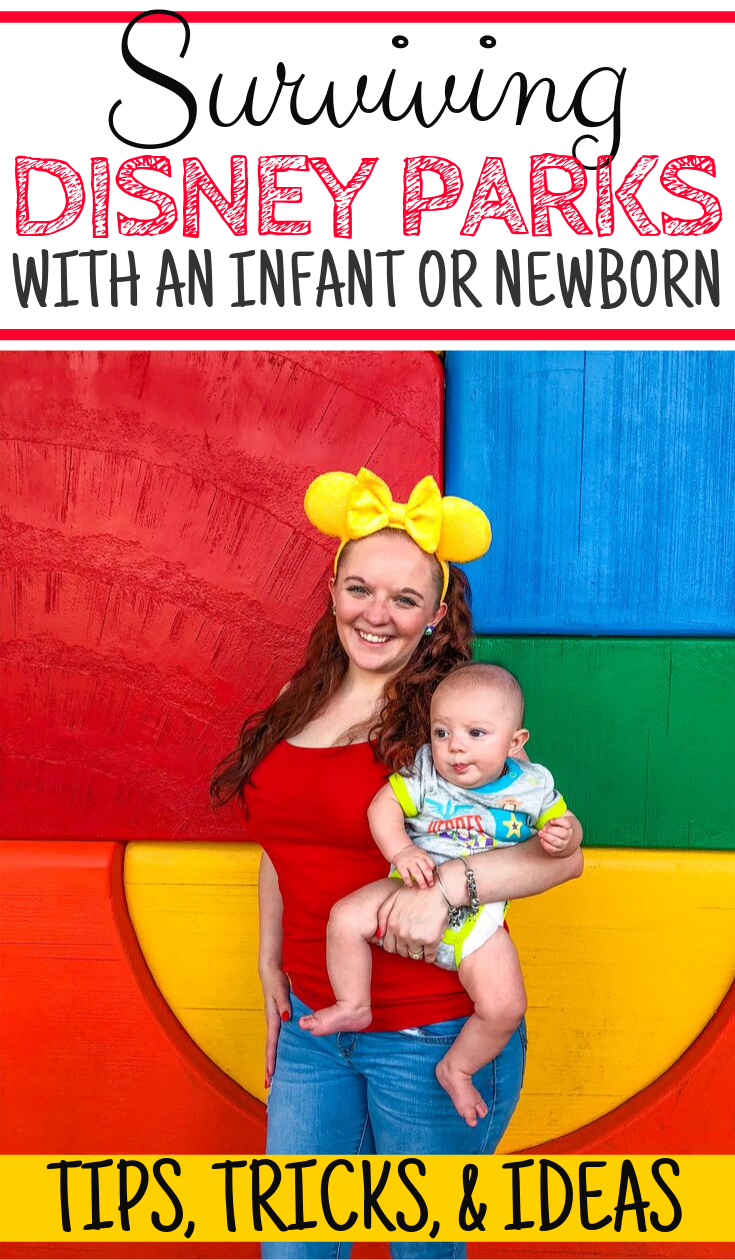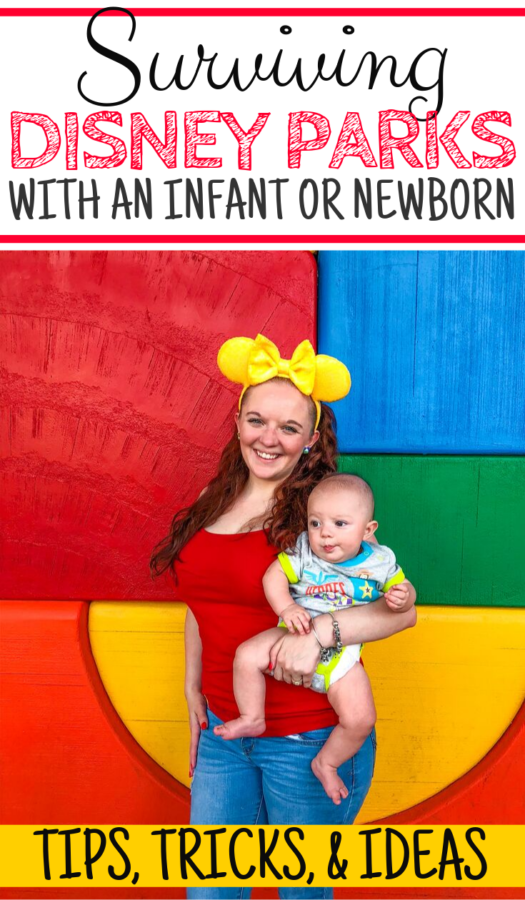 This service allows the whole family to wait in line and then take turns riding, while the other stays with the baby. This isn't exactly ideal for you to be able to ride together but it does give you both a chance to get in all the big attractions without leaving the rest of your party behind.
6. Bring Backup Clothes
You probably already know to carry backup clothes in case of a blowout for baby, but be sure to bring an extra shirt for the parents, too.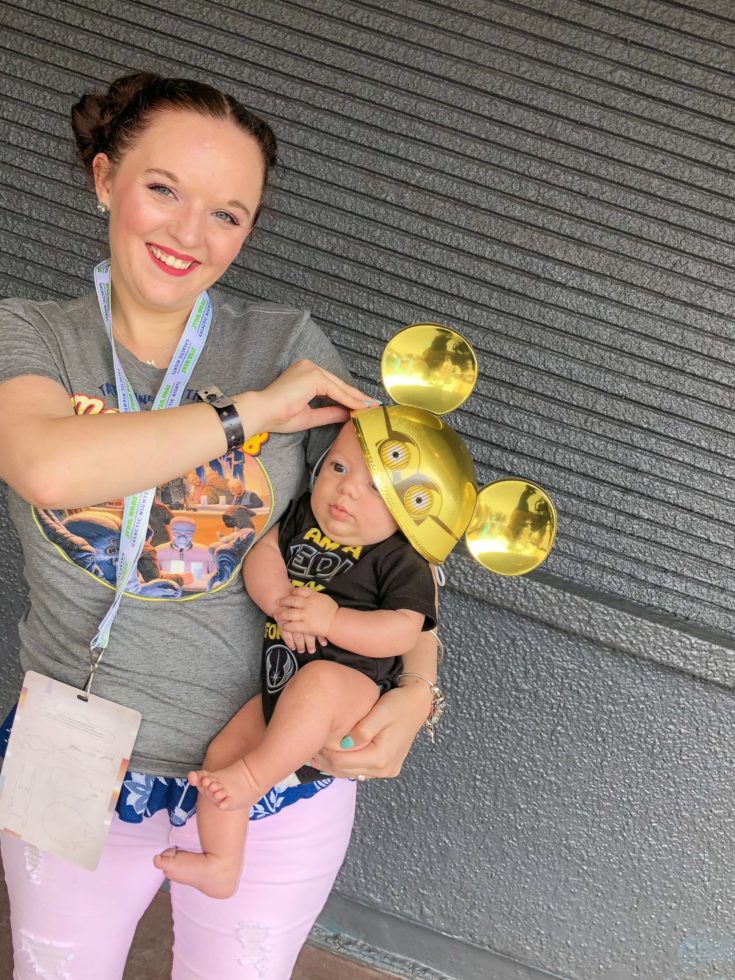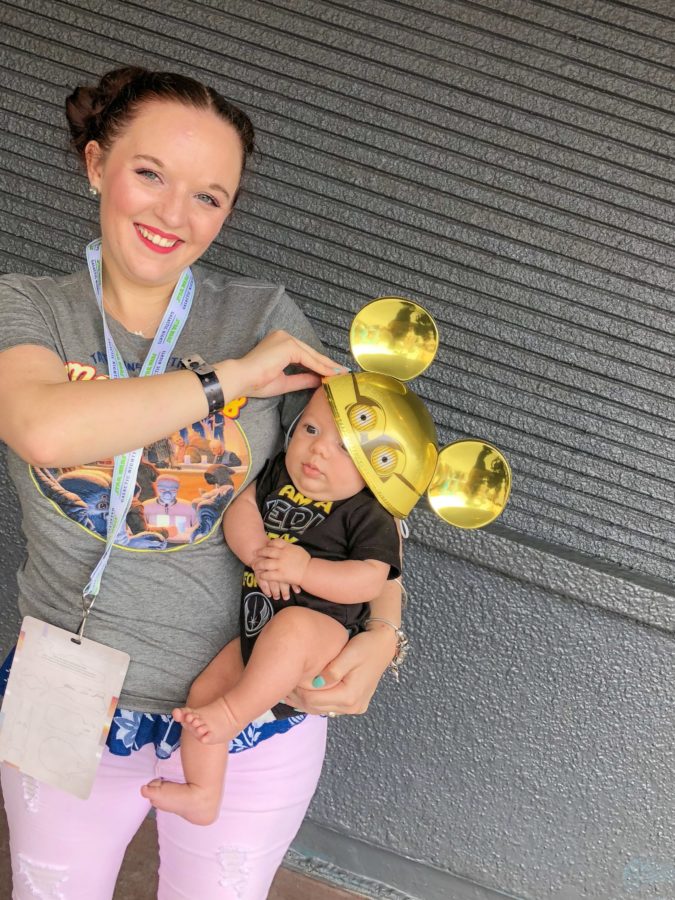 This is a safe way to plan for messy blowouts or puking on mom & dad!
7. Bring a Portable Fan
Do not visit Walt Disney World without bringing a portable fan for the baby. Even if it's cool, you may need that fan after you've been strolling around all day.
I personally recommend this stroller fan – it's super powerful and long-lasting!
RELATED: What To Pack For Baby's First Disney Trip
8. Poncho and/or Stroller Cover
Being prepared for a rain shower is never more important than is when you have an infant.
The last thing you want is for them to catch a cold! Take along a disposable poncho or a Stroller Cover. These have both been lifesavers on our past Disney trips!
9. Map out the Disney Baby Care Centers
One of the most impressive things about Disney Parks are the nursing rooms aka Baby Care Centers. These are in all of the Disney Parks, are free to use, and are the best!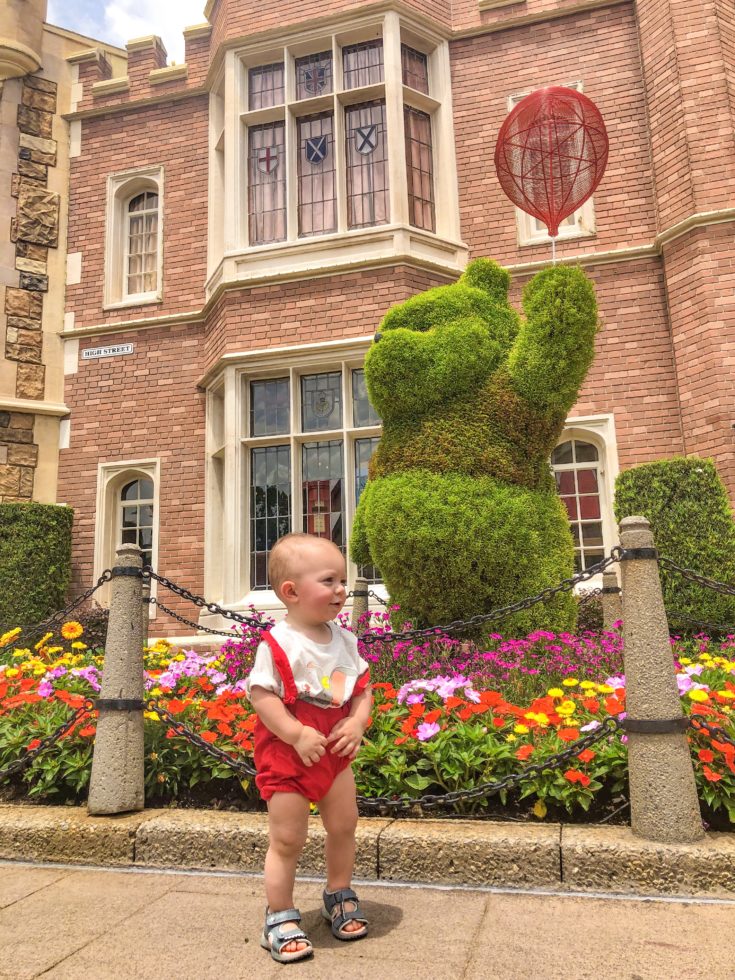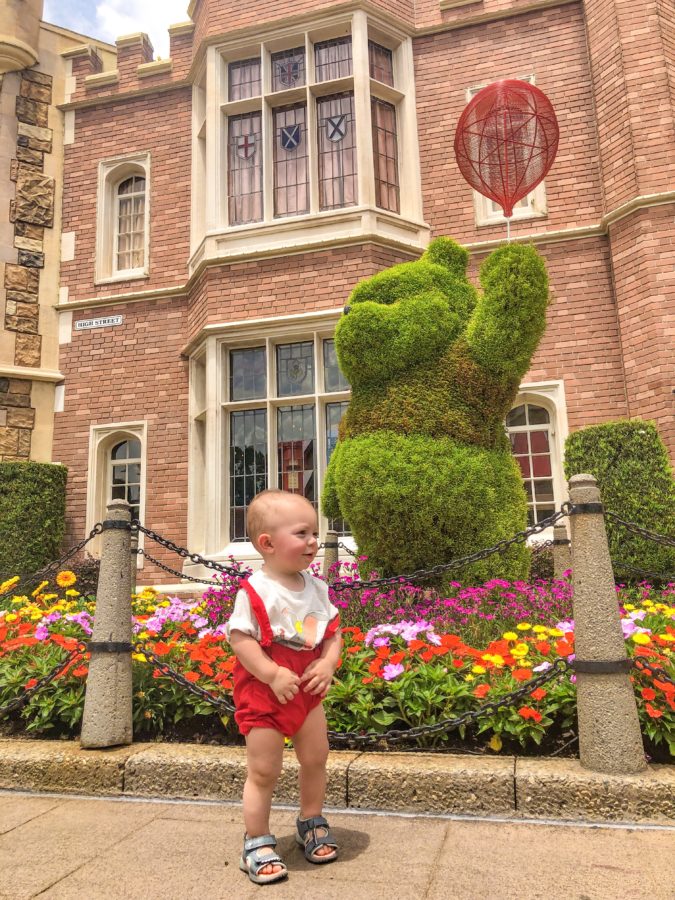 These rooms are very quiet, air conditioned, and have big comfy chairs. When my son is feeling overwhelmed, I take him to one of these rooms to relax in privacy. The rooms also have a microwave to heat up milk or food. Additionally, they have changing tables and plenty of seating.
From my personal experience, I can say that these rooms are typically very empty and always incredibly clean!
10. Invest in a comfortable backpack or Diaper Bag
My final tip for surviving Disney with an Infant, is to invest in a nice backpack or Diaper bag. The key for visiting Disney with newborns or infants is COMFORT for everyone – not just the baby.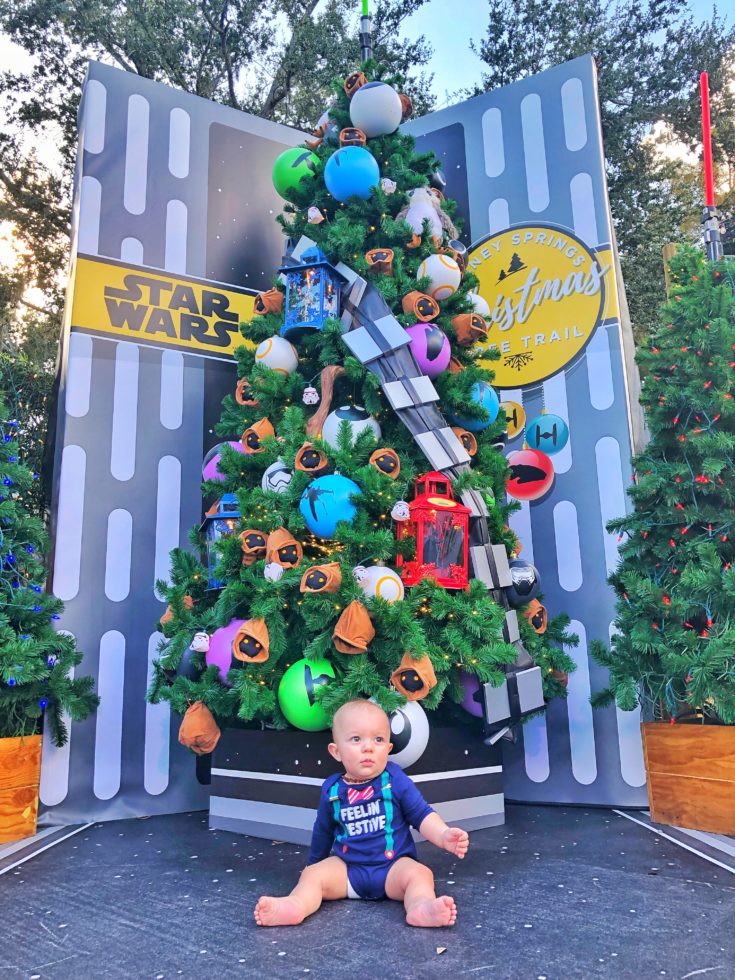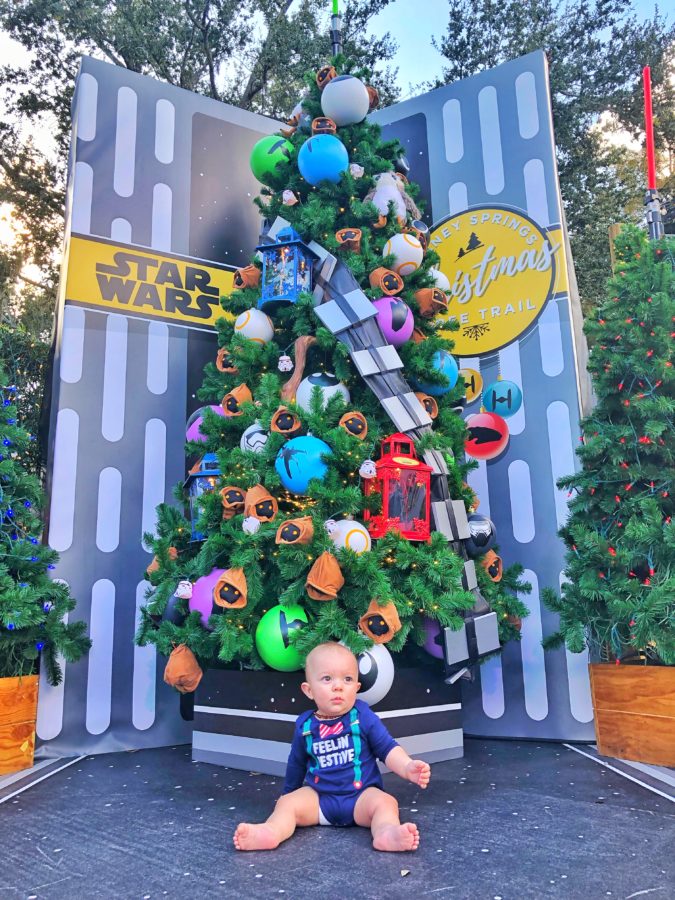 I recommend purchasing a JuJuBe B.F.F Convertible Diaper Bag. It's large enough to carry all of your things and comfortable enough to carry around all day. To add, it can be worn as a backpack or shoulder bag. Not to mention, these bags are pretty stylish!
RELATED: 30 Most-Used Items in Baby's First Year
These are just a few simple tips to ensure that you enjoy your time at Disney parks even with an infant.
I'm in no way saying bringing your baby along will cause you not to have a good time. However, I know from personal experience that visiting an amusement park with an infant can be a little stressful. The good news is that Disney Parks are built with all kids in mind – even babies, infants, and newborns!
These simple little things are easy to accomplish and will make ensure that you all have the BEST DAY EVER!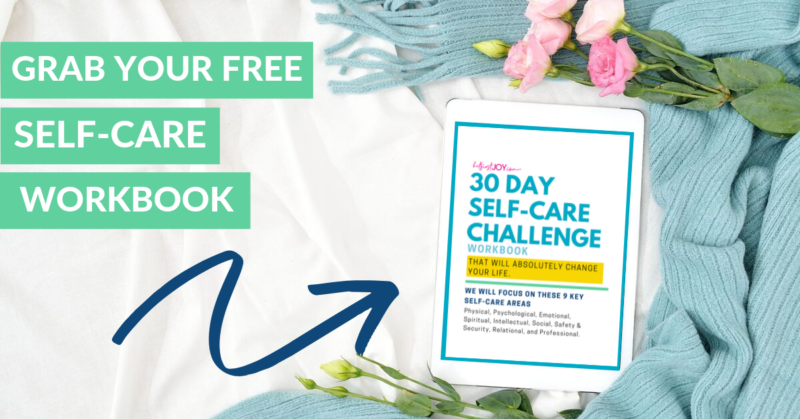 DISCLOSURE
As an Amazon Associate I earn from qualifying purchases. This post may contain affiliate links and/or promotional products, all opinions expressed are that of But First, Joy only. Read my full disclosure.