WARNING: This post discusses death and suicide. Please skip to "How to Safely Handle Grief While Pregnant" headline if you aren't comfortable with these topics. This post is about losing a loved one while pregnant.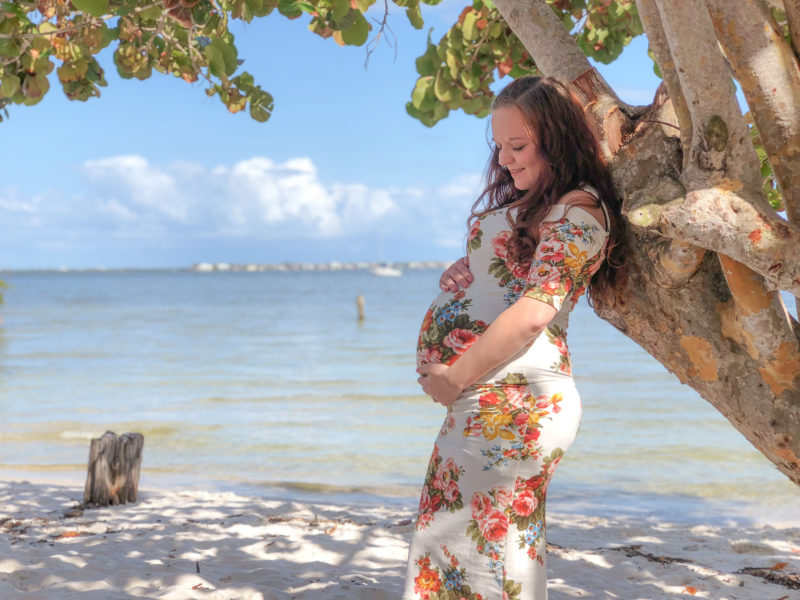 Pregnancy. It isn't joyful for everyone and it definitely isn't as glamorous as Hollywood portrays it to be. One thing every mother can agree on is that it's a magical thing. I'm still amazed that my body built and held a human being for 9+ months. When you're experiencing hormonal changes, feelings of fear & excitement, and extreme discomfort – the last thing you want to deal with is the loss of someone you love.
I was 5 months pregnant when I lost my sister to suicide.
It was a phone call I'd always feared but one that I never expected, especially a few months after the sudden loss of my uncle. I was home with my husband doing our normal routine when my grandmother called. I could immediately hear something different in her voice. She was speaking very softly and asked me to hand the phone to my husband. I was a little bit uneasy but thought maybe she was planning some sort of surprise for me. I watched my husband's face fall and heard his voice soften. He put his arm around me, asked me to sit down, and then handed the phone to me.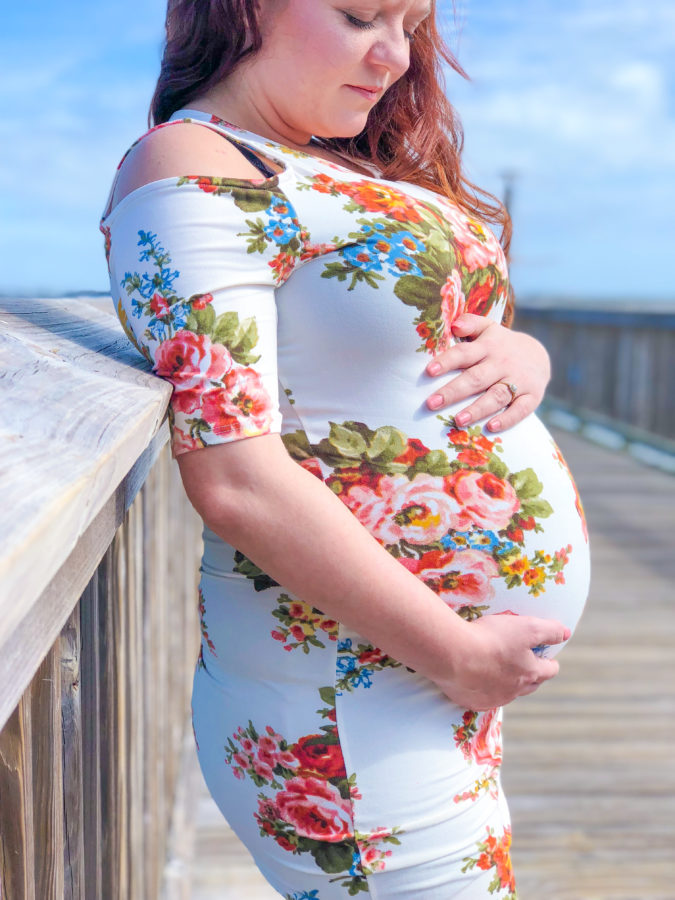 I instantly felt my stomach sink. A thousand things ran through my mind but never did I expect this.
"Stay calm when I tell you this because you have a baby to worry about… Your sister hung herself. She's on life support but isn't going to make it."
A thousand more thoughts clouded my mind. Questions. Concerns. Fear. Confusion. Our phone call ended as quickly as it began. I couldn't believe that my little sister was gone… before meeting her only niece or nephew… 2 weeks before my wedding. My heart was absolutely broken. My husband held me as I cried on his chest. That was one of the most difficult nights of my life.
Here's the truth: It's okay to grieve while pregnant.
Despite the intense grief & guilt that overwhelmed me, I somehow managed to remain extremely calm. I couldn't help but to wonder who this new person was that had taken over my body. I guess it was the motherly instinct kicking it. I made a conscious decision to focus on my mental health, to outwardly express my emotions, and to surround myself with a good support team.
How to Safely Handle Grief While Pregnant
Here I am 1.5 years later, thinking of my baby sister who I lost too soon. I am proud that I made it through her loss without completely losing myself. I now realize that, unfortunately, other pregnant women who are grieving while pregnant. So, I want to share my story and tips for anyone seeking some sort of help through this horrendous time.
1. Surround yourself with people who make you happy.
Losing someone you love while pregnant can really knock you down. You might feel hopeless and alone. This is why you need to surround yourself with friends and family who make you happy. These should people who you can be 100% YOU around and individuals who are selfless during tough times. Anyone who is nurturing, caring, makes you laugh, and accepts you for who you are – that's who I'm talking about.
2. Plan for the future.
Planning for the future will give you something to look forward to. This will remind you that as difficult as it may feel right now, you will learn to cope with the loss. The person you lost wouldn't want you to stop living because they are gone – so keep moving forward. Plan to tell that sweet little bundle of joy all about your loved one.
3. Create a legacy book about your loved one – for your baby.
This is such a fun way to remember your loved one. Take the time to create a book filled with memories, timelines, accomplishments, and photos of your lost loved one. A legacy book offers you the opportunity to handle your grief productively and will give your child a look at why you loved that person so much.
4. Join grief support groups.
Look for local grief support groups for women in your area. Join support groups on Facebook for women who are pregnant! Talking to other women who are going through the same thing as you, or have experienced it before, can be really beneficial to your emotional health. It will remind you that you aren't alone.
5. Meditation and/or prayer.
Please don't neglect your spiritual self. Meditate and/or pray as much as possible. Get in touch with your inner self. These calming practices are great for the baby and for your brain! You will teach yourself to turn to these safe practices when something traumatic happens in your life.
5. Write in a journal.
My blog is my journal but I also write in my phone's notes and in an actual paper journal. So, what should you write about? Anything in your mind. Make a list of the feelings you're experiencing. Make a list of how your lost loved one made you feel when they were in your life. Jot down the questions and thoughts you have. Write down all the memories you can think of. Journaling is a great way to heal and it's something you can show your child later on in life, should you choose to share.
6. Talk about the loved one you lost.
"Gone but never forgotten," is a phrase for a reason. Don't pretend this person didn't have a big impact on your life. Talk about them any chance you get. Your friends and family will love to hear your stories. One of the most detrimental things we, as humans, do when we lose someone is pretend like they never existed; this is because we are afraid to say their name. We're afraid of our emotional reaction to telling their story. Don't fear the emotions.
7. Tell your OBGYN.
Your OBGYN is basically your BFF during pregnancy. You can (and should) tell them all of your physically, mental, and emotional challenges. They are there to listen, solve, advise, and comfort you. Nothing is ever too off-the-wall for them and grief is a great topic to discuss with them. Your doctor should be able to give you safe ways of coping with grief while pregnant and recommend support groups and therapists!
8. Do the things you love.
It may feel like your whole world has stopped spinning but it hasn't. Don't stop doing the things you love. Your baby deserves that from you and you deserve that!
9. Focus on your health.
Your health is the first thing to be neglected after the death of a loved one. When you're pregnant, every thing you neglect is also affecting your baby. Channel your negative feelings into productive tasks: take long walks, do pregnancy exercises, eat good things, and use positive affirmations to keep yourself in the right headspace.
10. Allow Yourself To Grieve
Here's the truth: It's okay to grieve while pregnant. It's not okay to hold it all in, expecting the pain to go away after pregnancy. Handle your emotions now. Drop to your knees and cry about it. Tell stories about your loved one. Sift through old photos. Listen to their voicemail. Stare at their Facebook. Just don't pretend it didn't happen because that will eventually send you into a downward spiral.
If you or anyone you know is suffering from depression during or after pregnancy – please visit Postpartumstress.com for information and support.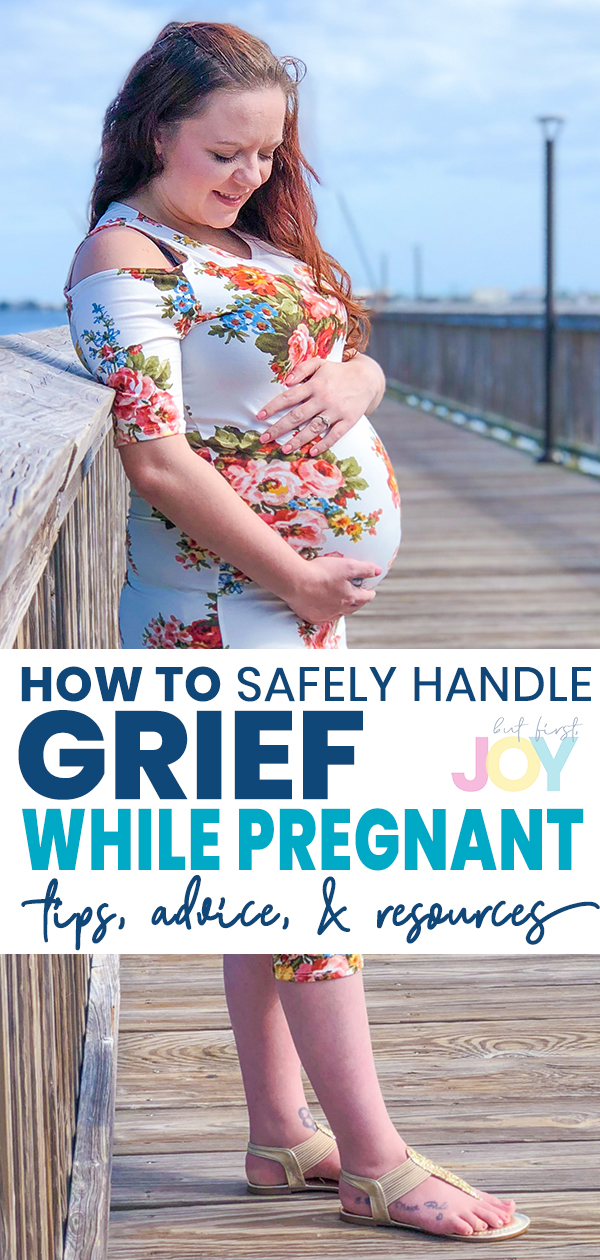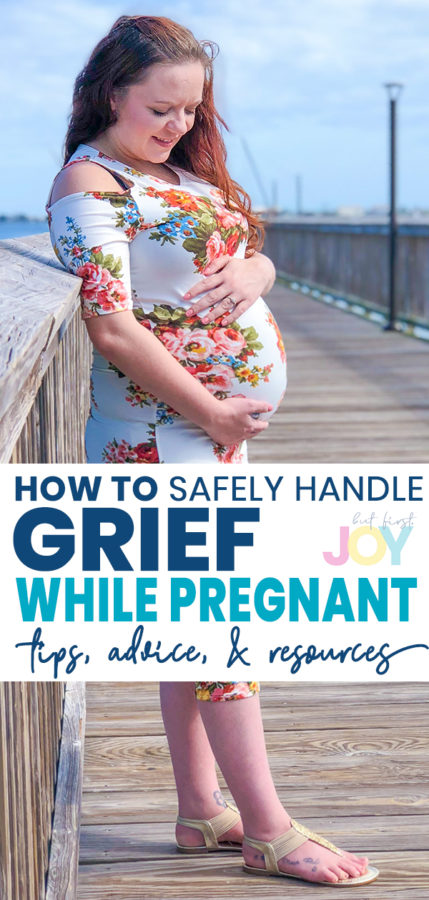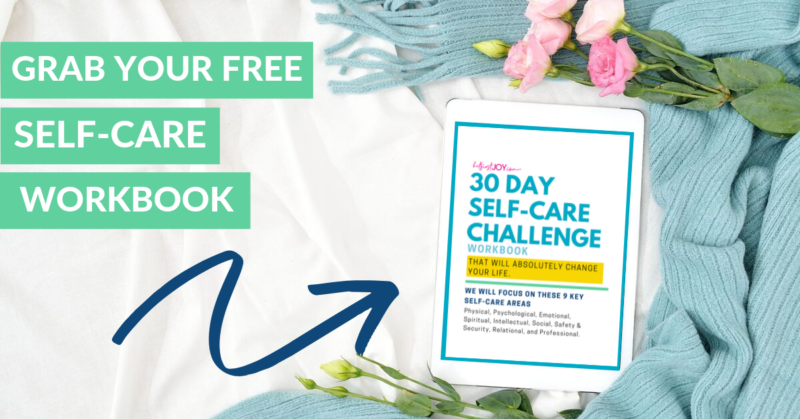 DISCLOSURE
As an Amazon Associate I earn from qualifying purchases. This post may contain affiliate links and/or promotional products, all opinions expressed are that of But First, Joy only. Read my full disclosure.