Are you looking for a low-carb breakfast casserole to start your day? Try this mouthwatering Keto Breakfast Casserole: Bacon, Broccoli, Cheddar Recipe!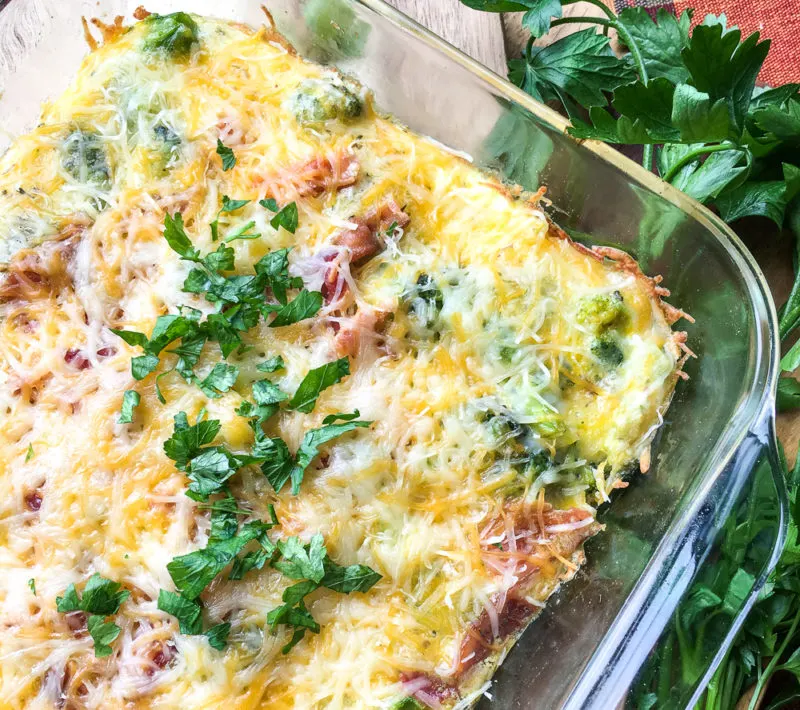 You know what I love about breakfast? It's the easiest meal of the day to stick to the Keto Diet! Full of protein and vegetables, you can easily maintain your low-carb diet at breakfast time.
This recipe is nutritious enough for parents to be happy and delicious enough for kids to ask for seconds
In particular, this Keto Bacon Cheddar Breakfast Casserole is something that can be quickly thrown together. However, your family or guests will think you spent a lot of time on it.
RELATED: Keto Taco Salad Recipe: Low-Carb and Easy
So, grab all your ingredients, which your probably already have at home, at preheat that oven. Let's get the most important meal of the day started!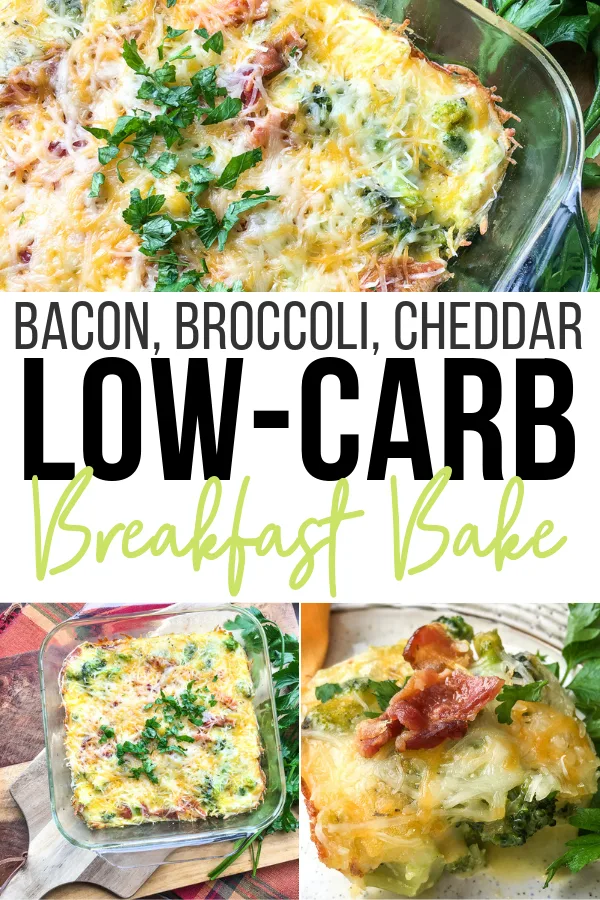 Keto Breakfast Casserole with Bacon, Broccoli, and Cheddar
There are many reasons you'll love this breakfast recipe for the Keto diet:
Recipe Variations:
While this recipe calls for traditional breakfast ingredients, you can always switch it up to make it unique! Maybe you want to add your favorite veggies or cheese. This is a very versatile recipe. Here are some ideas:
Use Turkey bacon or Canadian bacon.
Add veggies: spinach, onions, tomatoes, and mushrooms pair well with eggs!
Whip up some Keto biscuits to enjoy on the side!
What does a perfect low-carb Breakfast Casserole need?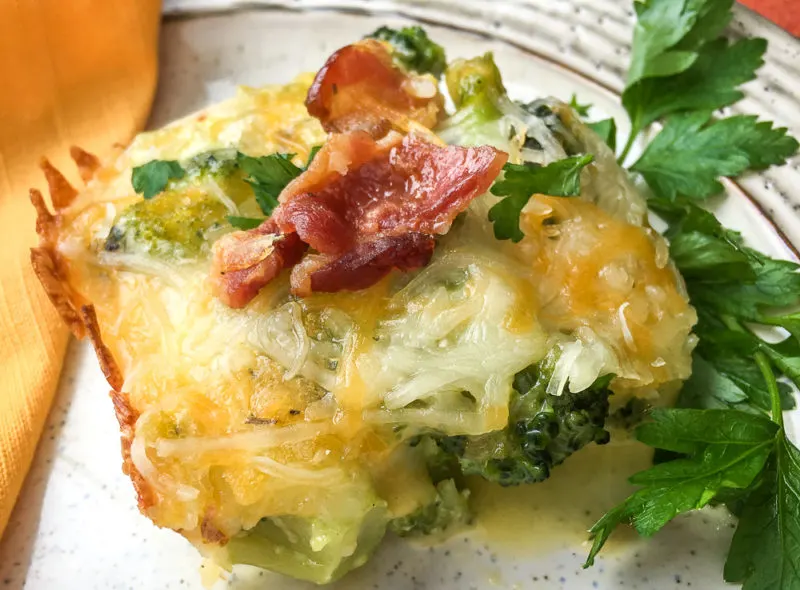 Make Ahead Keto Breakfast Casserole
If you're wondering, can this breakfast casserole be made ahead? The answer is YES!
You can fully cook this casserole ahead of time then throw it in the oven for a few minute to reheat. Also, the microwave is a perfectly acceptable way to reheat the casserole plate-by-plate.
RELATED: 30 Keto Meals in Under 30 Minutes
How to store leftovers
To add, this yummy make-ahead keto breakfast can be refrigerator and reheated within 24 hours or can be frozen!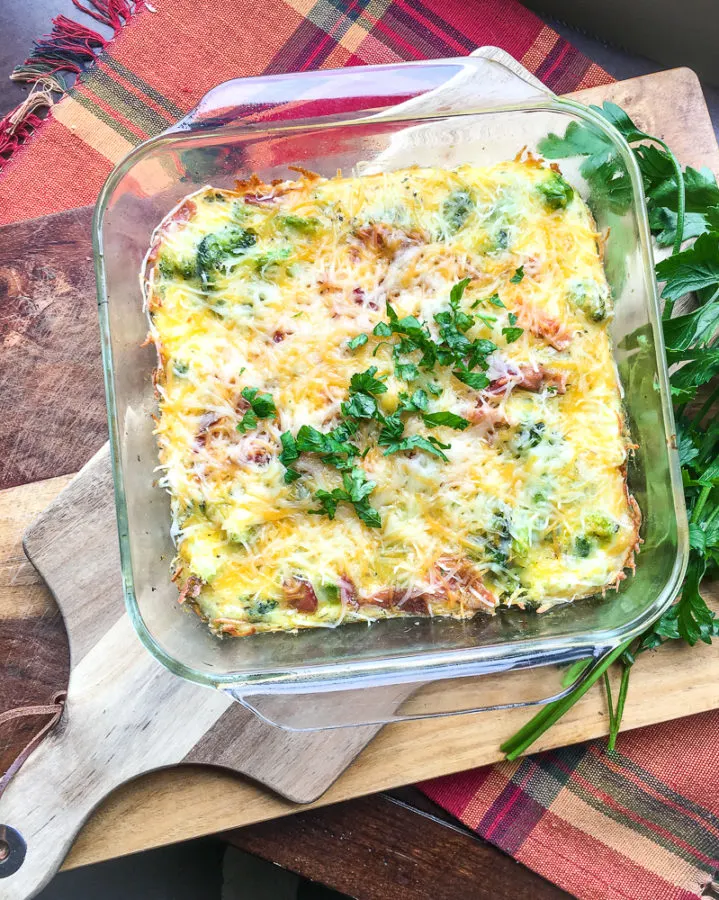 How to Make This Keto Breakfast Casserole
The prep time is only 10 minutes for this delicious recipe. Then, you will cook it for 17 to 23 minutes! Finally, you'll have a recipe nutritious enough for parents to be happy and delicious enough for kids to ask for seconds!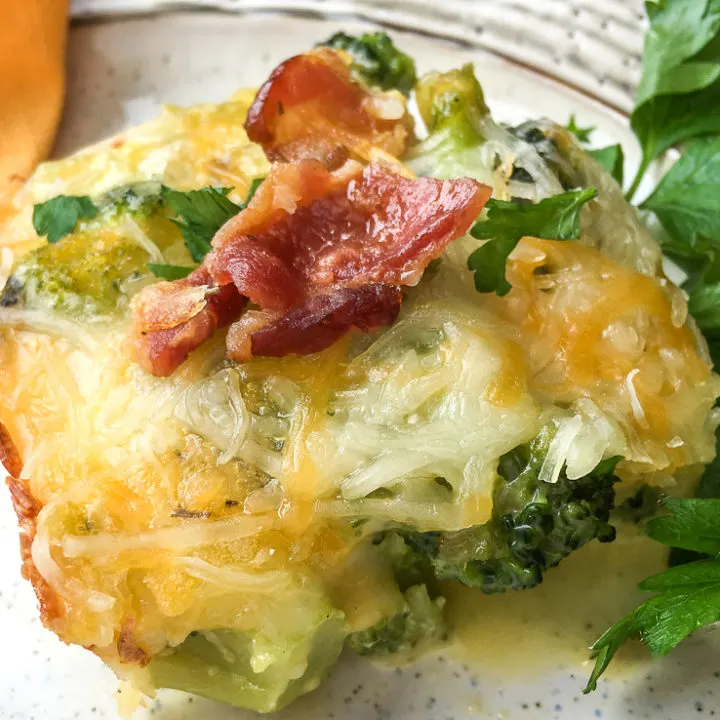 Broccoli Bacon Keto Breakfast Casserole Recipe
You'll love this Keto breakfast bake. In fact, it doesn't even feel like you're eating healthy when devouring this flavorful casserole. You can even freeze it to reheat later.
Ingredients
Non-stick cooking spray
2 T. extra virgin olive oil
3 c. broccoli florets
3 T. water
1 c. sharp cheddar or Colby Jack cheese, shredded
6 slices thick-cut bacon, cooked and crumbled
4 large eggs
½ c. heavy cream
½ t. onion powder
½ t. garlic powder
¼ t. dried thyme
½ t. dried oregano
Sea salt and black pepper, to taste
Fresh parsley, for garnish
Instructions
Pre-heat oven to 350°F and spray an 8" x 8" casserole dish with non-stick cooking spray. Set aside.
Heat the olive oil in a large non-stick sauté pan over medium heat. Add the broccoli and water and cook for 2-3 minutes, or just until the broccoli softens slightly and turns bright green.
Remove from heat and transfer broccoli to prepared casserole dish and spread into a uniform layer. Top with shredded cheese and crumbled bacon and side aside.
Whisk the eggs with the heavy cream, onion powder, garlic powder, thyme, and oregano. Season with salt and black pepper, as desired. Pour the egg mixture over the broccoli, cheddar, and bacon and bake for 15-20 minutes, or until the casserole is set and lightly golden brown on top.
Remove from oven and let cool for 10 minutes before slicing. Sprinkle with fresh parsley and serve immediately. Enjoy!
Notes
Try different variations of this recipe by switching out the vegetables or meat!
Nutrition Information:
Yield:

6
Serving Size:

1
Amount Per Serving:
Calories:

414
Total Fat:

34g
Saturated Fat:

16g
Trans Fat:

1g
Unsaturated Fat:

15g
Cholesterol:

200mg
Sodium:

609mg
Carbohydrates:

8g
Fiber:

3g
Sugar:

2g
Protein:

21g