Every movie fans is beaming after the release of the complete list of upcoming live-action Disney and Marvel movies. At the 2017 D23 Expo, Disney announced the live-action remake of favorites like Dumbo and Aladdin, along with a few excited new Disney and Marvel movies. Here's your complete guide with release dates, trailers, and everything else that was announced at the 2017 D23 Expo!
My 2017 Marvel/Live-Action Disney Movie Panel Experience
I previously mentioned how this was my very first time attending the D23 Expo. After the Pixar panel and this live-action Disney panel, I can tell you that it definitely wont be my last! There wasn't a dull moment. From start to finish, Disney and Marvel just rolled out good news about their upcoming films. Every single fan, even members of the press like myself, screamed with joy, excitement and surprise.
Just as with the Pixar panel, the lights dimmed as a montage of live-action Disney movies and Marvel movies flashed across the large screens in the Expo hall. Thousands of fans cheered with joy as movies, such as Black Panther and Star Wars, flickered right before our very eyes. We were all overcome with joy, just knowing that any moment, the lights would rise and the panel would begin. After attending the Pixar panel the day before, I kinda had an idea of what to expect. However, I thought that nothing would top that huge "princess moment" but I was wrong… and you'll see why soon.
Finally, Walt Disney Studios Chairman, Alan Horn walked onto the stage with a huge, welcoming smile on his face. I'd imagine he was just as excited to let the cat out of the bag, as we were to catch it.
After welcoming the crowd to D23 Expo 2017, Horn introduced Sean Bailey, President of Walt Disney Studios Motion Picture Production, to present overviews of the Disney live-action slate. Later Horn returned to the stage to introduce writer/director Rian Johnson for a look at Lucasfilm's upcoming film and ended by introducing Kevin Feige, President of Marvel Studios, for a rousing presentation to close the event.
Upcoming Live-Action Disney Movies
1. A Wrinkle In Time – In Theaters 3/9/18 (First-Look & Special Guest Appearances)
I may have
read A Wrinkle In Time
as a kid, but I don't remember it much. With the said, I didn't know what to expect when details started to emerge about that making of the movie. All I knew was that I was thrilled about the cast. It isn't a secret anymore that Oprah Winfrey and Reese Witherspoon are two of the main stars, along with others. After seeing Oprah the day before, I had a sneaking suspicion that she'd pop up at this panel. My thrill was still there, when the legend walked onto the stage. And even more so when she said her iconic phrase (and meant it): "You get a poster! You get a poster! Everybody gets a poster!"
We were also surprised with the entire lineup of A Wrinkle In Time stars, as Oprah was joined by none other than Reese Witherspoon, Mindy Kaling and Chris Pine along with newcomer Storm Reid and visionary director Ava DuVernay. This female lead cast is exact what a gal like me needs! Plus, a female director with a passion like Ava's is the most beautiful and empowering thing I've ever seen.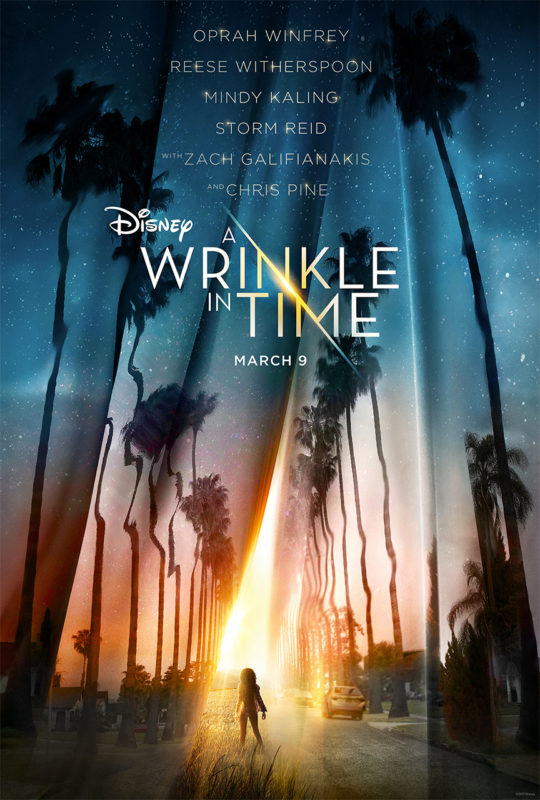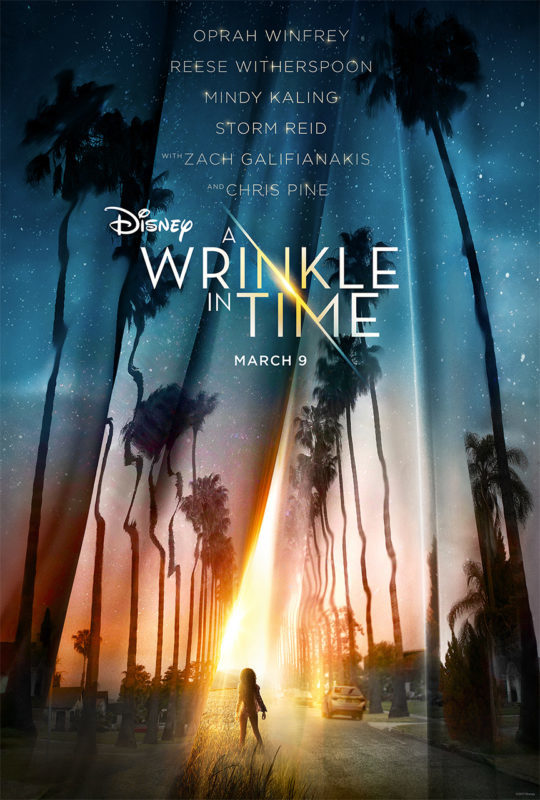 Meg Murry (Storm Reid) is a typical middle school student struggling with issues of self-worth who is desperate to fit in. As the daughter of two world-renowned physicists, she is intelligent and uniquely gifted, as is Meg's younger brother Charles Wallace (Deric McCabe), but she has yet to realize it for herself. Making matters even worse is the baffling disappearance of Mr. Murry (Chris Pine), which torments Meg and has left her mother (Gugu Mbatha-Raw) heartbroken. Charles Wallace introduces Meg and her fellow classmate Calvin (Levi Miller) to three celestial guides—Mrs. Which (Oprah Winfrey), Mrs. Whatsit (Reese Witherspoon) and Mrs. Who (Mindy Kaling)—who have journeyed to Earth to help search for their father, and together they set off on their formidable quest. Traveling via a wrinkling of time and space known as tessering, they are soon transported to worlds beyond their imagination where they must confront a powerful evil. To make it back home to Earth, Meg must look deep within herself and embrace her flaws to harness the strength necessary to defeat the darkness closing in on them.
2. The Nutcracker and the Four Realms – In Theaters 11/2/18 (First-Look and Special Performance)
I've never really heard the story of The Nutcracker and The Four Realms, but apparently Disney is introducing a new take on this story. Either way, it screams holidays, mystery, and it's quite bone-chilling. There's something about the first-look we saw at the 2017 D23 Expo that had my arms full of goosebumps and my body full of the tingles. I'm not sure if this is intended to be as chilling as it is, but that's the feeling I got as I watched the dreary sneak peek flash across the Expo's large screens.
Sean Bailey made an appearance to introduce the film to us. I was super excited hear about the cast. Wow, the cast is impressive, to say the least! I am the most excited about Keira Knightley and Morgan Freeman. Both are legends. I can't wait to hear Morgan Freeman's prominent voice and to see Keira's quirky ways. She's a beautiful mystery all on her own and I'm sure she'll blow us the away as the Sugar Plum Fairy.
Then, the talented Lil Buck hit the stage to demonstrate the kind of street dancing—called jookin—that informed the way his character moves in the film. This was definitely a highlight of the day. He movements were like fluid. I was in awe of every movie he made and it really added some emotion to the quick sneak peek we watched!
"The Mouse King is made up of thousands of mice—a cutting-edge CG creation. But we wanted him to move in a way that would be wonderfully surprising and incredibly cool, so we called on Lil Buck to provide the style of dance that defines the character. He is so talented and the way he makes this character move is unbelievable." – Bailey
The film largely takes place in a strange and mysterious parallel world—home to Land of Snowflakes, Land of Flowers and Land of Sweets. But it's the ominous Fourth Realm where Clara must take on a tyrant called Mother Ginger as well as a gang of mice who've stolen a coveted key from Clara.
Starring Keira Knightley as the Sugar Plum Fairy, newcomer Mackenzie Foy as Clara, Helen Mirren as Mother Ginger, Morgan Freeman as godfather Drosselmeyer, and featuring a special performance by Misty Copeland, the movie is inspired by E.T.A. Hoffmann's classic tale. THE NUTCRACKER AND THE FOUR REALMS is directed by Lasse Hallström and produced by Mark Gordon and Larry Franco.  
3. Mary Poppins Returns – In Theaters 12/25/18 (First-Look, Special Appearances, and Performance)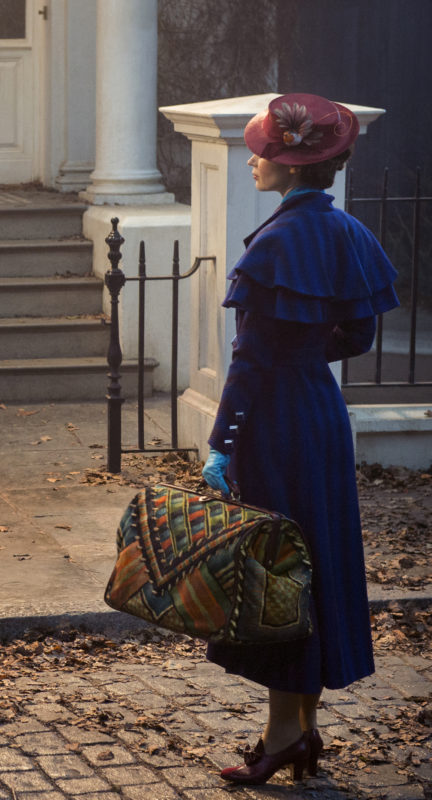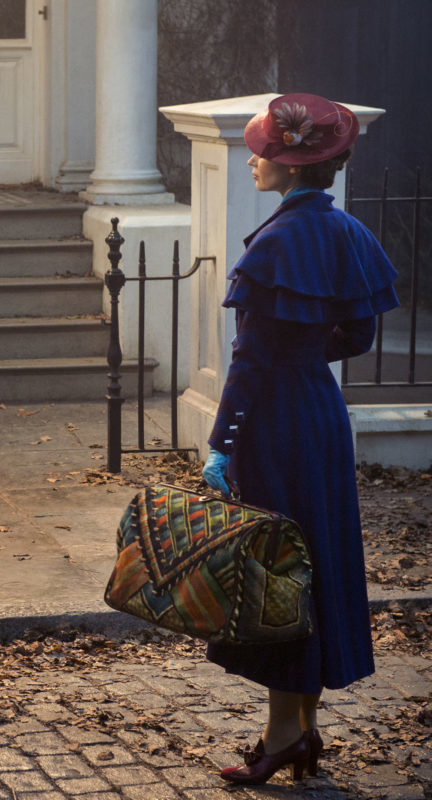 This is what we've all been waiting for! I have been dying to hear all about Mary Poppins Returns long before it was officially announced. I have so much faith in this film that I'm counting down the days. I must say, I'm thrilled that this is coming out on Christmas Day because it will be a perfect gift to myself, from myself. I mean, how fun would it be to watch Mary Poppins Christmas morning and to head to the theater Christmas night? It may not be traditional but it's well worth it.
The biggest question is, "Will Emily Blunt do Mary Poppins justice?". Absolutely! We watched a small clip of the new Mary Poppins and frankly, I was in awe. I think the entire audience was because she sure made the entire crowd roar. Especially when she entered 2017 D23 Expo the stage, with her flawless beauty, just like the Poppins we all know and love.
The biggest takeaway from this portion of the panel, was when Emily and Director/Producer Rob Marshall told us that none other than Dick Van Dyke said "being on set felt exactly the same way as it did on the first film." What an honor that must have been to hear. Please don't assume that Blunt walked in with complete confidence. She honors the original:
I needed to try to pay homage to Julie Andrews, but carve out a new space for myself. We were very loyal to the books.
Rob Marshall chimed in with this lovely statement
"I was incredibly honored to be approached by Disney about directing a sequel. This is a brand-new original film musical from top to bottom, which is very rare, and it is a wonderful opportunity to create something specifically for the screen."
That portion of the panel ended with an incredible live orchestra performing original new music from the film conducted by composer Marc Shaiman.
In this original musical sequel to the 1964 "Mary Poppins," Mary and her friend Jack, an optimistic street lamplighter played by Lin-Manuel Miranda, embark on entirely new adventures with the next generation of the Banks family to help them find the joy and wonder missing in their lives.
4. Dumbo – In Theaters 3/29/19
Unfortunately, Tim Burton, Dumbo's Director didn't greet us on stage at the 2017 D23 Expo, but he did send a video message for all of us!
"Dumb' was always one of my favorite Disney films. We're trying to give it the same heart, feeling and emotion that we all loved about the original."
I can't wait to see what kind of fantastical film Tim Burton releases, but I can already tell you that it will be award-winning but Tim Burton is a genius! The cast is out of this world, with Colin Farrell, Michael Keaton, Danny DeVito and more!
We didn't necessarily get a sneak peek of the film, but we did get a fun look at 'Dumbo' as they revealed some of the concept art. This is another film that I'm dying to hear more about. I'll keep you updated!
The film stars Colin Farrell as Holt Farrier, a former circus star and war-veteran charged with the care of a newborn elephant whose oversized ears make him a laughingstock of an already struggling circus. Nico Parker and Finley Hobbins were cast as Holt's children, who discover that Dumbo can fly. Danny DeVito portrays circus owner Max Medici who tries to capitalize on the novelty. And Michael Keaton is persuasive entrepreneur V.A. Vandevere who swoops in with aerial artist Colette Marchant, portrayed by Eva Green, to make Dumbo a star. Katterli Frauenfelder, Derek Frey, Ehren Kruger and Justin Springer are producing from a screenplay by Kruger. Filmed entirely in England, DUMBO is utilizing state-of-the-art visual effects to portray the big-eared elephant and many of his animal counterparts.
5. The Lion King – In Theaters 7/19/19 (First Look, Special Appearance, and Performance)
Ahh! The Lion King is coming back and it's going to be a live-action retelling of the Disney movie that we grew up with. I'd say that The Lion King makes me more nostalgic than any other Disney movie. This is in my top 3 Disney movies, along with Beauty and The Beast and The Jungle Book. I was concerned with the live-action remake, until I found out that Jon Favreau, director of the Live-Action The Jungle Book, would be directing this film. The Jungle Book was perfection in every way possible, so I know The Lion King will be just as, if not more successful.
I was giddy when he walked onto the stage to tell us about the honor and joy he felt to be director Disney's most iconic film! While he's played som every arrogant roles, Jon Favreau is one of the most humble men you'll ever meet. Dare I say that he's a jack of all trades?
Oh, and we got a first-look at The Lion King, which made the crowd go crazier than Star Wars and Marvel combined! That's really saying something. I can't express the overwhelming emotion I felt as I watch that very short clip. I felt so much joy, nostalgia, and yes – all the feels! I can tell you that you're going to be mind-blown when this clip is released!
We also had the pleasure of seeing a quick performance of Broadway's The Lion King. Which happens to be my all-time favorite Broadway show.
Alan Horn joined Sean Bailey to surprise the D23 Expo crowd with a special look at director Jon Favreau's new live-action take on Disney's 1994 classic animated film THE LION KING. The technology team behind the movie are introducing all-new filmmaking techniques that promise striking visuals never before seen on the big screen—bringing celebrated characters to life in a whole new way.
This was the final BIG announcement for upcoming live-action Disney movies. Scroll to the bottom to see a few of the quick announcements!
Upcoming Marvel Movies
1. Avengers: Infinity War – In theaters 5/4/18 (First-Look and HUGE Special Appearances)
Holy finale. I was already thrilled beyond belief to see Kevin Feige hit the stage. I'd just interviewed him for Guardians of the Galaxy 2 and it was incredible to pick his brain. His energy was amped up 10 times more for the 2017 D23 Expo! You could tell he was super excited to finale talk about the highly anticipate upcoming Marvel Movie, Avengers: Infinity War! He began be unveiling the official 10th anniversary logo to Marvel fans!
In celebration of the anniversary, fans can expect exclusive consumer products and collectibles, along with in-theater events and much more in the coming months.
Then, in a surprise for all that brought the house down, talent from the film made a grand entrance, including Robert Downey Jr., Chris Hemsworth, Mark Ruffalo, Anthony Mackie, Elizabeth Olsen, Paul Bettany, Benedict Cumberbatch, Tom Holland, Chadwick Boseman, Josh Brolin, Don Cheadle, Sebastian Stan, Dave Bautista, Karen Gillan and Pom Klementieff. To top it all off, the thrilled fans got an exclusive early look at footage from the movie, introduced by Joe Russo, one of the directors.
Seriously, we all lost our breath. Things like this don't happen in real life, do they?
An unprecedented cinematic journey ten years in the making and spanning the entire Marvel Cinematic Universe, Marvel Studios'AVENGERS: INFINITY WAR brings to the screen the ultimate, deadliest showdown of all time. The Avengers and their Super Hero allies must be willing to sacrifice all in an attempt to defeat the powerful Thanos before his blitz of devastation and ruin puts an end to the universe. 
Upcoming Star Wars Movies
1. Star Wars: The Last Jedi – In Theaters 12/15/17 (Sneak Peek and Special Appearances)
Holy panel of surprises! Obviously we were all shaking when the Star Wars panel started. This is the moment we'd all been waiting for. Of course, Disney keeps things top secret when it comes to Star Wars, but we did get the BEST guest appearances!
Alan Horn welcomed Rian Johnson, the writer and director of the latest chapter in the Skywalker saga, STAR WARS: THE LAST JEDI. Johnson thrilled the audience by introducing talent to the stage from the film, including Mark Hamill, Daisy Ridley, John Boyega, Gwendoline Christie, Kelly Marie Tran, Laura Dern and Benicio Del Toro.
In Lucasfilm's STAR WARS: THE LAST JEDI, the Skywalker saga continues as the heroes of THE FORCE AWAKENS join the galactic legends in an epic adventure that unlocks age-old mysteries of the Force and shocking revelations of the past. 
The movie stars Mark Hamill, Carrie Fisher, Adam Driver, Daisy Ridley, John Boyega, Oscar Isaac, Lupita Nyong'o, Andy Serkis, Domhnall Gleeson, Anthony Daniels, Gwendoline Christie, Kelly Marie Tran, Laura Dern and Benicio Del Toro.
More Live-Action Disney Movies in production (Confirmed by Sean Bailey)
1. Mulan
A live-action take on Disney's 1998 feature, which will be helmed by Niki Caro ("McFarland, USA," "Whale Rider").
2. Jungle Cruise 
A live-action nod to the popular theme park ride.  The studio is working with Dwayne Johnson, recently heard as Maui in MOANA, on the project.  
3. Aladdin 
Directed by Guy Ritchie, with Mena Massoud as Aladdin, Naomi Scott as Jasmine and Will Smith as the Genie.
4. Little Mermaid (Confirmed by Alan Menken)
Disney composer, Alan Menken announced during his brilliant one-man show at the 2017 D23 Expo that Lin-Manuel Miranda will be collaborating with him on music for the upcoming Live-action Disney movie, Little Mermaid. I'd say there's another award-winning film on the way!
More 2017 D23 Expo Exclusives!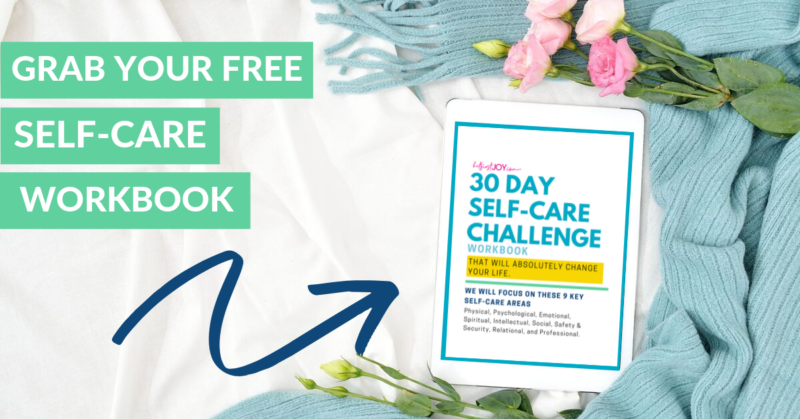 DISCLOSURE
As an Amazon Associate I earn from qualifying purchases. This post may contain affiliate links and/or promotional products, all opinions expressed are that of But First, Joy only. Read my full disclosure.