Are you wondering: Who Is Duke Caboom? How did he become a lost toy? How did Keanu Reeves become the voice? Exclusive details here!
I had the pleasure of sitting down with the creators and actors in Toy Story 4 at the Toy Story 4 press junket in Orlando, Florida (thanks for the invite Disney).
A major goal during these Toy Story 4 interviews was to find out who these new characters are and how they came to be.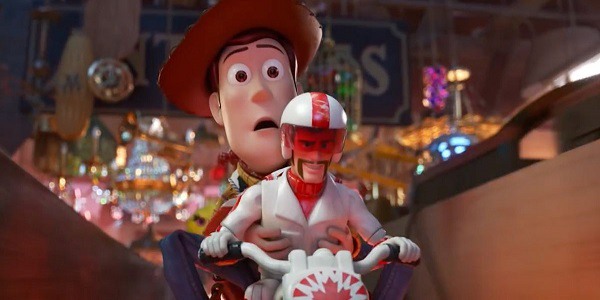 Who is Duke Caboom?
One of my personal favorites is Duke Caboom, a 70's action figure with a real chip on his shoulder.
This Canadian stunt toy gets emotional every time he thinks about the beloved kid who left him behind. While sad, you can't help but to laugh at how dramatic he becomes.
Some might even call Duke Caboom a crybaby…
During our Toy Story 4 press interview with Keanu Reeves, an audience member hilariously asked the following:
"So Duke Caboom is such a unique character. He's confident. But at the same time, he is goofy. Also, he's a crybaby a little.
So Keanu, how do you get into his character or let's say how do you unleash your crybaby side after being John Wick to being Duke Caboom?"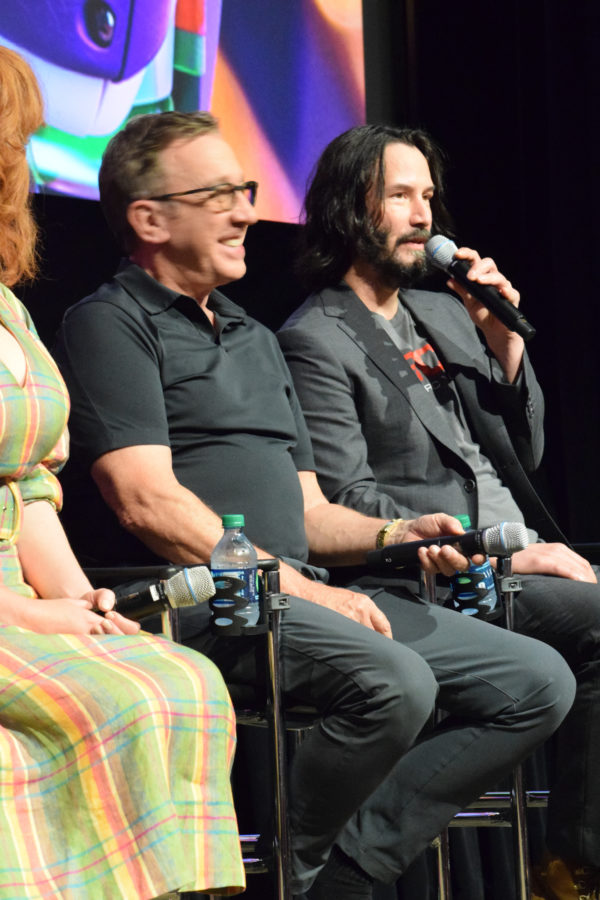 How did Keanu Reeves respond? Let's just say he couldn't have had a better answer:
"There's so many different kinds of people (toys) going through different things. And Duke Caboom just happened to be a crybaby. With a big heart and he's brave; a toy who loved life and so, I think that there's a bit of Duke Caboom in all of us."
As far as the dramatics go, even sweet Bo Peep lets out a big sigh as he tells "his story" in the film. Which, audiences are lead to believe that she's heard this story time and time again.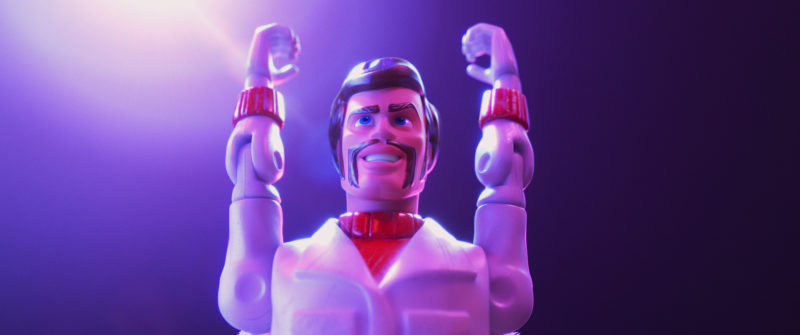 What is his story?
We meet this new Toy Story toy in an old pinball machine. You see, Duke Caboom is a lost toy. In other words, his kid, Ramóne, gave up on him after he realized that he isn't as talented as shown in the Duke Caboom commercial.
It makes you think twice about giving away those old toys, huh?
As Bo Peep's friend, he agrees to help rescue Forky from the creepy antique shop. Of course, she had to give him quite the pep talk.
Who is the voice of Duke Caboom?
Keanu Reeves is the voice of Duke Caboom. In fact, that's what's so cool about this character.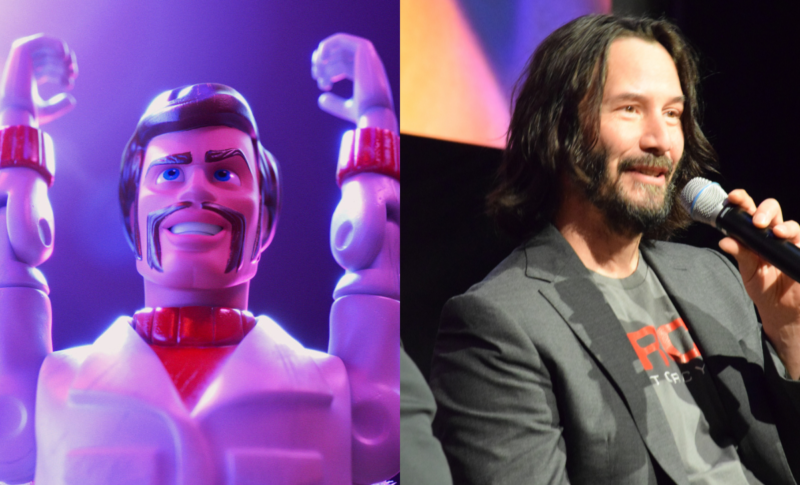 Not only is Keanu Reeves a Canadian himself (like the toy), all the Pixar creators of this Toy Story 4 character are Canadian.
There's a lot of great Canadians that work at Pixar, too. And they all volunteered to animate all of the Duke Caboom shots. So he's mostly animated by Canadian animators. Almost 100%. The Maple Leaf Crew.

– Toy Story 4 Producer, Mark Nielsen
I love that we get to see a fun and goofy side of Keanu Reeves. I think he's really stepping out of his shell.
Finally, I'd like to say that you'll love this new Toy Story character. He is very likable, hilarious, and somewhat relatable.
If you want to read more, check out my Toy Story 4 Review.
The best Duke Caboom Toys
Finally, I want to show you my favorite Duke Caboom toys. Will they land successful jumps or crash like the toy does in the film? I guess you'll have to grab a few to find out!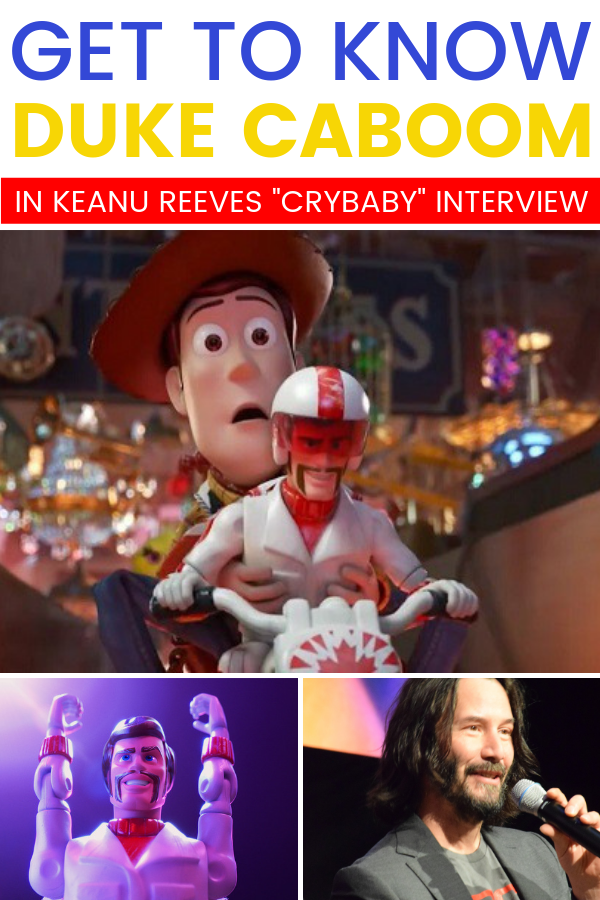 See Toy Story 4 in Theaters 6/21
Woody has always been confident about his place in the world and that his priority is taking care of his kid, whether that's Andy or Bonnie.
But when Bonnie adds a reluctant new toy called "Forky" to her room, a road trip adventure alongside old and new friends will show Woody how big the world can be for a toy.
Directed by Josh Cooley ("Riley's First Date?") and produced by Jonas Rivera ("Inside Out," "Up") and Mark Nielsen (associate producer "Inside Out"), Disney•Pixar's "Toy Story 4" ventures to U.S. theaters on June 21, 2019.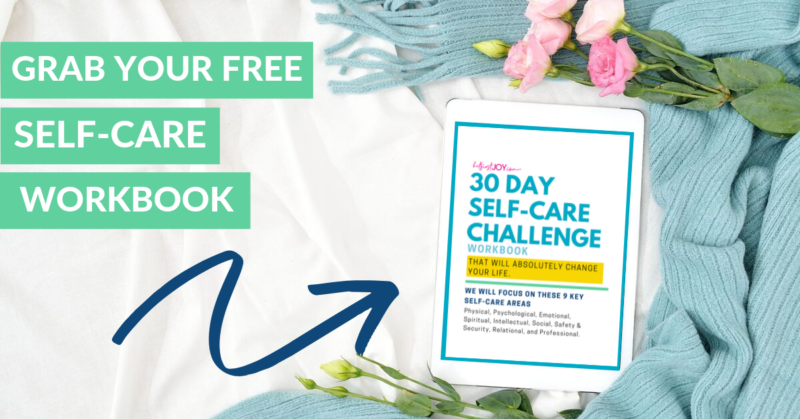 DISCLOSURE
This post may contain affiliate links and/or promotional products, all opinions expressed are that of But First, Joy only. Read my full disclosure.