I had the honor of seeing an early screening of Toy Story 4 and these are the best Toy Story 4 quotes from the 2019 movie.
I hope you find these movie quotes as fun as I did! After this, check out these awesome Frozen 2 Quotes!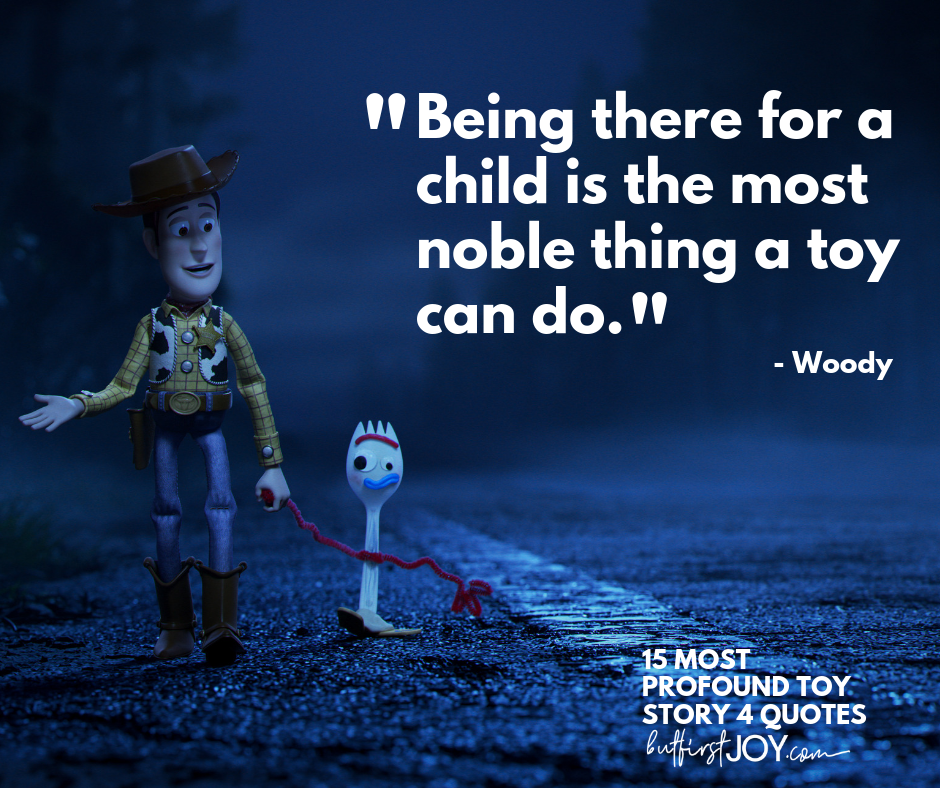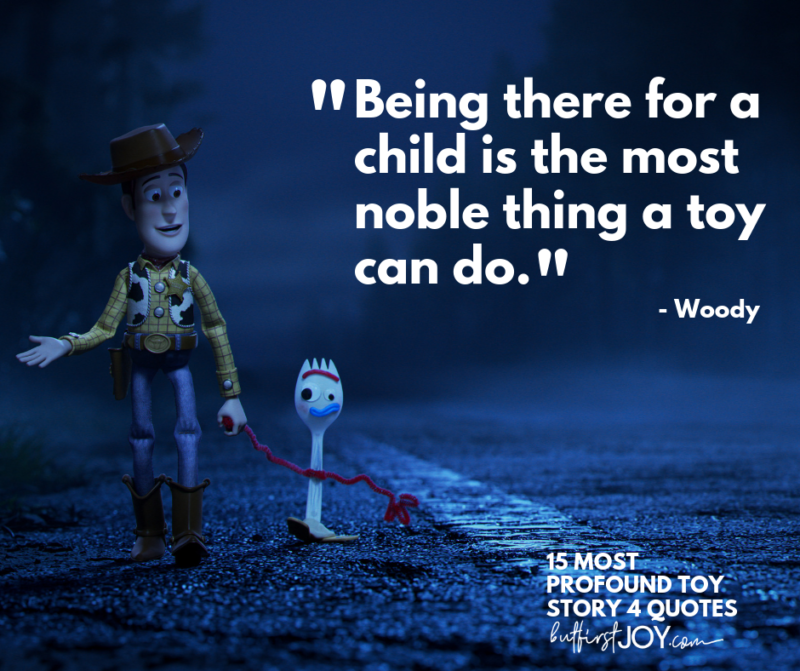 As I mentioned before, my husband and I quoted Buzz Lightyear in our wedding vows so this new film is a pretty big deal to us!
We completed this entire Toy Story Land Bucket List and I flew all the way across the country for an early Toy Story 4 press day at Pixar Animation Studios!
I'm pretty sure you'll also want to bookmark my FULL MOVIE QUOTES Index for the latest and GREATEST quotes!
Now:
I've seen the film, made notes of all my favorite Toy Story 4 quotes, and I'm trying to control my emotions. I have so many thoughts and questions:
Did that really just happen? Why am I crying so much? Will there be a Toy Story 5? Why am I so attached to these fictional characters? Am I even an adult?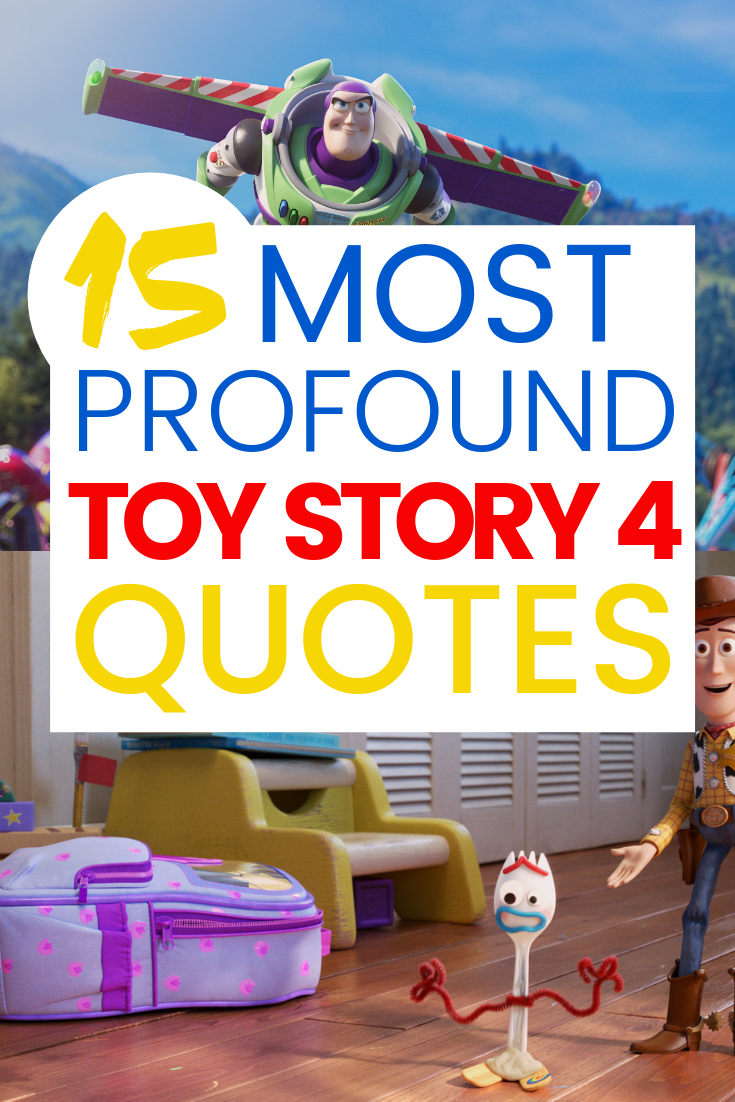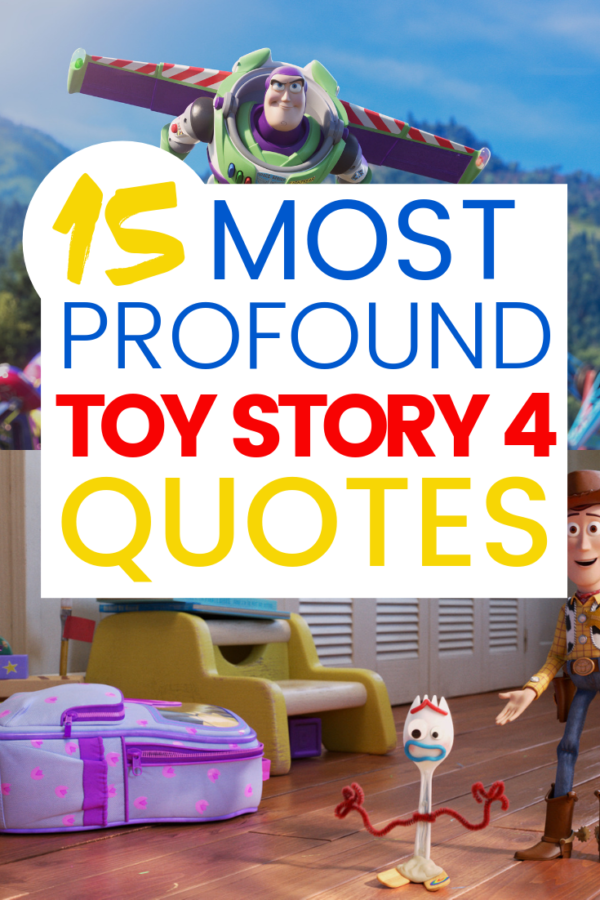 Don't worry, all of these quotes are spoiler-free. I've left out any major details, so if any of these Toy Story quotes feel lackluster – it's because I didn't want to spoil anything for you!
RELATED: 15 Meaningful LIVE-ACTION The Lion King Quotes
Let's talk about those Toy Story 4 quotes! These are the quotes that made me feel something.
16 Best Toy Story 4 Quotes
Whether it be joy, nostalgia, sadness, or some other emotion – these Toy Story 4 movie quotes will probably sit with you, too.
CHECK THIS OUT: DIY Pixar's Up Family Costumes
Please cut me some slack as I was writing these quotes in a dark theater so they may not be exact and I may have forgotten who said what. Silly me.
1. "I'm not Andy's toy." – Bo Peep
In Toy Story 4, we finally find out what happened to Bo Peep and there's a very emotional goodbye between her and Woody.
In fact, it was a telling moment when she reminds Woody that she isn't (and never was) Andy's toy. She was Molly's toy. Actually, she was just a desk lamp that Molly outgrew.
RELATED: 4 Insightful Quotes from The Voice of Bo Peep
2. "You have to be there for Bonnie" – Woody
Woody is a toy who takes his responsibilities very seriously. He's very much like a father-figure in away. He cares for his kids (Andy & Bonnie) just as a parent cares for a child.
When Forky insists that he's trash over-and-over again, Woody gives him a pep talk to explain how important his role in this world is.
3. "Useless. Like your purpose has been filled." – Forky
This part of the film is kind of funny but also, not. Forky is relating to the how Woody feels about not being of importance to Bonnie anymore.
Forky understands because his entire life's responsibility is to be used and thrown away.
4. "There's only one Forky!" – Bonnie
When Forky turns up missing, Bonnie is frantic. Actually, she's absolutely heartbroken. She doesn't want to go on without her new friend.
At some point, her parents ask her to just make another Forky. She reminds them that it's impossible because there's only one Forky.
I love this Toy Story 4 quote because it's a reminder to children that nobody can be like them!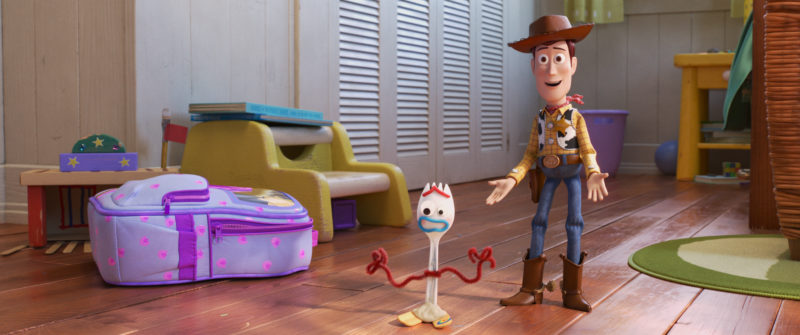 5. "That makes you a very important toy." – Woody
When Woody explains to Forky how happy he (Forky) makes Bonnie, he does his best to help him understand how big of a deal he actually is in the toy world.
RELATED: 6 Best Live-Action DUMBO Quotes
6. "You wanna help? Stay out of my way!" – Bo Peep
As if we didn't realize how much of a strong female Bo Peep is just from the Toy Story 4 trailers, her actual role in the film is quite the eye opener!
Bo Peep isn't afraid to speak her mind or go after what she wants! Sometimes that means she gets a little sassy. It's okay, Bo Peep, we've all been there before.
7. "My friend? No. He's my accessory." – Bo Peep about Woody
This is another Toy Story 4 quote that really stuck with me.
When Bo and Woody are entering the Pinball machine, she has to explain who Woody is. It's almost as if the pinball machine is this elusive nightclub and only the invited can join.
So, when she was asked if Woody is her friend, she spits out this quote. I was just thinking, "Oh! You go girl!"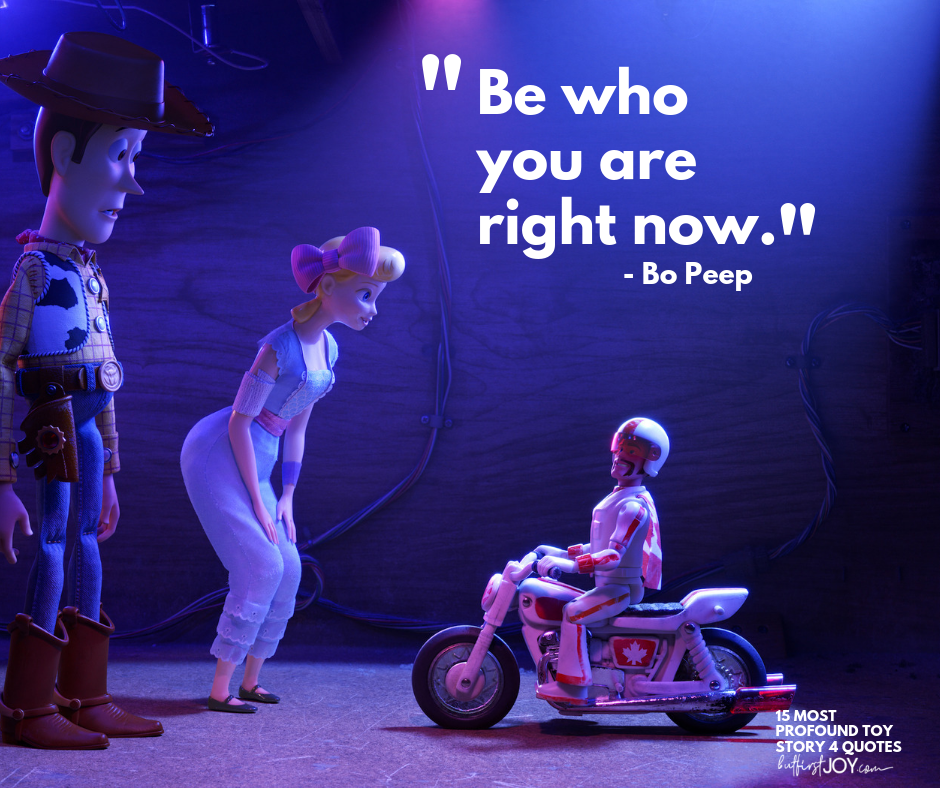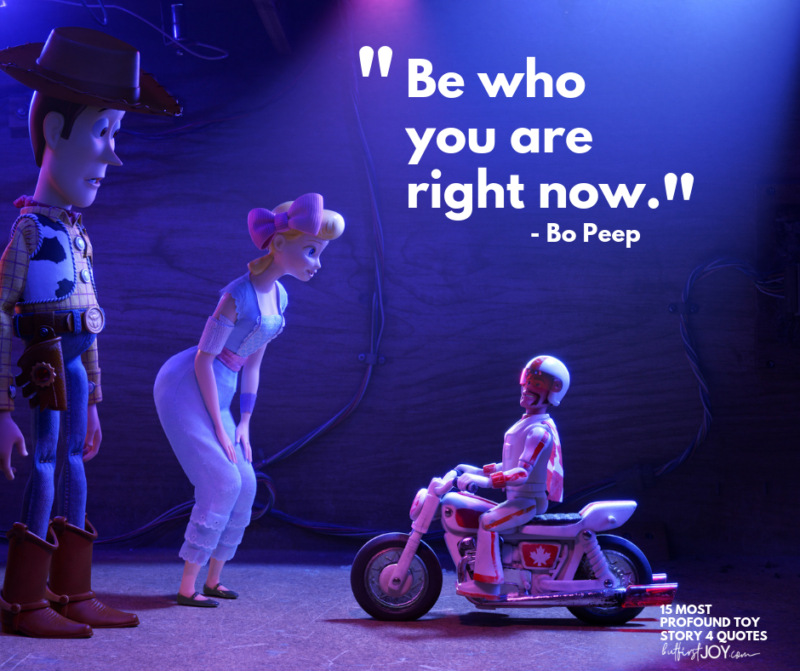 8. "Be who you are right now." – Bo Peep
While this was a funny moment, I felt it in the depths of my soul. In fact, it's my favorite quote from the whole Toy Story 4 movie.
RELATED: Keanu Reeves Unleashes Inner "Crybaby" for Role as Duke Caboom
Bo Peep is trying to convince Duke Caboom to just be himself. He doesn't need to be like the other Duke Cabooms who fly through the air.
No.
He should be the best, crashing Duke Caboom there ever wast.
And be darn proud of it!
9. "Being there for a child is the most noble thing a toy can do." – Woody
I'm not crying. You're crying. Okay, I am crying. In fact, Toy Story 4 had me absolutely sobbing.
This was a quote that was said twice in Toy Story 4. Once by Woody and once by another character. It goes to show you how serious Woody is about his role in Bonnie's life.
And while Woody may not be the favorite toy right now, he still wants Bonnie to be happy.
And that, my friends, is noble!
10. "If you sit on a shelf for the rest of your life, you'll never find out." – Woody
OH.MY. This quote is profound on so many levels. This could speak to all of us in the sense that we shouldn't just wait for life to happen.
We need to get up and accomplish our goals – not expect for them to come to us!
11. "Because it's all that I have left to do." – Woody
Some of the other toys just don't understand why Woody would spend all of his time and energy trying to protect a talking spork!
In this moment, Woody shows his vulnerable side. After hiding his true feelings about being left out, he spills his guts.
Admitting something so deep and personal definitely isn't something Woody is usually comfortable with.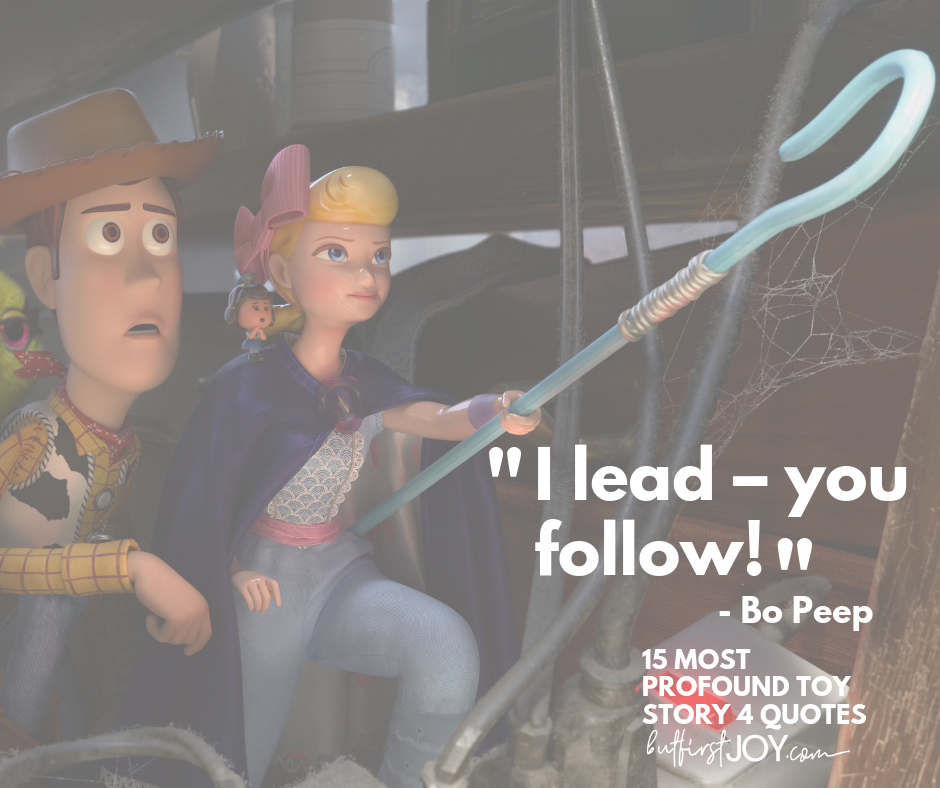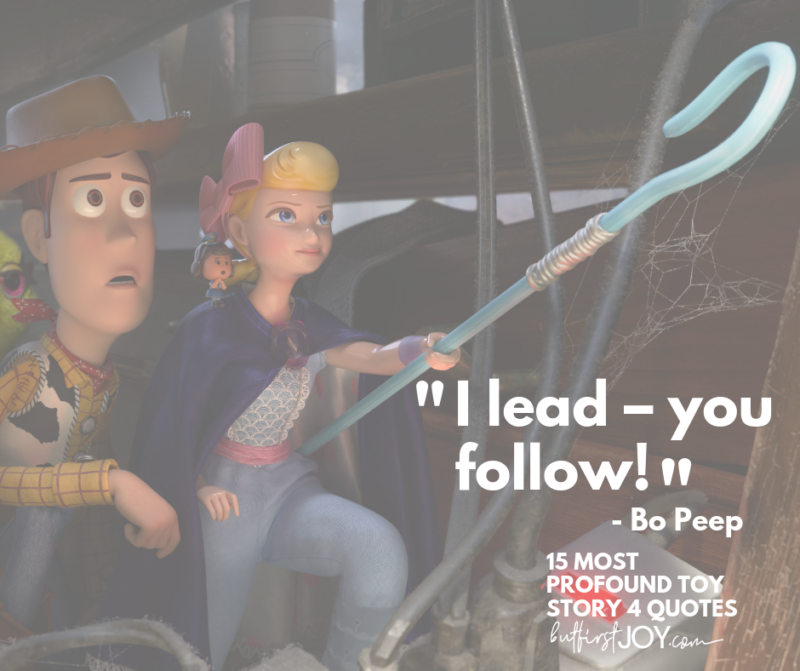 12. "I lead – you follow!" – Bo Peep
If you don't remember: Bo was always a strong and confident gal. But it wasn't until she became a lost toy that she really stepped into the role of leader.
It's quotes like these that remind us that Bo is a little rough around the edges and she embraces it!
13. "We are all toys. Unique and Beautiful toys."
14. "I'd give anything to be loved the way you have."
15. "He's not lost. Not Anymore."
16. "To Infinity… and beyond…"
What's a Toy Story movie without this monumental saying?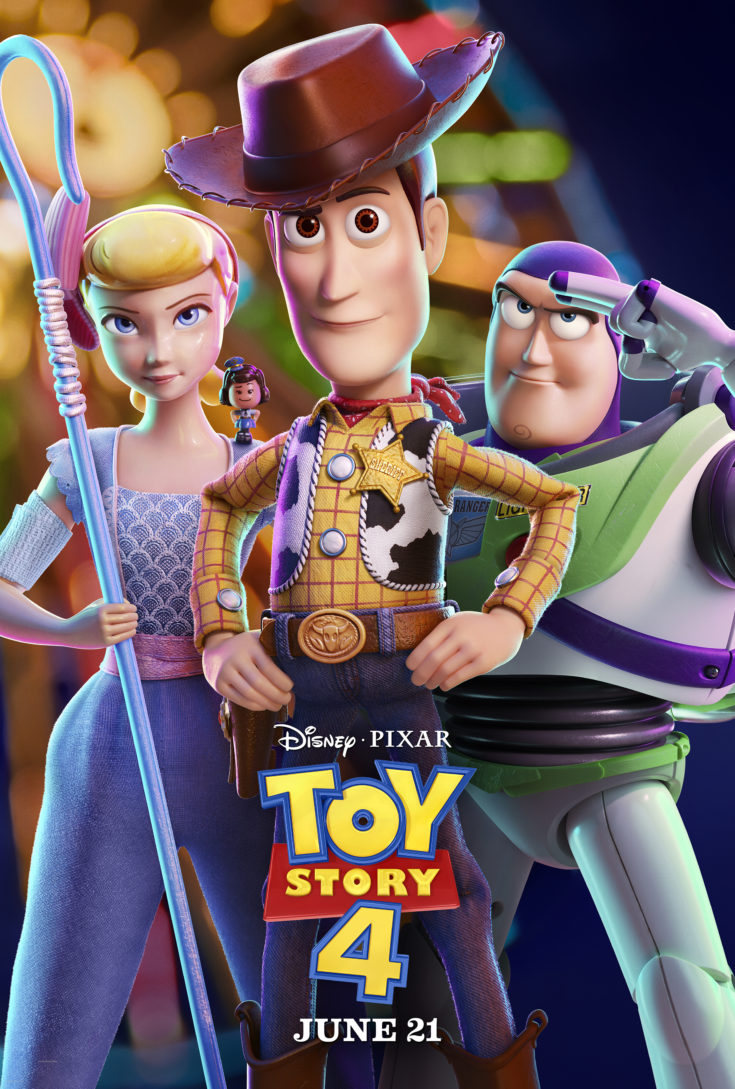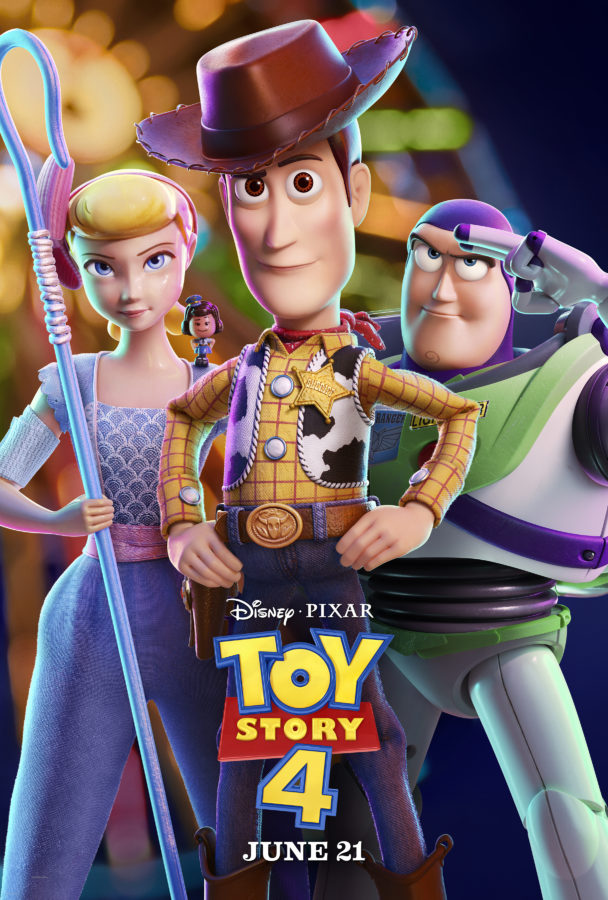 Quick, Spoiler-Free Toy Story 4 Review:
I know you're all wondering how Toy Story 4 ended. Did they set us up for a Toy Story 5? Are you going to cry? Do any toys die?
I know that last question is tough but I've had a handful of people ask. So, I'll tell you this:
Toy Story 4 is definitely kid-friendly. There are some moments that can be extremely emotional for sensitive children. However, a death scene is not one of them.
In my opinion, we didn't need a Toy Story 4. However, any die-hard Toy Story fan will tell you that we desperately wanted to know what happened after Bonnie took Andy's place.
Toy Story 4 addresses all of that. In fact, we get to see how our favorite talking toys cope in their new home. We watch as some struggle to find their purpose in Bonnie's world. We also get to see some exciting new faces!
Pixar did a fantastic job at answering all of our burning questions, like:
What happened to Bo Peep?
In the first 20 minutes of the film, you'll find out where Bo Peep went! Just be sure to bring tissues because it's a hard scene!
Toy story 4 is full of action, adventure, and emotion. If you aren't laughing at Forky's innocent sense of humor, you're crying at some major plot points.
The ending a big deal and I can't imagine that there will be a single dry eye in the theater.
Will there be a Toy Story 5?
I'm not sure. Toy Story 4 could easily be the last one and fans wouldn't be left with wonder. However, I could definitely see a few storylines worth pursuing.
Basically, it's up to the Pixar creators! They might decide to continue or leave it where it is. Either way, I'll be completely satisfied!
Finally, I'd like to say that I really enjoyed the film. It evoked my emotions just as Pixar does. It satisfied my hunger for more of my favorite toys and have new life to these characters!
I highly recommend giving this a watch in theaters with the kids! Be sure to stay through the end credits because there are some fun clips in there.
See Toy Story 4 in theaters 6/21
Woody has always been confident about his place in the world and that his priority is taking care of his kid, whether that's Andy or Bonnie.
But when Bonnie adds a reluctant new toy called "Forky" to her room, a road trip adventure alongside old and new friends will show Woody how big the world can be for a toy.
Directed by Josh Cooley ("Riley's First Date?") and produced by Jonas Rivera ("Inside Out," "Up") and Mark Nielsen (associate producer "Inside Out").
What are your favorite Toy Story 4 Quotes?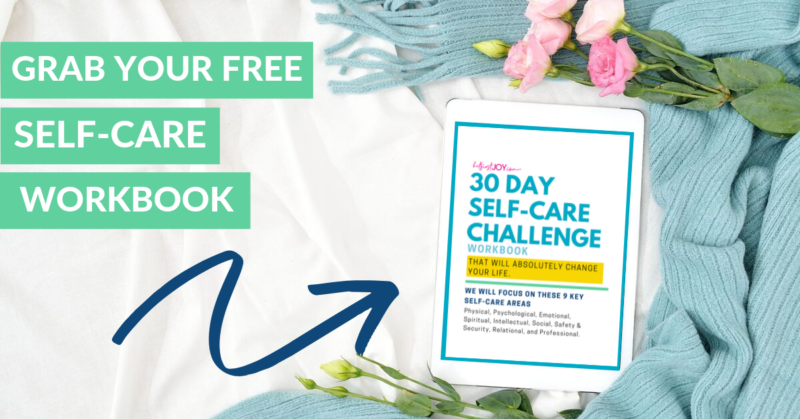 DISCLOSURE
As an Amazon Associate I earn from qualifying purchases. This post may contain affiliate links and/or promotional products, all opinions expressed are that of But First, Joy only. Read my full disclosure.