Disney invited me to an all-expenses paid trip to Pixar Animation Studios for an early Toy Story 4 Press Day! After my Pixar Animation Studios tour and my experience at the studio, I just had to share about this once-in-a-lifetime experience with all of you.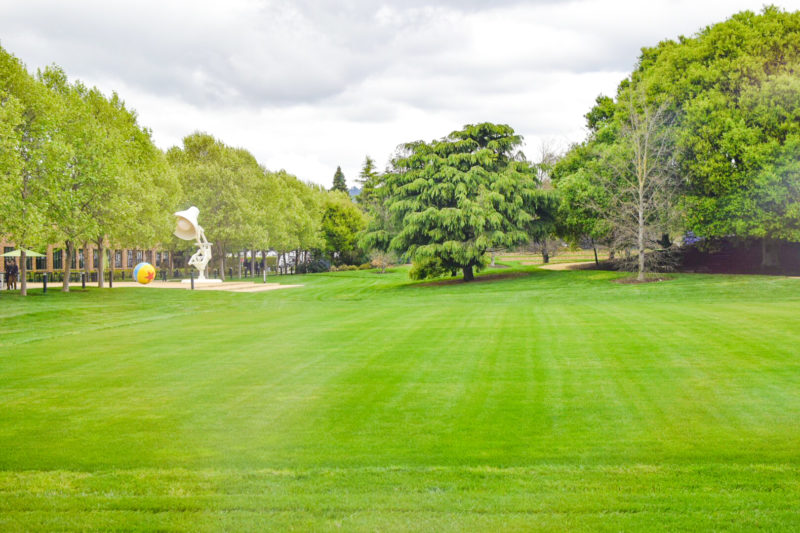 Have you ever watched a Pixar movie without crying? I definitely haven't. Pixar movies always hit my right in the feels. Imagine how it felt stepping into Pixar Animation Studios for the very first time. It's an indescribable feeling to walk where legends have walked, to stand where the biggest creatives have brainstormed. Some might say that I'm lucky, while others would say that I've worked hard to get these opportunities. I'd say it's a little bit of both. Either way, I treasure experiences like these because it brings a little bit more joy to my life. I hope you can live vicariously through my experience!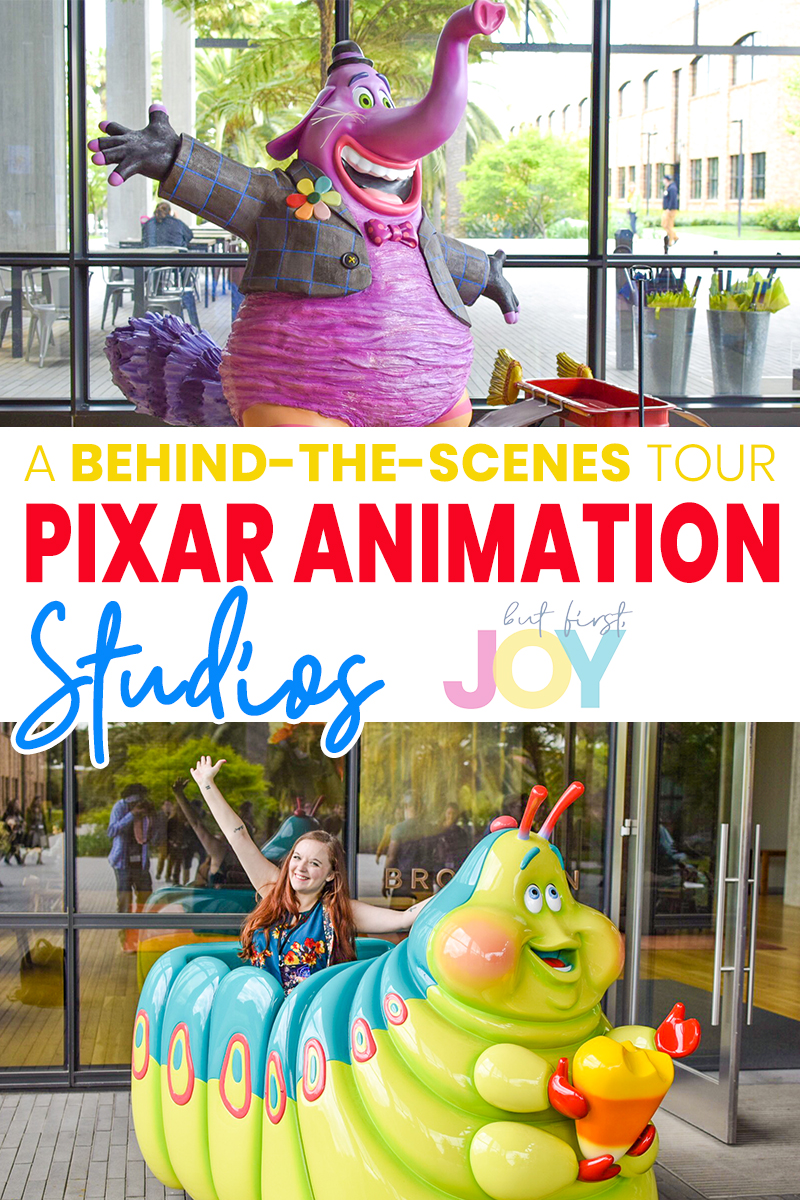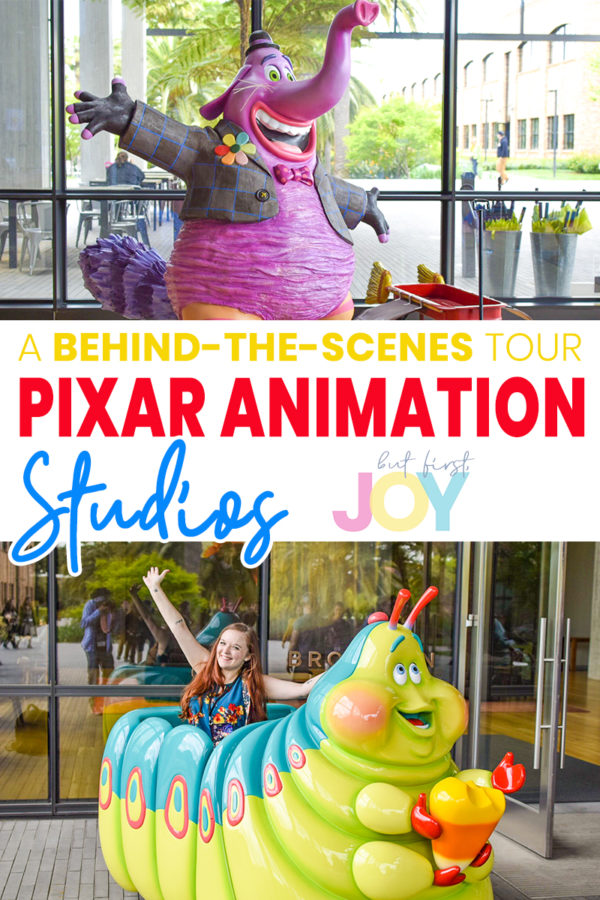 My Experience at Pixar Animation Studios
Walking into Pixar Animation Studios felt like a dream especially considering the occasion. Toy Story 4 is a childhood classic, a Pixar classic! I never thought I could feel more like a kid again than I did at Toy Story Land in Hollywood Studios but this experience proved me wrong. I gleefully skipped around like a kid at Disney World for the first time.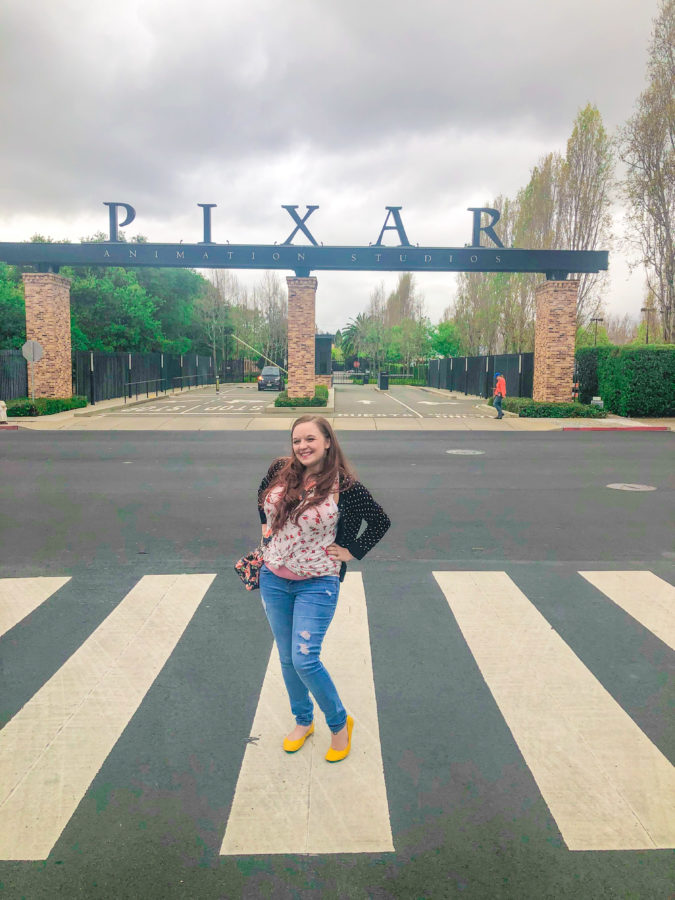 When you're a mother, you learn to cherish every single moment. You understand how fast time flies and how fleeting the hours are. My day at Pixar was filled with intention. There was absolute intention in the photos I took, the notes I jotted down, the stories I shared, and more importantly – the memories I made. It's not every day that a little Florida woman gets to take photos with a giant Luxo Ball and Pixar Lamp.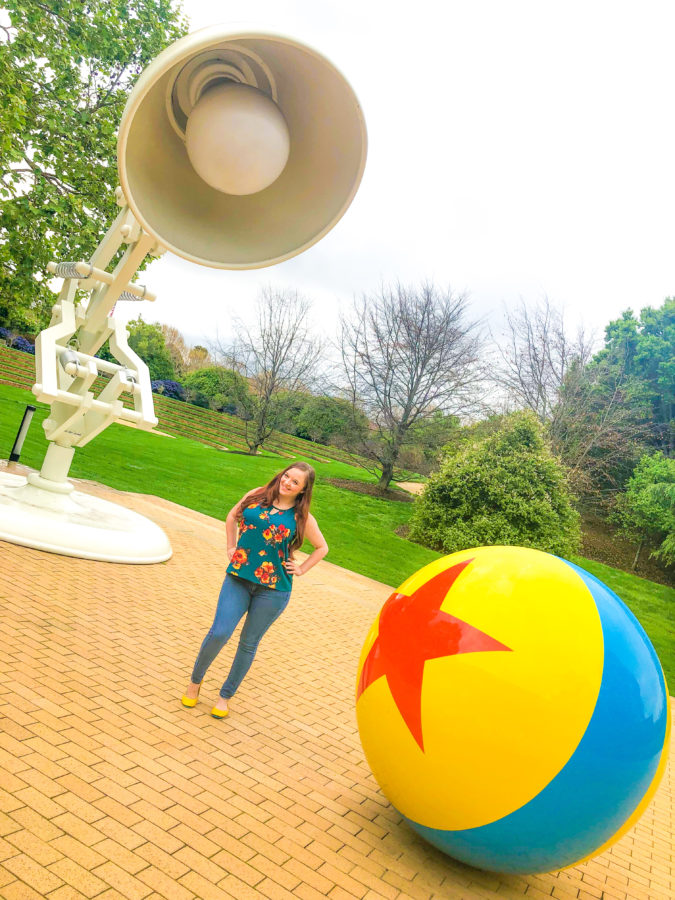 So, I made my experience all about intention for all of those who don't get an opportunity as magical as this one.
10 Things You Should Know about Pixar Animation Studios
1. It's ever changing based on the upcoming Pixar film.
One fun fact about visiting Pixar is that the studio is forever changing. Since Toy Story 4 is the next Pixar film to be coming to theaters, the decor is all about Toy Story 4. There are character shots hanging all over the the studio and a huge Toy Story 4 sign hanging on the second floor. There's a gallery of TS4 mockups, sculptures, and sketches. I'd imagine that it helps the creators stay in the creative mindset!
There's also Incredibles 2 statues, which didn't have superhero Jack-Jack a year ago, but does now! The placement of these fun things is moved around and can be in a different location from one day to the next. I think it's a lot of fun knowing that if I ever had the pleasure of visiting again, it would look totally different! One thing I don't think will change is the display case filled with all those Oscars! Super impressive to see how many awards Pixar has one! I'm pretty sure every Pixar movie has been recognized as one of the greatest!
2. It's like a college campus.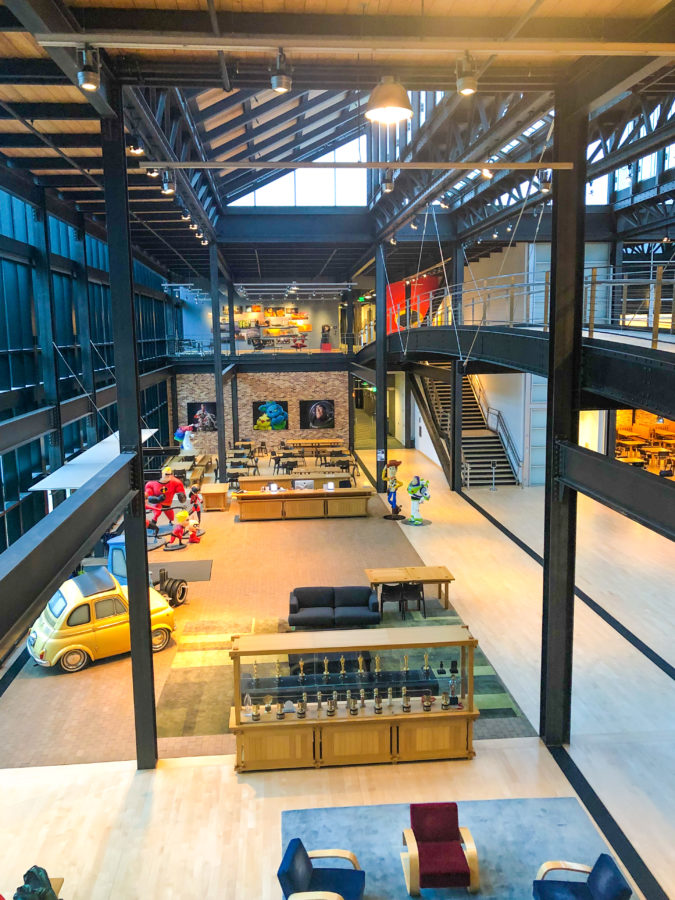 Holy cow, I'd love to work at Pixar! After a quick Pixar Animation Studios tour, I couldn't help but to get the "college campus" feel. There's a pool, basketball court, volleyball court, ping pong table, and places all over the studio to lounge! I even saw a team of people doing yoga. There's a cafeteria and Pixar merch store. I mean, who wouldn't want to work there? It's full of fun!
3. The Pixar Archives are INCREDIBLE!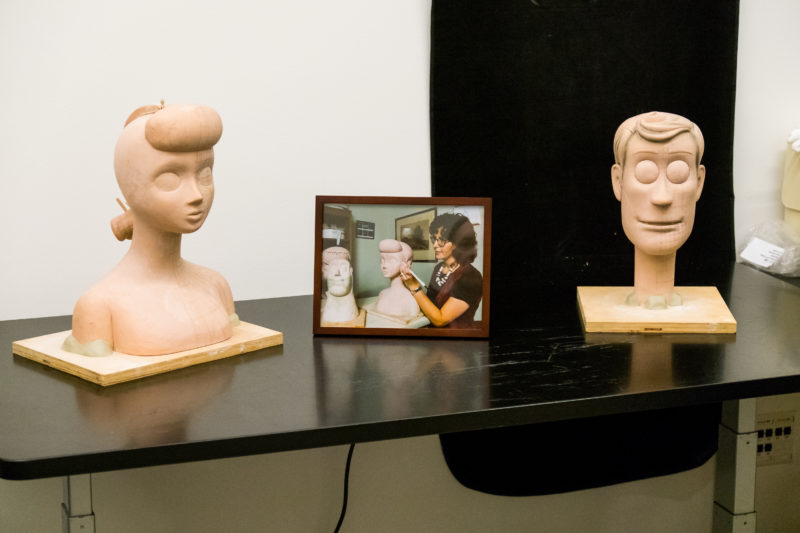 Holy cow – our Pixar tour consisted of a super secretive & serious tour of the Pixar Archives! That said, I couldn't take photos. It was just as magical as you'd imagine. There are rows upon rows of locked shelves filled with boxes of important creative pieces from Pixar films. Much like an evidence room, haha, every row has labeled shelves for the the corresponding film and the boxes are filled with every physical thing from the film.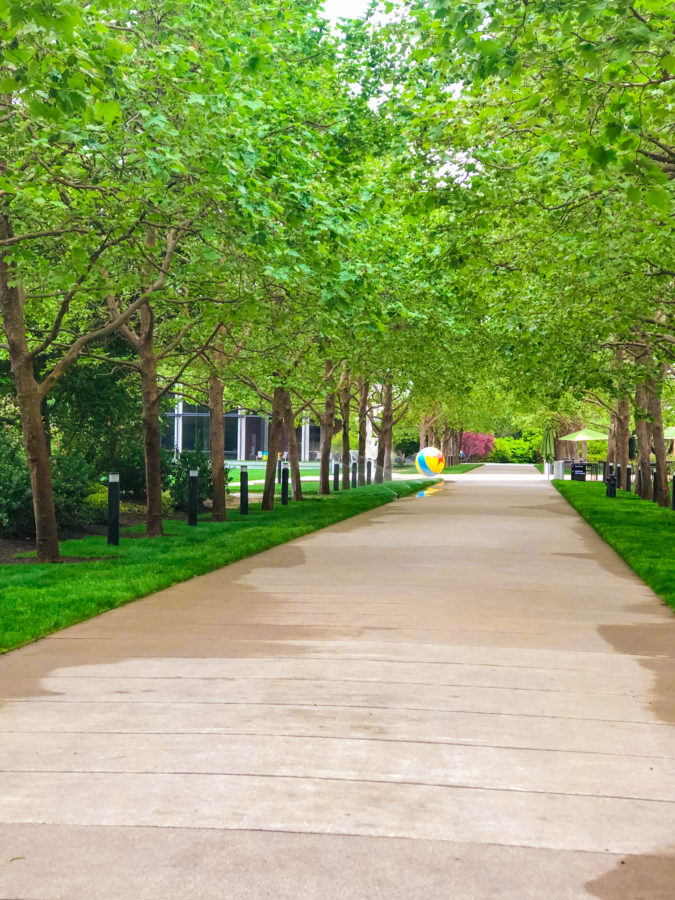 Some examples from the Pixar Archives are early sketches, storyboards, mockups, and even clay & resin heads for characters which are created to give the animators the right dimensions to work with when building the characters. There are some very large props and very small ones. We even got to see some characters and story ideas that never made it into movies. The coolest thing was seeing the very early stages of Toy Story.
4. There are photo opps EVERYWHERE!
How the employees show up to work daily without taking photos in front of the Luxo ball is beyond me. Every time I walked by the ball I felt the uncontrollable urge to take a selfie. Aside for the lamp and ball, there are props all over that would be perfect for photo opps. My favorite? Rainbow Unicorn. That is all.
5. There's an art gallery.
The Toy Story 4 art gallery, as seen on March 18, 2019 at Pixar Animation Studios in Emeryville, Calif. (Photo by Deborah Coleman / Pixar)
There's an art gallery on the second floor and no photos were allowed. I'm not 100% sure of this but I dare to say that just like the rest of Pixar, it's ever changing based on the upcoming film. The gallery was loaded with mockups, sculptures, and more from Toy Story 4. There are some things that just cannot be explained. One of them is the creepy eyes of Gabby Gabby. It's what nightmares are made of.
6. Everyone is happy there!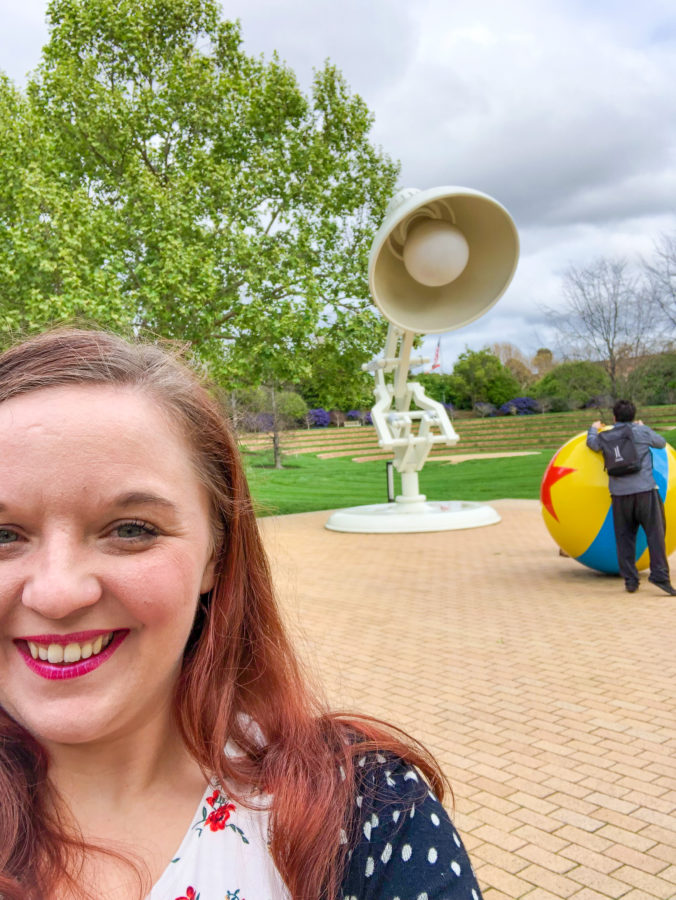 I know, I know. It's totally cliché but everyone at Pixar Animation Studios truly seemed happy. Everyone was willing to say hello, give compliments, and they walked with a stride that you don't see everywhere. I guess I would too if I was creating masterpieces every day.
7. Employees dress however they'd like.
Rosie Cole as seen on the Toy Story 4 Long Lead Press Day, on April 3, 2019 at Pixar Animation Studios in Emeryville, Calif. (Photo by Deborah Coleman / Pixar)
Want to wear your favorite Disney tees with your most comfortable pair of jeans, topped off with your bright yellow Converse every day? If you work at Pixar – Go for it! I am even willing to bet that they deck themselves in Star Wars attire on May the 4th. One of the cutest graphic designers was in a retro Disney princess dress and she had colorful hair! I love everything about that place!
8. The Luxo Ball size is surprising…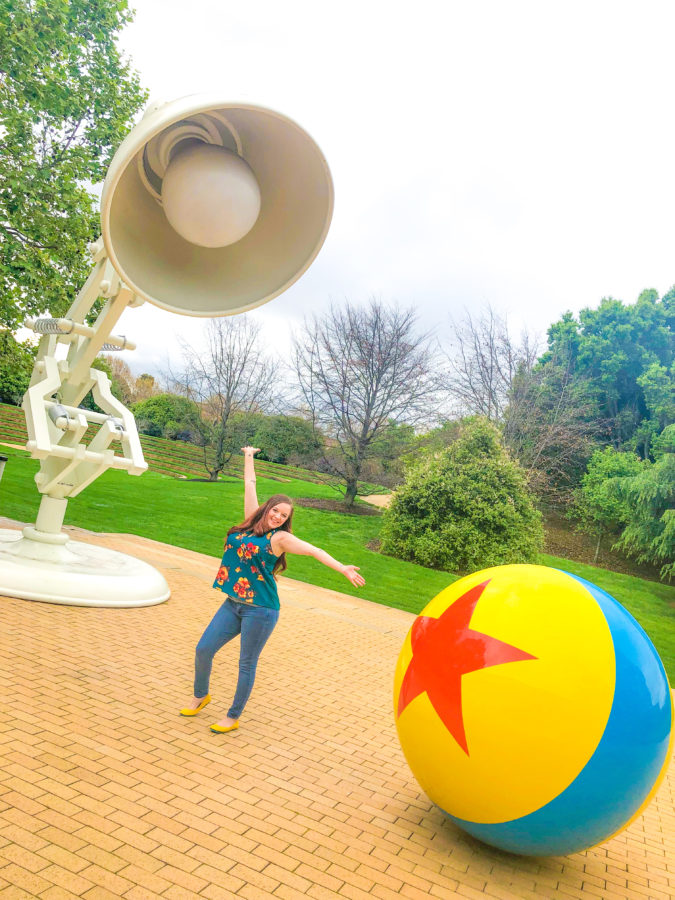 Okay, so after visiting Toy Story Land, I half expected the Luxo Ball at Pixar to be the same size or larger. I couldn't tell you why I thought that other than, like a child, I dreamt of this giant ball that was comparable to James and the Giant Peach. The ball is actually a perfect size to place a Forky right on top for photos.
9. The Pixar Lamp has a nighttime surprise.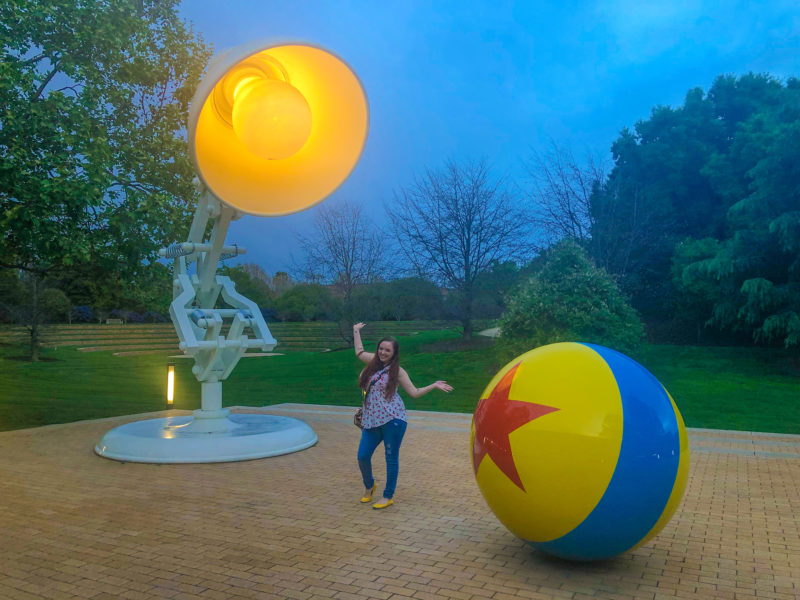 The lamp actually works, people! I was pleasantly surprise to see the lamp turn on as the sun was setting. It shines perfectly on the ball and I squealed like a little girl when I saw it. Of course I needed like 10 more photos underneath the lamp.
10. The Studio is not open for public tours.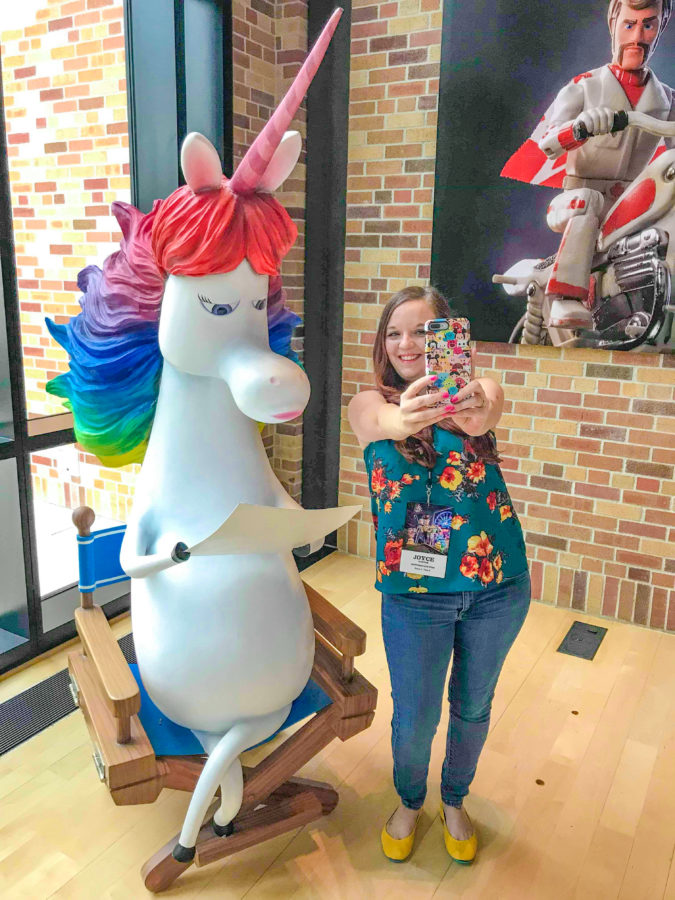 Sadly, since this is an active studio, it isn't open for public tours. There are too many top secret things in there that just be shown to everyone. You don't want upcoming movies ruined for you, right? I didn't think so. Unfortunately, a Pixar Animation Studios tour will not be happening at this closed studio.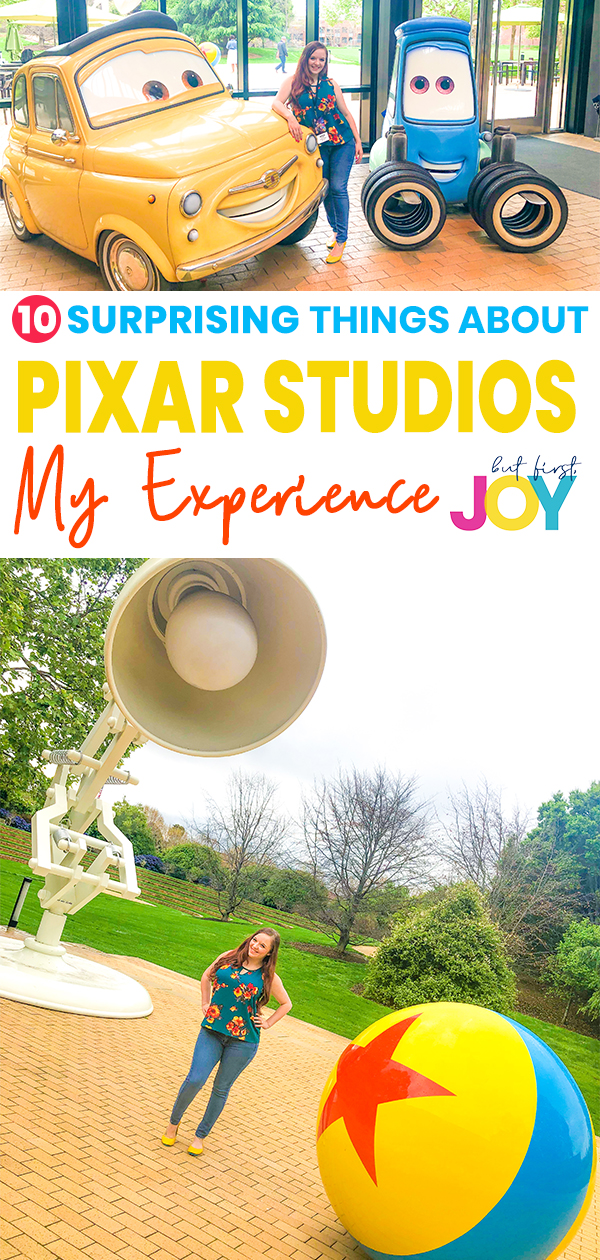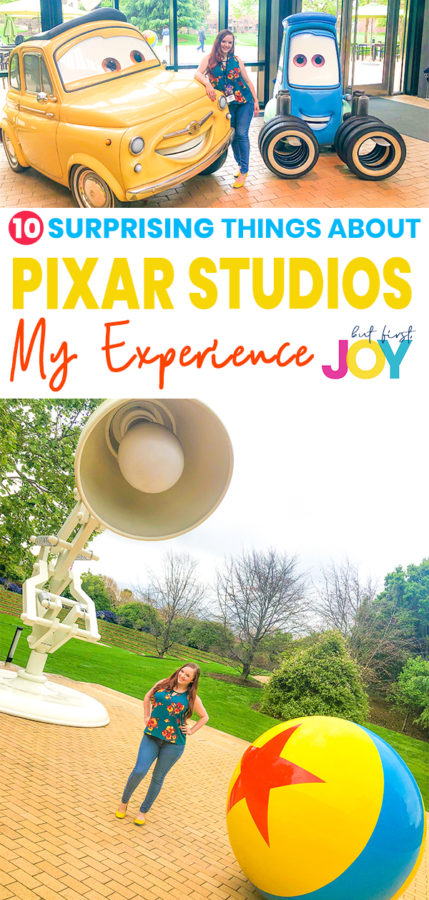 SEE TOY STORY 4 IN THEATERS 6/21
Woody has always been confident about his place in the world and that his priority is taking care of his kid, whether that's Andy or Bonnie. But when Bonnie adds a reluctant new toy called "Forky" to her room, a road trip adventure alongside old and new friends will show Woody how big the world can be for a toy.
Directed by Josh Cooley ("Riley's First Date?") and produced by Jonas Rivera ("Inside Out," "Up") and Mark Nielsen (associate producer "Inside Out").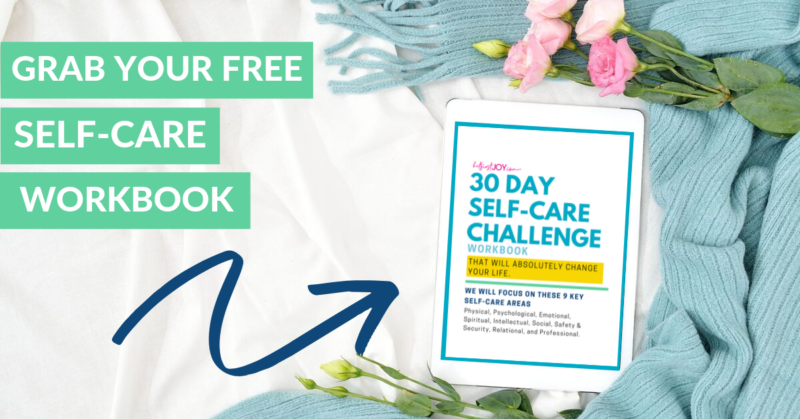 DISCLOSURE
As an Amazon Associate I earn from qualifying purchases. This post may contain affiliate links and/or promotional products, all opinions expressed are that of But First, Joy only. Read my full disclosure.