After visiting Pixar Animation Studios, screening Toy Story 4 in advance, and interviewing the cast – I was curious about all of the Toy Story 4 comedians.
I was absolutely shocked at what I found:
Toy Story 4 has a variety of new toys and I'll just say that the producers have quite the sense of humor.
I'll be the first to admit that I love a good pun. I'll even laugh at a poorly spoken dad joke.
It's my nature to love the weird, quirky, crazy things. After all, I'm pretty unique myself.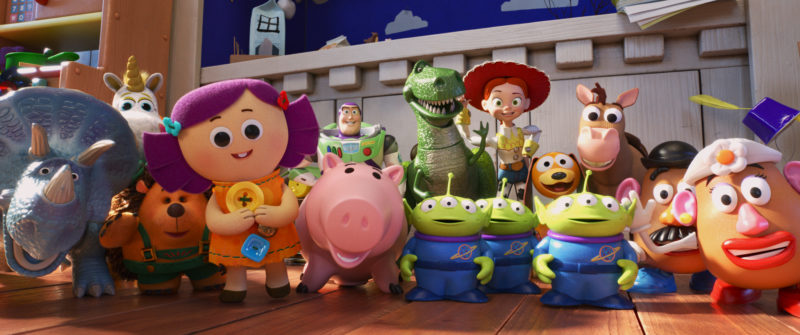 Everyone is talking about world's first talking spork, the return of Bo Peep, and the ducky/bunny duo and I'm over here like:
What about Bonnie's other toys?
Who are the toys thrown into the darkness of Bonnie's closet? I was curious about the toys Bonnie had grown out of, just like Andy grew out of Woody.
While they may only be supporting characters in Toy Story 4, they are anything but in the comedy world.
Who are the most legendary Toy Story 4 Comedians?
I did a little digging on IMDB and I was in for quite the surprise when I found out who the actors were behind Bonnie's forgotten toys.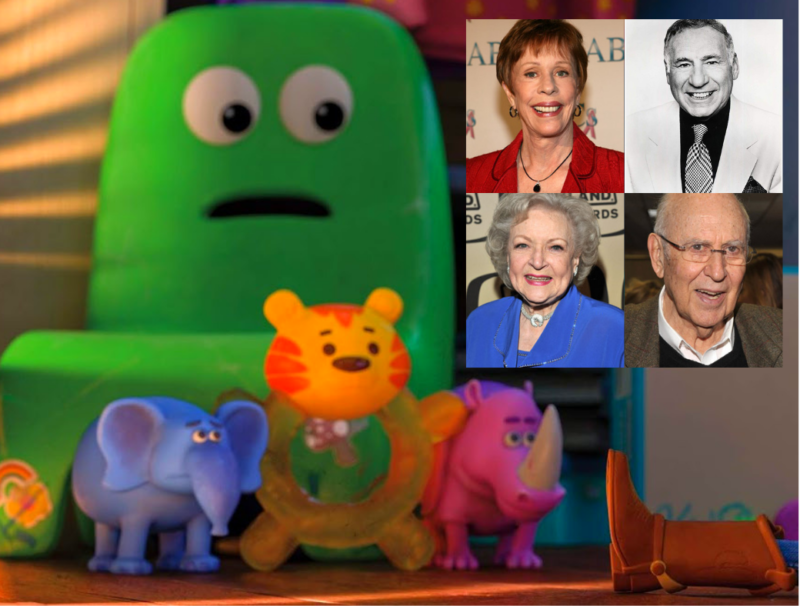 If I didn't already know that these character were voiced by some comedic geniuses, the toy names would be a dead giveaway:
Bitey White
Melephant Brooks
Chairol Burnett
Carl Reineroceros
Any guesses? ?
Unfortunately, we didn't hear the toy names in the actual Toy Story 4 movie so this is a little known inside joke among the creators of this Pixar film.
How to Identify these genius Toy Story 4 legends:
Obviously, these are major names in the comedy world.
However, a young audience will be watching the fourth installment in the Toy Story series, so I'll go ahead and spill the beans:
Betty White
Mel Brooks
Carol Burnett
Carl Reiner
Even though these comedians are known all around for their major roles, in Toy Story 4, they have a very quick and basic scene.
In fact, if you aren't already looking for them, you'd have no idea they mattered so much. That said, I'm going to tell you exactly what to look for:
There is a scene where Woody is in Bonnie's closet. He is feeling down and lonely. At some point, he begins talking to a group of baby toys.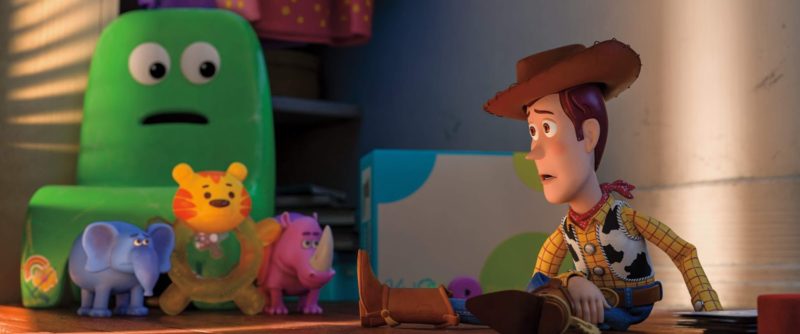 THIS IS WHO THOSE TOYS ARE:
Betty White as Bitey White, a teething toy.
Mel Brooks as Melephant Brooks, a purple toy elephant.
Carol Burnett as Chairol Burnett, a toddler's plastic chair.
Carl Reiner as Carl Reineroceros, a pink toy rhino
Finally, we've identified the genius comedians who have a special place in Toy Story 4. If you asked me, I think they wanted these voice roles just to say they were in a Toy Story film.
After all, Toy Story was Pixar's first full-length film.
See Toy Story 4 in theaters June 21st!
Woody has always been confident about his place in the world and that his priority is taking care of his kid, whether that's Andy or Bonnie.
But when Bonnie adds a reluctant new toy called "Forky" to her room, a road trip adventure alongside old and new friends will show Woody how big the world can be for a toy.
Directed by Josh Cooley ("Riley's First Date?") and produced by Jonas Rivera ("Inside Out," "Up") and Mark Nielsen (associate producer "Inside Out").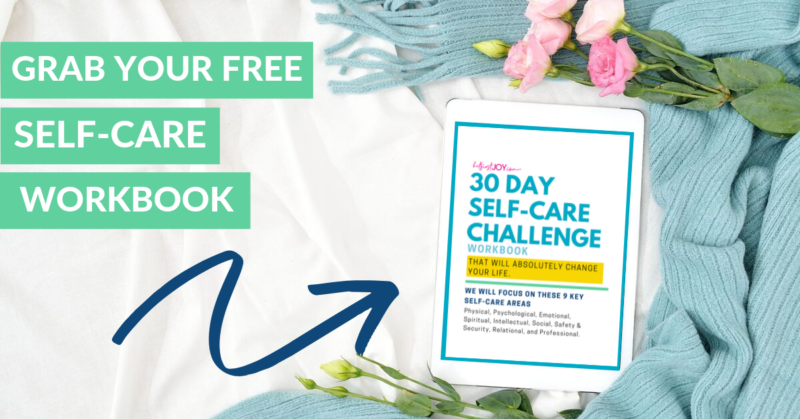 DISCLOSURE
As an Amazon Associate I earn from qualifying purchases. This post may contain affiliate links and/or promotional products, all opinions expressed are that of But First, Joy only. Read my full disclosure.