Who is Forky in Toy Story 4 and how is Forky alive? I'll answer these questions and more in my ultimate Toy Story 4 guide to FORKY, the talking spork! Disney invited me to Pixar Animation Studios for a Press Day and then, I took Forky on a tour. Check it all out here! All opinions are my own!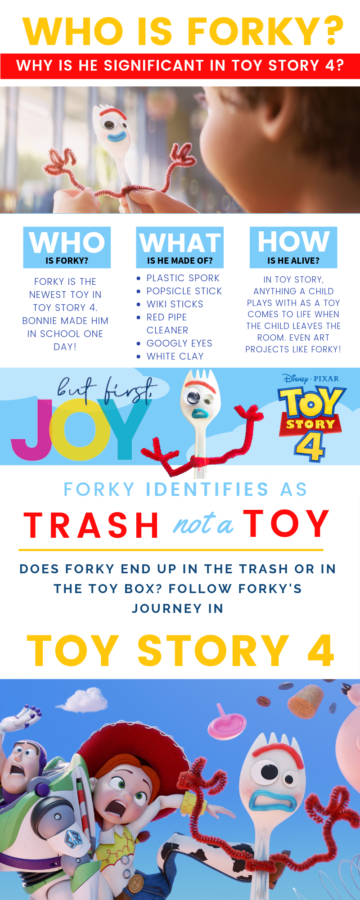 If you're any sort of Disney fan, you've heard of the most famous spork in the world: Forky. That's right – he's part spoon, part fork and all sorts of confused in Pixar's Toy Story 4. I had the pleasure of chatting with the Toy Story 4 animators and producers as they explained the complexity (or simplicity – I can't yet decide) of this character.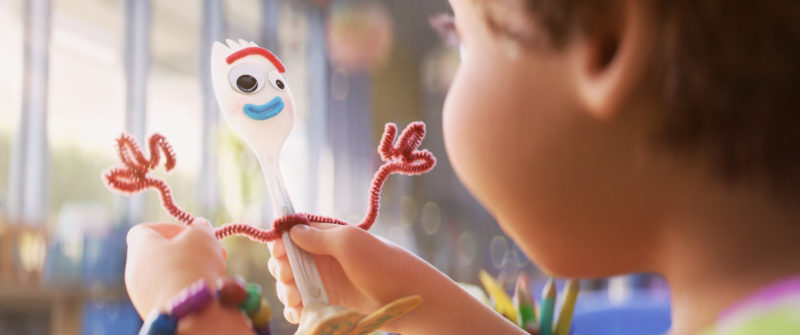 Then, I took Forky on an adventure of a lifetime through Pixar Animation Studios! We laughed, we cried, and I saved him from the trash many of times. Today, I will discuss who Forky is, how he came about, and why he such a big deal in Toy Story 4.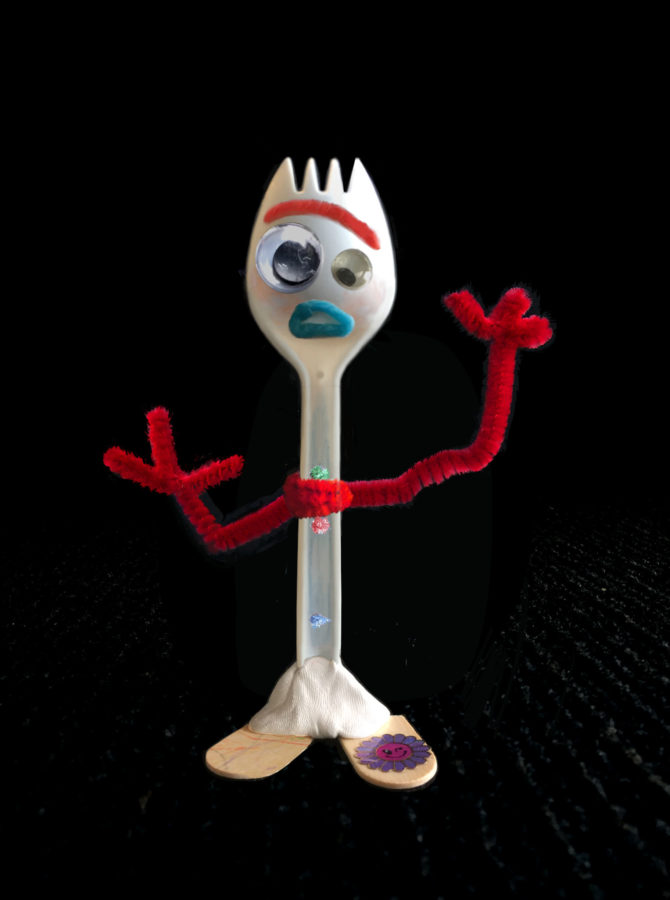 We laughed, we cried, and I saved him from the trash many of times. Today, I will discuss who Forky is, how he came about, and why he such a big deal in Toy Story 4.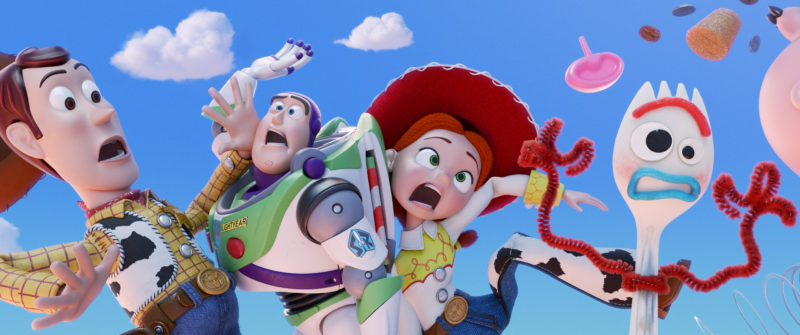 You may have been lead to believe that Forky plays a small, supporting role in Toy Story 4. That's what I felt after watching the Toy Story 4 trailer, at least. Little did I know that Toy Story 4 basically revolves around this waddling, talking spork. Now, let's talk about who Forky is and how he came to be a part of Toy Story 4.
What's up with the talking spork?
Why did the Toy Story 4 creators choose to include Forky in Toy Story 4?
So, the biggest question is – why… an eating utensil? That just seems silly. Well, the animators explained to us that they definitely wanted a child's craft to be part of the movie. So why not have Bonnie make a craft that comes to life? Then, the search began. After toying with a ton of crazy objects and ideas, the Toy Story 4 creative team finally settled on a spork. Then, the fun began.
Everyone on the team was tasked with creating their very own version of Sporky. You'd truly get a kick out of the many different versions these people came up with.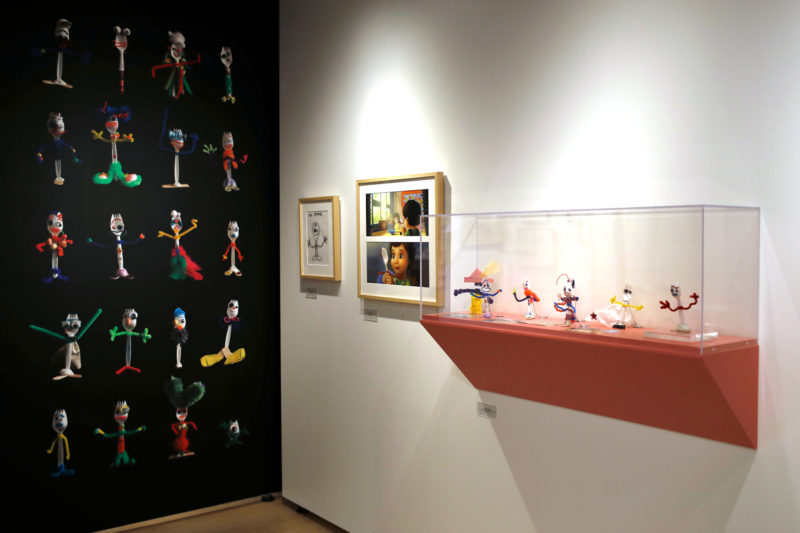 We even had the pleasure of making our own Forky's and I may be biased but, I think we did a pretty great job!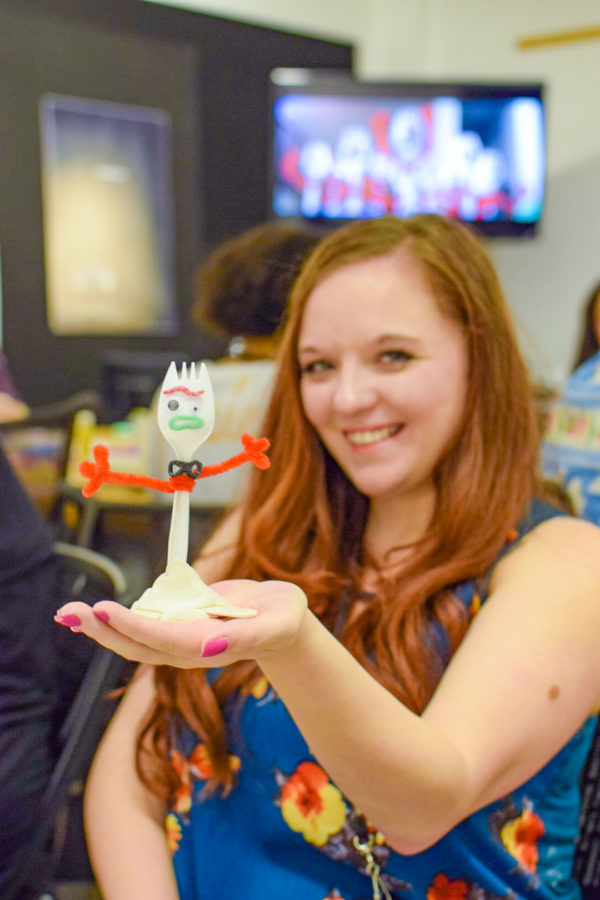 Then, they had all sorts of individuals on their team work film themselves playing with different objects. They wanted to see how things moved – were they stiff? Were they flexible? What kind of things do you see when a spork is moving? A glare of the light, for example. Also, how would a spork walk when it's legs are made of a broken popsicle stick? Well, obviously it would have more of a waddle. Not only that, it would definitely topple over a few times – which we will surely be seeing in Toy Story 4. Additionally, Forky isn't an actual toy. Essentially, he's, well, I'll just be blunt – he's trash. I would typically apologize for such a derogatory term but Forky himself says, "I am not a toy! I'm trash!" as he falls into a trashcan.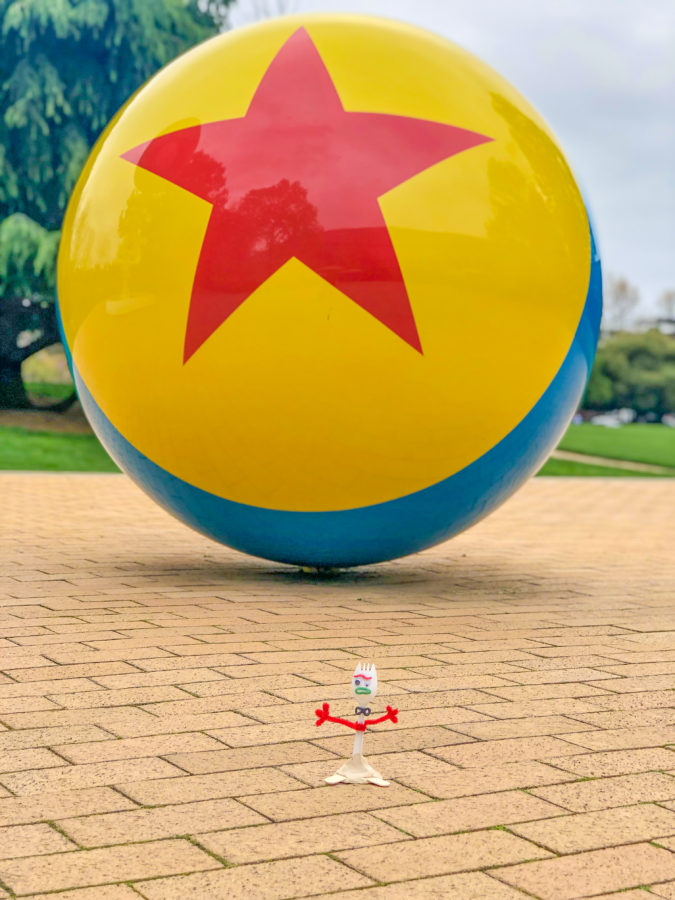 Who is Forky in Toy Story 4 and what's the backstory?
On Bonnie's first day of school, she took the few craft supplies she had to make herself a new toy – Forky. She even signed her name on Forky's popsicle feet. Then, she threw him in her backpack and brought him home. He was officially the newest part of the gang and apparently, Bonnie's new favorite toy.
I'm not a toy! I'm trash!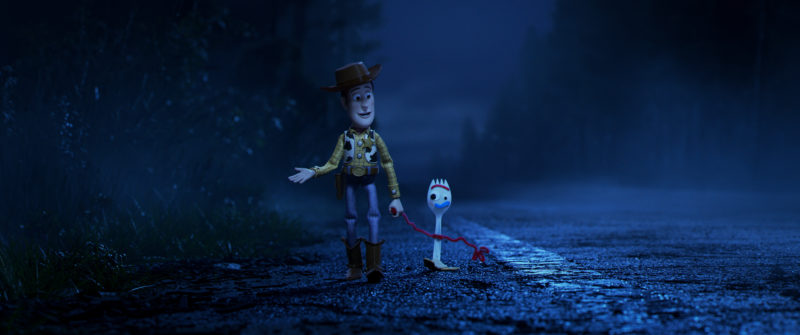 Being that Forky is now part of the gang (whether he likes it or not), he needs to learn to fit in. Woody is making it his personal mission to keep Forky from throwing himself into the trash. His goal is to change Forky's mindset from "trash" to "toy", but averting an identity crisis is not easy. Especially when you're dealing with a silly spork who is basically a newborn baby.
Forky Toy Story 4 FAQ
How is Forky alive? As soon as Forky officially becomes Bonnie's toy and is thrown into her backpack, he comes to life. Bonnie gave life to Forky.
What qualifies as a toy in the Toy Story world? I believe anything a child plays with as a toy becomes one in the Toy Story world.
How old is Forky? As mentioned above, Forky is basically a newborn. One minute he's trash and the next he's a child's toy. No wonder he's so confused!
Does Forky have a family? I'm sure he had a mommy fork and a daddy spoon once upon a time.
Why is Forky such a big deal in Toy Story 4? Forky is Bonnie's newest and most favorite toy! He's basically a treasure that should be protected at all costs.
What is Forky made of? A Spork body, clay base, popsicle legs, pipe cleaner arms, googly eyes, and wixi stick mouth.
How do I make Forky? There's a great Forky tutorial over on As The Bunny Hops!
Who voices Forky in Toy Story 4? Tony Hale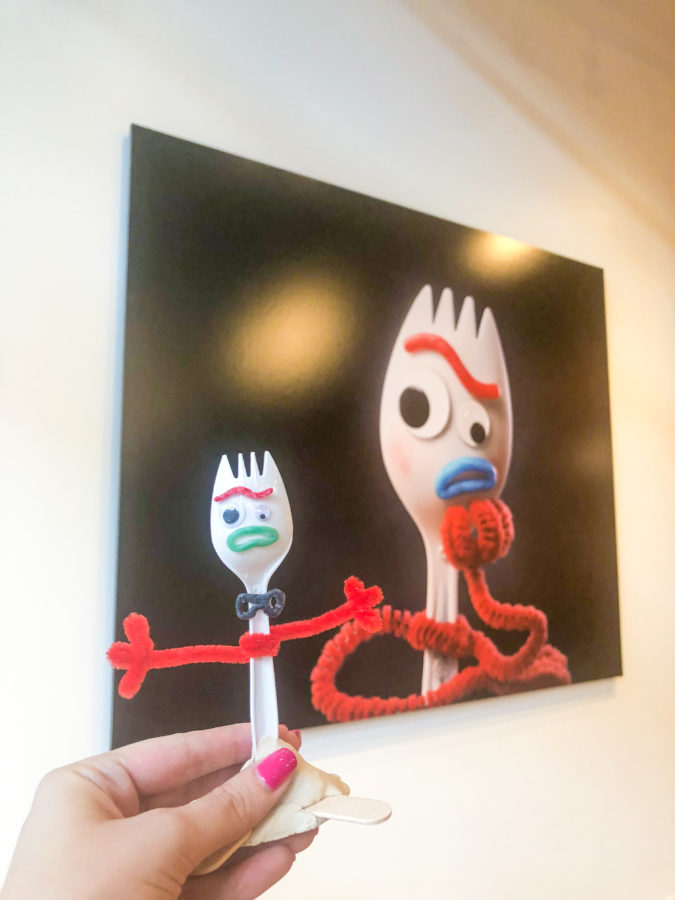 Forky's Adventure Through Pixar Animation Studios
Forky still seemed a little uncomfortable after spending a few hours with me, so I took him on a journey through Pixar Animation Studios. I figured the only way to make him feel like he belonged was to get him accustomed to the Pixar life. So, off we went.
Forky really enjoyed making new friends… I think. It wasn't until he found Buzz and Woody that he really found his place at Pixar Animation Studios.
Want to throw a Toy Story Party – Use this Toy Story Party Guide for crafts ideas, DIYs, recipes, games, and more!
SEE TOY STORY 4 IN THEATERS 6/21
Woody has always been confident about his place in the world and that his priority is taking care of his kid, whether that's Andy or Bonnie. But when Bonnie adds a reluctant new toy called "Forky" to her room, a road trip adventure alongside old and new friends will show Woody how big the world can be for a toy.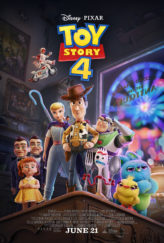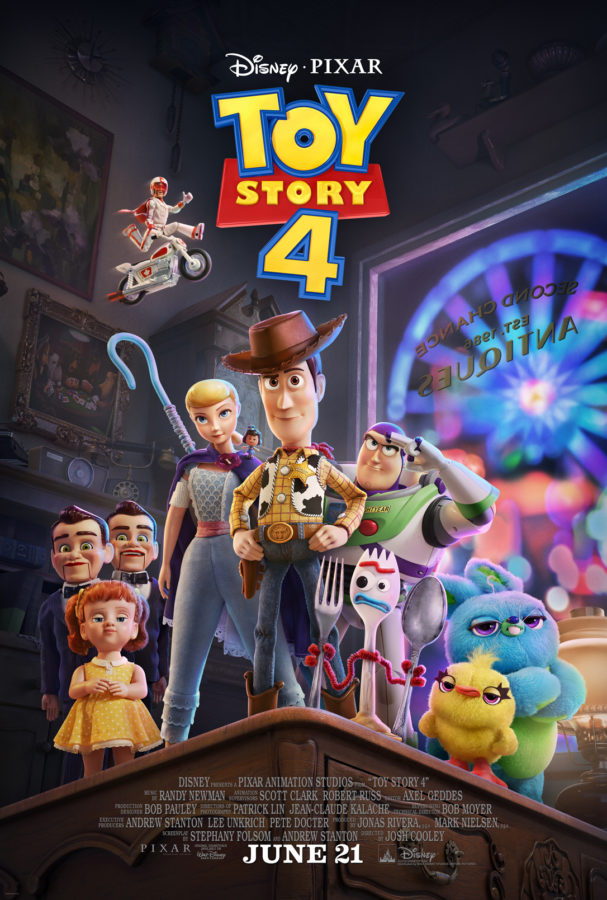 Directed by Josh Cooley ("Riley's First Date?") and produced by Jonas Rivera ("Inside Out," "Up") and Mark Nielsen (associate producer "Inside Out").
Learn more about the new Toy Story 4 characters!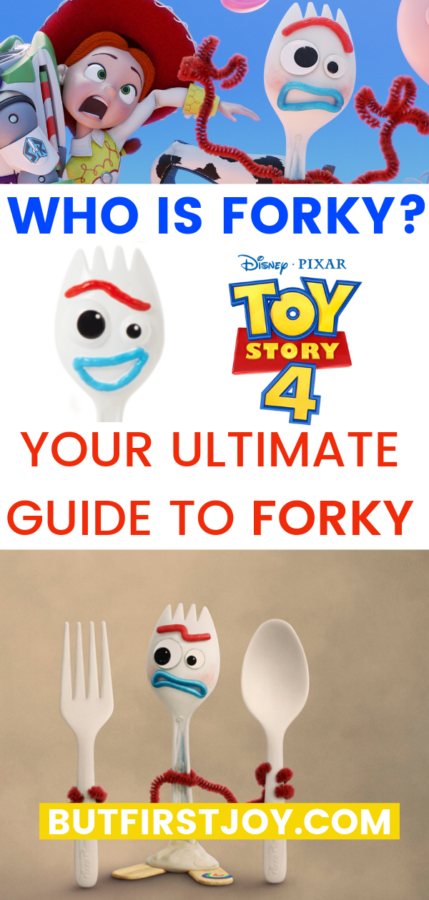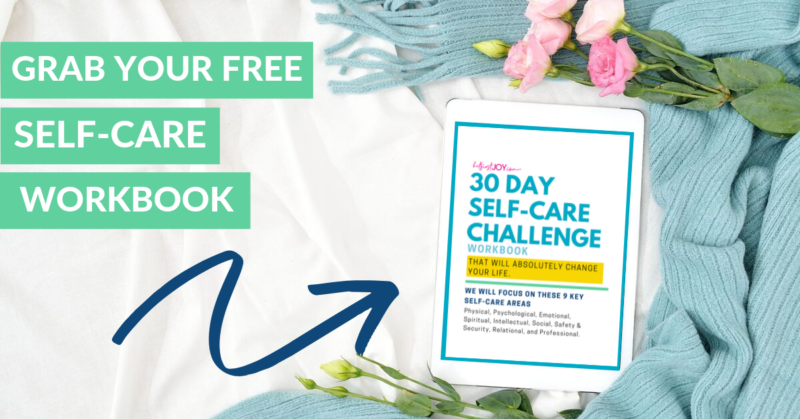 DISCLOSURE
This post may contain affiliate links and/or promotional products, all opinions expressed are that of But First, Joy only. Read my full disclosure.