With Toy Story 4 coming to theaters soon, there will be an influx of Toy Story party requests. Kids are going to want all of the Toy Story crafts, snacks, and activities and let's face it – parents are going to be just as giddy about the Toy Story parties. In this post, you'll find all of my favorite Toy Story party ideas. We've got Toy Story snacks, crafts, activities, and even Toy Story photo ideas!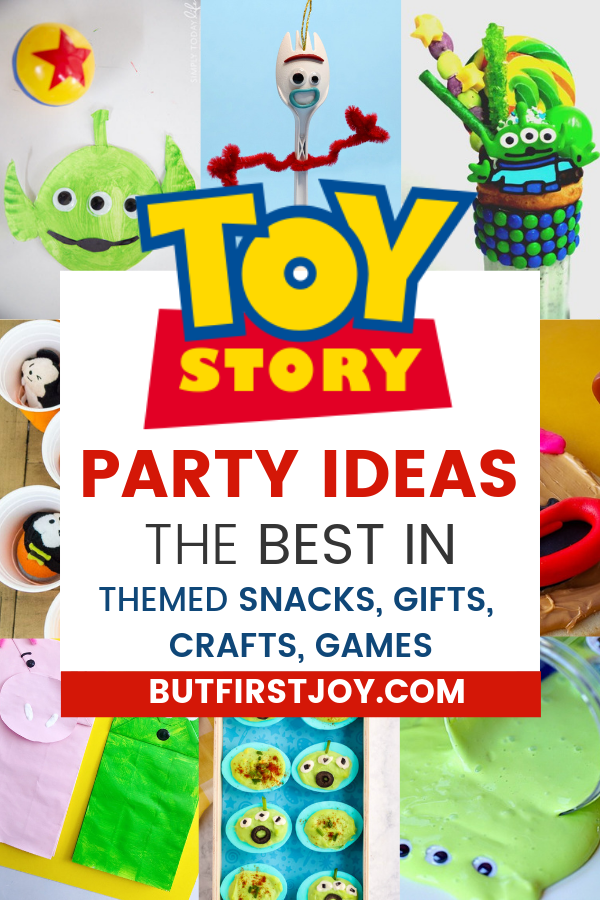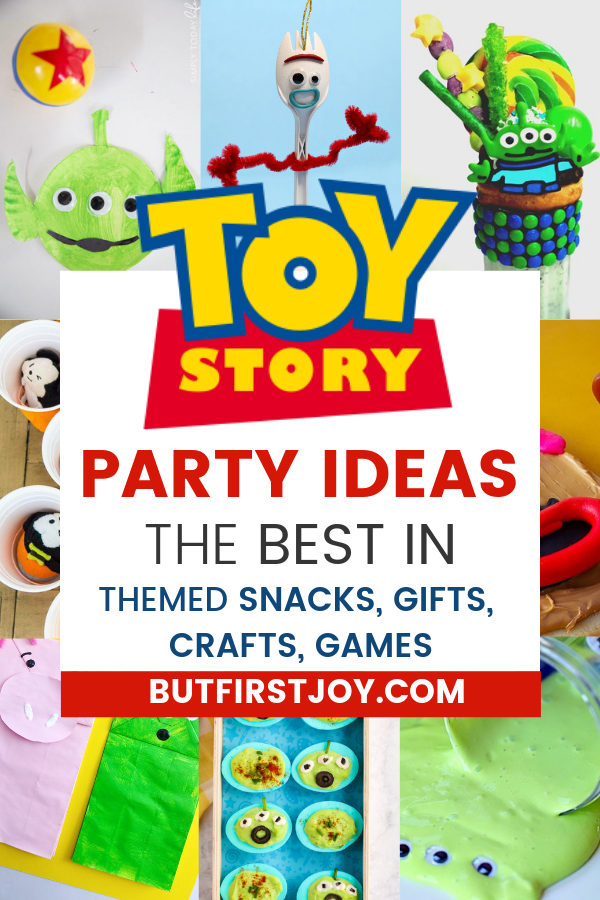 After visiting Pixar Animation Studios recently, I've got Toy Story on the brain. Toy Story will forever hold a very special place in my heart. It's the movie that single handedly made me believe my toys came to life when I left the room. I'll never forget waiting outside my bedroom door for my toys move and then, swiftly opening the door to catch them in action. Those sneaky toys always seemed to outsmart me. Toy Story made me feel so many things but mainly, it evoked my sense of wonder and imagination. I can only hope that Toy Story 4 will bring those same feelings to the newer generation.
Toy Story Party Ideas
If you're wondering how to throw a Toy Story party that will entertain kids of all ages – you'll find all the ideas here. With these ideas, you don't need to go all out on your Toy Story party decor but don't let me stop you! I want to see it all.
I've teamed up with the most creative minds I know, to give you all of the Toy Story ideas you'll ever need for your party. Whether it's a birthday party or watch party – you'll find something to make it a hit here!
7 Toy Story Party Snacks & Recipes
A themed party isn't really a party unless it's loaded with fun snacks.
These deviled eggs are easy to make the day of your Toy Story party! You can even let the kids help you!
Are you throwing a Toy Story watch party? Maybe you're spoiling the birthday children – either way, this fun Toy Story FreakShake is a sure winner!
Not only are these Toy Story cookies easy to make and so cute, the kids can join to make different faces! This would be a fun activity at your Toy Story party. You could simply setup an ingredient bar to make it easy for children to make their own Mr. and Mrs. Potato Head cookies!
6 Toy Story Crafts & Activities
These craft and activities are the perfect way to break the ice at a party. Kids and adults can join together to create take-home crafts!
This craft is something anyone can make without heading to the supply store. The kids can make these at a craft station during the birthday party.
Okay, can we all agree that this is going to be the #1 craft for kids this summer? Sporks are back in, friends! This Forky craft is fun for the entire family and can be repurposed as an ornament for the tree later in the year.
3 Toy Story Games
Make your Toy Story party one to remember with these awesome themed games!
Inspired by the Disney ride, these Midway Mania Toy Story games are everything a child dreams of at a party. With prize ideas, step-by-steps instructions, and great instructions – this is the ultimate list of games for your Toy Story Party!
5 Great Toy Story gifts!
Whether you want to gift these to your party guests or use them as props and decorations, these Toy Story gifts are the perfect way to make everyone smile!
If you really want to wow your party guests, these Pixar Resin Necklace Charms are the way to do it. These charms would make great party favors and can be made well in advance!
2. DIY Toy Story Costumes
If you're thinking of throwing a costume party – you have to give these DIY Toy Story Costumes a try!
Let's be real – this Slinky Dog Dress is the cutest and most genius costume idea we've seen in quite sometime. Make it for your little one's costume party!
I'm pretty sure that every kid wants or has wanted to be Buzz Lightyear at some point in their lives. Make that dream come true with this easy DIY costume!
1 Major Toy Story Photo Idea
Lastly, you'll need to capture the memories and what better way than to have a Toy Story Photobooth setup.
My friend over at KossinaCreative.com recently did the cutest Toy Story themed photoshoot – look at how it turned out. You could easily do this for the kids at the party! All you need is your favorite Toy Story toys, a cardboard box, marker, and adorable kiddos!
If you're in Florida and want to setup a themed photoshoot, Kossina Creative is the way to go! She's a great Orlando photographer who strategizes photo ideas for newborns, milestone shoots, family photos, and more!
See Toy Story 4 in theaters June 21st
Woody has always been confident about his place in the world and that his priority is taking care of his kid, whether that's Andy or Bonnie. But when Bonnie adds a reluctant new toy called "Forky" to her room, a road trip adventure alongside old and new friends will show Woody how big the world can be for a toy.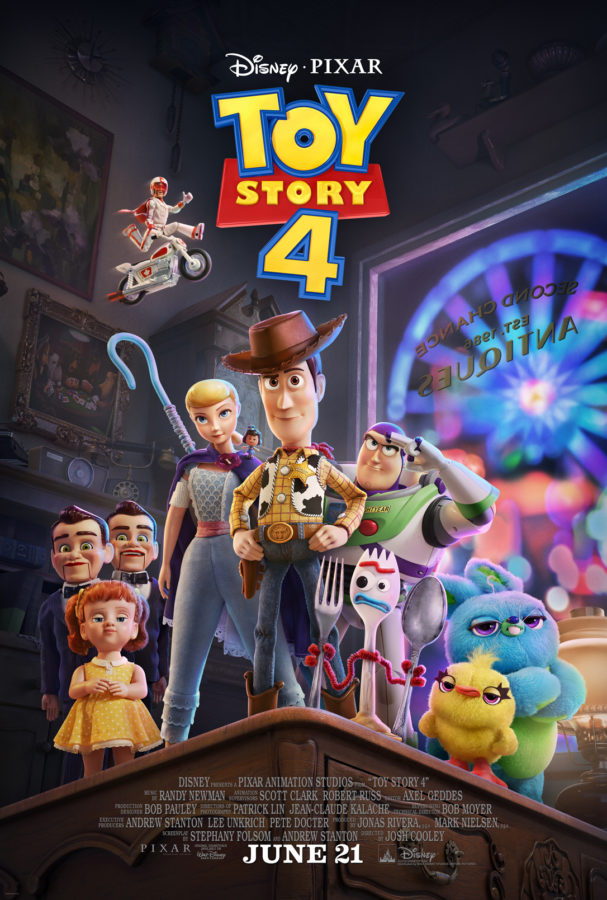 Directed by Josh Cooley ("Riley's First Date?") and produced by Jonas Rivera ("Inside Out," "Up") and Mark Nielsen (associate producer "Inside Out").
Learn more about the new Toy Story 4 characters!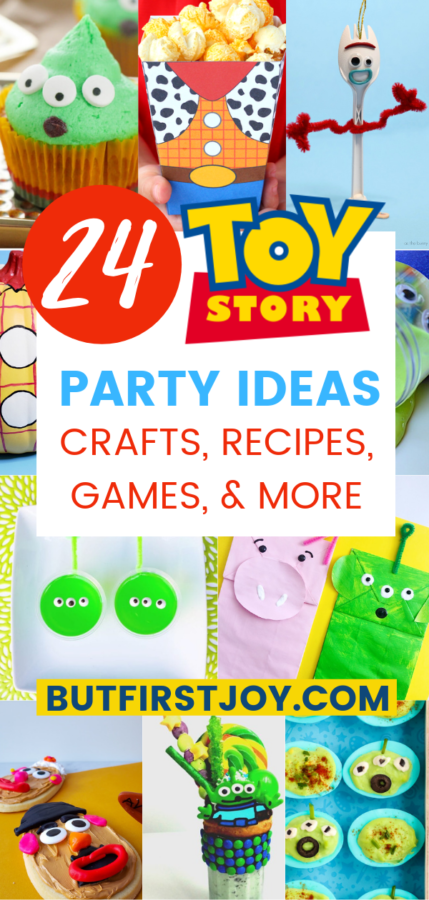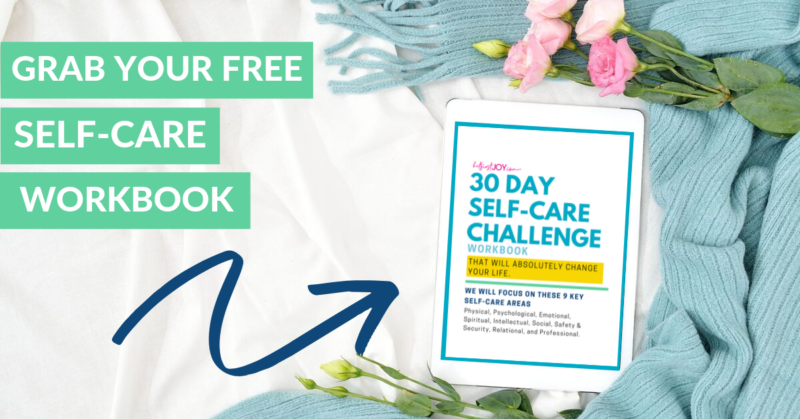 DISCLOSURE
As an Amazon Associate I earn from qualifying purchases. This post may contain affiliate links and/or promotional products, all opinions expressed are that of But First, Joy only. Read my full disclosure.