Do you only have one day to explore Disney's Toy Story Land in Orlando? If it's your first visit or you've visited a few times, you have to check these 18 experiences off your Toy Story Land Bucket List! You don't want to miss a thing. I visited Toy Story Land free as a Disney Partner to facilitate this review. All opinions are honest and true.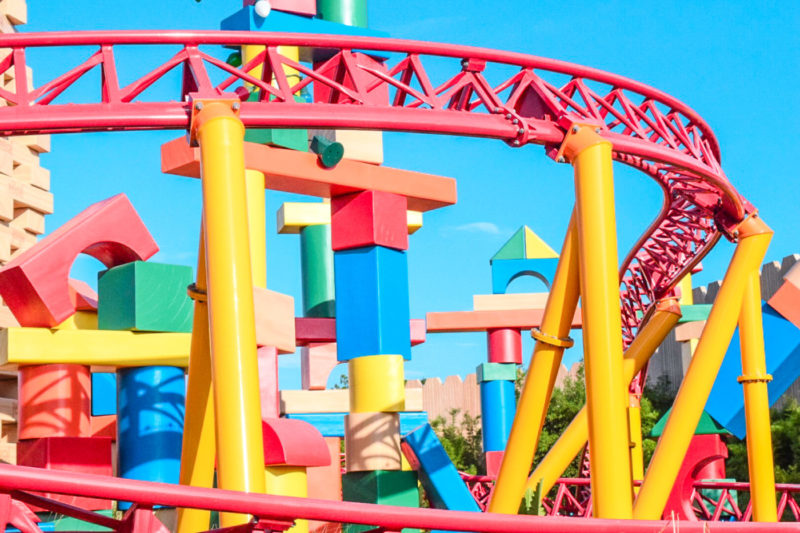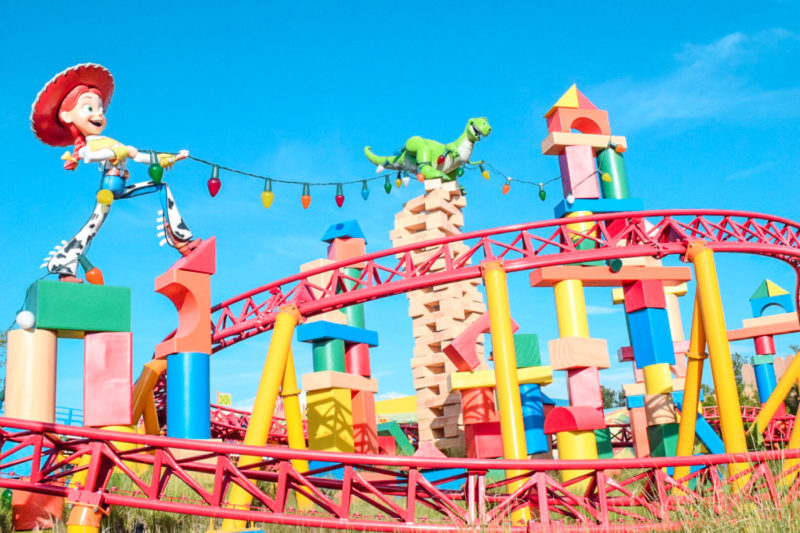 Toy Story plays a big part in my marriage. Mainly because the films lands on our Top 5 Disney/Pixar lists and because "to infinity and beyond" was in our vows. Most of us have a nostalgia that comes along with Toy Story. All it takes is the sound of Tom Hanks or Time Allen and we're transformed back to the classic that will never get old. With that being said, Disney's decision to open a land in Orlando, FL's Hollywood Studios dedicated to this film was one of the best decisions they've made thus far.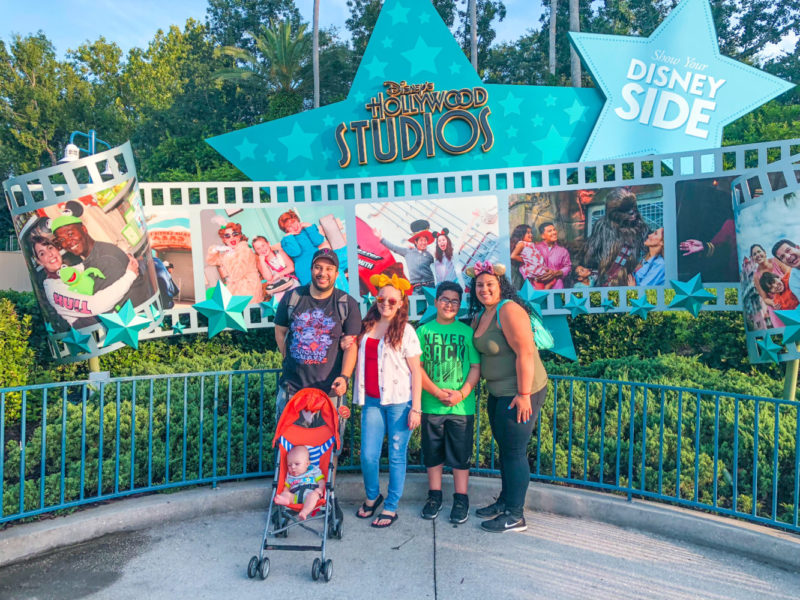 The most genius part of this idea was that we're in Andy's backyard, as toys. That's right, as soon as you enter into Toy Story Land, you're the size of a toy! Just look around and pay attention. You'll see the "wooden fence" that borders Toy Story Land. In fact, look at everything because you never know what Easter Eggs the imagineers have thrown into this exciting land.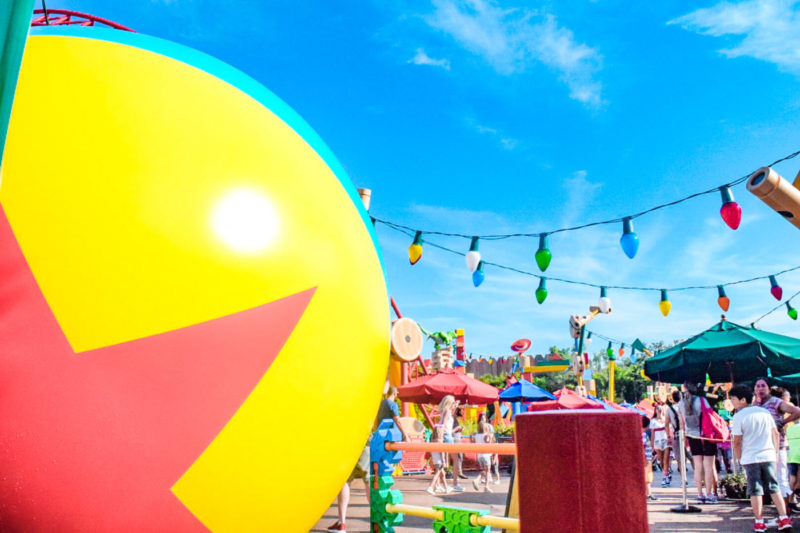 If you're visiting for the first time and don't want to miss a thing, then I've got the ultimate Toy Story Land Bucket List for you! Just bookmark this page or take a screenshot so you don't forget anything.
The ULTIMATE Toy Story Land Bucket List
1. Photo Opps with iconic characters: Buzz Lightyear, Woody, Jessie, and Soldiers
You can't visit Toy Story Land without encountering Andy's favorite toys. They kinda run the place. So say hi, snap a selfie, and pay attention to every little detail – like the pull string on Woody's back or how Buzz needs a break from photos to "recharge his batteries". It's genius.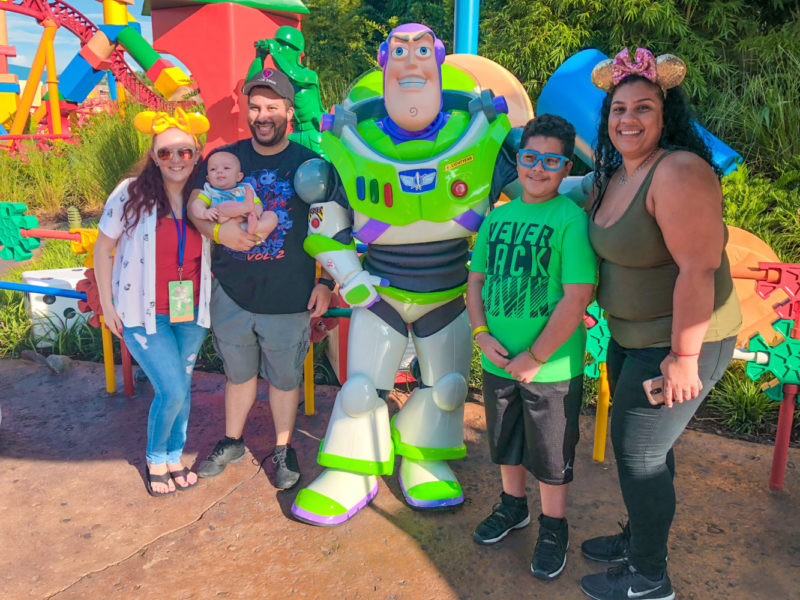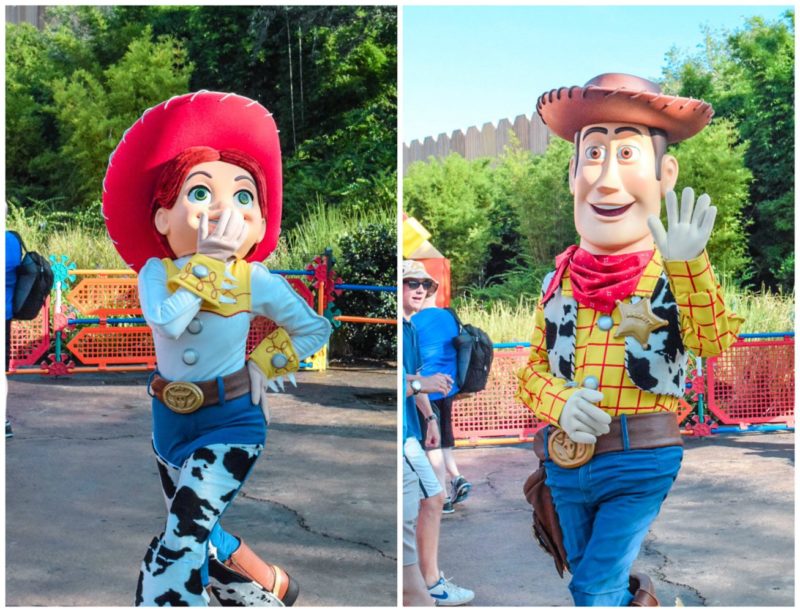 2. Popsicle Bench Photo
You have to take a photo on the Popsicle stick bench. It's kind of a big deal. Seriously, just ask Instagram.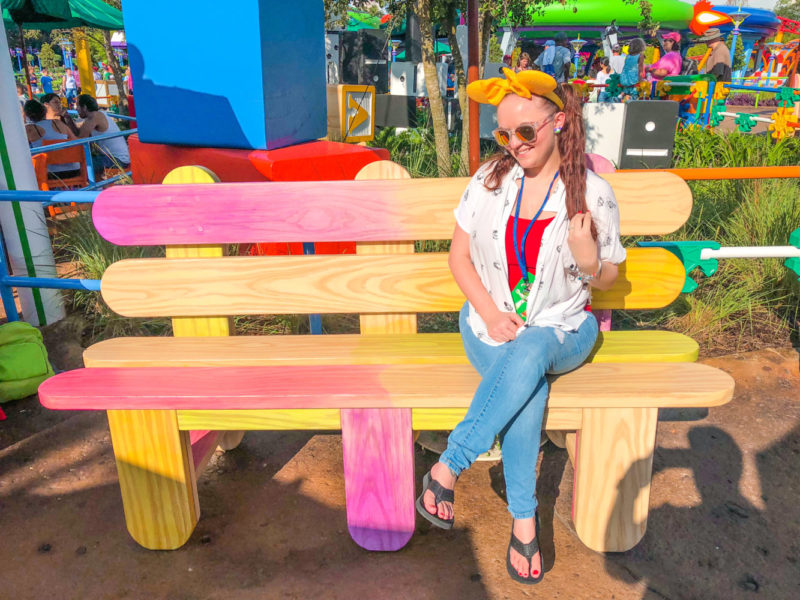 3. Photo at Entrance
If you get to the park early enough, you can get a photo at the entrance without much of a line. You'll here Woody greeting everyone as you enter. The best part? Two cast members are taking photos of two families at a time, so the wait time is much shorter than you'd think.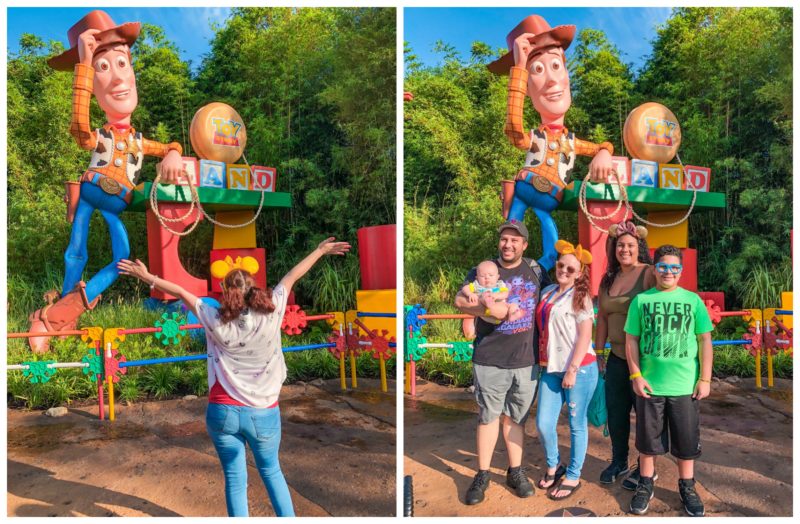 4. Find all the Easter Eggs
There are so many Easter Eggs in this park! You cannot miss them. I already want to go back to see if I can spot more. Want to prepare better? Visit my friend Jennifer's 5 Secrets You Must Know About Toy Story Land post.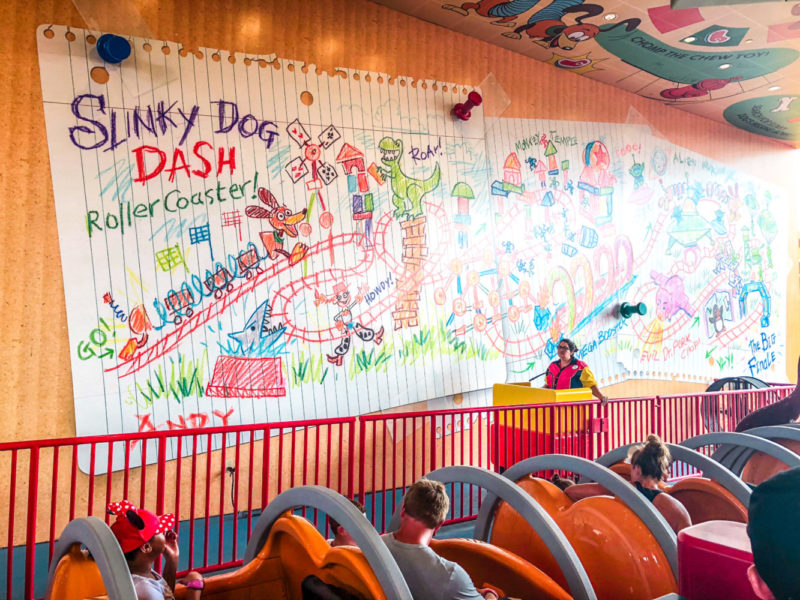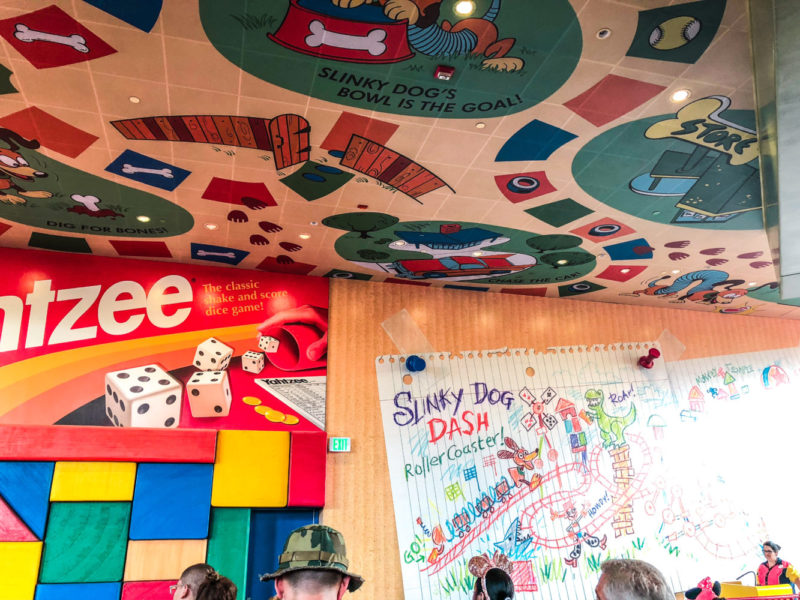 5. Ride Slinky Dog Dash
I mean, duh. You definitely can't visit TSL without a ride on slink dog. Don't worry, it's not as extreme at is looks. Plus, there are a lot of Easter Eggs on this ride and in the queue. Disney makes everything fun. My husband and I give this ride two thumbs up!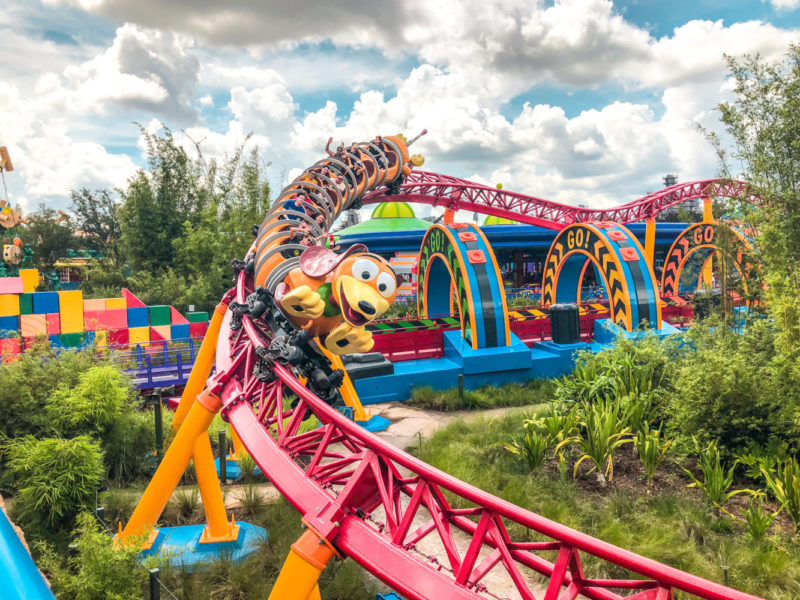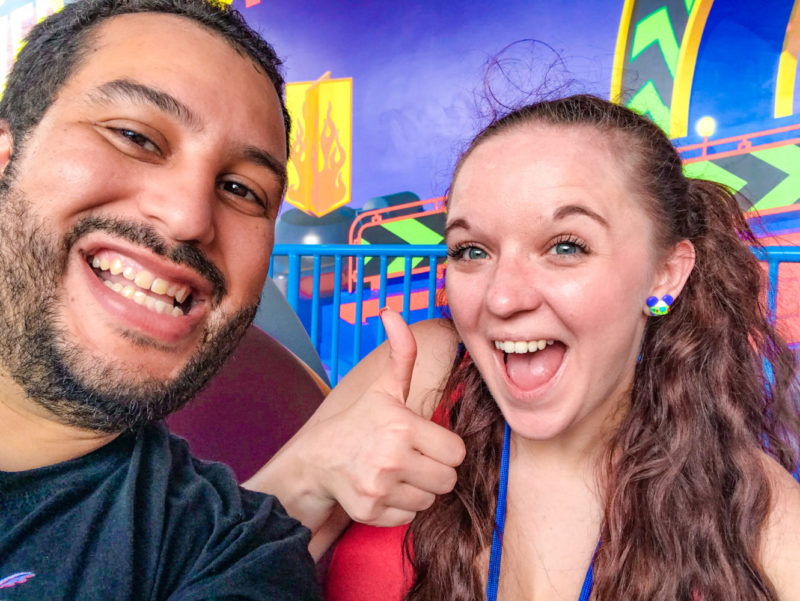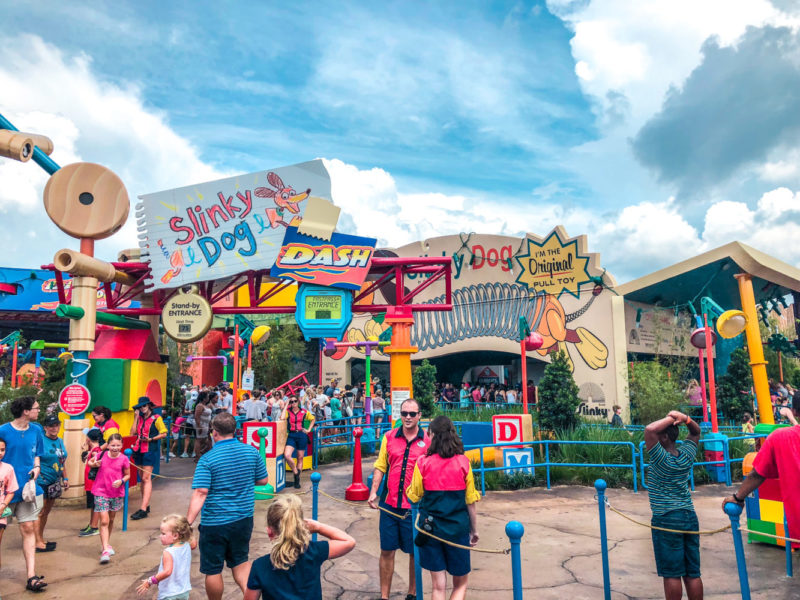 6. Toy Story Land Block Wall
Don't worry, you won't miss this wall. It's at the restrooms in Toy Story Land and it's glorious! Be sure to snap a photo in front of it!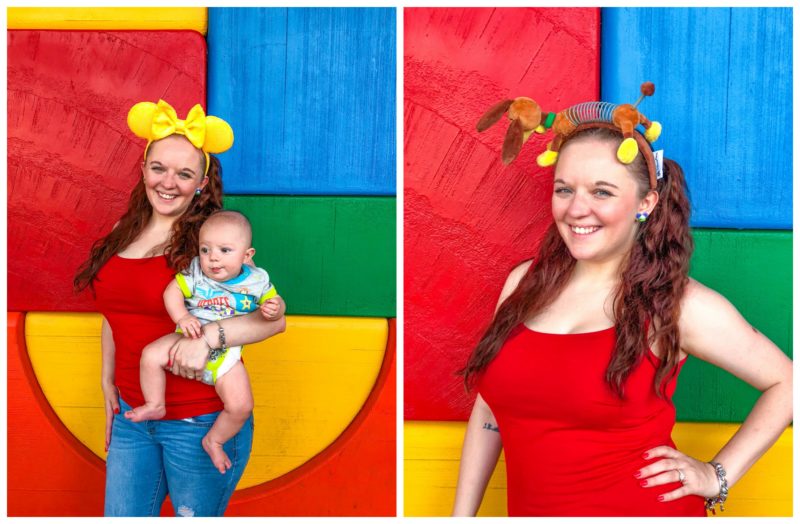 7. Alien Swirling Saucers
Rumor has it that this ride is out of this world. Give it a twirl.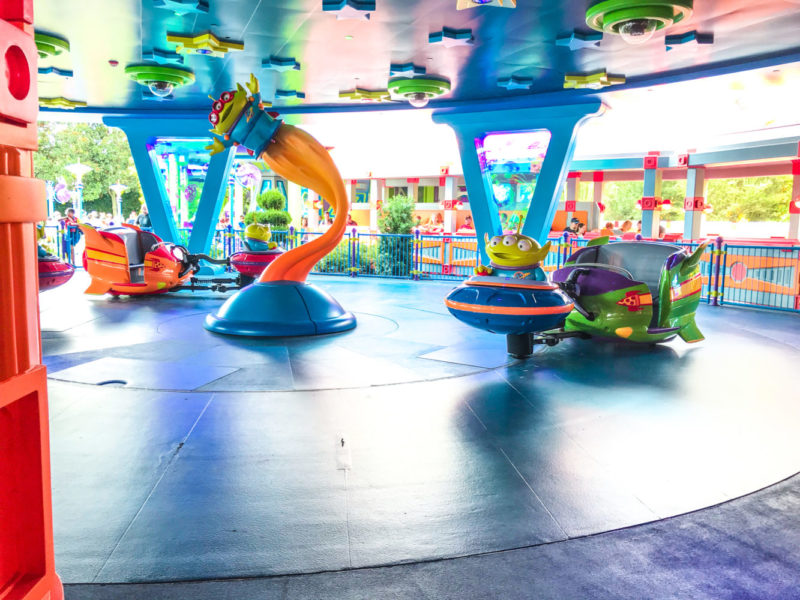 8. Beat the high score in Toy Story Mania
Nothing is impossible. Mr. Walt Disney himself said so. The high score when I visited was over 500,000. But, if you're a sharpshooter, you'll do great. Either way, you'll have a blast!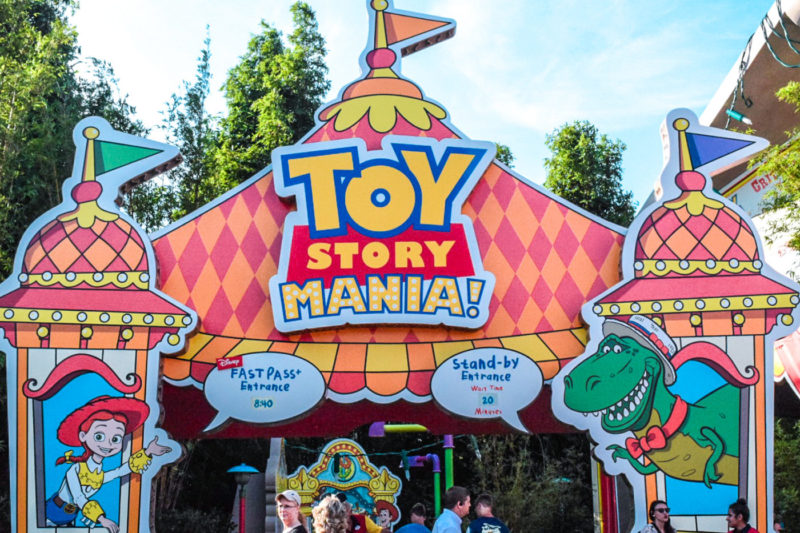 9. Andy's Wall Photo
This is another Instagram wall that you can't miss, especially because it wont be there forever. This is the wall blocking the toys from escaping into the new Star Wars: Galaxy's Edge that's still under construction. Andy's signature is on it and his doodles. Take advantage of it while you still can.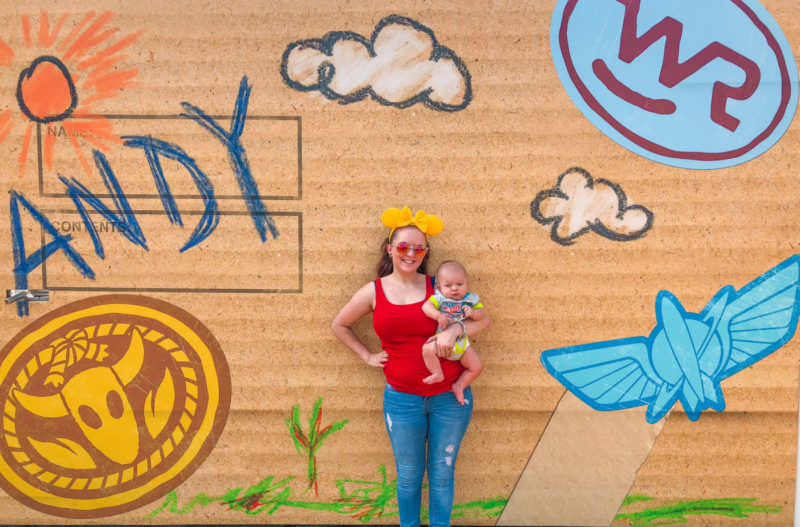 10. Try everything at Woody's Lunchbox
Try it all. They have breakfast and lunch. I've heard the Poptarts are YUM! I personally tried the Smoked Turkey Sandwich, BBQ Brisket Melt, and the Mystic Portal Punch. I'd recommend all three. The BBQ Brisket Melt is worth cheating on your diet. Just Sayin! The meals include a side, too.
11. Interact with the Toy Soldiers
The soldiers are SO much fun to interact with. Each has their own personality and they NEVER break character. One walked right up to my baby boy and asked him when he was unpackaged. He said he was the cutest toy he's ever seen. haha. All day long, you'll catch the soldiers playing games, marching, and just having a good ole time. This is exactly what you'd imagine Andy's Backyard to be like!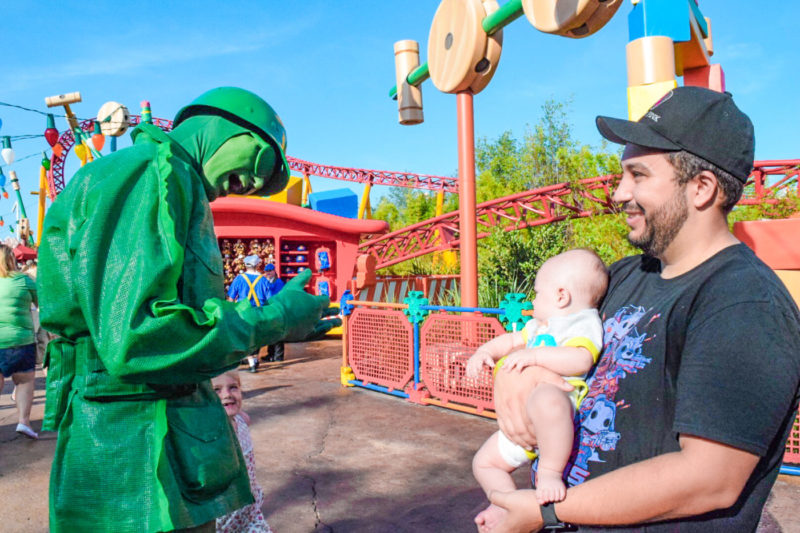 12. Checker Wall photo
Shame, shame, SHAME on me. I missed this photo opp. I saw it as I was leaving the Toy Story Mania ride and didn't snap a photo. I was wearing red though so my outfit would have totally clashed.
13. Count the number of games you spot in Toy Story Mania line
There are SO many classic games in this queue. I went through the FastPass line so my experience was different that the regular queue, but I spotted a few: Uno, Candy Land, Monopoly, Life, Checkers, and more that I'm likely forgetting. This is a fun idea to keep the kids busy as you wait. And it's SO worth the wait.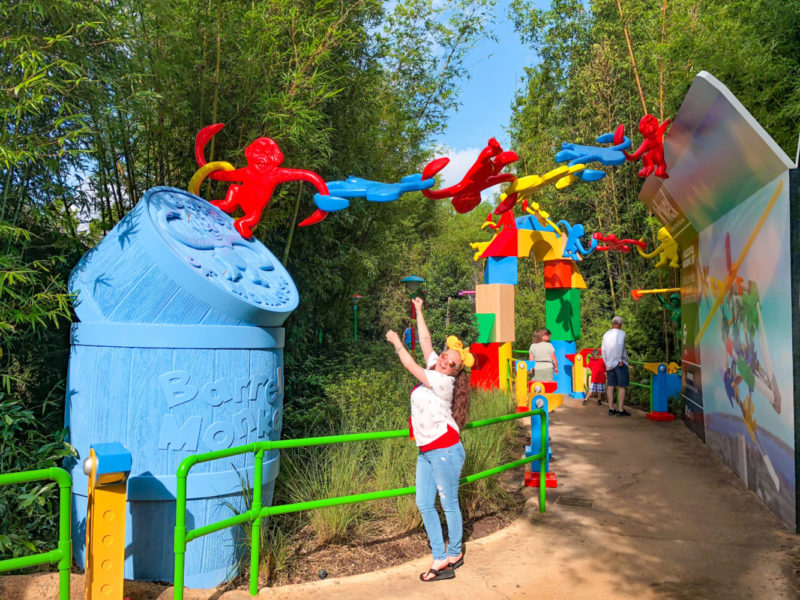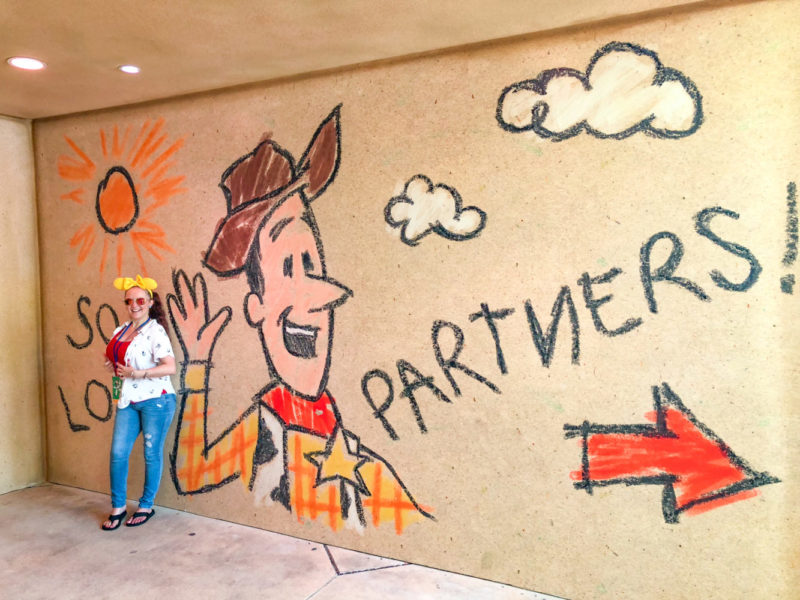 14. Collect all the Toy Story Land pins
There are 3 regular pins and 1 Passholder Exclusive Limited Edition pin. I snagged 3 of the 4. I'll grab the other one the next time I visit. The other is and Alien Swirling Saucers pin.
15. Popsicle Wall Photo
This is just as famous as the Block Wall photo. The Popsicle Wall can be found after exiting Toy Story Mania. TIP: You can enter the exit of the ride without an issue, if you want to grab this photo and the Checkers Wall without riding the ride. TIP #2: Be sure to capture the top of the wall. It's kind of useless if you don't. Just ask my husband who took my photo. haha! I'll be taking a new photo upon my next visit.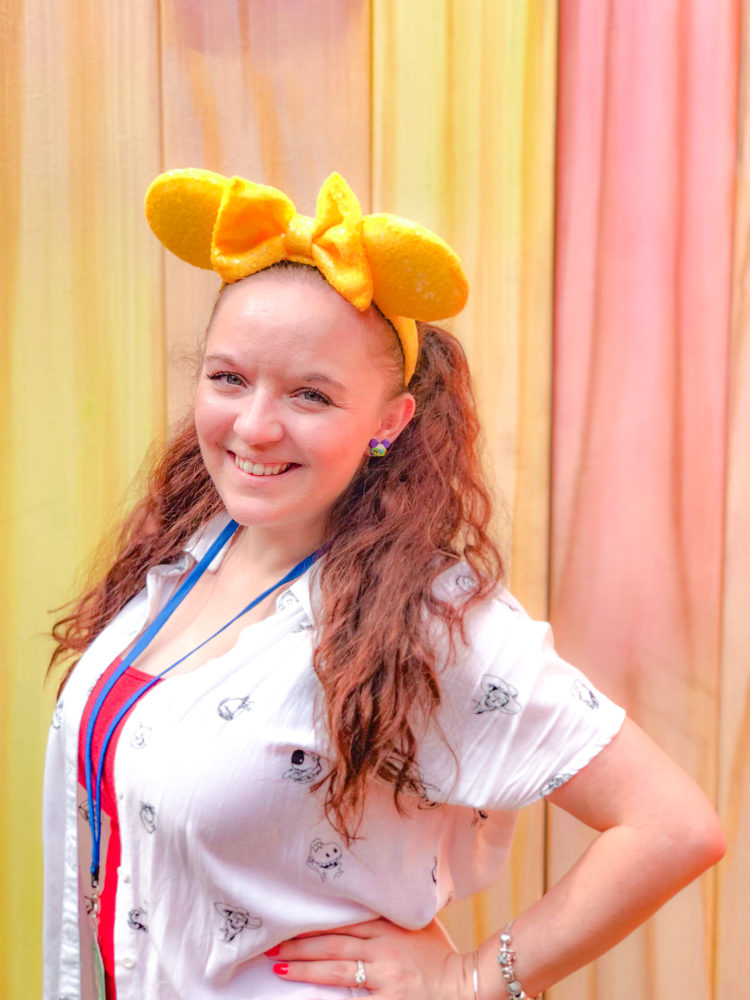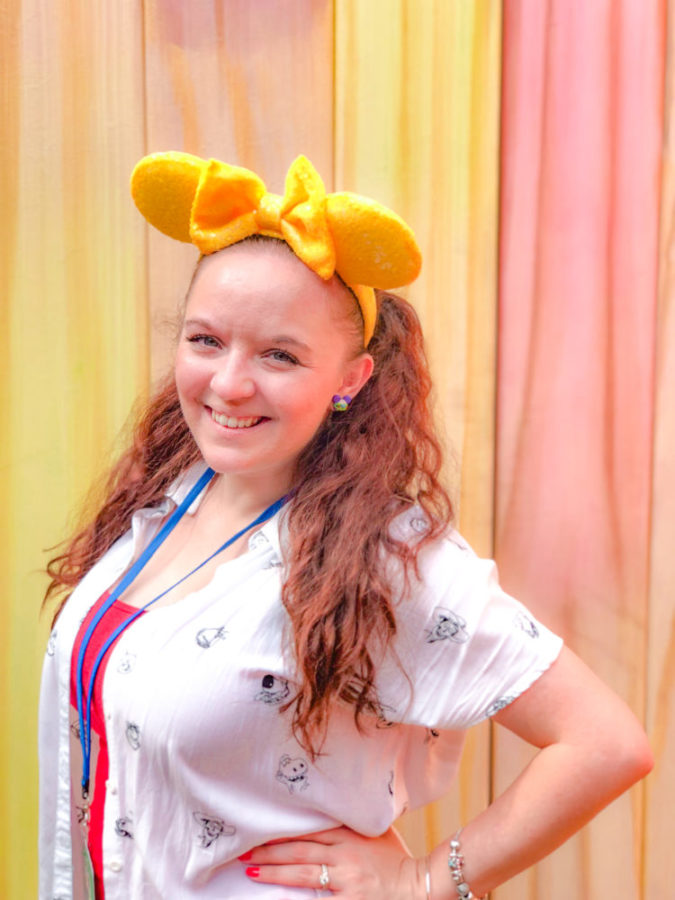 16. Find Andy's giant foot print
I'm sure this isn't hard to find, but I, however TOTALLY missed it. I was too excited by everything else.
17. Watch the toys come alive at night!
Just as in the movies, the toys come alive in the dark! I personally haven't visited at night, but I'm dying to see the park all lit up at night. I can't help but wonder what surprises might be in store for night visitors.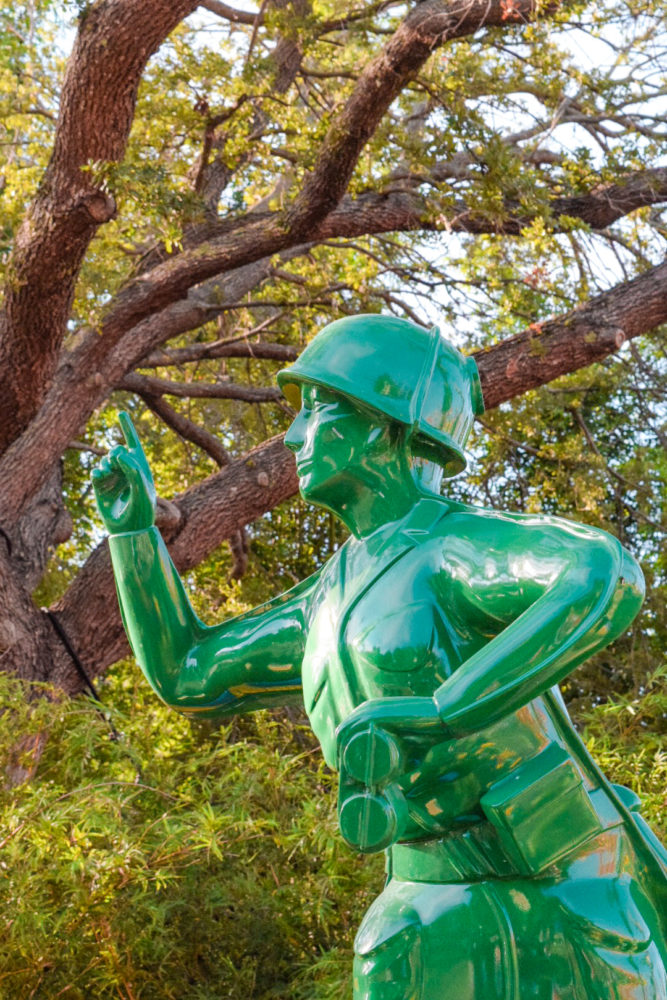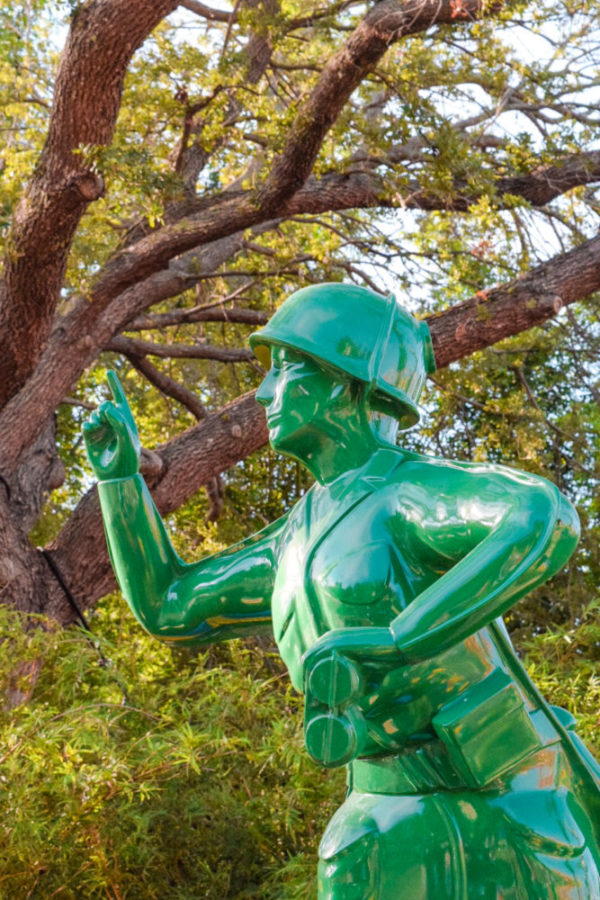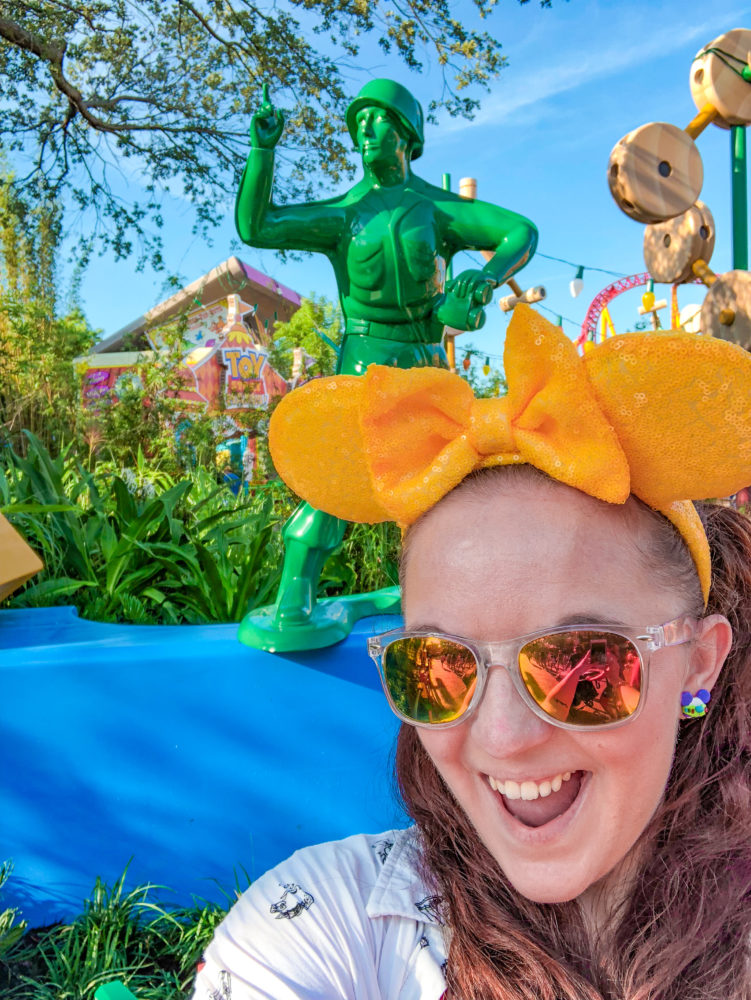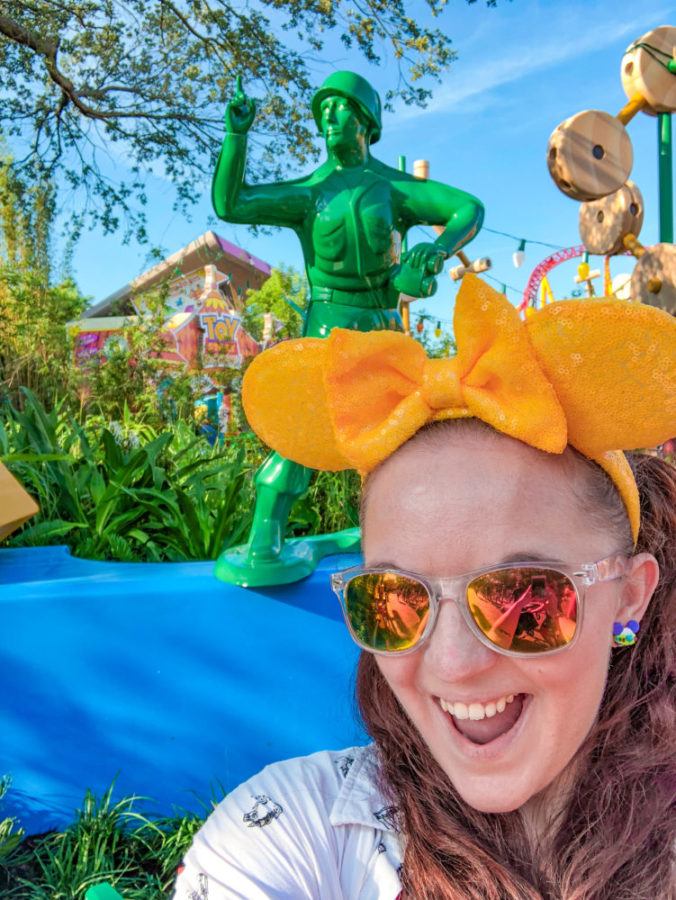 18. Take a Photo with the Pixar Ball
It's not every day that you see a giant Pixar ball. Snap a ton of photos by it and don't be afraid to get creative.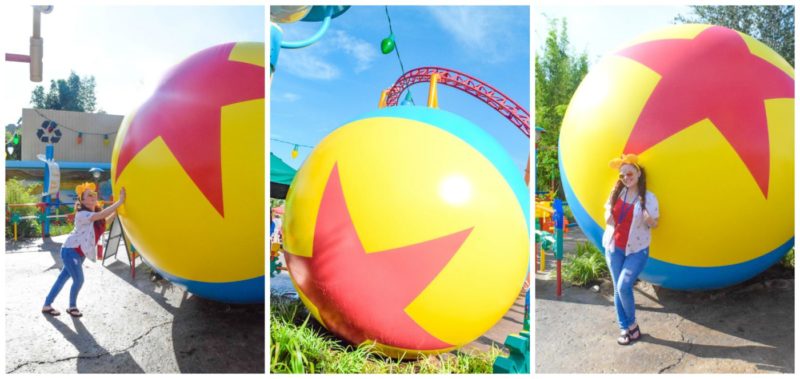 Get your tickets to Toy Story Land in Hollywood Studio today and try to book fast passes for all those rides!
Need a little more convincing? Visit my Instagram Stories "Disney" Highlight on mobile to see my stories right from the park!
What makes you the most excited about Toy Story Land?
What other exciting things are happening at Disney? Check out my experience these special-tickets events: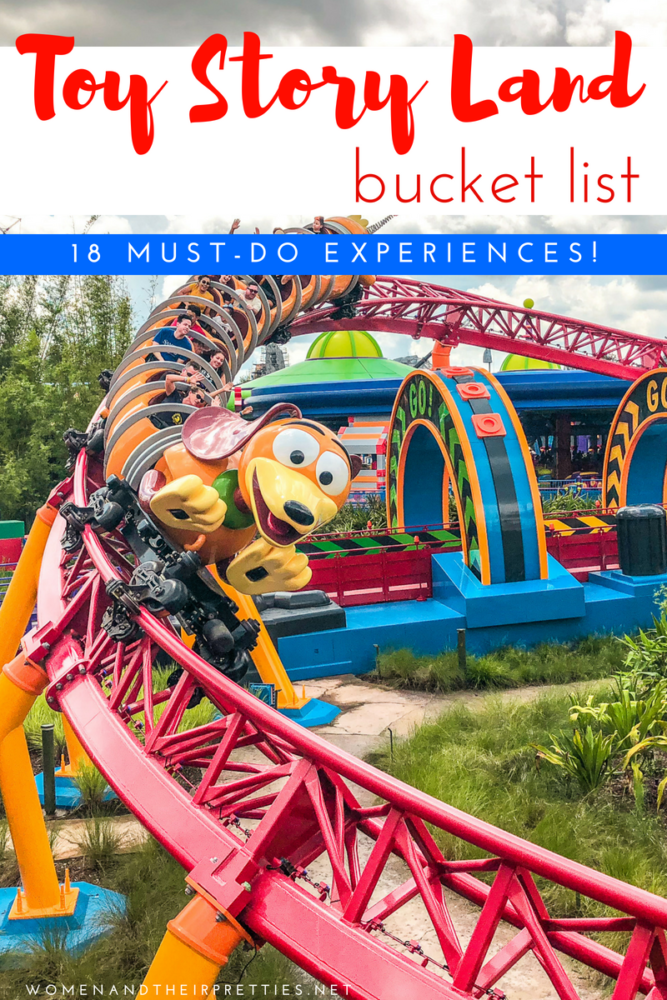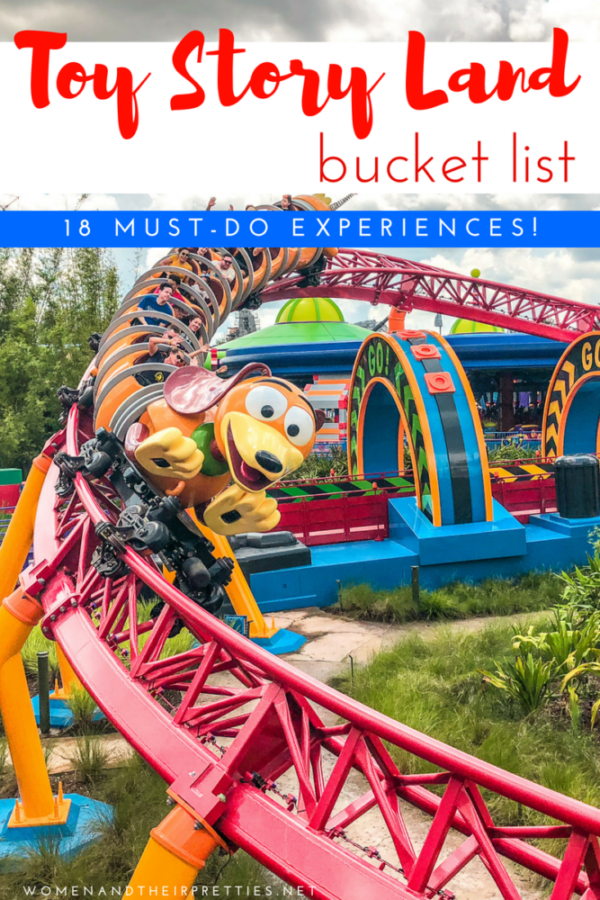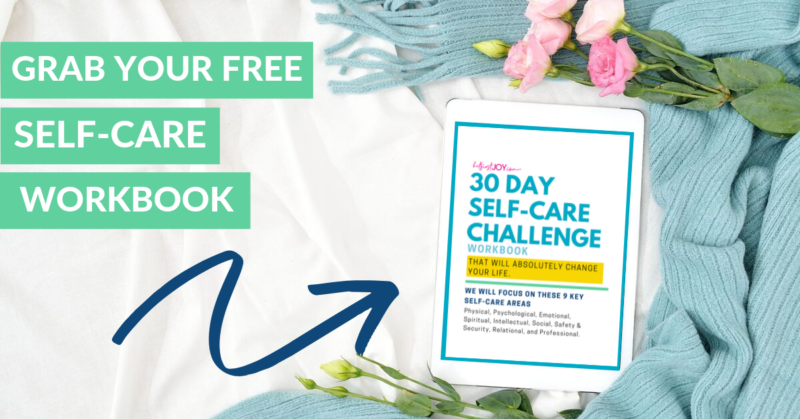 DISCLOSURE
As an Amazon Associate I earn from qualifying purchases. This post may contain affiliate links and/or promotional products, all opinions expressed are that of But First, Joy only. Read my full disclosure.