Today you're going to learn how to create an easy Buzz Lightyear craft painting in celebration of the final Toy Story 4 trailer.
You know what that means, right?
We're in the final stretch! Toy Story 4 is a month away. 4 weeks. 31 days.
But, who's counting? Other than literally ALL OF US!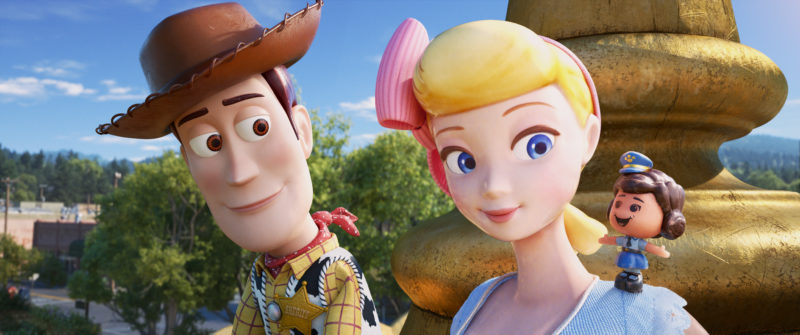 I think I speak for all of us when I say that we're ready to see Buzz and Woody back in action.
I only have one question:
How much of a role does Buzz play in Toy Story 4?
From the looks of all the Toy Story 4 trailers and from what I learned during my visit to Pixar Animation Studios, it seems like Buzz is only a supporting character this time around.
Has a talking spork, known as Forky, taken Buzz's place? Or maybe Bo Peep has distracted Woody enough to put Buzz on the back burner.
Watch the final Toy Story 4 trailer below and let me know what you think:
While this final Toy Story 4 trailer is showing a lot of the galactic toy, Buzz Lightyear, what role does he really play in the film?
Are we really going to miss out on a good ole fashioned crazed Buzz Lightyear moment?
My heart cant take that kind of distance from the coolest space ranger in the toy box.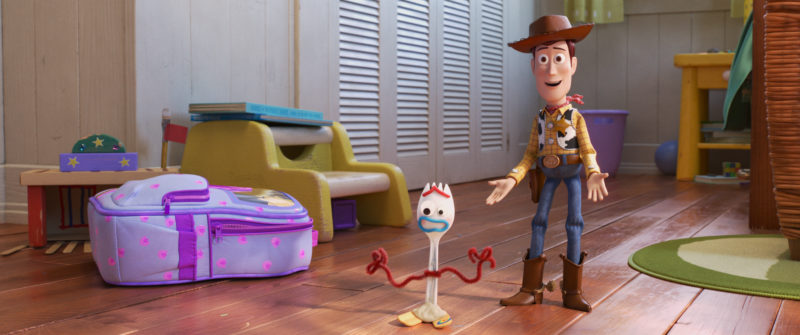 That's why I created this easy Buzz Lightyear painting craft – to keep Buzz in our minds and celebrate him as the heroic toy that he is.
I don't know about you guys, but I think Buzz deserves some recognition after all he's been through.
This painting is for any kind of crafter. It's an easy Toy Story craft that the kids can join in on! You do not have to be an artist to any degree for this Buzz Lightyear Craft!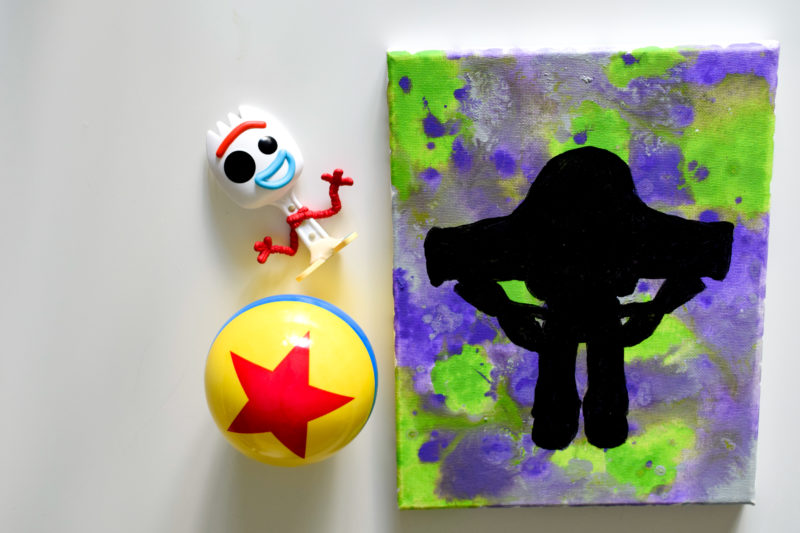 So, without further ado, here's your DIY Buzz Lightyear Watercolor Painting Tutorial:
How to make a Buzz Lightyear Silhouette Painting:
First of all, you'll need to gather all of your painting supplies. Which you may already have lying around your craft room.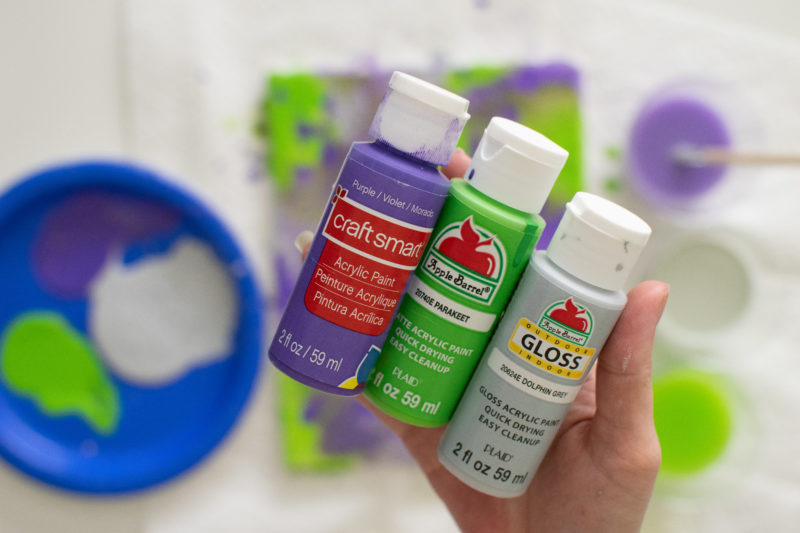 Buzz Lightyear Craft Supplies
Canvas (8×10) – I got a pack of 10 on Amazon!
Sheet of Card Stock (any color)
Grey or Silver paint
Purple paint
Green paint
Black paint
Paper Plate
3 water cups
Two paint brushes – one should have a thin tip
DIY Buzz Lightyear Painting Instructions
1: Print your Buzz Lightyear outline onto the cardstock and carefully cut it out. This will be your stencil for later use.
2: Fill your 3 water cups.
3: Squirt purple, grey, and green paint onto your paper plate.
4: Dip your larger paint brush into one water cup, then into a color of your choice, and back into the water, lightly.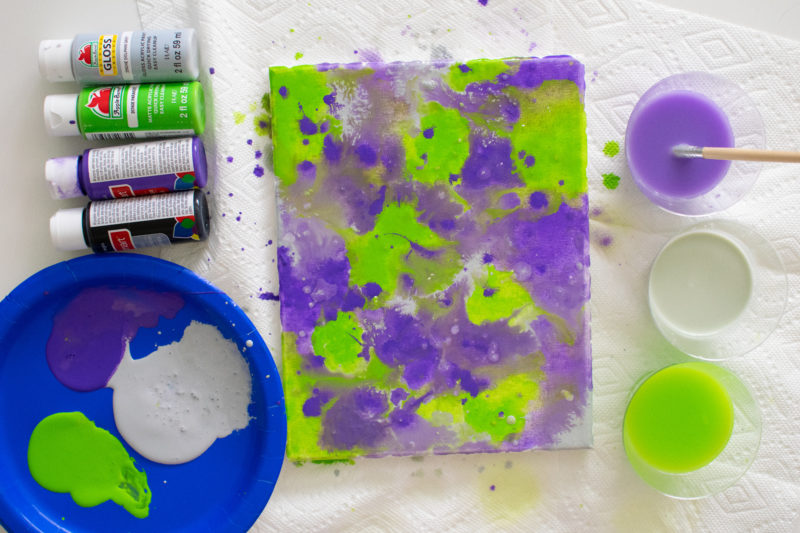 5: Begin dabbing the paint onto your canvas. You want it to be watery. Puddling is what you're going for.
6: Spread your first color out across the canvas in different sections. Try not to put too much of one color in a single location.
7: Next, clean your brush in a new water cup and follow Step 4 with a different color.
8: Dab the second paint color along the edges of the last color and in blank locations on your canvas. Don't fill the entire canvas because you still have one more color to work with.
9: Clean your brush and follow step 4 with the final color.
10: Fill in blank areas using the same puddling and dabbing painting technique.
You'll notice watercolors running together and that's okay! You want that look!
At this point, you can go back to another color that you might need more of. I personally wanted green and purple to my main colors so I used a lot of those.
11: Finally, you can have a little fun by dripping and splattering colors on top of their opposites.
Have fun with this! It's not that serious.
You can choose to painT the sides if you'd like. I personally prefer to let the paint naturally drip down the sides.
Now, you're literally going to watch paint dry.
Okay, watching it isn't necessary. Leave your canvas painting in a safe space to dry. I left mine for a few hours but I'm sure it was dry much sooner.
Now that your painting is fully dry: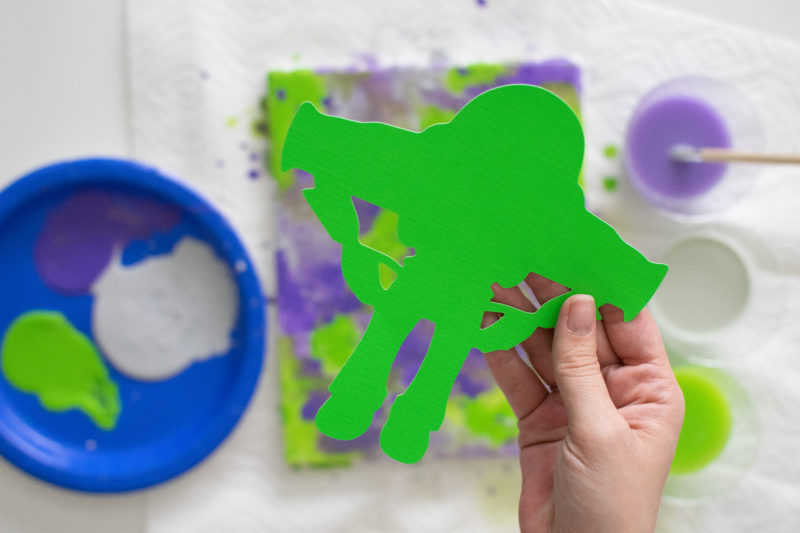 Add Buzz Lightyear to your painting
STEP 1: First, add a fresh water cup to the side and a squirt of black paint to your paper plate.
If you're doing this easy Buzz Lightyear Craft with the kids, I recommend leaving this part to the parents. Unless your child has a very steady hand, of course.
STEP 2: Place the stencil in the center of your watercolor canvas.
STEP 3: Using a small, thin-tipped paintbrush (sorry folks, I don't know the technical term), carefully outline the Buzz Lightyear stencil in black paint.
You are going to need to take your time with this one. Be sure to always hold the stencil very steady and in-place with your less dominant hand.
Keep your line as thin and dark as possible. You can add two coats in areas that are needed.
Finally, you can remove Buzz Lightyear stencil!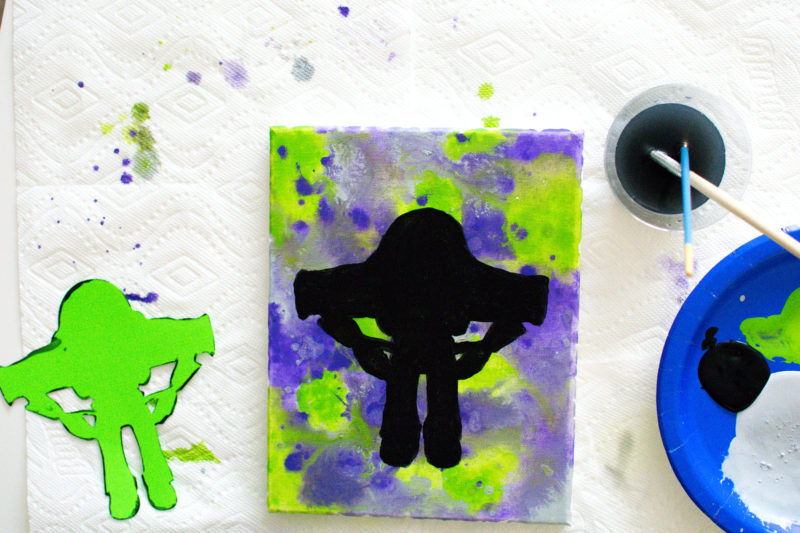 At this point, you're starting to see your Buzz Lightyear painting come to life.
STEP 4: Now, you can grab your larger paint brush and fill in the full silhouette of Buzz Lightyear with black paint.
Use your smaller brush to reach any tight spaces or corners.
STEP 5: Allow your painting to fully dry and then touch up any black that might be needed.
Buzz Lightyear – to the rescue!!
That's it, friends! You've created your very own DIY Buzz Lightyear Watercolor Painting. What do you think?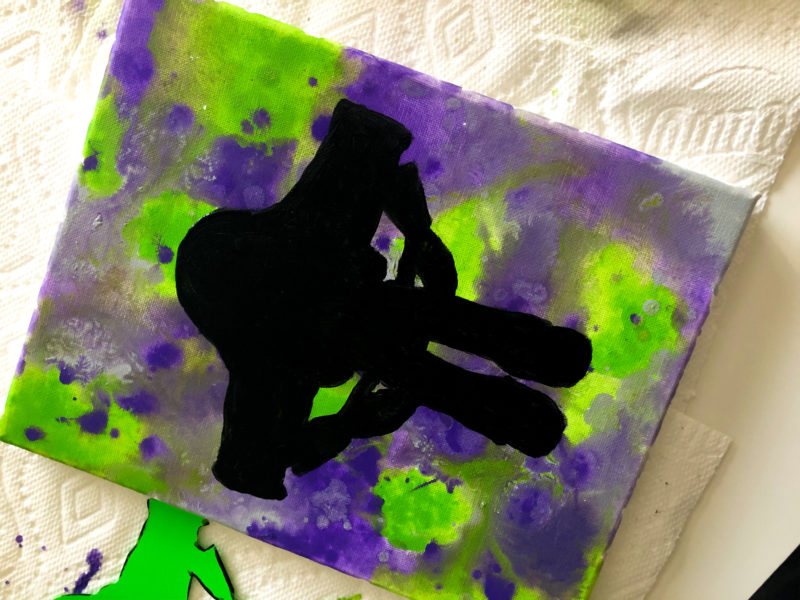 Now that you've completed this lovely work of art, you can hang your completed Buzz Lightyear Craft in the playroom…
in your office if you're a diehard Toy Story lover like myself…
Or, give it as a gift! It can even be used as a DIY Pinboard (like I did for my Castle and Belle watercolor paintings).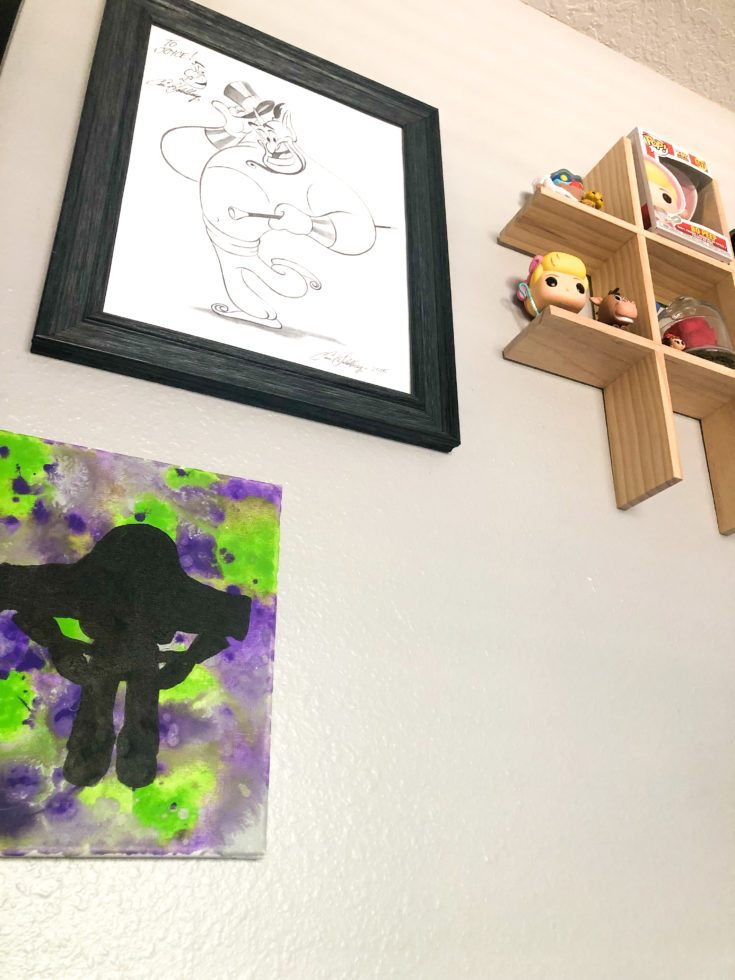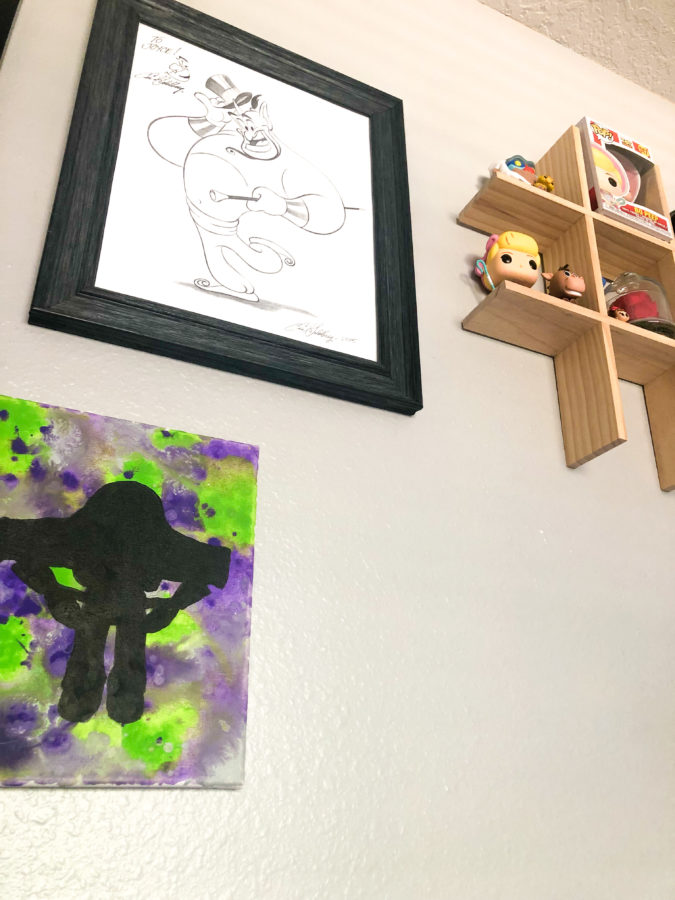 Throwing a Toy Story Party? Use it as decor and grab all your Toy Story Party Ideas here!
I'll be creating more Toy Story Watercolor Painting and crafts so stay-tuned!
In the meantime, you can learn more about Toy Story 4 in my series of posts: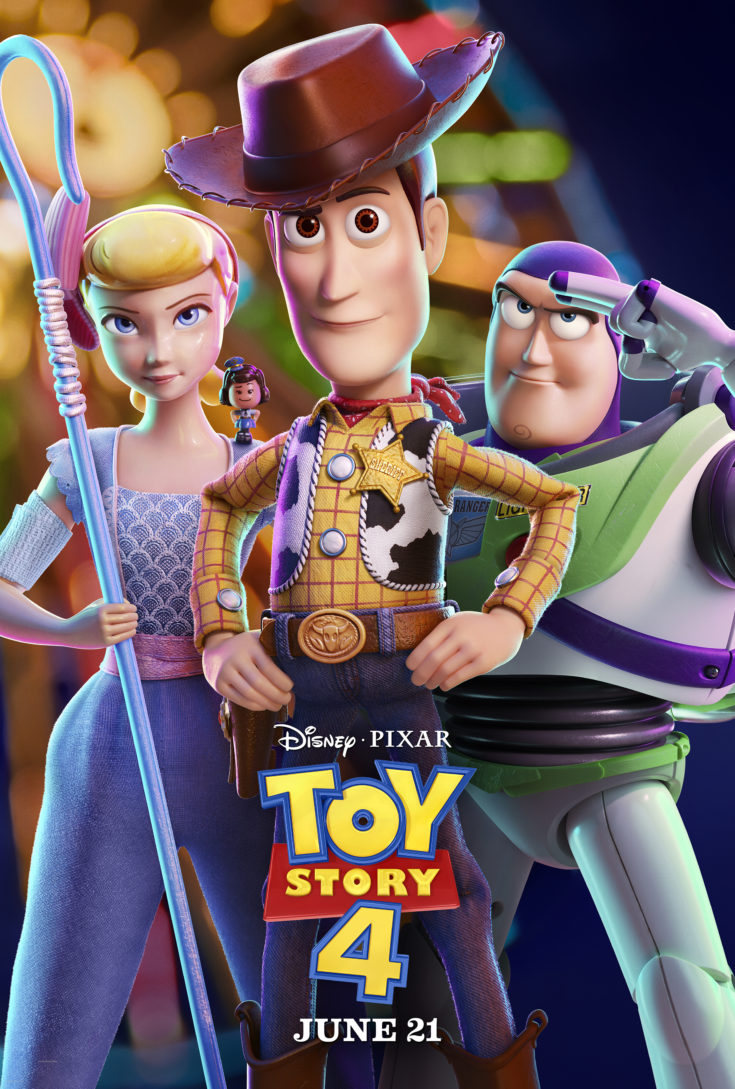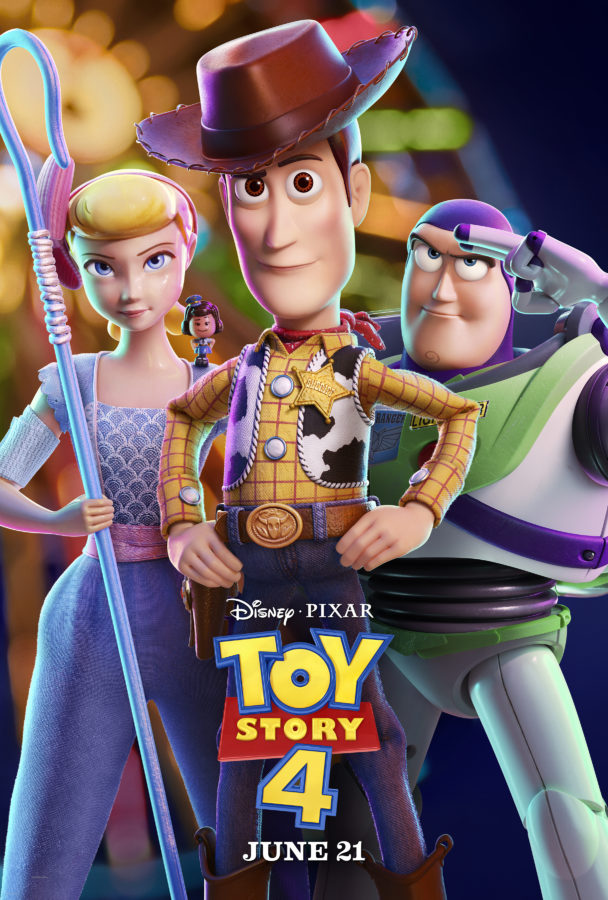 ABOUT TOY STORY 4:
NEW FRIEND! – In Disney and Pixar's "Toy Story 4," Bonnie makes a new friend in kindergarten orientation—literally.
When Forky—Bonnie's craft-project-turned-toy—declares himself trash and not a toy, Woody takes it upon himself to show Forky why he should embrace being a toy.
Featuring the voices of Tony Hale and Tom Hanks as Forky and Woody, "Toy Story 4" opens in U.S. theaters on June 21, 2019.
TOY STORY 4 GIFT IDEAS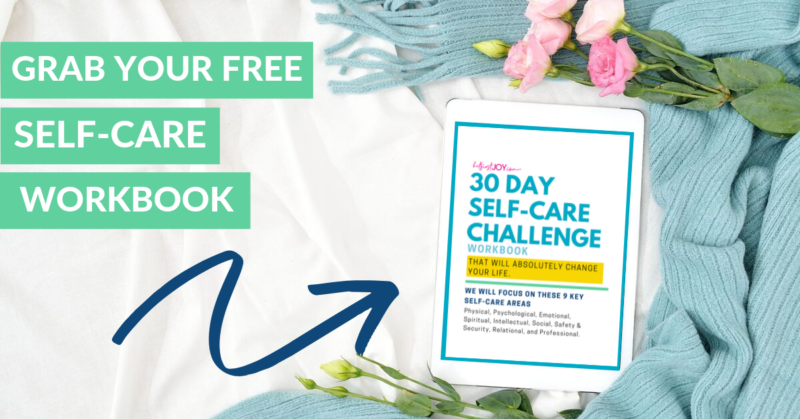 DISCLOSURE
As an Amazon Associate I earn from qualifying purchases. This post may contain affiliate links and/or promotional products, all opinions expressed are that of But First, Joy only. Read my full disclosure.