These live-action Lion King Quotes from the 2019 movie will make you feel all of the same feelings you felt when watching the original.
These movie quotes will bring you to tears!
I can hardly believe that a live-action remake of The Lion King is on the horizon in 2019. It seems like just yesterday that I was sitting with my legs crossed on the floor, singing along with Simba.
Oh, wait. It was.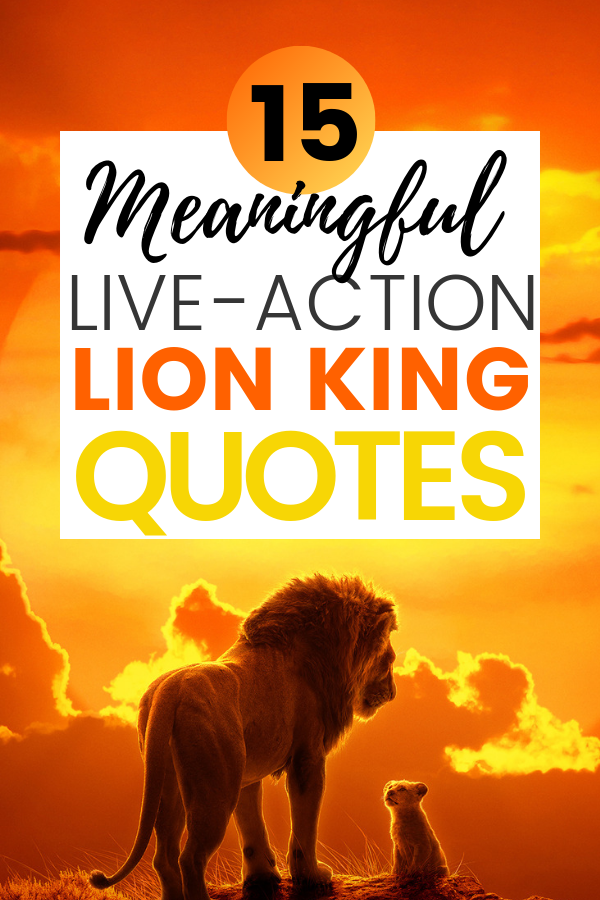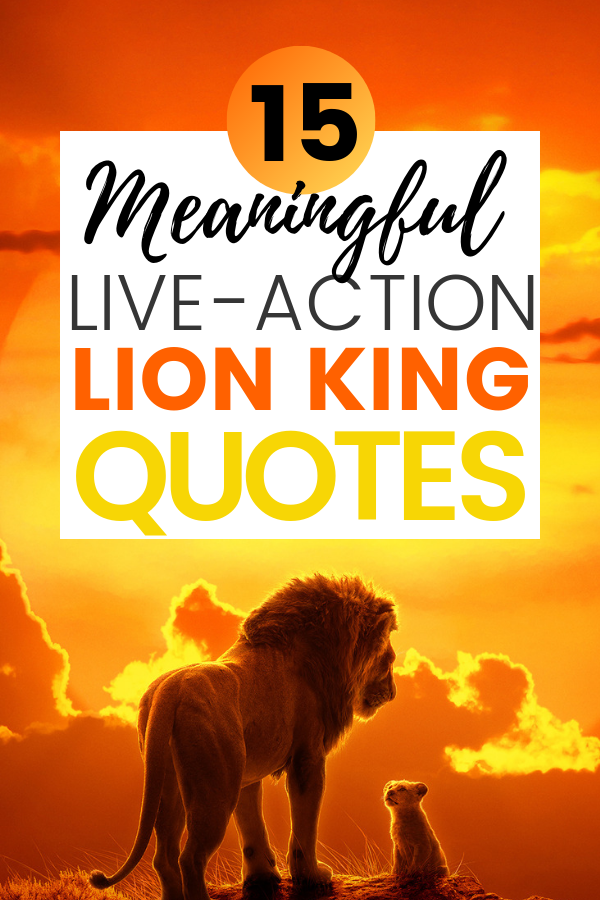 You're never too old for a Disney movie. This is why I particularly enjoy all of the live-action Disney remakes. Not only do they make me nostalgic, they give me different feelings, as an adult and mother.
FREEBIE ALERT: GRAB THIS FREE The Lion King Puzzle!
Find all these Lion King 2019 Movie Quotes in theaters July 19th!
All I'm saying is that these remakes are just as much for the adults who watched them over 20 years ago, as they are for the newest generation of Disney lovers.
RELATED: 16 Most Profound Toy Story 4 Quotes
Nothing will ever compare to the feeling of watching our children fall in love with the characters we've known for most of our lives. Whether it be a live-action remake, like The Jungle Book, or a new movie in a series, like Toy Story 4 – it's an excitement the brings me to tears.
15 Meaningful Live-Action The Lion King Quotes
Whether you're over-the-moon excited or a bit critical of the new film, you'll probably get a lot out of these Meaningful Live-Action The Lion King Quotes.
Please keep in mind that these quotes were written in a dark theater (thanks to lifestyle blogger, Becky from Week99er), so they may not be entirely accurate.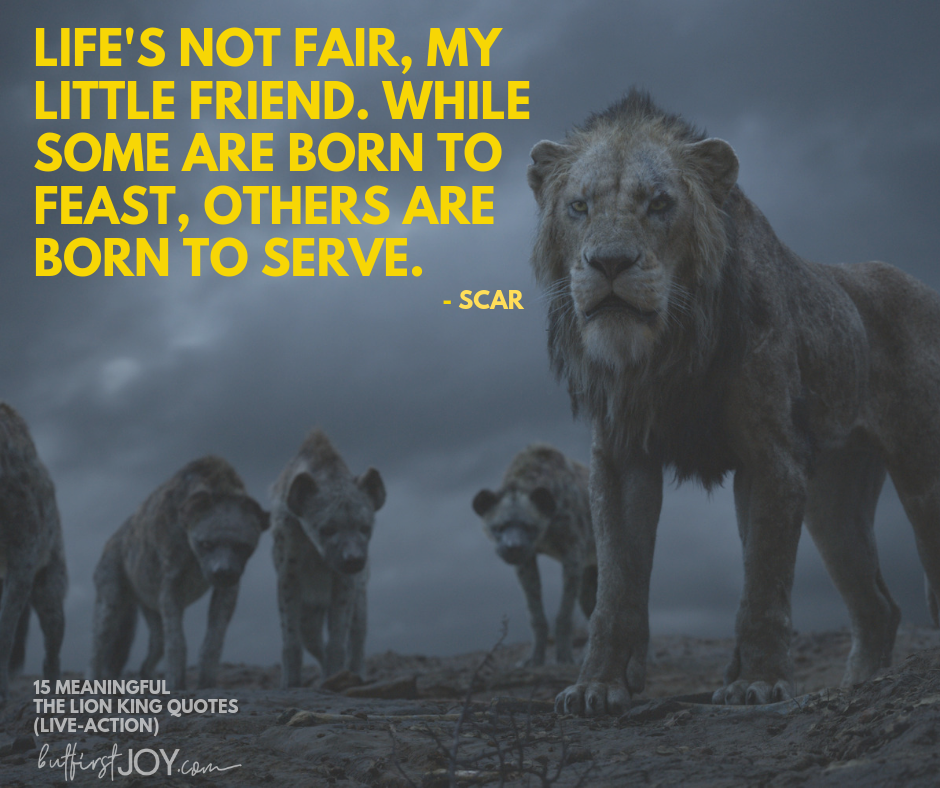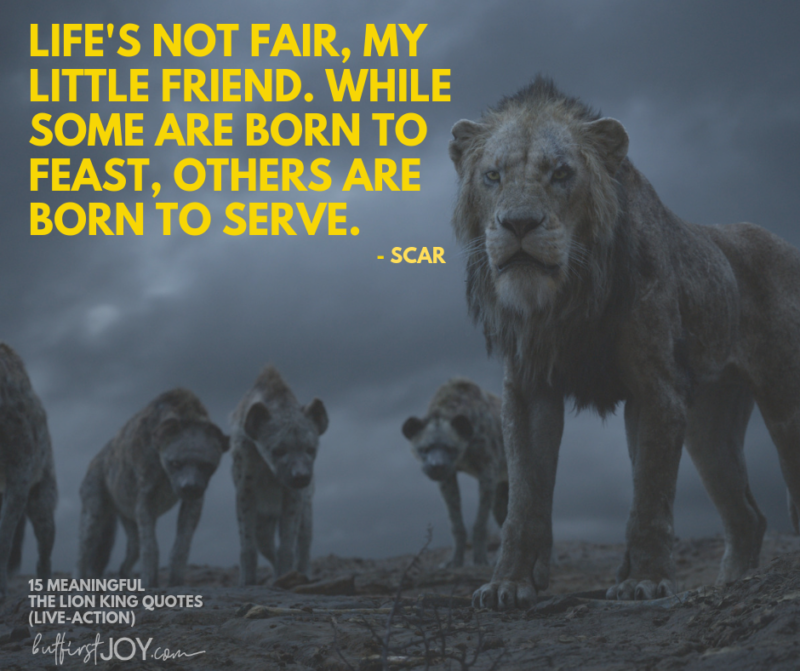 1. "Life's not fair, my little friend. While some are born to feast, others are born to serve." – Scar
Well, I can't say that. I disagree with Scar. Personally, I believe those who serve are much more powerful.
2. "It belongs to no one but is yours to protect. It is a great responsibility." – Mufasa
Mufasa, oh wise one, why must you say all the right things to get me all up in my feelings?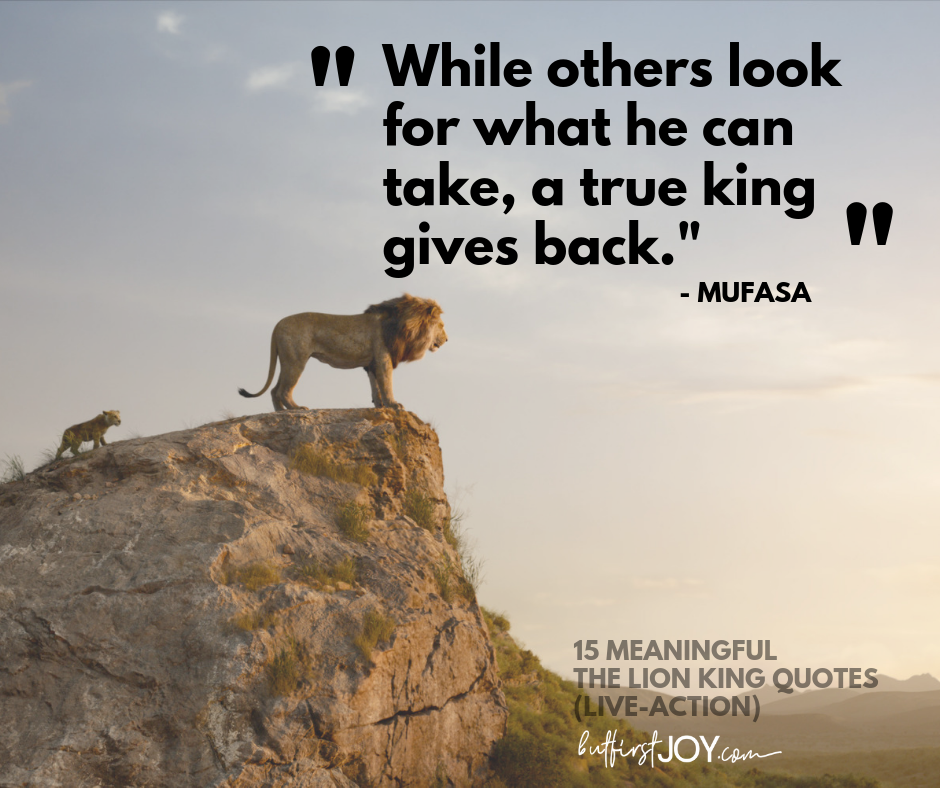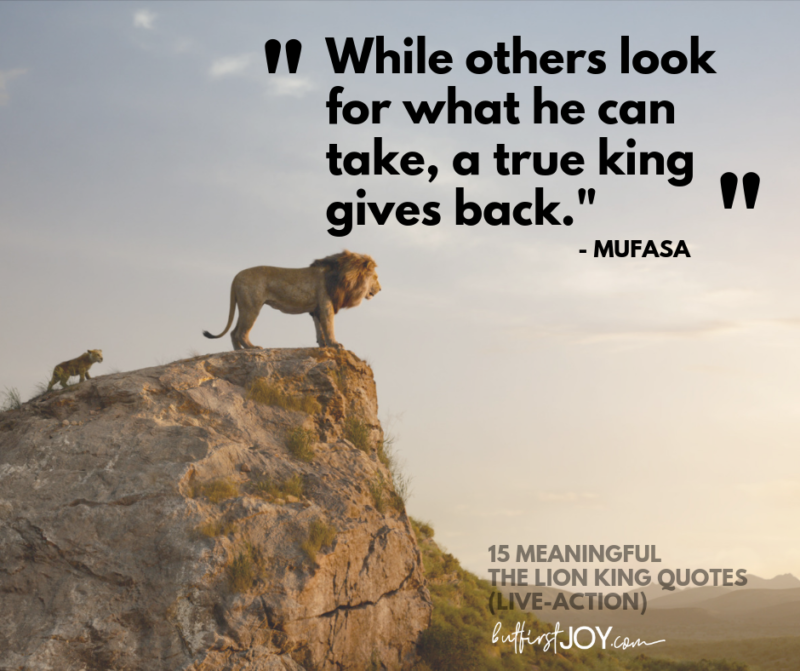 3. "While others look for what he can take, a true king gives back." – Mufasa
This is a beautiful lesson for children. There is an art to giving back and only few can do it humbly.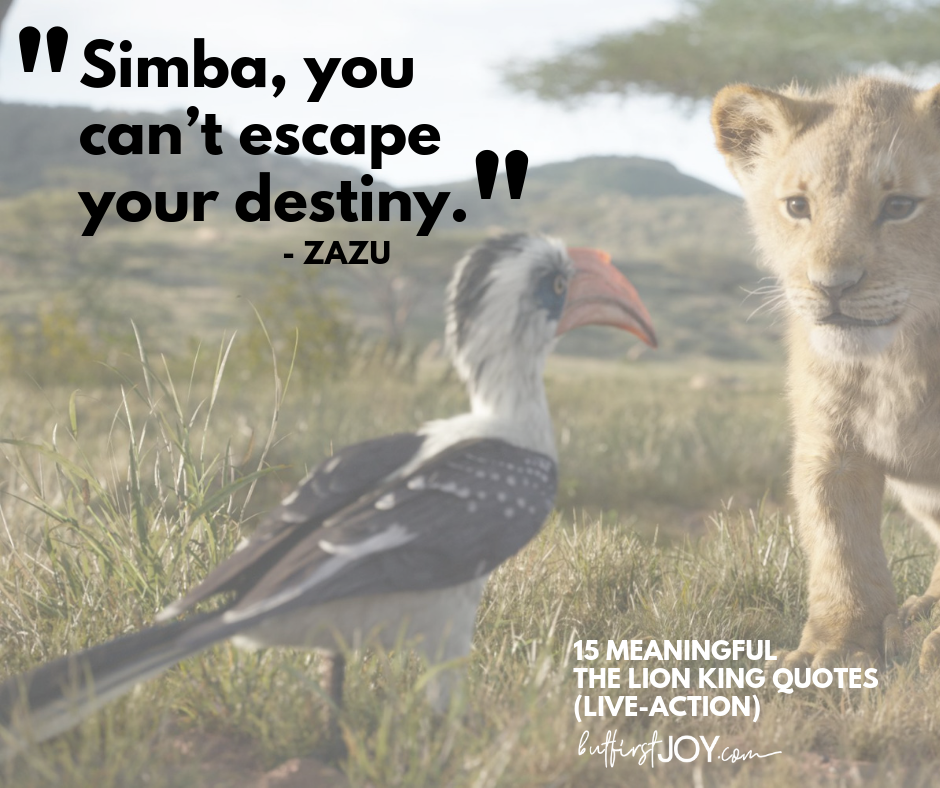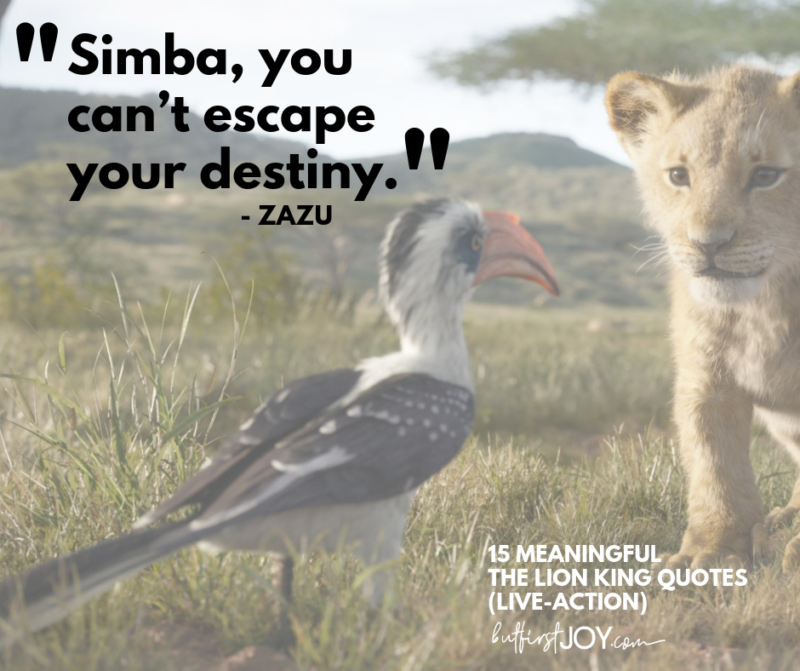 4. "Simba, you can't escape your destiny." – Zazu
Oh, what a destiny he has.
5. "His father's strength is flickering inside. I wonder how bravery will taste." – Shenzi
This live-action The Lion King quote has my jaw dropping. If this doesn't scream "strength" then I don't know what does!
RELATED: 6 Best Live-Action Aladdin Quotes
6. "I'm only brave when I have to be, when I have no choice." – Mufasa
As a mother, this quote really resonates with me. When people say, "I don't know how you do it," I tell them, "I just do it. I have no choice." And that is exactly what Mufasa is saying. It's okay to be afraid or weak.
7. "Whenever you feel alone, these kings will be up there to guide you and so will I." – Mufasa
I'm totally not crying. Well, maybe just a little. Okay, I am a sobbing child.
8. "To change the past is a big order, but you can change the future." – Timone
Oh, Timone. You sure are wise when you want to be.
9. "Everybody is Somebody, even a Nobody." – Rafiki
I love this quote for children. It's so important to raise children with empathy and to teach them that everybody is a person.
10. "Look closer, you see… he lives in you" – Rafiki
This quote truly hits me in the heart and transports me right back to my childhood.
RELATED: 7 Christopher Robin Movie Quotes that Inspire Us All
11. "You must remember who you are, the one true king." – Mufasa
Should I just quote every single thing Mufasa says the the live-action Lion King movie? He is so inspiring.
12. "As king I was proud of one thing, you as my son. That alone. No, that is forever." – Mufasa
Bawling. Absolutely bawling.
13. "I am Simba, son of Mufasa!" – Simba
Yessss, Simba! Be proud of who you are!
14. "A king's true power is his compassion." – Sarabi
Can we get this on a shirt, please? I need this as my slogan. Because, a human's true power is their compassion.
RELATED: 6 Best Live-Action DUMBO Quotes
15. "I may run from Hyenas but I always fight a bully." – Pumbaa
YASSS! Pumbaa! After interviewing the original voice of Pumbaa, I was a bit worried about bringing a new person into the mix. I think audiences will enjoy Seth Rogan as the voice of Pumbaa.
READ full-review of 2019's The Lion King from a fellow-fan!
What are your favorite 2019 Lion King Movie Quotes?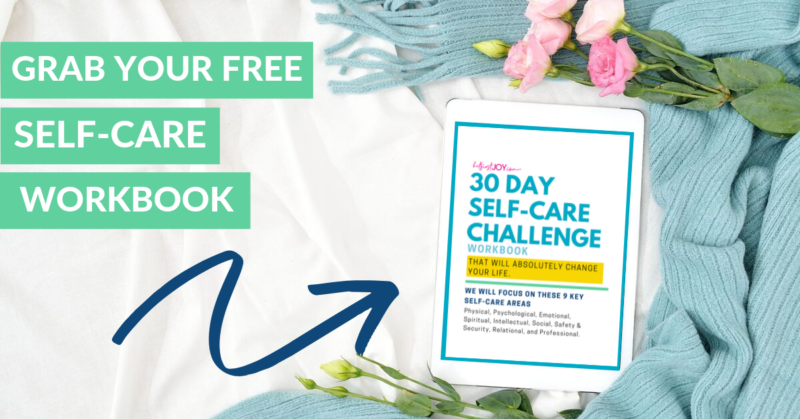 DISCLOSURE
As an Amazon Associate I earn from qualifying purchases. This post may contain affiliate links and/or promotional products, all opinions expressed are that of But First, Joy only. Read my full disclosure.