When The Lion King comes to mind, I always think of Timon and Pumbaa before anything else. That's why I couldn't miss the opportunity to interview the voice of Pumbaa, Ernie Sabella. In this exclusive interview, he told us 6 things that we never knew about Pumbaa! This event was hosted by Disney, but all wild opinions are my own.
After attending The Lion King Celebration panel at the 2017 D23 Expo, I completely fell in love with Ernie Sabella (the voice of The Lion King's Pumbaa). He truly was the highlight of the day for me. Everything from his crazy laugh to his wild personality, had be giggling the entire time. I remember telling all of my blogging buddies about how much I loved him. I was literally in tears listening to him talk because his voice is Pumbaa's through and through.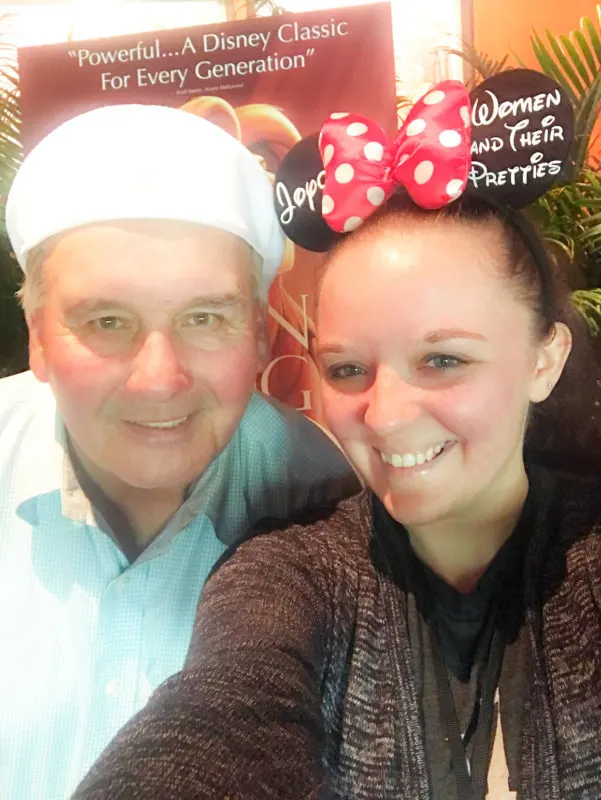 When I was invited to actually interview him a few weeks later, I knew, without a single doubt in my mind, that this was a once-in-a-lifetime opportunity. The Lion King was released 23 years ago! Who would ever suspect that we'd be still talking about this film, much less interviewing the talent! Sigh. I've said it before and I'll say it a million times again – my life has been officially made. And, I sincerely hope that this behind-the-scenes look at what brought Pumbaa to life, makes you feel the same way!
6 things you didn't know about Pumbaa, as told by voice actor Ernie Sabella
1. Ernie had to audition a role in The Lion King… but he didn't audition for Pumbaa.
You'd think that Ernie would have been offered the role as Pumbaa, rather than auditioning, seeing as how Pumbaa couldn't be anymore perfect. The truth is, that Ernie was a struggling artist. He was currently doing Guys and Dolls with Nathan Lane (who voiced Timon) and decided to audition for "King of The Jungle" which was the original name of The Lion King – as told by the creators of the film.
They said to Nathan 'we want you to read for Hyena'. He said, Are there two them? Yeah. All right, come on. We'll read for Hyenas. We'll get this over with.

We went in to like a little padded booth. We read the lines with a little improv 'cause we worked together.

When we finally got done we looked at the director, and his mouth was open. And I thought, all right, let's just get out of here before he kills us. And we said so goodbye. He said nothing. No goodbye. Nothing. So we're walking down to the elevator, and I said, well, at least we have our nighttime job, you know, 'cause we're not gonna hear from them.

I called my agent to ask about the audition and she said "Oh yeah, you got the role of Pumbaa".
2. Ernie forgot what voice he used to audition for Pumbaa, so when he got the job he was terrified to speak at first!
While Ernie's voice sounds a lot like Pumbaa's naturally, he does use a bit of a fun accent to really make Pumbaa the obnoxious warthog that he is. However, after months of waiting for a response to his audition, Ernie completely forgot what voice he used. With that said, he walked into the first recording session terrified because he didn't want the director to hear his voice and change his mind.
Then we went to the first session. And, Nathan says to me in the elevator 'what did we sound like? I don't remember what we did. That was two months ago. What are they expecting to hear?' I said, uh, I don't know!

The elevator doors open, and now we're in a big loft type apartment. And there is Tim Rice, Elton John, Rob, Don, and a big piano. We're walking very slowly to this piano. And didn't even want to say hello, might be the wrong voice. So. I'm nodding.

They showed us the drawings. Neither one of us is saying a word.

And then we get to the piano. Let's just read the first scene that you guys appear in. And at that time I think I had the first line, which was "he's so cute and all alone. Can we keep him?" So, I borrowed from, not knowing at the time, but I must've seen the Godfather recently, Michael Gonzo.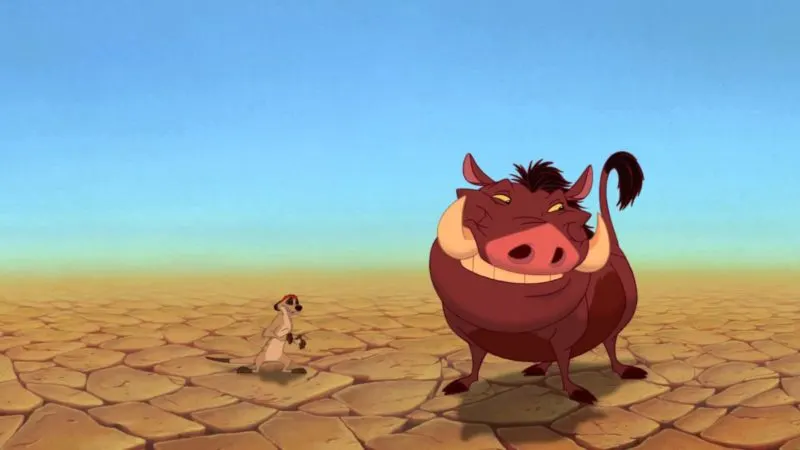 3. "Timon" and "Pumbaa" recorded the entire movie together because of the strong chemistry of the actors.
Nathan and Ernie were good friends and had worked together a lot, so their chemistry was completely natural. It was obvious to everyone that working together could only enhance the characters!
All my recordings, every single word was with Nathan. And they said this is the first time in Disney history that they had done that because of our chemistry.

We knew each other 20 years before. We did Guys and Dolls. We did A Funny Thing Happened on the Way to the Forum. We did Mouse Hunt. We did Lion King, Lion King, Lion King. We did the first 13 episodes of Timon and Pumbaa.
4. Pumbaa was the first Disney character to have gas… or so we think.
We can't ignore that one of Pumbaa's most hilarious characteristics was his GAS! It was a Disney first. Or, was it? This will give you a good laugh.
When we did press after the movie was out, people would say, there's an interesting characteristic about Pumbaa, isn't there?

And I said, yes, Pumbaa is the first and only Disney character to have gas. And this question then kept being asked. And then we were at a table like this, and Nathan's right next to me. And there's a microphone right here, and I said, yes, Pumbaa is the only Disney character to have gas.

And Nathan grabbed the mic and said, actually, it was Snow White, but we don't talk about it. I mean that stopped everything. He's so quick.
5. Seth Rogen is going to voice the live-action Pumbaa and Ernie couldn't be anymore excited!
Sometimes actors and directors feel like their film is their child. They aren't always fond of someone new taking over, what used to be their role. We were curious about what ernie thought of the live-action The Lion King. He's actually thrilled!
Can't wait to see it. I think it's thrilling that t has another life and that it will, I'm sure be a magnet to going to get an audience to see the original.

And he's funny, Pumbaa, Seth Rogan. I like him in the movies. You know, it would've been hard if it was somebody I didn't like him. Like him? You know, he's funny. He's funny. And I think he's very Pumbaa-esque.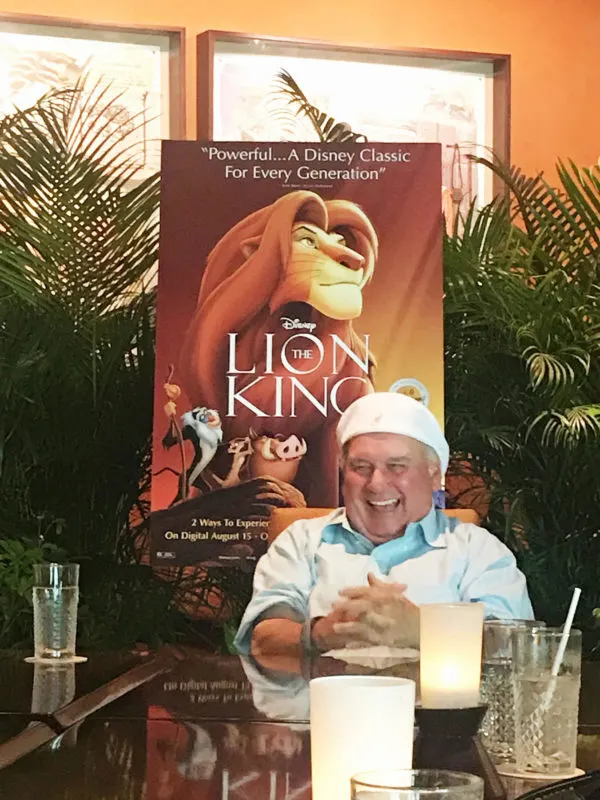 6. Ernie Sabella would love a cameo in the live-action The Lion King!
Let's spread the word for Ernie! He'd love a cameo and I think we can all agree that he's earned it!
I'm hoping for a cameo. What I want to do– what I want to do is be a bullfrog on the lily pad.

Oh! That's another one. Yeah, be one, you know that scene? Oh, I gotta tell Don that. That scene where Pumbaa says everything with you is gas, you know that? Laying there looking [at the stars] I'd like to, uh, maybe have one of the constellations be Pumbaa. And then [I could] just [say] Hakuna Matata. You know? One line, two words.
One of the biggest animated films in history, The Lion King, the coming-of-age masterpiece, filled with humor and heart, breathtaking animation and soul-stirring Academy Award®–winning music (1994: Best Original Score and Best Original Song, "Can You Feel the Love Tonight"), joins the highly celebrated Walt Disney Signature Collection. The Lion King roars to its rightful place in the Walt Disney Signature Collection on Digital Aug. 15th and on Blu-ray™ Aug. 29th.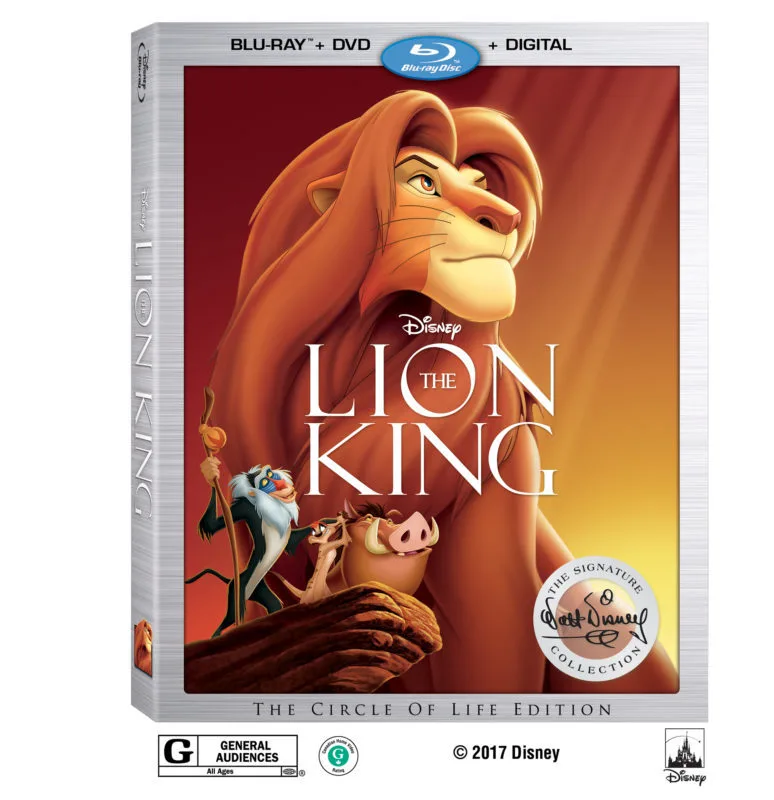 Audiences will fall in love all over again with the treasured classic, and a new generation of fans will laugh with Timon and Pumbaa, cry with Simba and Mufasa, burst into song, and find their place in the "Circle of Life." The Walt Disney Signature Collection release includes over three hours of classic bonus material and exclusive, brand new features inviting viewers to sing along with the film's award-winning music, observe recording sessions, step inside the story room, witness the evolution of a villain, and join Nathan Lane (voice of Timon) and Matthew Broderick (voice of Adult Simba) for an extended conversation regarding the legacy of "The Lion King."
What's your favorite Disney classic?