Who says Disney is just for kids? My fiancé and I sure don't. Our love for Disney connected us a long time ago. Our first date? Disney's Hollywood Studios. We've even attended Disney on Ice together. We're a Disney lovin' couple and we're proud of it! We just went on our very first Disney Cruise as a part of the Disney Social Media Moms Celebration. We've always wondered if a Disney Cruise would be worth it for adults. Let's just say – it absolutely exceeded our expectations. As a couple, we'd definitely take a Disney Cruise again. Honestly, if it came down to it – I'd go by myself. Yeah, I love it that much.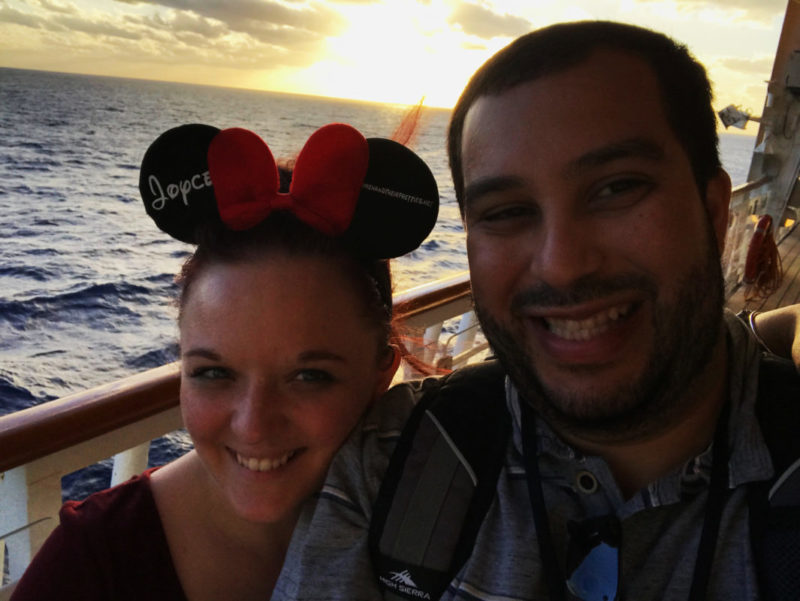 I want to tell you all of the things for couples and adults to do on a Disney Cruise. This is specific to the incredible Disney Wonder and Disney's Private Island, Castaway Cay. However, all of the Disney ships offer adult-specific experiences and activities.
1. Bingo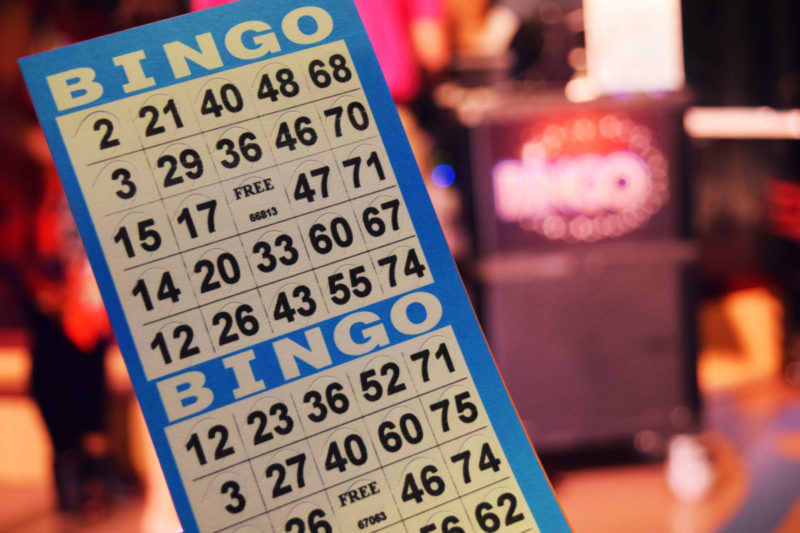 Okay, I am probably biased because we won over $700 in Bingo on our Disney Cruise, but let me tell you – it was incredible. You've obviously got to give a little to get a little, but it's totally worth it. We had a group of bloggers cruising with us and win or lose, they all loved it. It's not just regular Bingo. First of all, it's a great deal. You don't have to spend a whole lot. A little goes a long way. The Bingo callers are so entertaining. They crack jokes, sing songs, and interact with everyone. It's truly and experience and one of my highest recommended things for couples and adults to do on a Disney Cruise. Plus, by buying a card, you're automatically entered into a pot to win a prize pack each game. We won twice! Our prize packs consisted of Disney Cruise Line bags, DCL tumblers, journals, pens, and more!
2. Enjoy some drinks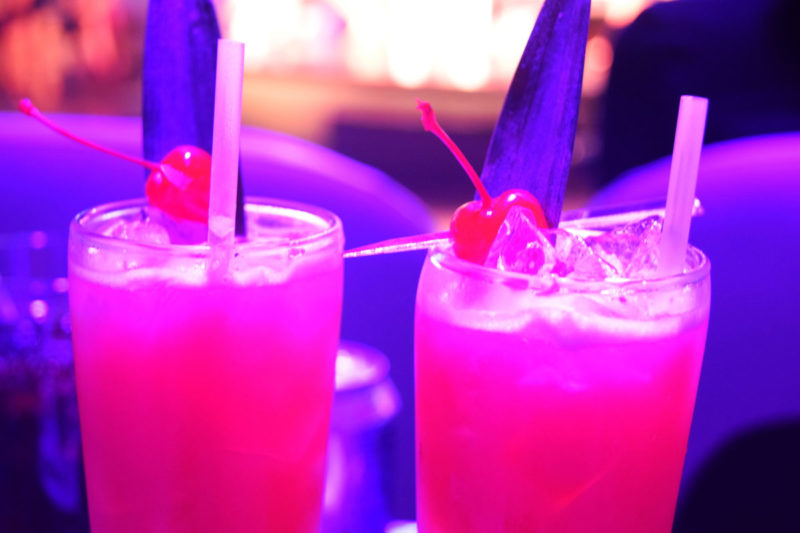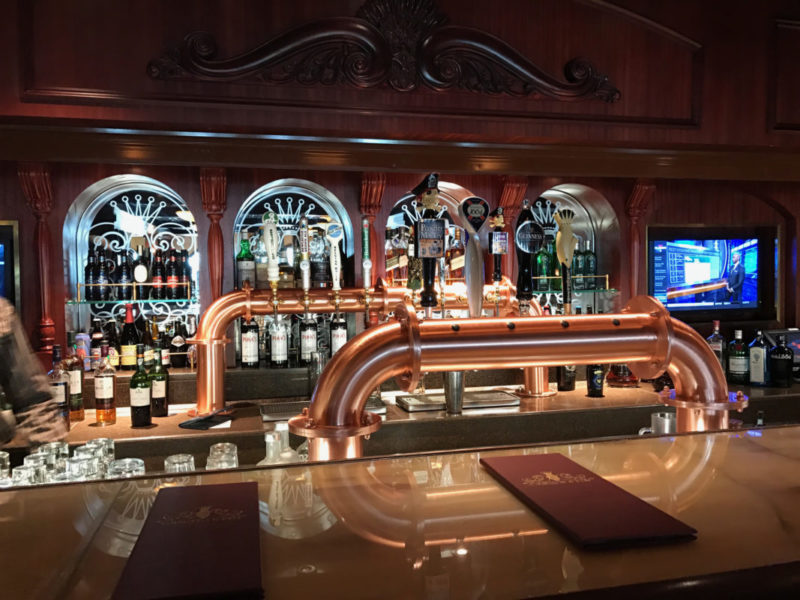 Disney Cruise Line definitely knows how to keep the adults happy – drinks, drinks, and more drinks. They are like any other cruise line when it comes to the bartenders being ready to serve you at any time. However, it's their bars that set them apart from any other cruise line. Not only do they have a plethora of bars, the Disney Wonder has one very special bar called the Crown & Fin English Pub. This particular bar is extra special because it likes like a pub straight out of England. It's like you're being transformed into another country when you step in there. It's a very relaxing and inviting atmosphere for adults and couples. To top it all off – they have a custom Crown & Fin ale that is thirst quenching! I'd order it right now if I could.
3. Palo – Adult Only Dining
I unfortunately, didn't get to experience this restaurant for myself on our Disney cruise, but I've heard incredible things. This is great for couples that just want a break from the kids. This is a very upscale dining room for with beautiful views, incredible service, and superb meals (or so I've heard).
4. Disney Trivia & Games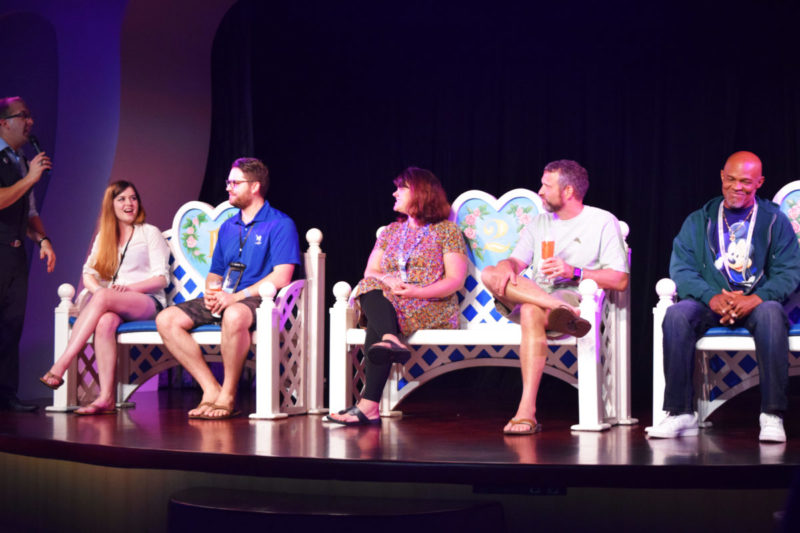 My fiancé and I are naturally competitive. It's in our blood. If you saw my family, you'd totally understand where I get it from. My fiancé, however, it comes right from his ego. haha. Disney Cruise Line always has trivia or game happening. Many of these games are specific for adults, like Match Your Mate, which is Disney's version of The Newlywed Game. I seriously don't think I've ever laughed so much in my entire life… and we didn't even join the game. Just watching is fun.
We also played a trivia game which was like Wheel of Fortune. It was completely Disney themed, which made it more fun for all of the Disney loving adults. We played this in a bar so we got to enjoy bar snacks and delicious adult beverages.
5. Serenity Bay, Castaway Cay Island (Adult Only Beach)
I've heard nothing but great things about Serenity Bay. It's an adult only beach on Disney's Private Island, Castaway Cay. The fact that no children are allowed, makes it that much more exciting for adults. The beach is typically dead because everyone is hangin' with the children! Take advantage of these opportunties to really get away and relax.
6. Massages & Spa Treatments
If you really want to take advantage of the relaxing things for adults to do on a Disney Cruise, then head to the spa! The Senses Spa & Salon on the Disney Cruise is incredible. You can get massages, facials, and even consultations. The best part is the Spa Villas, where you can relax as a couple! A sauna, hair salon, and even pedicures. This is truly an experience of a lifetime.
7. Shopping Together
Okay, you can shop anywhere as a couple, but shopping together on a Disney Cruise is much more fun. There are bracelets and pins a plenty. They've got toys and clothing galore. But still… you'll want more! Seriously, you will. My fiancé and I did our fair share of shopping on the Disney Cruise. Seriously, check out everything we bought in my Disney Shopping Haul post.
8. Hot Tubs & Pools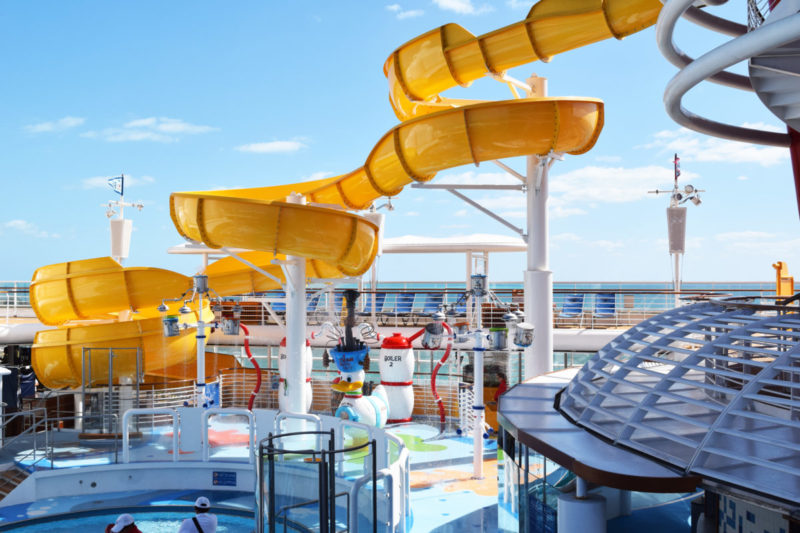 One of my favorite things to do with my love is to play in the pool. It makes me feel like a child again to swim, play pool games, and just relax. Swimming in the pool during the day and relaxing with a drink in the hot tub at night. Honestly, it's difficult to get back to reality after that. The Disney Wonder even has a beautiful private pool for adults, Quiet Cove Pool.
9. Working Out
There are fitness centers on every Disney ship! You can enjoy a nice workout first thing every morning, with a beautiful ocean view. Watching the sunset as you workout – there's really nothing like it. A couple that works out together – lives forever.
10. Lounging
It sounds so simple. We can lounge anywhere, but lounging in the middle of the ocean is the most relaxing thing you'll ever experience. We had a nice Verandah room, so every morning I woke up, opened that sliding glass door, and kicked my feet up. I watched the sunrises and sunsets. I listened to the ocean waves because it was the only sound you could hear each morning. The entire ship has lounging options, whether it be on the pool deck, decks, adult-only areas, or even indoors. It's all quite fabulous.
11. Castaway Cay 5k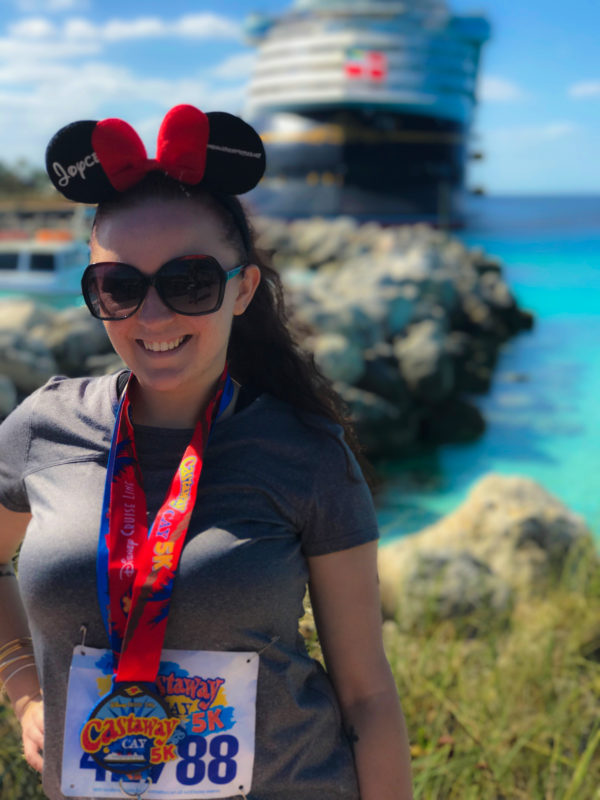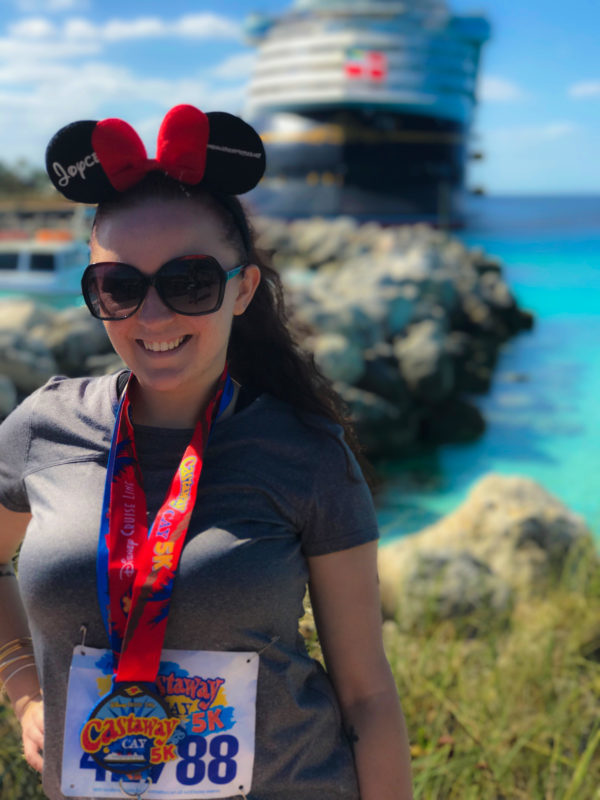 This is one of the best experiences I've ever had in my life. You don't even have to be a runner to experience the Castaway Cay 5k. It's the most relaxing, rejuvenating fitness venture you could ever experience. You're running (or even walking) around a private island. It's truly magical and it's something perfect for couples to do together. Did you know that accomplishing goals as a couple can strengthen your relationship? You can learn more about the Castaway Cay 5k here.
12. Movie Theater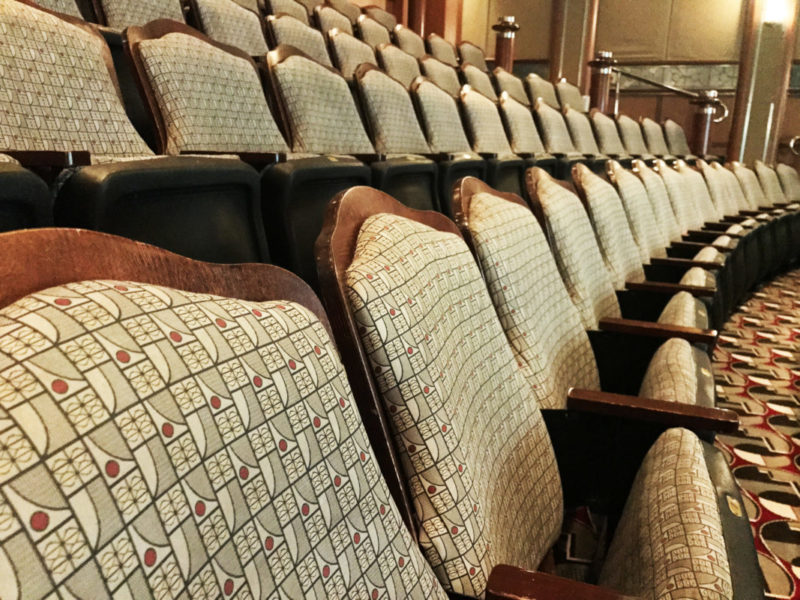 Yes, you can go on a cheesy movie theater date with your significant other. A lot of ships these days have the huge outdoor movie screen by the pools. The Disney Wonder does have that, but they also have an actual theatre on the ship. It's much like an old school theater and was actually inspired by the Golden Age of Hollywood. They play the latest Disney motion picture releases. They had Moana and Doctor Strange screenings on our trip. Can you say epic?
13. Character Searching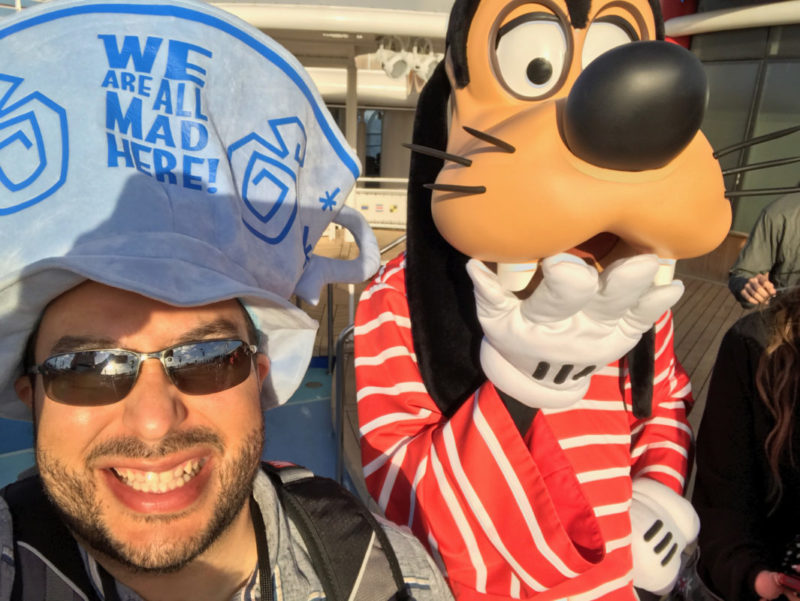 If you're considering taking a Disney cruise it's because you love Disney right? It doesn't matter how old or young you are, Disney holds a very special place in your heart. We're are never too old to take photos with the characters. I'll be the first to admit that I scream when I see characters at the parks, but sometimes it's difficult to get a photo. On a cruise, it's a bit easier. There are less people and more opportunities, so character searching is a super fun idea for couples on a Disney Cruise. If you have down time, go searching for characters to take photos with! You can make it a game. There's always someone running around the ship.
14. Karaoke
You can never get enough karaoke! And guess what? You can totally be sober and do karaoke. Disney's "Crazy Karaoke" was super fun because it was like normal karaoke, except the Entertainment Director chooses a song for a few people! It's such a fun and silly concept. You can take it a step further with costumes and props. This is totally 1 of the funnest things for adults to do on a cruise. It probably helped that the person in charge of karaoke was the most entertaining individual on the entire ship.
15. Late Night Shows
My favorite thing to do as a couple of the Disney Cruise was the late night shows. We went to every single adult-only show because every activity was hilarious. There were a number of games & competitions at these shows, but the person in charge was a freaking comedian! We laughed so hard the entire time that our cheeks were sore by the end of it. Not to mention, from night 1 to night 3 – the audience tripled. I guess word got around that these adult-only shows were the best of the best each night.
If you're looking to book a Disney Cruise, head to DisneyCruiseLine.com. I highly recommend the newly reimagined Disney Wonder ship!
Have you ever taken a Disney cruise without the kids?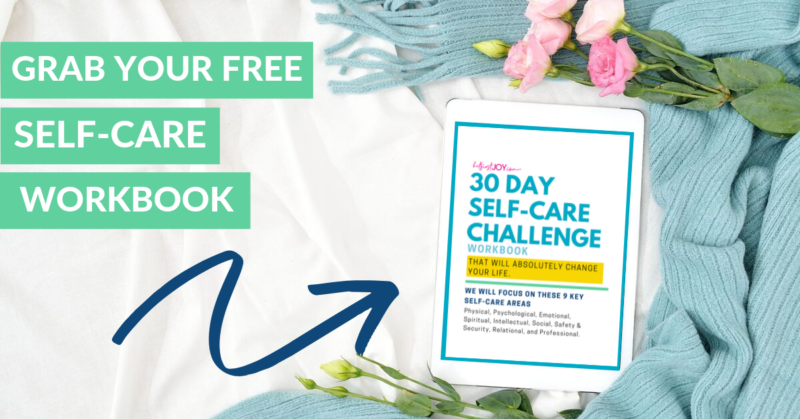 DISCLOSURE
As an Amazon Associate I earn from qualifying purchases. This post may contain affiliate links and/or promotional products, all opinions expressed are that of But First, Joy only. Read my full disclosure.