These are the best Descendants 3 quotes from the 2019 Disney Channel Movie. These movie quotes are from the best lines in the film from many of the characters.
Tonight is the night! The most anticipated Disney Channel movie of the year has finally aired on television!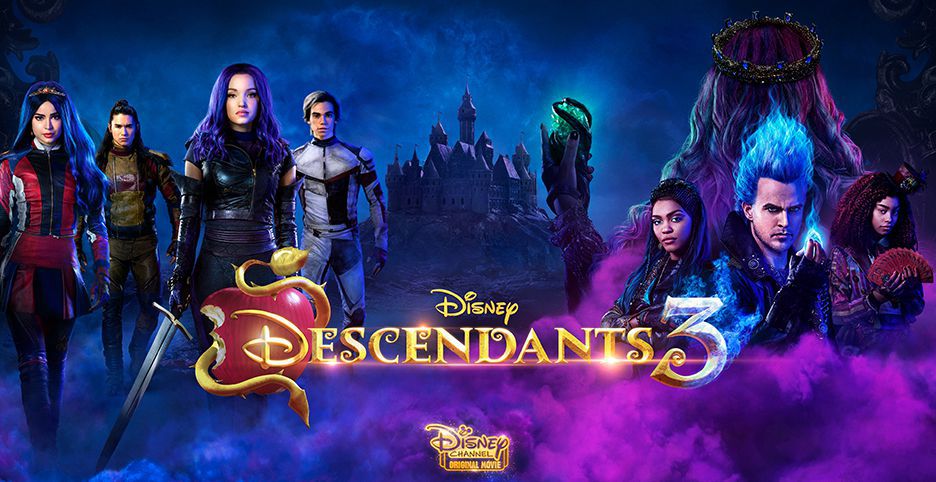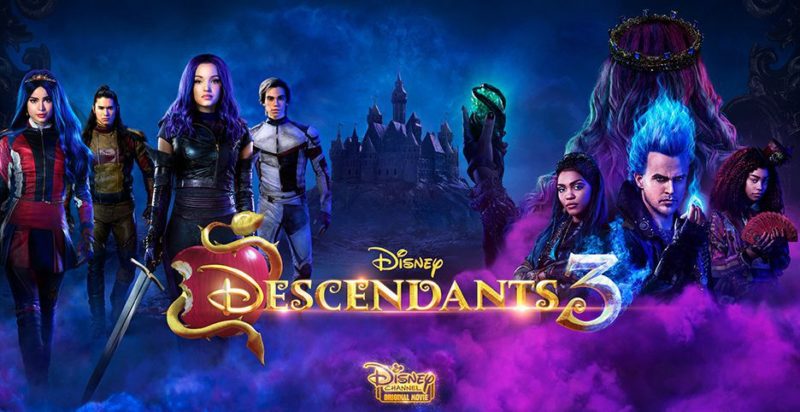 Also, the DVD is available for pre-order on Amazon (with an August 6th release date) – Grab it while you can!
After interviewing the cast of Descendants 2, I was beyond excited to see the new characters in Descendants 3. Boy, it didn't disappoint but I have to admit:
I was afraid to watch it.
After the loss of the beloved young actor, Cameron Boyce (the voice of Carlos DeVil), I knew it would be difficult to watch. My heart aches to know such a genuine, talented young life ended too soon.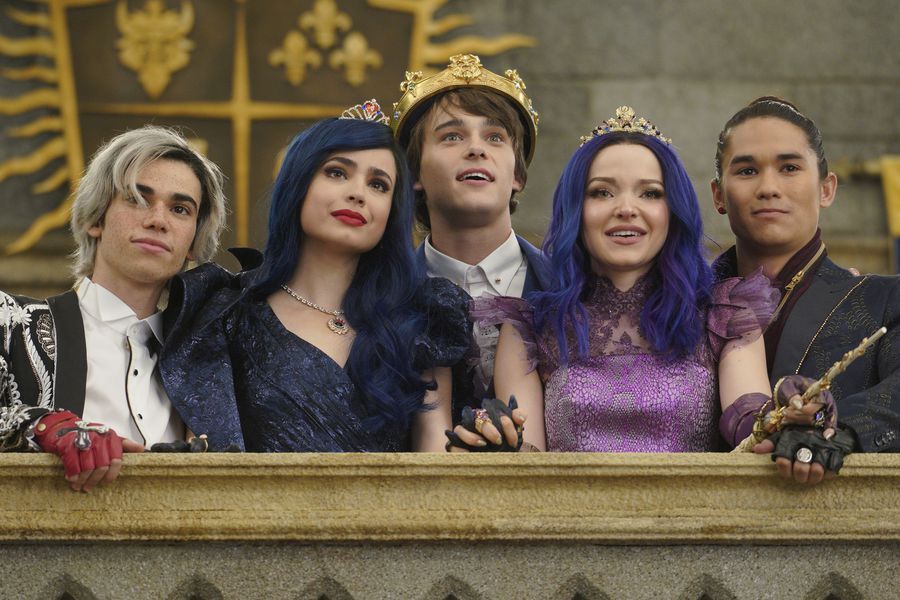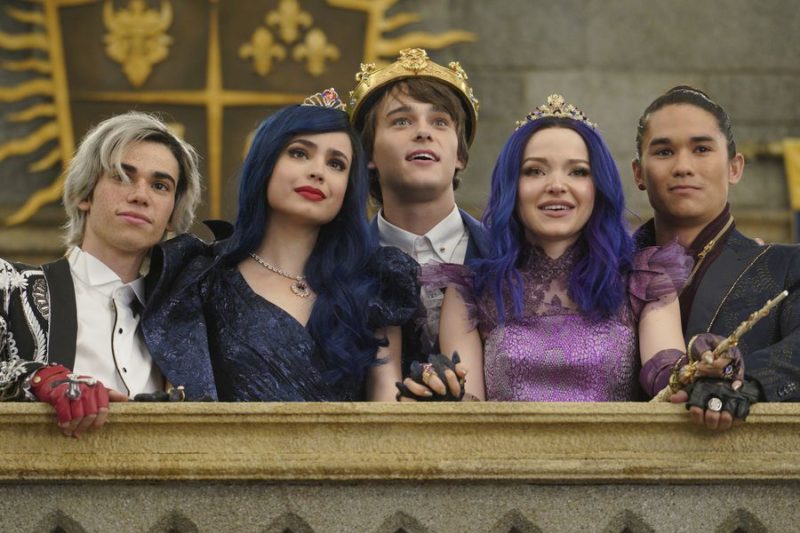 In Descendants 2, we watched Carlos step out of the shadows a little bit. We saw his more vulnerable side and learned a little more about his his back story. Instantly, Cameron Boyce portrayed a character that became a fan favorite.
RELATED: 15 Meaningful LIVE-ACTION The Lion King Quotes
As an empath, I admire anyone who can express their emotions. Whether it be for an acting role or in a normal conversation. It's impressive, to say the least.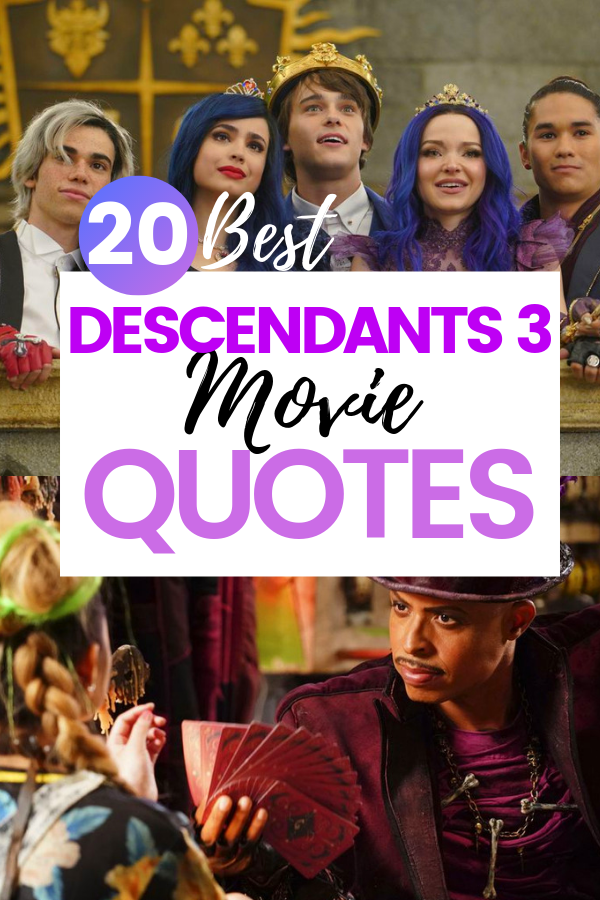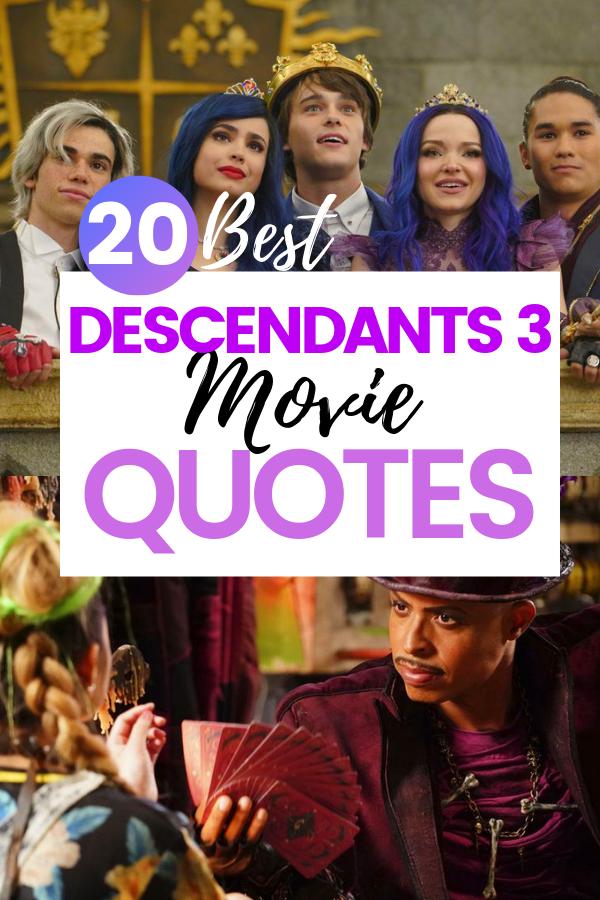 In fact, the entire Descendants cast is full of authentic, humble individuals. I can't wait to see the future these lovely young actors have ahead of them. However, it pains me to know that Cameron will not be around to see their success or the joy that Descendants 3 brings to families.
RELATED: 12 Disney Descendants Gift Ideas for Super Fans!
Best Descendants 3 Quotes
I'll leave that alone for now and get to the good stuff: the best Descendants 3 quotes! These are the quotes that really stuck with me throughout the movie.
Maybe I'm biased, but I think this Disney Channel movie is going to be an audience favorite!
1. "I feel like I've known you my whole life and did I mention I'm in love with you." King Ben to Mal
2. "Your mother could hold onto a prince in her sleep!" – Queen Leah (Audrey's grandmother) to Audrey
3. "He was draining all of my magic with an ember and I felt all of my power slipping away!" – Mal about Hades
4. "I do not want to take away your dream because it was so beautiful and it's why I fell in love with you" – Mal to Ben
5. "I'm so tired of pretending. Where's my happy ending?" – Audrey
6. "I've got friends on the other side" – Celia (Dr. Facilier's daughter)
7. "She may be an evil lunatic but at least she stayed around!" – Mal talking to Hades about Maleficent
8. "I steal souls. Were you expecting flowers?" – Hades
9. "Most people get dumped because they aren't good enough. I got dumped because I'm not bad enough" – Audrey
10. "If you think I trust you to save the world on your own – think again!" – Uma to Mal
11. "Here's a thought: we can try to be friends. Put our history behind us and celebrate our differences." – Eevie
12. "You, my little duckling, are ravishing!" – Harry Hook to Jane
13. "Dragons don't really lose sleep" – Mal
14. "We're stronger together!" – Uma to Mal
15. "I wish I could be in both places" – Celia
16. "Since when do heroes care about villains?" – Hades
17. "I'm gonna have to miss you all over again!" Mal to Hades
18. "I've learned that you can't live in fear because it doesn't actually protect you from anything" – Mal
19. "We are all capable of good and bad no matter which side of the barrier we come from" – Mal
20. "It's time for forgiveness it's time for new beginnings" – Ben
Which Descendants 3 quotes are your favorite?
Mal's fairy tale life might come to an end…
Watch Descendants 3 on Friday, August 2, 2019 on Disney Channel!
Mal (Dove Cameron), Evie (Sofia Carson), Carlos (Cameron Boyce) and Jay (BooBoo Stewart) return to the Isle of the Lost to recruit a new batch of villainous offspring to join them at Auradon Prep.
When a barrier breach jeopardizes the safety of Auradon during their departure off the Isle, Mal resolves to permanently close the barrier, fearing that nemeses Uma (China Anne McClain) and Hades (Cheyenne Jackson) will wreak vengeance on the kingdom.
Despite her decision, an unfathomable dark force threatens the people of Auradon, and it's up to Mal and the VKs to save everyone in their most epic battle yet.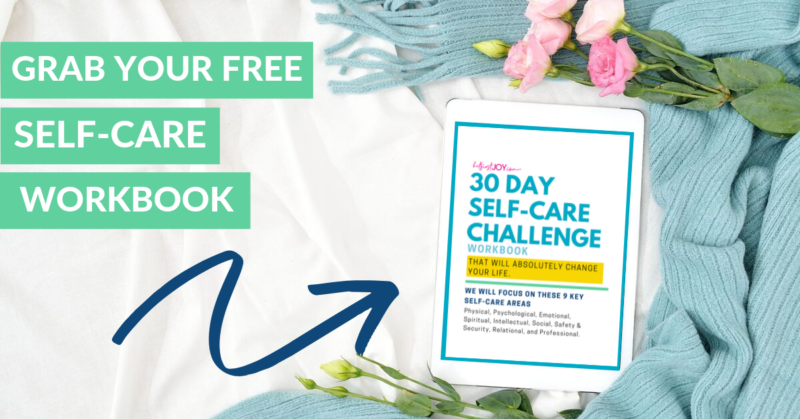 DISCLOSURE
As an Amazon Associate I earn from qualifying purchases. This post may contain affiliate links and/or promotional products, all opinions expressed are that of But First, Joy only. Read my full disclosure.