This post contains affiliate links.
I blame Pinterest for my slight obsession with wanting a reading nook. There are so many fun and creative ideas. I just wish that I owned my own home and had the tools to do a little home improvement. I'm a tad limited on where I can place a reading nook in my home. The typical idea would be in the "play room" or the child's room, but I don't have children. I decided to hop off of my Pinterest and find everything that I need to create a reading nook of my own.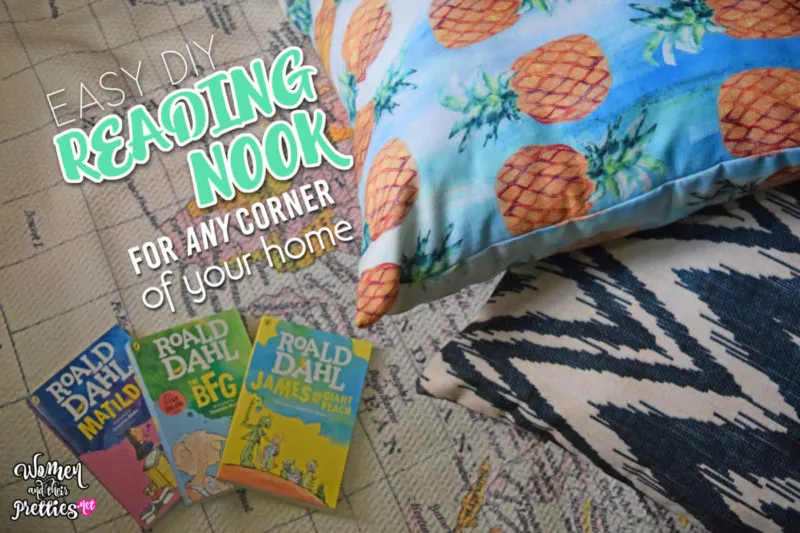 My idea of a perfect reading nook revolves around comfort. I wanted big pillows, soft blankets, and of course, really good books. I don't exactly have a location in my home that's free. So I decided to build my reading nook in a corner of a bed and a wall in our guest room. It's in a location that doesn't have much traffic, but can be removed quickly when we need the space.

Quick & Easy DIY Reading Nook
1. Find the space.
You can pick any corner of your house or any space that you would feel comfortable, even a closet would work! The size is up to you. You don't need a ton of space.

2. Get a fun, comfortable, and cute rug.
Even if you have carpet, a rug is fun for a reading nook. It sort of signifies that this is your space. A rug can be the perfect starting point for your reading nook. You can surround it with books and pillows. I chose a rug that made me think of the adventures I lose myself in when I read. This woven travel rug is a really durable. It's such much fun and really feeds into my wanderlust soul. It's a perfect reading nook rug.
You can buy this rug from the KESS InHouse Outlet or get a rug made to order from their store.

3. Get the softest and largest pillows you can find.
My dream reading nook has always consisted of the largest and fluffiest pillows I could find. I've always had a terrible time finding a pillow that is huge, cute, and soft. Usually, they are big and ugly or big and firm. If I'm going to be reading for hours I need pillows that are comfortable. I picked out this adorable pineapple pillow because I am obsessed with pineapple patterns, especially for summer! As for the chevron pillow – chevron print is my favorite! These pillows are 26″ x 26″ – so they are quite large. The size we typical see in stores is 18×18.
You can buy the Pineapple Beach throw pillow and the Tribal Chevron Black throw pillow from the KESS InHouse Outlet or get any throw pillows made to order from their store.

4. Get a comfortable blanket.
I am a collector of many things: Funko Pop figurines, mugs, pins, and throw blankets. Don't ask me why throw blankets are on that list. I just love to be cuddled under a blanket. Seriously, my living room has 6 blankets in it at all times and I live in Florida. I know, I know. So, when building my ultimate reading nook, I made an excuse to get another blanket. This blanket is so beautiful and colorful! It's actually really large and so soft! It's probably one of the softest blankets I've ever owned.
Check out all of the beautiful fleece blankets in the KESS InHouse Outlet or get any throw blankets made to order from their store.

5. Grab your books and/or your e-reader.
I grabbed my 3 newest books for my first reading session in my new reading book. Roald Dahl is in-credible, so I had to skim through The BFG again – just to prepare for the new movie. This is definitely a book you should read before seeing the movie – 3 Reasons to Read The BFG Book Before Seeing The Movie. I'm also reading Matilda and James and The Giant Peach. Seriously, these were a couple of my favorite childhood movies!
Buy all of these books on Amazon: The BFG / Matilda / James and The Giant Peach

6. Don't forget your toys and plush animals.
Reading a good book requires cuddling with your favorite stuffed animals and toys. I grabbed King Louie (from my The Jungle Book press trip) and my plush from The Lion Guard. I also always keep a Funko Pop nearby, so The BFG Funko Pop was with me as I read The BFG.
Buy these toys on Amazon: The BFG Funko Pop / King Louie / The Lion Guard plush

7. Journals and pens are must-haves, too.
If you're a writer or if you're inspired by a good book like I am, then you need a journal and pens nearby. Maybe you like to draw – grab a sketch pad and pencils. Reading is inspiring. If it's a good book then it instantly inspires me to write. I'm a writer at heart. I always have been. One of my best poems was inspired by Nicholas Sparks' The Notebook book. I keep my Judy Hopps Zootopia pen and my Star Wars journal by my side at all times.
Buy these items on Amazon: Judy Hopps Pen / Star Wars CP30 journal

That's it! Your reading nook is all complete and just begging for you to get comfortable in it. So sit back, relax, and UNPLUG for a few hours. This is the perfect time for you to clear your mind. Get lost in your favorite books. Build a reading nook with anything that will make you comfortable.