Breakups aren't easy but these common post-breakup mistakes are easy to make.
In this post, you'll identify and avoid the things you should NEVER do after a breakup.
But first,
These are the breakup stages we all experience which lead to healing and eventually, moving on:
Denial
Sadness
Anger
Rebound
New-found Confidence
You can learn more about these stages in my post: 5 Stages of a Breakup (and how to get through it without losing yourself)
Now that your relationship has ended, you need to redirect your focus. It's important to remember that self-care is the key to happiness – not a relationship.
In order to become the best version of yourself, you'll need to put in some work. You're vulnerable but you aren't broken.
You can recover from a breakup in a healthy way by avoiding these things after a breakup: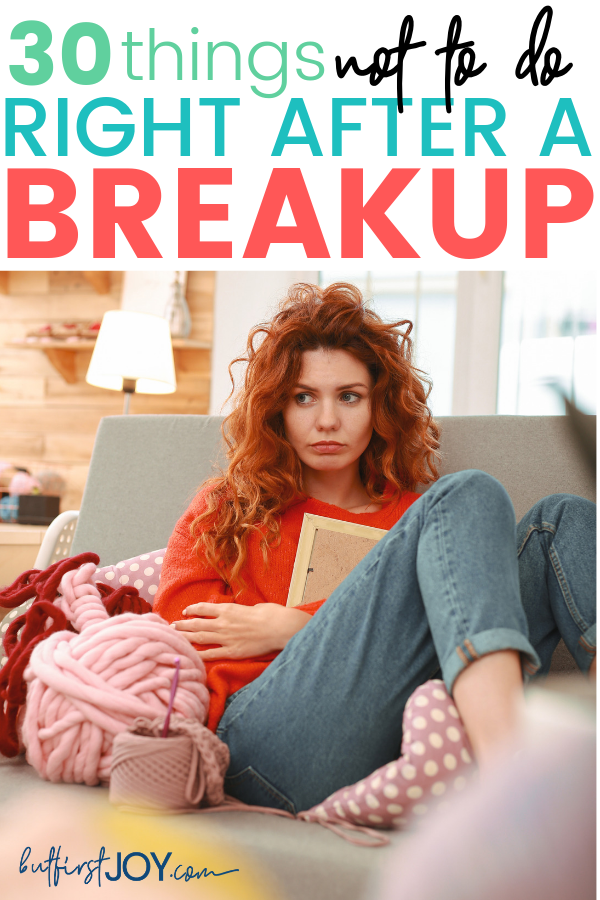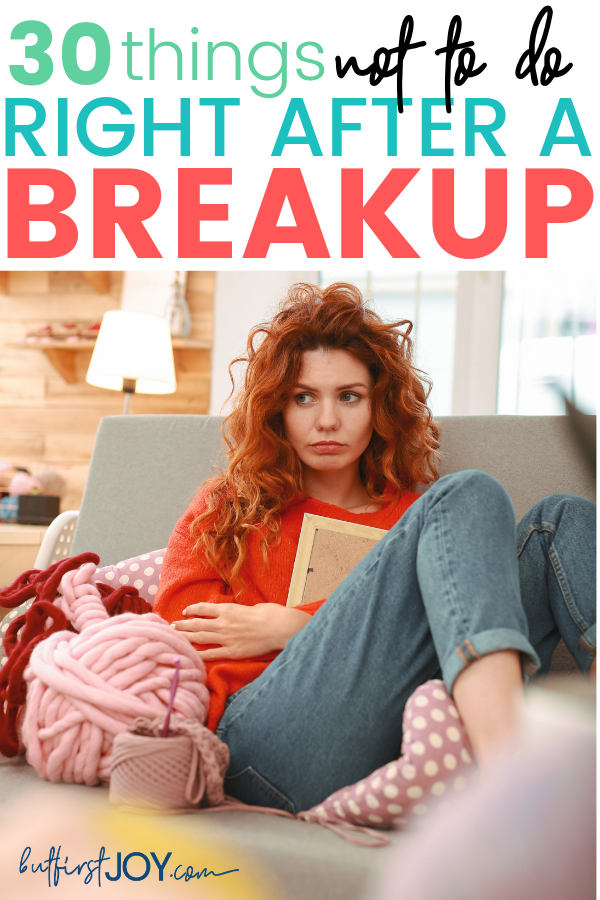 30 Things You Should NEVER Do Right After a Breakup
If you're wondering what not to do after a breakup – this is it. By doing any of these things, you'll find yourself backtracking, dwelling in hurt, and trying to make something works that just doesn't.
Contact your ex. For any reason.
Do not, for any reason, reach out to your ex! You don't need closure. There's nothing left to talk about.

If you need to give/get things back, ask a friend for help with the exchange or do a drop off that doesn't require communication.


Don't keep any lines of communication open.
Likewise, do not even give them an option to contact you. Delete and block their number, remove them from Facebook, delete their mama and their cousin from all social media.


Rebound.
This is one of the stages of a breakup that the majority of us go through. It's the regretful rebound.

In other words, it's the person you get with as a distraction or a way to get over your ex. This only leads to heartbreak, regret, and embarrassment.

If you're wondering, "How do I know I'm rebounding? These feelings feel real!"

I am here to say that it's very unlikely. What you're probably experiencing is a feeling that this new person has all the qualities your ex didn't have – rather than all the qualities you truly want in a mate.


Degrade yourself.
Importantly, The failure of a relationship does not make you a failure. Some relationships are meant to end to teach you something.

It isn't you – it's the relationship. You're still a great person who is worthy of love.


Settle.
You probably feel a little hopeless right about now. A relationship has ended that you once thought was "it" for you.

I'm here to tell you that there's something better out there for you. Spend some quality time with yourself and it will happen.

In the meantime, don't try to make it work with anyone who sets off alarm bells in your head or heart.



Lash out.
What you don't want to do after a breakup is lash out and act irrationally. Basically, Be the bigger, better person that I know you are. In other words, don't give them a reason to say, "I told you so."


Post about it on social media.
Don't be that person who posts bashes the ex you were just gushing over a week ago. It's embarrassing, uncomfortable, and immature.


Make impulsive decisions.
This is only a small part of your story. Don't make an impulsive decision because it will turn into something much bigger.

Your relationship has ended, now you're the only one looking out for YOU. Don't move to a new state or sell all the things you bought together. There are more productive ways to heal.


Change your looks.
While small changes are great to do after a breakup (for self-confidence), I recommend not going overboard with new looks.

Things like chopping off all your hair and getting implants will not give you the satisfaction you're looking for, for example.

However, changing a wardrobe, style, or makeup would be a fun way to build that self-confidence back up!


Stalk them on social media.
No good will come from stalking your ex on social media. It's unhealthy for your growth and can become an obsession.



Seek out another ex.
Ladies (and the few gents who read this), I've been there before. In fact, my common coping mechanism from one breakup was to hook back up with a previous ex.

Don't DO THIS!

It's absolutely disastrous. They are your ex for a reason. Don't forget that.


Ask anyone about your ex.
Don't casually ask acquaintances how your ex is doing. Mentally, you need to let them go and not worry about how they are.


Don't remain friends with his family (sorry not sorry)
This one is big and it's sad but when you breakup with someone, you breakup with the entire family.

To be specific, a relative may hold a grudge against you or try to set you two back up. Let's face it, nobody wants that awkward moment.


Neglect your physical health.
Most importantly, you should never neglect your health after a breakup. Staying active can help you move on and to channel your emotions into your fitness.

Meanwhile, you'll be building your self-confidence back up!


Dwell on the past.
Spend a day or two crying. I will even allow you to cry for a week because some breakups are more difficult than others.

To add, here is a list of songs that will help you get all those tears out: 14 of the best breakup songs you've probably never heard

Then, you've got to put on your big girl panties, pick up the pieces of your delicate heart, and begin the process of healing.

Above all, don't sit on these feelings for too long because they can lead to depression and anxiety.


Bottle up your emotions.
Likewise, you shouldn't bottle up your emotions. Allow yourself to feel these things because feeling leads to healing. Talk to friends, talk to a therapist, or cry it out with your cats.

You could even start a blog – just be sure that you're feeling and expressing those feelings.

Date his friends.
First of all, you don't want a man (or woman) who would betray a friend like that.

Secondly, you'd probably only date his friends to get back at him. Not healthy!


Eat your emotions.
While eating a pint of ice cream after your breakup sounds appealing, just be sure to control yourself.



Turn to drugs or alcohol.
This is an obvious thing not to do after a breakup (or ever) but I had to mention it after losing a best friend to the drug life.

When you're vulnerable and sad, you should never turn to anything that will numb those emotions.


Get revenge.
Maybe you feel hurt, betrayed, and heartbroken. I get it. The sadness is settling and the anger is kicking in – don't act on it.

Revenge will only give you a moment's worth of satisfaction. Chances are, you still love your ex and wouldn't want to cause trouble for them.


Distance yourself from friends and family.
This is the time, more than any, to lean on those who love you. Don't close yourself off from the world. As a result, you'll find yourself feeling lonelier.


Look at their photos, texts, or love notes.
We've all done it – cried over old photos and love notes. It's will not help with your growth.

Burn those things or keep them hidden away until you're content enough to look at them again, for instance.


Let them take up space in your mind.
So, you've broken up – now what? It's time to get them out of your mind. Don't visit your "spot" and don't listen to your song.


Don't forget to learn something.
Every bad thing you experience in life can be used as a learn experience.

Actually, you should use this breakup as a way to become the best possible version of yourself.



Talk about them.
Bringing up your ex to anyone that will listen is not only annoying, it's not good for your mental health.

Meanwhile, you can start investing in the brand new you!


Don't stop loving yourself!
Maybe you loved this person so much that you didn't leave any room to love yourself. You're a unique individual who has enough heart to give love to someone else.

So, give a little to yourself. As a matter of a fact, give 75% of your heart to yourself.


Try to remain friends.
It's not going to work out. Don't even pretend that you're okay with staying friends with someone you planned to spend your life with.


Pretend you're okay with seeing him.
Likewise, you shouldn't pretend you're okay with being around them. If there are at a party – leave. If you have friends in common, double check that your ex will not be in attendance at social events.

Besides, you don't want to see them with someone else. Even worse, you don't want to find yourself crying over your ex again.

Pretend you're okay.
It's okay to not be okay. Allow yourself time to get over this breakup. After all, a breakup is much like a loss.


Give up on love.
Finally, don't give up on love. If you take anything away from this "what not to do after a breakup" post, it's that. Love is out there for you.
What other things should you never do right after a breakup?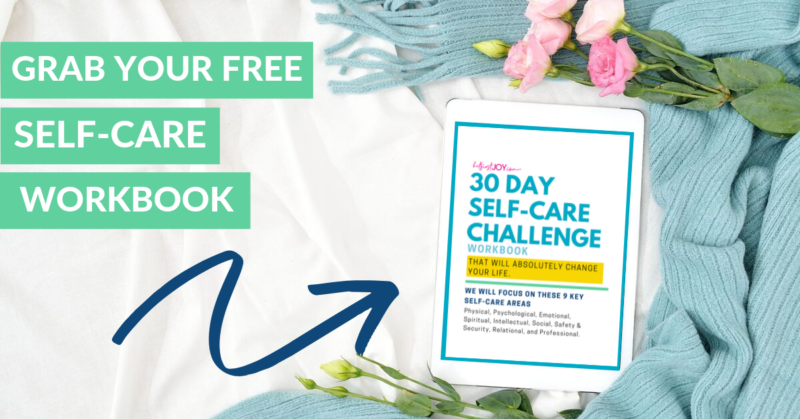 DISCLOSURE
As an Amazon Associate I earn from qualifying purchases. This post may contain affiliate links and/or promotional products, all opinions expressed are that of But First, Joy only. Read my full disclosure.