Finding ways to stay connected with your spouse when you're both busy can be challenging. If you're always on-the-go, it's hard to find time for the little things but it is a possibility.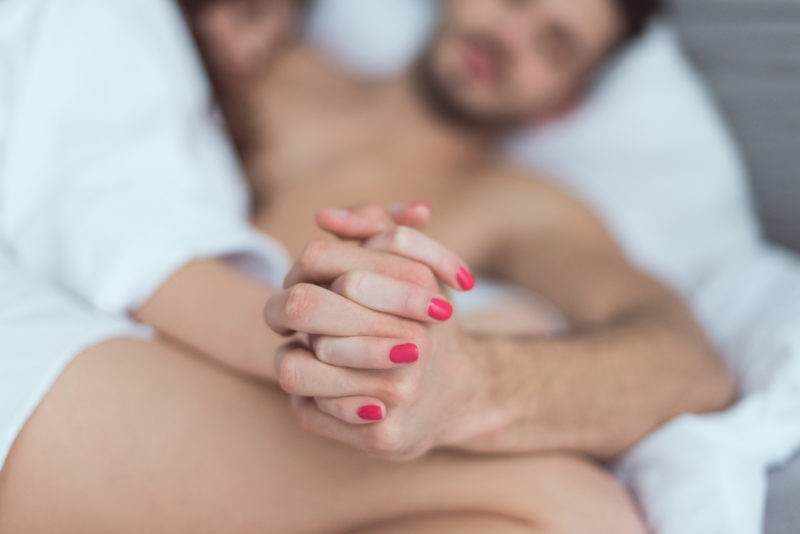 When jobs and other commitments are pulling you and your spouse in separate directions, if not careful, you may feel like you live in the same house, but you're more like roommates.
When you're both busy, you have to be intentional about making the most of the time you have. By making time, you're also expressing gratitude to your spouse.
I'll tell you exactly how to make time for your spouse when you're busy:
You need to purposefully build your relationship. And it is possible, even when time is short. Think of it as a workout. It's planned, it's intentional, and it makes you stronger.
You can't get physically stronger when you do nothing. It's the same with your marriage relationship. It won't get stronger unless you build it.
You can come up with excuses for why it's so difficult to connect, just like you can come up with excuses about why you don't work out. It's time to ditch the excuses and start actively pursuing a meaningful connection with your spouse.
Here are five ways that you can stay connected and grow together even if you don't have much time.
1. Text Each Other
You have the time to send one other texts throughout the day. Informational texts are a great way to keep each other involved in what you're doing. Let them know about the important parts of your day.
For example, you could text, "I'm feeling nervous about by meeting with so-and-so." Then after the meeting, don't forget to give an update, like, "Hey! I just finished my meeting and it went great. They loved my idea for…" It's an update and by sharing, you're including your spouse in what you're doing.
A few informational texts a day will keep you connected, but if you want to get the warm fuzzies going (which you should), don't forget to send personal texts, like, "I miss you!" or "I love you" or "You looked amazing last night." You love each other, so express it!
Sending a text that says, "I'm thinking about you," is always a winner. Everyone likes to know someone is thinking of them – especially the love of their life.
2. Leave a Love Note
A handwritten note is one of the sweetest ways to connect with your spouse. One idea is to jot something down on a notecard and stick it in their lunch box. You could also write a few words on a post-it note and stick it to the bathroom mirror.
If you're unsure of where to start, a quick, "Good morning, love you!" is great. A more in-depth, "I'm so thankful for all you do for our family. I'm proud of you and I hope your day is amazing," would be a great start, as well.
Need more ideas? Here are some great things to tell your wife, especially if she's a mom: "You're doing a great job. You're exactly what we need. Thank you."
Texting is great, but a handwritten note is more personal and takes forethought. Plus, it's something great for the memory box! Also, when you feel good, it's easier to stay positive about your relationship even if your time is short.
3. Give a Gift
Gifts for each other don't have to be extravagant. Like a handwritten note, a gift shows that you took the time to plan something.
The purpose of a gift isn't to show off what you spent but to be evidence of your care.
Here are some great gifts for women and 150+ unique gifts for men. However, if you want something more simple, check out these gift ideas:
You could pick some wildflowers and put them in a vase. When you're at the grocery store, you could grab your spouse's favorite bagel or muffin. Another idea is to mobile-order your spouse a Starbucks and text them the screenshot so that they can go pick it up.
Who wouldn't love to find their favorite candy in the seat of their car when the leave for work in the morning? Try it out! Leave a piece of candy for your husband or wife.
Little gifts when they're not expected can help your love and attraction for each other grow. To stay connected to your spouse when busy doesn't require being together.
You'd think that the gift would just help the recipient to love the giver more, but you'd be surprised how picking something out makes you, the giver, love the recipient more just because you're thinking about them.
4. Go on a Date
Even if it requires sacrificing something else, show one another how much you desire each other by setting aside a little time for a date! Staying connected to your spouse when busy means making them a priority – even if it feels impossible.
Like gifts, dates don't need to be expensive. An evening walk can be just as lovely as a fancy dinner.
Occasionally, plan a weekend together. It's possible to plan a great weekend getaway on any budget.
This should go without saying, but I'm going to say it anyway. When you are together, focus on each other. That means put down the phone and partake in a digital detox for that period of time!
The rest of the world will survive without you for a couple of hours. Just be together and eliminate distractions. Isn't your relationship worth it?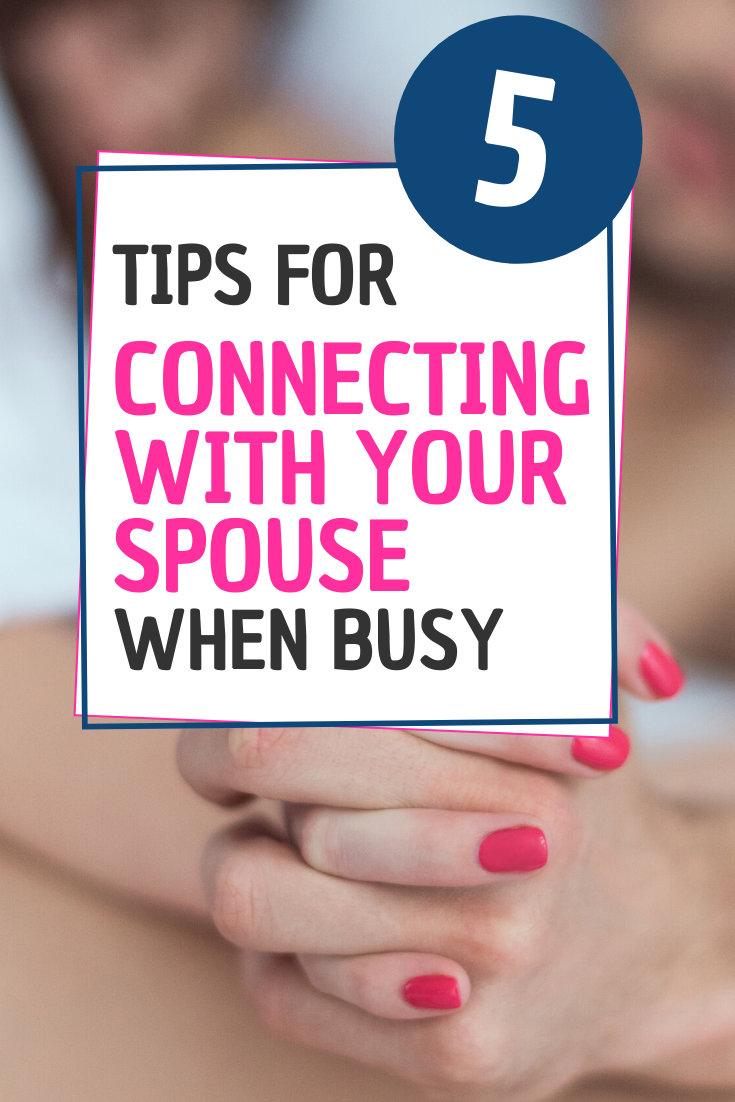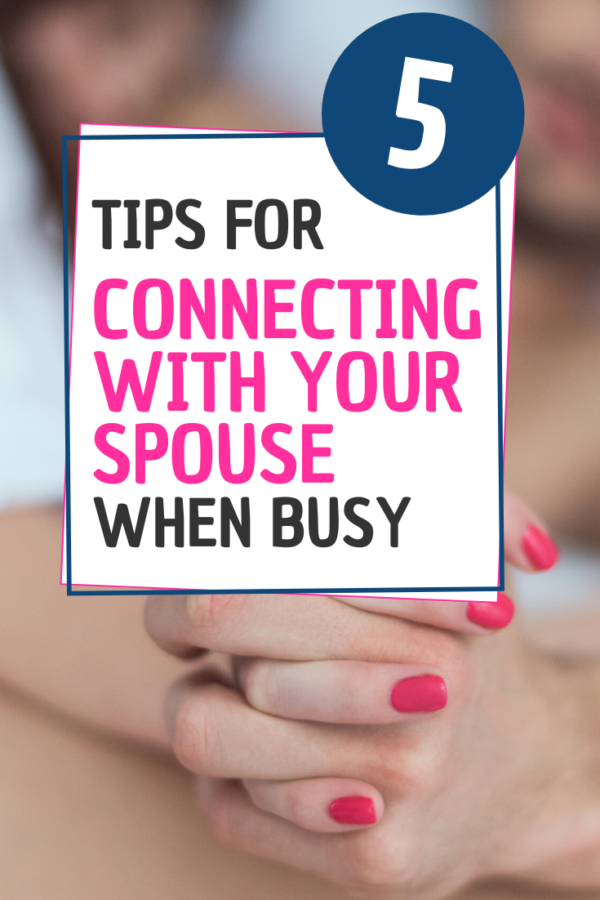 5. Serve the Other
Many couples admit that they divide the housework. Sometimes, this was an agreement made prior to moving in together. While other times, it just happened that way. One does the laundry, the other does the dishes, for example. One vacuums, the other dusts. You each have your household responsibilities.
Is the laundry done but hasn't been folded? Fold it for the other. If the floor needs to be vacuumed, just do it, especially if it's not "your job." Help each other out. Acts of kindness and service will help you stay connected to your spouse.
Finally, never stop trying to stay connected to your spouse – especially when you're busy!
There's the eternal question of which is better quantity or quality. Both would be ideal. However, if you're at the stage of life where quantity is just not possible, you absolutely must make what you do have the very best quality.
By implementing these five acts, texting each other, writing notes, giving little gifts, focusing on each other when you're together, and serving each other, your connection to each other will deepen and your love for each other will grow.
Just like your physical body can change dramatically with even just a small investment of time working out each day, your marriage can grow stronger with a little work, too. Stay committed to connecting with your spouse and work at improving the quality of the time you do have together.

Melanie Musson is a writer for exercise.com. She has been married to the love of her life for 14 years, and she and her husband are both committed to making their relationship stronger and better every day.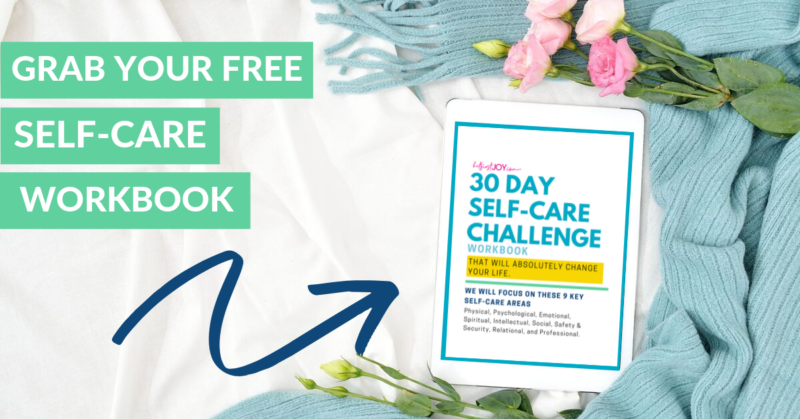 DISCLOSURE
As an Amazon Associate I earn from qualifying purchases. This post may contain affiliate links and/or promotional products, all opinions expressed are that of But First, Joy only. Read my full disclosure.