Summer Smoothies are the guilt-free, healthy alternative to milkshakes. They're versatile, filling, easy to make and perfect for a hot summer day.
Summer Smoothies are great for a nutritious breakfast, an after school refreshment for the kids, or a delicious cool-down treat on a balmy summer afternoon.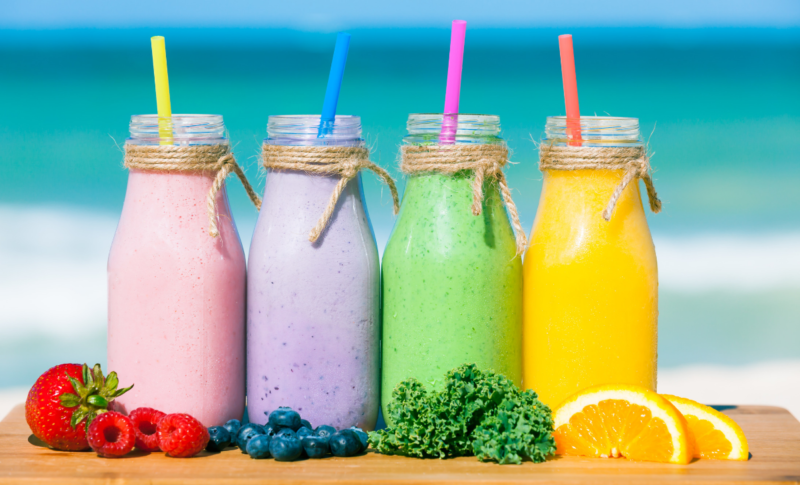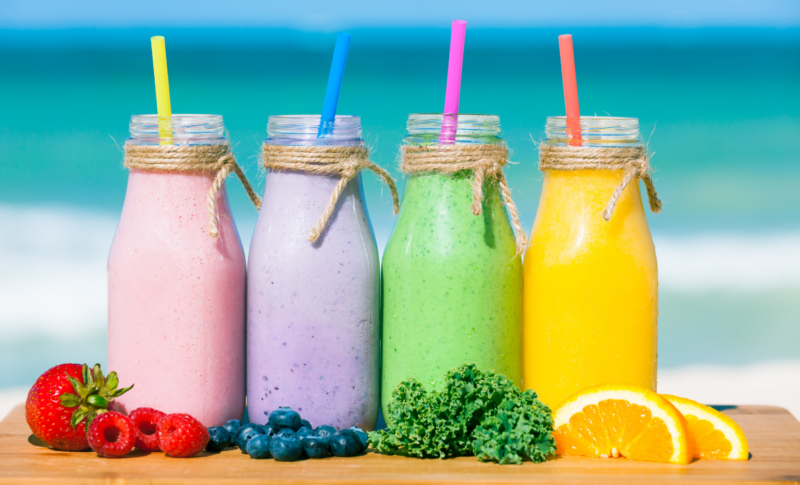 Making your own smoothies at home means you can experiment with different combinations of fruit to find your preferred flavor.
They're also a great way of disguising fruits, so are perfect for persuading finicky children to eat fruit they wouldn't normally touch.
How to make a summer smoothie
Smoothies are typically made using yogurt instead of ice cream, which immediately makes them a healthier choice.
The next vital ingredient is fruit.
Any fruit will do, either fresh, frozen or canned works well in a smoothie. I personally recommend using in-season summer fruits.
To make up the liquid, fruit juice is often the preferred choice, but you can add milk instead. Coconut milk is a great option.
RELATED: 5 Delicious Ways to Use Summer Fruits
All the ingredients are emptied into a blender and whizzed for around 30 seconds until everything is well mixed.
For a thicker smoothie, use frozen fruit or add crushed ice to the blender.
4 Quick & Tasty summer smoothie recipes
1. Antioxidant summer smoothie recipe
This smoothie is ideal for breakfast, providing soluble fiber and it's rich in antioxidants.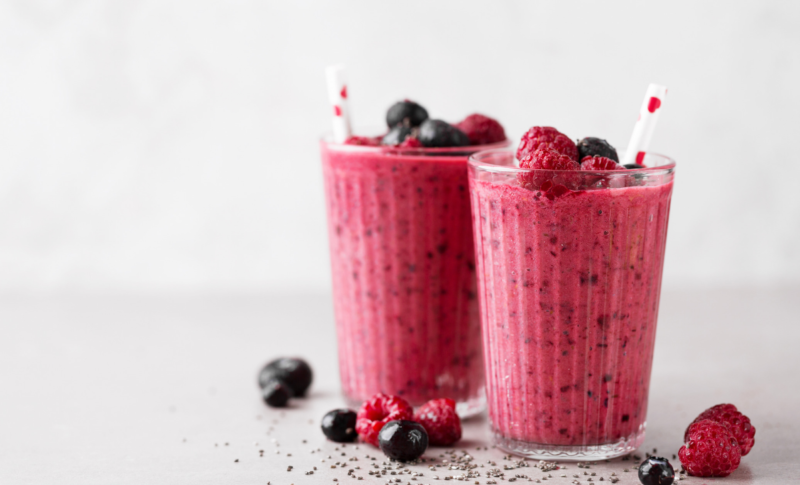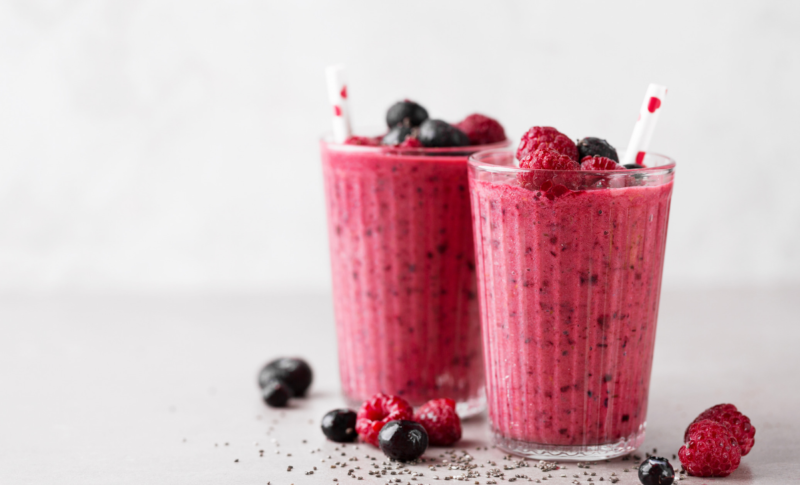 Put 1 cup of low fat natural yogurt into a blender.
Then, add 3/4 cups of frozen mixed red fruits such as blackberries, blueberries, raspberries and strawberries.
Pour in 2/3 cups of apple juice, 2 teaspoons of oats, plus extra milk if required.
Blend for 30 seconds.
2. Strawberry, banana and kiwi fruit smoothie recipe
This is a big favorite with children and the more banana you add, the more popular it becomes.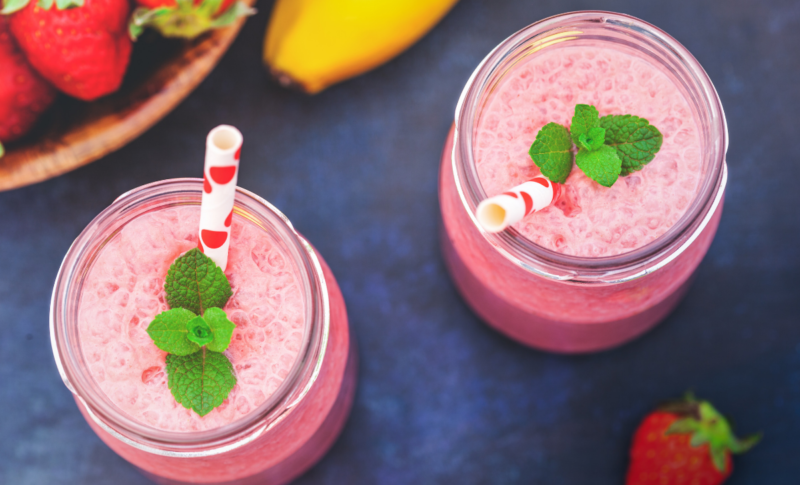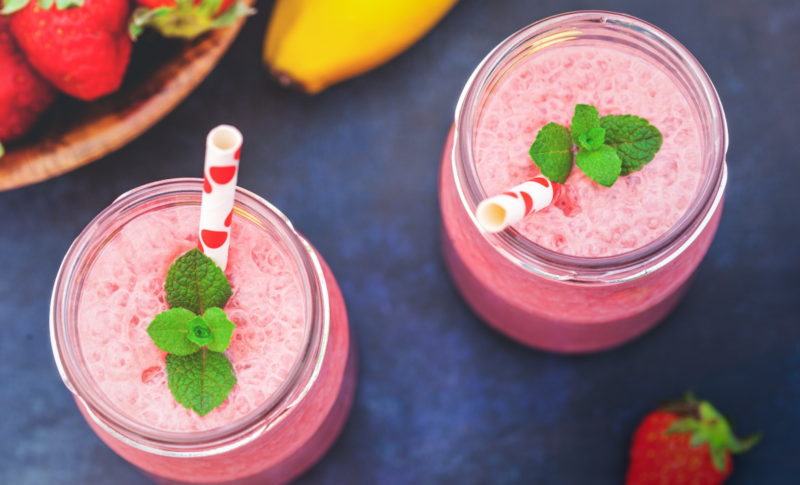 For one serving:
Blend 3/4 cups of natural yogurt, 1 kiwi fruit, half a banana and a large handful of strawberries.
Sweeten with sweetener or a teaspoon of honey or agave nectar.
The addition of kiwi fruit in this smoothie gives each mouthful a satisfying crunchy texture.
3. Tropical smoothie recipe
Close your eyes and imagine you're lying under a palm tree by the beach while drinking this refreshing, tropical fruit smoothie.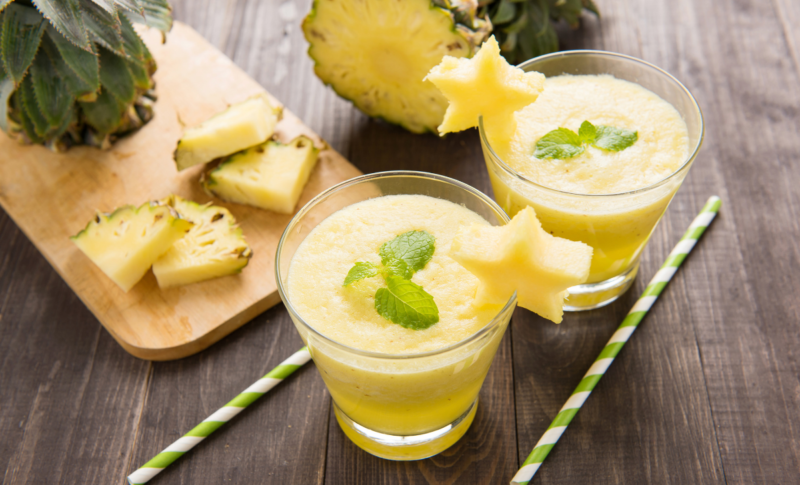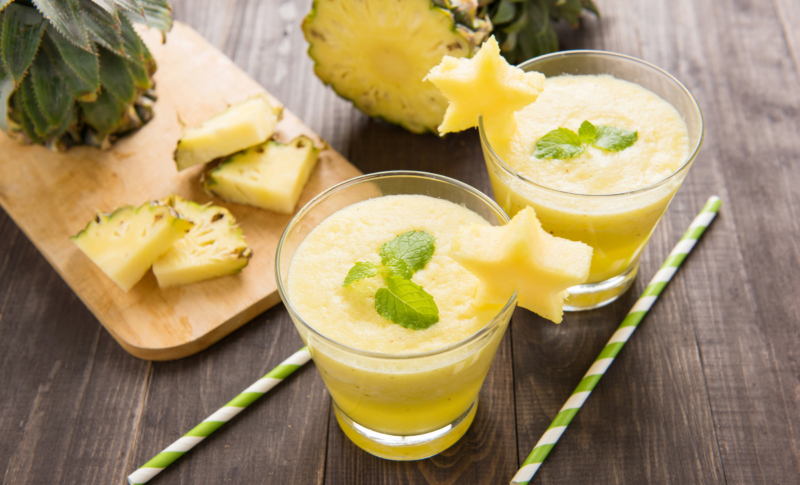 Blend a handful of cubed pineapple, the flesh of 1 passion fruit, and half a mango together with 3/4 cups of natural yogurt.
Top up with 3/4 cups of orange juice or milk and sweeten as desired.
4. Apple and pear smoothie recipe (serves 3)
Despite being hard fruits, apples and pears work surprisingly well in smoothies.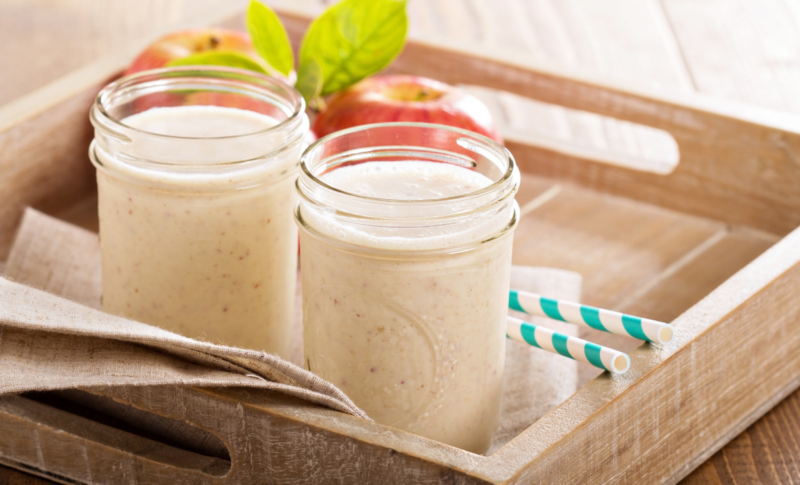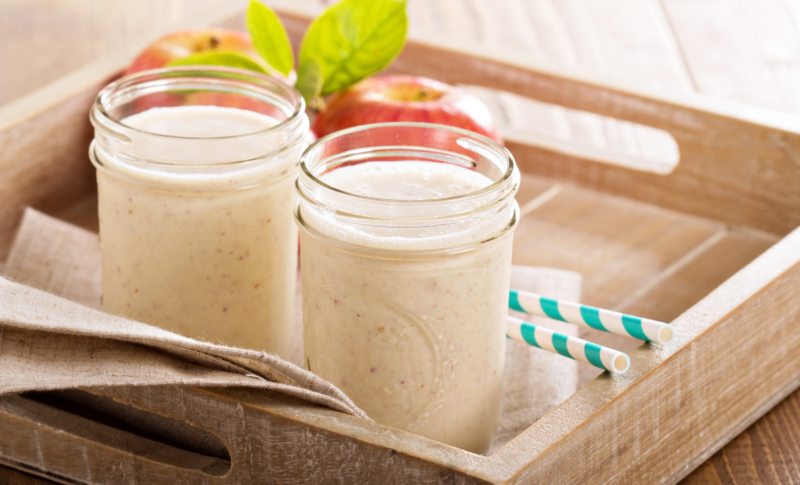 You'll need to blend 1 peeled and diced ripe banana, 2 peeled, cored and coarsely diced golden delicious apples, 1 cup apple juice, a pinch of ground cinnamon, and 1 cup of low fat vanilla yogurt.
Serve over ice in a tall glass with a straw and decorate with apple and pear slices.
Health benefits of smoothies
As well as the enjoyment factor gained from drinking smoothies, you'll also receive a significant number of nutritional benefits.
When using low fat yogurt and milk, smoothies are an excellent source of calcium and protein, while having a low saturated fat content.
RELATED: 16 Summer Picnic Recipes
They also provide a wide variety of vitamins, minerals, and antioxidants from the fruit you use.
Plus, they're satisfying, making them a healthy meal substitute.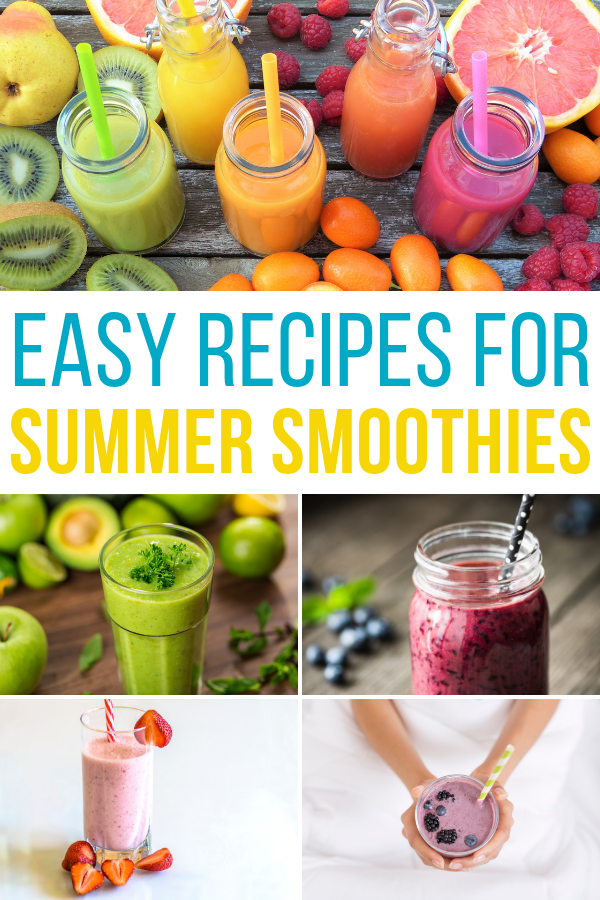 Adding oats or wheat bran will not only increases their filling power, the soluble fiber found in oats can help lower cholesterol.
The only sugars are those which are naturally occurring in the fruit, which is an advantage over store-bought bottles which often contain added sugar.
Packed with essential vitamins and minerals, smoothies are a delicious, all around healthy drink.
RELATED: 6 Fun Places to Take Kids During a Heat Wave
Just choose your favorite fruits and blend with yogurt and juice for a delicious treat which can be enjoyed on any occasion, but never more so than on a hot summer day.
What are your favorite summer smoothies?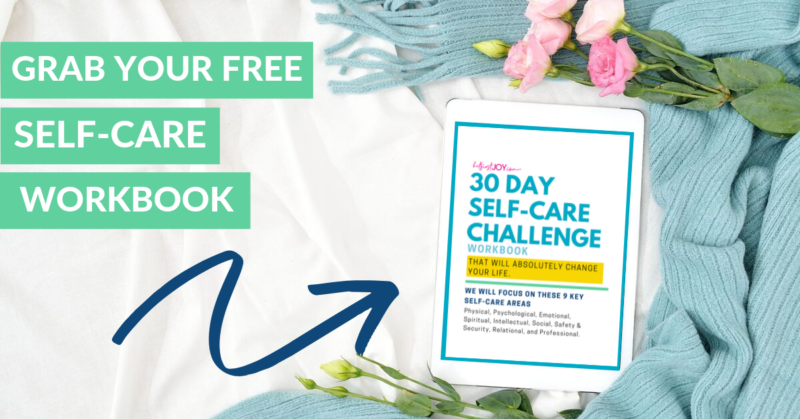 DISCLOSURE
This post may contain affiliate links and/or promotional products, all opinions expressed are that of But First, Joy only. Read my full disclosure.